The Albanian town that TikTok emptied
Photography by Louiza Vradi
"I once had an idea in the back of my mind to leave this place and go abroad," Besmir Billa told me earlier this year as we sipped tea in the town of Kukes, not far from Albania's Accursed Mountains. "Of course, like everybody else, I've thought about it."
The mountains rose up all around us like a great black wall. Across the valley, we could see a half-constructed, rusty bridge, suspended in mid-air. Above it stood an abandoned, blackened building that served during Albania's 45-year period of communist rule as a state-run summer camp for workers on holiday.
The Big Idea: Shifting Borders
Borders are liminal, notional spaces made more unstable by unparalleled migration, geopolitical ambition and the use of technology to transcend and, conversely, reinforce borders. Perhaps the most urgent contemporary question is how we now imagine and conceptualize boundaries. And, as a result, how we think about community.
In this special issue are stories of postcolonial maps, of dissidents tracked in places of refuge, of migrants whose bodies become the borderline, and of frontier management outsourced by rich countries to much poorer ones.
Since the fall of communism in 1991, Kukes has lost roughly half of its population. In recent years, thousands of young people — mostly boys and men — have rolled the dice and journeyed to England, often on small boats and without proper paperwork.
Fifteen years ago, people would come to Kukes from all over the region for market day, where they would sell animals and produce. The streets once rang with their voices. Those who've lived in Kukes for decades remember it well. Nowadays, it's much quieter.
Billa, 32, chose not to leave. He found a job in his hometown and stayed with his family. But for a person his age, he's unusual.
You can feel the emptiness everywhere you go, he told me. "Doctors all go abroad. The restaurants are always looking for bartenders or waiters. If you want a plumber, you can't find one." Billa's car broke down recently. Luckily, he loves fixing things himself — because it's difficult to find a mechanic.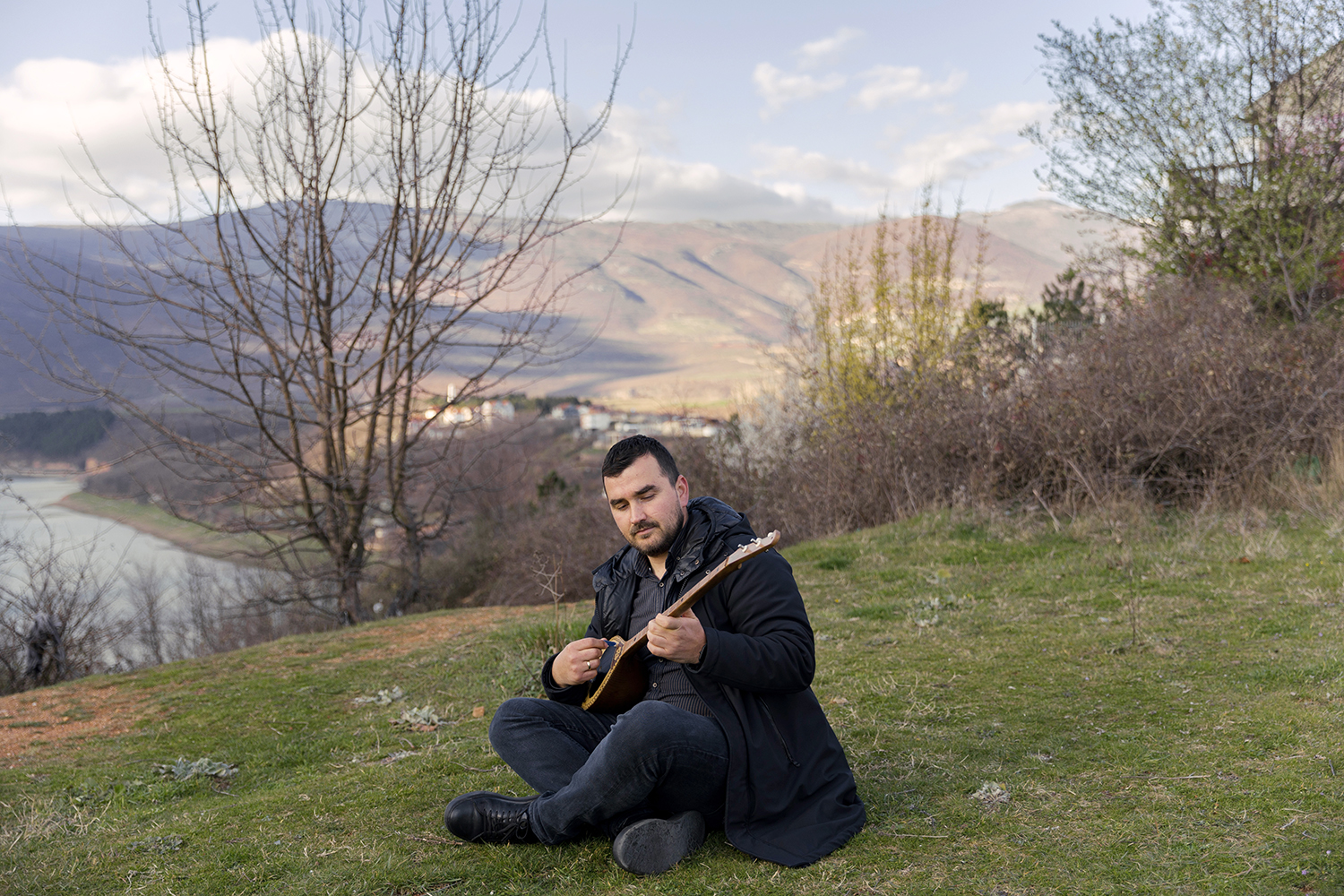 All the while, there is a parallel reality playing out far from home, one that the people of Kukes see in glimpses on TikTok and Instagram. Their feeds show them a highly curated view of what their lives might look like if they left this place: good jobs, plenty of money, shopping at designer stores and riding around London in fast cars.
In Kukes, by comparison, times are tough. Salaries are low, prices are rising every week and there are frequent power outages. Many families can barely afford to heat their homes or pay their rent. For young people growing up in the town, it's difficult to persuade them that there's a future here.
Three days before I met Billa, a gaggle of teenage boys chased a convoy of flashy cars down the street. A Ferrari, an Audi and a Mercedes had pulled into town, revving their engines and honking triumphantly. The videos were uploaded to TikTok, where they were viewed and reposted tens of thousands of times.
Behind the wheel were TikTok stars Dijonis Biba and Aleks Vishaj, on a victory lap around the remote region. They're local heroes: They left Albania for the U.K. years ago, became influencers with hundreds of thousands of followers, and now they're back, equipped with cars, money and notoriety.
Vishaj, dubbed the "King of TikTok" by the British tabloids, was reportedly convicted of robbery in the U.K. and deported in 2021. Biba, a rapper, made headlines in the British right-wing press the same year for posting instructions to YouTube on how to enter the U.K. with false documents. Police then found him working in a secret cannabis house in Coventry. He was eventually sentenced to 15 months in prison.
The pair now travel the world, uploading TikTok videos of their high-end lifestyle: jet skiing in Dubai, hanging out in high-rise hotels, driving their Ferrari with the needle touching 300 kilometers per hour (180 mph) through the tunnel outside Kukes.
Billa's nephews, who are seven and 11, were keen to meet him and get a selfie when they came to town, like every other kid in Kukes.
"Young people are so affected by these models, and they're addicted to social media. Emigrants come back for a holiday, just for a few days, and it's really hard for us," Billa said.
Billa is worried about his nephews, who are being exposed to luxury lifestyle videos from the U.K., which go against the values that he's trying to teach them. They haven't yet said they want to leave the country, but he's afraid that they might start talking about it one day. "They show me how they want a really expensive car, or tell me they want to be social media influencers. It's really hard for me to know what to say to them," he said.
Billa feels like he's fighting against an algorithm, trying to show his nephews that the lifestyle that the videos promote isn't real. "I'm very concerned about it. There's this emphasis for kids and teenagers to get rich quickly by emigrating. It's ruining society. It's a source of misinformation because it's not real life. It's just an illusion, to get likes and attention."
And he knows that the TikTok videos that his nephews watch every day aren't representative of what life is really like in the U.K. "They don't tell the darker story," he said.
In 2022, the number of people leaving Albania for the U.K. ticked up dramatically, as well as the number of those seeking asylum, at around 16,000, more than triple the previous year. According to the Migration Observatory at the University of Oxford, one reason for the uptick in claims may be that Albanians who lack proper immigration status are more likely to be identified, leading them to claim asylum in order to delay being deported. But Albanians claiming asylum are also often victims of blood feuds — long-standing disputes between communities, often resulting in cycles of revenge — and viciously exploitative trafficking networks that threaten them and their families if they return to Albania.
By 2022, Albanian criminal gangs in Britain were in control of the country's illegal marijuana-growing trade, taking over from Vietnamese gangs who had previously dominated the market. The U.K.'s lockdown — with its quiet streets and newly empty businesses and buildings — likely created the perfect conditions for setting up new cannabis farms all over the country. During lockdown, these gangs expanded production and needed an ever-growing labor force to tend the plants — growing them under high-wattage lamps, watering them and treating them with chemicals and fertilizers. So they started recruiting.
Everyone in Kukes remembers it: The price of passage from Albania to the U.K. on a truck or small boat suddenly dropped when Covid-19 restrictions began to ease. Before the pandemic, smugglers typically charged 18,000 pounds (around $22,800) to take Albanians across the channel. But last year, posts started popping up on TikTok advertising knock-down prices to Britain starting at around 4,000 pounds (around $5,000).
People in Kukes told me that even if they weren't interested in being smuggled abroad, TikTok's algorithm would feed them smuggling content — so while they were watching other unrelated videos, suddenly an anonymous post advertising cheap passage to the U.K. would appear on their "For You" feed.
TikTok became an important recruitment tool. Videos advertising "Black Friday sales" offered special discounts after Boris Johnson's resignation, telling people to hurry before a new prime minister took office, or when the U.K. Home Office announced its policy to relocate migrants to Rwanda. People remember one post that even encouraged Albanians to come and pay their respects to Queen Elizabeth II when she died in September last year. There was a sense of urgency to the posts, motivating people to move to the U.K. while they still could, lest the opportunity slip away.
The videos didn't go into detail about what lay just beneath the surface. Criminal gangs offered to pay for people's passage to Britain, on the condition they worked for them when they arrived. They were then typically forced to work on cannabis farms to pay off the money they owed, according to anti-human trafficking advocacy groups and the families that I met in Kukes.
"I imagined my first steps in England to be so different," said David, 33, who first left Albania for Britain in 2014 after years of struggling to find a steady job. He could barely support his son, then a toddler, or his mother, who was having health problems and couldn't afford her medicine. He successfully made the trip across the channel by stowing away in a truck from northern France.
He still remembers the frightened face of the Polish driver who discovered him hiding in the wheel well of the truck, having already reached the outskirts of London. David made his way into the city and slept rough for several weeks. "I looked at everyone walking by, sometimes recognizing Albanians in the crowd and asking them to buy me bread. I couldn't believe what was happening to me."
He found himself half-hoping the police might catch him and send him home. "I was so desperate. But another part of me said to myself, 'You went through all of these struggles, and now you're going to give up?'"
David, who asked us to identify him with a pseudonym to protect his safety, found work in a car wash. He was paid 35 pounds (about $44) a day. "To me, it felt like a lot," he said. "I concentrated on saving money every moment of the day, with every bite of food I took," he told me, describing how he would live for three or four days on a tub of yogurt and a package of bread from the grocery chain Lidl, so that he could send money home to his family.
At the car wash, his boss told him to smile at the customers to earn tips. "That's not something we're used to in Albania," he said. "I would give them the keys and try to smile, but it was like this fake, frozen, hard smile."
Like David, many Albanians begin their lives in the U.K. by working in the shadow economy, often at car washes or construction sites where they're paid in cash. While there, they can be targeted by criminal gangs with offers of more lucrative work in the drug trade. In recent years, gangs have funneled Albanian workers from the informal labor market into cannabis grow houses.
David said he was careful to avoid the lure of gangsters. At the French border, someone recognized him as Albanian and approached, offering him a "lucky ticket" to England with free accommodation when he arrived. He knew what price he would have to pay — and ran. "You have to make deals with them and work for them," he told me, "and then you get sucked into a criminal life forever."
It's a structure that traps people in a cycle of crime and debt: Once in the U.K., they have no documents and are at the mercy of their bosses, who threaten to report them to the police or turn them into the immigration authorities if they don't do as they say.
Gang leaders manipulate and intimidate their workers, said Anxhela Bruci, Albania coordinator at the anti-trafficking foundation Arise, who I met in Tirana, the Albanian capital. "They use deception, telling people, 'You don't have any documents, I'm going to report you to the police, I have evidence you have been working here.' There's that fear of going to prison and never seeing your family again."
Gangs, Bruci told me, will also make personal threats against the safety of their victims' families. "They would say, 'I'm going to kill your family. I'm going to kill your brother. I know where he lives.' So you're trapped, you're not able to escape."
She described how workers often aren't allowed to leave the cannabis houses they're working in, and are given no access to Wi-Fi or internet. Some are paid salaries of 600-800 pounds (about $760-$1,010) a month. Others, she added, are effectively bonded labor, working to pay back the money they owe for their passage to Britain. It's a stark difference from the lavish lifestyles they were promised.
As for telling their friends and family back home about their situation, it's all but impossible. "It becomes extremely dangerous to speak up," said Bruci. Instead, once they do get online, they feel obliged to post a success story. "They want to be seen as brave. We still view the man as the savior of the family," said Bruci, who is herself Albanian.
Bruci believes that some people posting on TikTok about their positive experience going to the U.K. could be "soldiers" for traffickers. "Some of them are also victims of modern slavery themselves and then they have to recruit people in order to get out of their own trafficking situation."
As I was reporting this story, summer was just around the bend and open season for recruitment had begun. A quick search in Albanian on TikTok brought up a mass of new videos advertising crossings to the U.K. If you typed in "Angli" — Albanian for "England" — on TikTok the top three videos to appear all involved people making their way into the UK. One was a post advertising cheap crossings, and the other two were Albanians recording videos of their journeys across the channel. After we flagged this to TikTok, those particular posts were removed. New posts, however, still pop up every day.
With the British government laser-focused on small boat crossings, and drones buzzing over the beaches of northern France, traveling by truck was being promoted at a reduced price of 3,000 pounds (about $3,800). And a new luxury option was also on offer — speedboat crossings from Belgium to Britain that cost around 10,000 pounds (about $12,650) per person.
Kevin Morgan, TikTok's head of trust and safety for Africa, Europe and the Middle East, said the company has a "zero tolerance approach to human smuggling and trafficking," and permanently bans offending accounts. TikTok told me it had Albanian-speaking moderators working for the platform, but would not specify how many.
In March, TikTok announced a new policy as part of this zero-tolerance approach. The company said it would automatically redirect users who searched for particular keywords and phrases to anti-trafficking sites. In June, the U.K.'s Border Force told the Times that they believed TikTok's controls had helped lower the numbers of small boat crossings into Britain. Some videos used typos on purpose to get around TikTok's controls. As recently as mid-August, a search on TikTok brought up a video with a menu of options to enter Britain — via truck, plane or dinghy.
In Kukes, residents follow British immigration policy with the same zeal as they do TikTok videos from Britain. They trade stories and anecdotes about their friends, brothers and husbands. Though their TikTok feeds rarely show the reality of life in London, some young people in Kukes know all is not as it seems.
"The conditions are very miserable, they don't eat very well, they don't wash their clothes, they don't have much time to live their lives," said Evis Zeneli, 26, as we scrolled through TikTok videos posted by her friends in the U.K., showing a constant stream of designer shopping trips to Gucci, Chanel and Louis Vuitton.
It's the same for a 19-year-old woman I met whose former classmate left last year. Going by his social media posts, life looks great — all fast cars and piles of British banknotes. But during private conversations, they talk about how difficult his life really is. The videos don't show it, she told me, but he is working in a cannabis grow house.
"He's not feeling very happy. Because he doesn't have papers, he's obliged to work in this illegal way. But he says life is still better over there than it is here," she said.
"It's like the boys have gone extinct," she added. At her local park, which used to be a hangout spot for teenagers, she only sees old people now.
"There's this huge silence," agreed Albiona Thaçi, 33, whose husband traveled to the U.K. nine months ago in a small boat. When he left, she brought her two daughters to the seaside to try to take their mind off of the terrifying journey that their father had undertaken. Traveling across the English Channel in a fragile dinghy, he dropped his phone in the water, and they didn't hear from him for days. "Everything went black," Thaçi said. Eventually, her husband called from the U.K., having arrived safely. But she still doesn't know when she'll see him again.
In her 12-apartment building, all the men have left. "Now we have this very communal feeling. Before, we used to knock on each others' doors. Now, we just walk in and out." But Thaçi's friends have noticed that when they get together for coffee in the mornings, she's often checked out of their conversation. "My heart, my mind, is in England," she said. She plans to join her husband if he can get papers for her and their daughters.
The absence of men hangs over everything. In the village of Shishtavec, in the mountains above Kukes, five women crowded around the television one afternoon when I visited. It was spring, but it still felt like winter. They were streaming a YouTube video of dozens of men from their village, all doing a traditional dance at a wedding — in London.
"They're doing the dance of men," said Adelie Molla, 22. She had just come in from the cold, having collected water from the well up by the town mosque. The women told me that the weather had been mild this year. "The winter has gone to England," laughed Molla's mother Yaldeze, 53, whose son left for the U.K. seven months ago. Many people in their village have Bulgarian heritage, meaning they can apply for European passports and travel to Britain by plane, without needing to resort to small boats.
The whole family plans to eventually migrate to Britain and reunite. "For better or worse I have to follow my children," said Yaldeze, who has lived in the village her whole life. She doesn't speak a word of English. "I'm going to be like a bird in a cage."
Around the town, some buildings are falling into disrepair while others are half-finished, the empty window-frames covered in plastic sheeting. A few houses look brand new, but the windows are dark. Adelie explained that once people go to the U.K., they use the money they make there to build houses in their villages. The houses lie empty, except when the emigrants come to visit. And when they come back to visit their hometown, they drive so that they can show off cars with U.K. license plates — proof they've made it.
"This village is emptying out," Molla said, describing the profound boredom that had overtaken her life. "Maybe after five years, no one will be here at all anymore. They'll all be in London."
The oldest settlements of Kukes date back to the fourth century. In the 1960s, when Albania's communist government decided to build a hydropower dam, the residents of Kukes all had to leave their homes and relocate further up the mountain to build a new city, while the ancient city was flooded beneath an enormous reservoir. And in the early 1970s, under Enver Hoxha's paranoid communist regime, an urban planner was tasked with building an underground version of Kukes, where 10,000 people could live in bunkers for six months in the event of an invasion. A vast network of tunnels still lies beneath the city today.
"Really, there are three Kukeses," one local man told me: the Kukes where we were walking around, the subterranean Kukes beneath our feet, and the Kukes underwater. But even the Kukes of today is a shadow of its former self, a town buried in the memories of the few residents who remain.
David was deported from Britain in 2019 after police stopped him at a London train station. He tried to return to the U.K. in December 2022 by hiding in a truck but couldn't get past the high-tech, high-security border in northern France. He is now back in Kukes, struggling to find work.
He wanted me to know he was a patriotic person who, given the chance to have a good life, would live in Albania forever. But, he added, "You don't understand how much I miss England. I talk in English, I sing in English, I cook English food, and I don't want my soul to depart this earth without going one more time to England."
He still watches social media reels of Albanians living in the U.K. "Some people get lucky and get rich. But when you see it on TikTok or Instagram, it might not even be real."
Besmir Billa, whose nephews worry him with their TikTok aspirations, has set himself a challenge. He showed me his own TikTok account, which he started last summer.
The grid is full of videos showcasing the beauty of Kukes: clips of his friends walking through velvety green mountains, picking flowers and petting wild horses. "I'm testing myself to see if TikTok can be used for a good thing," he told me.
"The idea I had is to express something valuable, not something silly. I think this is something people actually need," he said. During the spring festival, a national holiday in Albania when the whole country pours onto the streets to celebrate the end of winter, he posted a video showing young people in the town giving flowers to older residents.
At first, his nephews were "not impressed" by their uncle's page. But then, the older boy clocked the total number of views on the spring festival video: 40,000 and counting.
The Big Idea
Shifting Borders
Borders are liminal, notional spaces made more unstable by unparalleled migration, geopolitical ambition and the use of technology to transcend and, conversely, reinforce borders. Perhaps the most urgent contemporary question is how we now imagine and conceptualize boundaries. And, as a result, how we think about community. In this special issue are stories of postcolonial maps, of dissidents tracked in places of refuge, of migrants whose bodies become the borderline, and of frontier management outsourced by rich countries to much poorer ones.
Read more