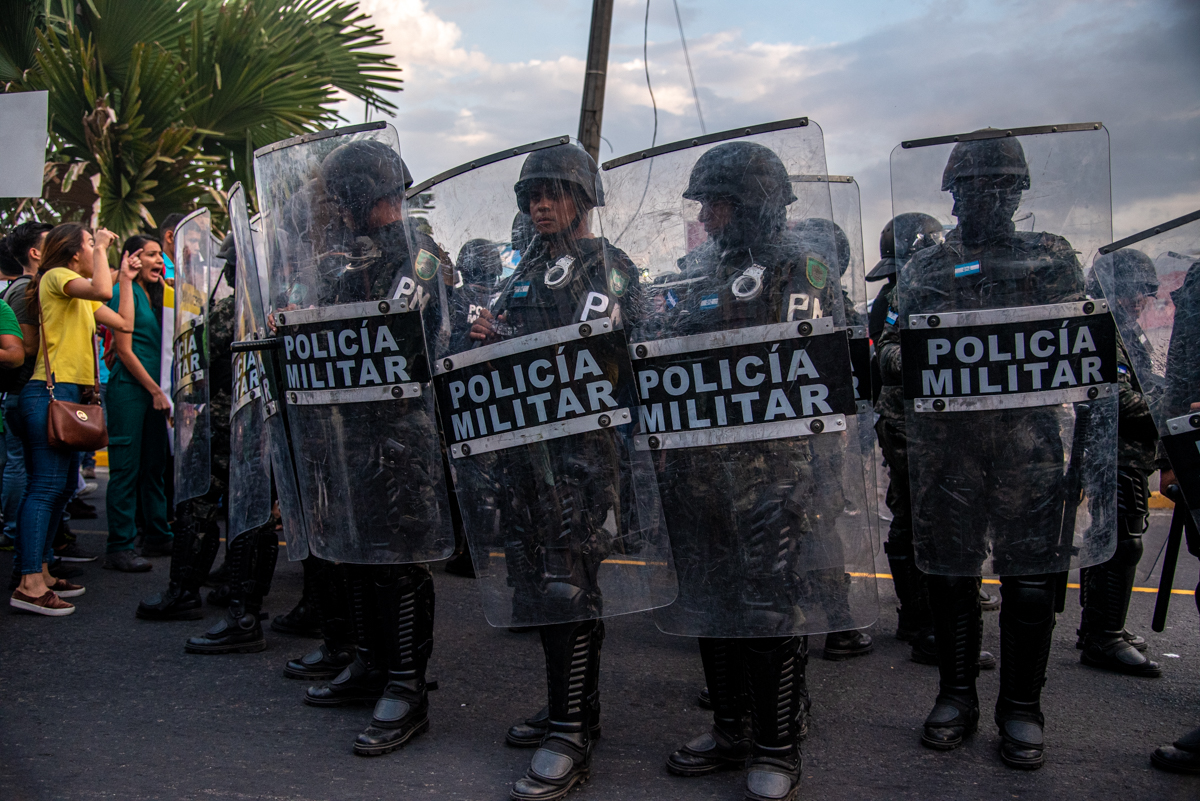 How surveillance tech helped protect power — and the drug trade — in Honduras
Photography by Seth Berry
I. Hery Flores kept calm when officers approached him as he departed a Tegucigalpa gas station in the early summer of 2021. Only one was in a blue police uniform. The others wore jeans and button down shirts — typical attire for police investigators in Honduras' capital city. But then they slapped on handcuffs without giving him time to react. Later he realized they never showed him an arrest warrant.
They shoved Flores into a car without license plates and drove him around on Tegucigalpa's winding roads. The officers interrogated him for more than two hours about his political activity as a student at the National Autonomous University of Honduras and as a member of a political party called Libre. Other Hondurans who had been murdered or disappeared in recent years — Berta Cáceres, Sneider Centeno, Vicky Hernández — flashed through Flores' mind. "Their primary objective wasn't to arrest me," he later told me.
He persuaded one of them to let him call his mother. "The police have detained me and I'm at the Kennedy police station," he told her. Within the hour, people were calling for his release on social media. One was the Libre party presidential candidate Xiomara Castro. Another was her husband, Manuel "Mel" Zelaya, the former Honduran president who was deposed through a coup d'etat in June 2009 and later became head of the Libre party.
Before the day was through, Flores had been charged with "aggravated arson." Authorities alleged he set a pharmacy on fire during a 2019 protest, which he denies. Flores spent a week and a half in pre-trial detention in a maximum-security prison until a judge decided he was not a flight risk and granted his provisional release while his trial was ongoing.
This was Flores' first sustained encounter with police, and yet they seemed to know him well. He later learned that over two years' time, they had compiled a 300-page file on him. He had spotted police stationed outside his home from time to time. Some photos in his file came from social media. But other images he didn't recognize seemed to have been taken from a distance, perhaps by someone who was following him. While on the phone, he had sometimes heard noises, similar to the sound of fingers typing on a keyboard.
Flores wasn't alone. He was one of an untold number of Hondurans caught up in a complex web of surveillance tools and tactics deployed by a state determined to protect its own power and preserve its status as Central America's largest drug corridor. Presiding over this regime from 2014 until 2022 was Honduran President Juan Orlando Hernández. After he left office in January 2022 , Hernández — or "JOH" as he was commonly known in Honduras — was extradited to the U.S. on drug trafficking and weapons charges. He is currently awaiting trial in the Southern District of New York.
Dozens of interviews with current and former law enforcement officials, technical experts, activists and lawyers, and an extensive review of documents and court filings obtained through Honduras' public information access law offer a detailed (if still incomplete) picture of the digital surveillance apparatus that dominated Honduras during the Hernández administration. What follows is the story of what happens when surveillance companies sell their products to a government known to be carrying out widescale human rights abuses against its people and of the potential reform to this abusive digital surveillance apparatus as it heads into year two of Xiomara Castro's administration.
The roots of these problems run deep for Honduras. The Central American nation has long faced endemic poverty and violence and today has one of the highest murder rates in the world. An estimated 120 tons of cocaine passed through the country in 2019. All this has driven hundreds of thousands of Hondurans to migrate to the U.S. in recent years.
The Honduran government also has a long history of monitoring its own citizens. A former army general told Honduran media that the country has been able to illegally intercept phone calls for at least 40 years.
But under Hernández, who was in office from 2014 until 2022, decades of intrusive but old-fashioned government monitoring began to look genteel. Hernández supercharged the state surveillance apparatus, first by passing laws to enable overreaching surveillance and then by bulking up police snooping powers with cutting-edge software. During his administration, Honduras acquired some of the most advanced AI and digital forensics tools from the biggest brands in the business, like Israel's Cellebrite and the U.S.-based military contractor Palantir. There is also evidence of Honduran officials using other major surveillance tech products including Circles, i2, Galileo and Pegasus.
Why would a country of 9.5 million people need so many hardcore surveillance tools? To monitor anyone threatening to expose its wrongdoings or challenge its power. And to ensure its hold on a thriving drug trade.
The case brought against Hernández by the U.S. Justice Department accuses him of leveraging "the Government of Honduras' law enforcement, military, and financial resources to further his drug trafficking scheme" by sharing sensitive information from law enforcement and the military with drug traffickers to facilitate shipments. A drug trafficker famously quoted Hernández saying he would "stuff the drugs right up the noses of the gringos." For his part, Hernández denies all these allegations. He says they are the result of drug traffickers trying to get back at him for cracking down on the drug trade during his time as president.
But whether they were working for the state or trying to hold the state to account, people who were on the ground during Hernández's time in office tell a different story. Opposition politicians, journalists and activists were under constant watch, both in real life and online. Phones were regularly confiscated and illegally compromised. Hernández built up a system that allowed him to access personal information on anyone in the country, on a whim. A former police officer, who wished to remain anonymous because he feared reprisals from the state, explained that Hernández positioned military officers within law enforcement departments as "consultants." They would report back to him any information of interest, whether it was related to drug trafficking, political targets or other sensitive matters. But in the eyes of this officer, one thing was clear: "Nothing moved in Honduras without JOH finding out."
Revelations about the reach of the Honduran digital surveillance apparatus also raise serious questions about the companies that build and sell these technologies. Tamir Israel, a researcher at Human Rights Watch, explained that these companies are required under international human rights laws to act responsibly and conduct due diligence in their sales. But many experts I spoke with agreed that from Azerbaijan to Mexico to Saudi Arabia, enough abuse has been exposed over the years to know this is not happening across the industry. Angela Alarcón, a Latin America campaigner at the digital rights organization Access Now, said that companies often try to shirk responsibility for human rights abuses by claiming their clients — mainly governments — hold sole liability for what happens to their targets. But companies are also responsible, she said: "Why? Because their technology can be used as a weapon that can destroy lives."
II. HOW TO BUILD A SURVEILLANCE STATE
In 2009, a coup by the right-wing Honduran military, tacitly supported by the U.S., removed the president — Manuel "Mel" Zelaya, now head of the Libre party — from office and plunged the country's already weak institutions into chaos. Thousands took to the streets in protest. Police and the military responded by violently repressing demonstrations, arresting protesters and enforcing a curfew. A subsequent commission found security forces were responsible for at least 20 deaths. In December of that same year, the head of the country's drug trafficking unit in the public prosecutor's office, Julián Arístides González, was murdered. Documents later showed that the police planned his killing at their headquarters.
The already-growing drug trade only further prospered in Honduras over the next decade, lending it the unenviable moniker of a "narco state." Some police became directly involved in the drug trade. Others, under extreme pressure to protect drug traffickers from the law, were corrupt by default.
"The police have been at the service of drug traffickers and organized crime," said Maria Luisa Borjas, a former police officer. "Honest officers who have wanted to remain part of the police have had to become deaf, blind and mute because their lives and the lives of their families are in danger."
Borjas knows these dynamics well. She was once the head of internal affairs in the national police, where she was charged with holding officers accountable to the law. After she investigated extrajudicial killings carried out by a group of high-ranking police officers in 2002, she was fired from her job. One of the high-ranking officers she identified, Juan Carlos "El Tigre" Bonilla, later became the police director. Events surrounding Borjas' firing and Bonilla's tenure created further scandal that is now being laid out before a federal court in the U.S. where Bonilla, just like his former boss, is being tried on drug trafficking and weapons charges.
In 2012, when Juan Orlando Hernández was the president of the Honduran Congress, legislators passed a law colloquially known as the "Wiretapping Law," which allows authorities to listen to phone calls and intervene in other forms of communications.
"It's something they were already doing, but in 2012, they legalized the practice," said Hedme Sierra Castro, who has tracked digital surveillance of activists as part of the NGO ACI-Participa.
In 2013, a new attorney general — with close ties to Hernández — was elected to lead the public prosecutor's office. He still presides over the institution and has been implicated in a U.S. court for aiding drug traffickers.
Hernández came to power in 2014 and used a special security council to build out a sweeping surveillance regime. Yet at the same time, crime soared and the drug trade continued to thrive. It was all for the purpose of "protecting the drug trafficking business," said Honduran journalist and criminologist Wendy Funez. "They created an apparatus using the power of the state."
The inner workings of the security forces in the Hernández government were complex, with more than a dozen different special forces between the police and the military. The military was the "brains" behind his security apparatus, explained Wendy Funez. "But the police carried out the orders," she said.
The situation attracted some international attention in March 2016, after Goldman Prize-winning environmentalist Berta Cáceres was murdered in her home. Her death underscored how dangerous post-coup Honduras had become for anyone who opposed the status quo, no matter how much prominence they had reached internationally. The killing shook the country. A U.S.-trained former military officer, who had also been the president of the hydroelectric energy company Desarrollos Energéticos, was later convicted of ordering her murder.
A month later police officials ostensibly admitted they had a corruption problem and ordered a clean-up of the 12,000-person force in a process known as the police "depuración," or purification. But "it was a farce," Borjas said. Hundreds of officers who were kicked out of the police force have since sued the government, alleging that they were expelled for speaking out against sexual assault or opposing Hernández's government. Or because, like Borjas, they themselves had exposed instances of corruption.
Although Honduras maintained the quiet support of the U.S. throughout the Hernández administration — the country is home to a U.S. military base, along with Chiquita (formerly United Fruit) and the palm oil giant Dinant — JOH's immediate extradition at the end of his last term signaled a change of tune. While he was still in office, his brother, Juan Antonio "Tony" Hernández, was famously tried and convicted of running a major cocaine trafficking operation in the U.S. in 2021. In judicial proceedings, it came out that he had accepted a roughly $1 million donation to his brother's presidential campaign from the notorious leader of Mexico's Sinaloa cartel, Joaquín "El Chapo" Guzmán. The former president's brother (and Guzmán) have since been tried and convicted of major drug trafficking crimes. Both are serving life sentences in the U.S.
III. THE PALANTIR UNIT
Within the byzantine internal structure of the Honduran National Police, the Police Directorate of Investigations is charged with investigating serious crimes, such as homicides. In the working class Kennedy neighborhood of Tegucigalpa, a multi-building complex houses the Directorate, with more than a dozen forensic and ballistic labs, investigators' offices and a floor dedicated to Interpol offices. It is also home to a room with about 10 computers in it, known as the Palantir Unit.
One Saturday afternoon, when I visited the Palantir Unit, I met a lone staffer. Her job was to respond to requests by investigators for information from the Palantir platform, she explained. The U.S.-made software creates information-rich reports that profile people of interest, and it can diagram their social and family connections, drawing on information from the national census, public healthcare systems, customs and immigration, the names of relatives of people under investigation, vehicle registration information and other sources. Public records show that the Honduran police have run more than 12,700 searches through the platform since 2015, when the Palantir Unit started. Honduras' secretary of defense and the public prosecutor's office, through a special criminal investigation unit known as the ATIC, can also carry out Palantir requests. The secretary of defense has run 380 searches since 2014 and ATIC has run 14,157 since 2015.
"Palantir is a database that opens a big window," said Cristian Nolasco, the Police Directorate of Investigations spokesperson, who has been part of the police since 1998.
Known mainly for its large contracts with U.S. law enforcement agencies and the U.S. military, Palantir in recent years has expanded its operations, selling to governments around the world and to the private sector. Now headquartered in Colorado, Palantir was co-founded in 2003 by tech billionaire Peter Thiel, and it received early seed investment of $2 million from In-Q-Tel, the U.S. Central Intelligence Agency's venture capital arm. The publicly-traded company had a market cap of $13.3 billion at the start of 2023.
Palantir was recently profiled in the Washington Post for the technological edge its algorithm gives to Ukraine's armed forces. It also has contracts with the U.S. Immigration and Customs Enforcement, that Amnesty International says have "[enabled] ICE to identify, share information about, investigate, and track migrants and asylum-seekers" who have been arrested in workplace raids.
Luís, who was in the police force during Hernández's first term in office, said that he often filed requests for Palantir reports while investigating local organized crime groups. The software analyzed information to make it easier for intelligence officers like Luís — who says he received training from Americans and Colombians — to track down their targets and understand their movements. Luís asked that we not use his real name, as he is legally prohibited from speaking publicly about his work.
Luís would hand all intelligence reports to his supervisor, and he knew that reports eventually made their way to President Hernández himself. Based on his knowledge of the software's capacity, Luís said that above all else, it helped Hernández "to control the opposition" and "to neutralize his opponents within organized crime." Cristian Nolasco, the police spokesperson, said that even though the Palantir Unit is housed within the national police, it was the military that really had control of the technology under Hernández, through the National Directorate of Investigation and Intelligence, an opaque institution comparable to the U.S. Secret Service.
Palantir's software is just one among many powerful surveillance tools that the Police Directorate of Investigations has at its disposal. Since at least 2012, the police have used data analytics software from IBM's i2, now owned by the Canadian software company Harris, to profile suspects and their close connections.
A report from the University of Toronto's Citizen Lab found that Honduras was also likely using Circles, a surveillance technology made in Israel that listens in on calls and monitors texts and location by "exploiting weaknesses in the global mobile phone system." Researchers made this assessment following the discovery of two servers in Honduras using the technology, including one belonging to the country's defense department. Citizen Lab also identified an operator in Honduras for the NSO Group's notorious spyware Pegasus, which has been used to spy on journalists and activists in Mexico, El Salvador and Saudi Arabia. Previous reporting also revealed that Hernández's government purchased software called Galileo, to hack emails and listen to phone calls, from the now-defunct Italian company Hacking Team.
Since 2017, the Directorate also has used phone extraction and analysis software from the Israeli company Cellebrite, which boasts having contracts with police, military and secret service agencies in more than 150 countries. Its main product, Universal Forensic Extraction Device, can bypass passwords and encryption to remotely access mobile phones and computers. It then extracts, analyzes and presents the data in a tidy report.
The Directorate used Cellebrite for 939 extractions from 2017 to 2022. The police provided me with a long list of crimes they have investigated using Cellebrite technology, including homicide, drug trafficking, human trafficking, rape, fraud, vandalism and arson. Court records prove that the police have used Cellebrite in at least one case against a group of environmental activists, in which they were able to extract incoming and outgoing calls, photo albums, social media messages, emails and plenty else from the activists' phones.
The ATIC also uses the Cellebrite software and has conducted 3,893 extractions since 2015. The office of Honduras' secretary of defense confirmed it does not use Cellebrite.
This type of state surveillance "is often much more intrusive than you would think it would be," said Tamir Israel, of Human Rights Watch. "There is also a chance for more serious repercussions to happen," Israel said, referring to torture, state killings and imprisonment that have occurred immediately after surveillance or even years in the future in other countries. "That's why it's important to have very clear checks and balances around every step of this at every point in time."
These companies are required under international human rights laws to act responsibly and conduct due diligence in their sales, but enough abuse has been exposed over the years to know this is not happening on an industry-wide level, Israel said. U.N. experts, alongside groups like Human Rights Watch, have called for a global moratorium on the use of these technologies until more robust due process mechanisms and data protection laws are in place. Any company selling these products "must have known of the government's connections to the illegal drug trade, and if they didn't, they had a responsibility to learn," said University of California Irvine law professor David Kaye. "If the companies did more than just sell a product — for instance, if they then serviced it, helped the customer use it — they owe the victims and the world an explanation for what they knew and what steps, if any, they took to mitigate or prevent harms."
In September 2021, Cellebrite announced the formation of an ethics and integrity committee to respond to these types of critiques. The company has come under scrutiny for its contracts with countries like Saudi Arabia and Myanmar and the recent sale of its technology to the Ugandan police.
In an email to Coda, Cellebrite Director of Public Relations Victor Cooper wrote that the company pursues "only those customers who we believe will act lawfully and not in a manner incompatible with privacy rights or human rights" and noted that Cellebrite does not sell to countries sanctioned by the U.S., EU, U.K. or Israeli governments, such as Belarus, China, Russia and Venezuela. Cooper declined to comment on Honduras specifically. Coda reached out to Palantir about its contracting practices, but the company did not respond to a request for comment.
Daniel Osorio, a tech consultant for the police, told me he had seen the police use Palantir, Cellebrite and other technologies, but that many officers didn't seem to have much training. "I've thought, who taught them the ethics of this?" he told me. "Because ethics come first."
And all this technology is expensive. It has likely cost Honduras millions of dollars — documents obtained through open records requests indicate that the police have spent at least $136,000 for Cellebrite each year. Outside sources indicate that authorities spent $150,000 per server per year for Palantir, at least $335,000 for Galileo, and likely upwards of one million dollars for Pegasus. Hernández closed his administration with more than 70 percent of Hondurans living in poverty.
This multi-million dollar digital surveillance structure was all in place by the time Juan Orlando Hernández was set to face the biggest challenge to his presidency: the 2017 reelection campaign.
IV. THE TARGETS
Hery Flores was a student when the presidential campaign kicked into full gear in 2017. That's when Flores met Marcio Silva, who was part of the prominent protest group Movimiento Estudiantil Universitario. As part of the group, Flores and Silva both regularly spoke out about university policies like budget cuts. They also demonstrated against Hernández's reelection campaign.
Months before the November 2017 elections, during a protest, police entered the university and beat Silva and others with batons and launched tear gas canisters. Silva and 19 others were arrested for allegedly damaging a university building.
That's when the surveillance started, Silva told me recently in Tegucigalpa. "I think they had already been following us and monitoring our social media," he said. "But because 2017 was an election year, we became a problem for those who wanted to stay in power."
When Silva was in police custody, his cell phone was taken away, as is customary for anyone arrested in Honduras. But authorities cannot legally access phones or extract their data without a warrant signed by a judge. Court documents show no sign of a warrant being sought in Silva's case. Nevertheless, "they hacked everything, all of my passwords," Silva said.
I asked Osorio, the tech consultant, about this later on. "When they arrest people and take their phones for a long time, it's because they are doing an excavation," he said, referring to the process of extracting data. Cellebrite can do this kind of extraction, but there's no smoking gun proving that this is how they got Silva's data.
There was strong evidence that police had hacked into his social media accounts. Pornographic images and videos were posted to Silva's Facebook account, in what he believes was an attempt to make him look "perverted" and discredit his activism. "It was part of a smear campaign," Silva said.
Media outlets aligned with the government started publishing charts and diagrams on student leaders and the internal structure of the protest group. "There was information that astonished us with the level of accuracy," said Silva. "The national ID numbers, the majors we studied, our school year, even our grades."
Police sources explained that tools made by Palantir make it easy to build profiles and see connections like this. Technology like i2 also carries out similar data analytics functions, which can map connections, according to police officers familiar with the software. It uses cell phone records to analyze gang and criminal structures, as well as social movements. Other sources noted the possibility that some of the information was embellished or made up altogether, to paint a picture that served police purposes.
After he was released, Silva started receiving death threats via WhatsApp and anonymous Facebook accounts. "We're going to kill you, we're going to burn you, piece of shit terrorist," they wrote. Some even slung racist messages at him, commenting on his dark complexion. The women in his organization received rape threats. Silva never got his phone back.
Then came election night. As the results began to roll in, Hernández was trailing his opponent by almost five points. Suddenly, people's internet connections mysteriously went dark. When connectivity was restored the next day, Hernández was in the lead. Suspicions of fraud led Hondurans to fill the streets.
Flores and Silva were among them. So was Raúl Álvarez, a former police officer who was 24 at the time. Months prior, he had been let go from the police force along with 200 other officers as part of the supposed "purification" process. His superiors never gave a reason. He was simply notified he had been removed through an "order from the executive branch."
"They fired the good ones and left the bad ones there," he said.
Álvarez was never formally accused of corruption. Making ends meet washing his neighbors' cars and frustrated with the ruling government, he decided to join the thousands demanding accountability in what looked like a fraudulent election.
Among the throngs of demonstrators, he recognized some former police colleagues disguised as protesters, perhaps trying to infiltrate the mass movement. He pointed them out to others.
"I became a target for them because of all the information that I have," Álvarez said.
Weeks later, Álvarez was arrested and accused of vandalizing the Marriott hotel in Tegucigalpa and another business during protests. He was put in pre-trial detention in a high-security prison.
To prove their case, authorities used Cellebrite to access Álvarez's phone and extract his data. Court records reviewed by Coda listed all 690 of his contacts, 47 separate SMS conversations, nearly 200 internet search histories and more. Some files he said he had previously deleted were even recovered by the technology.
Prosecutors presented photos of Álvarez at the protests that were extracted from his phone as evidence in his trial. He does not know what authorities did with the rest of the information or how many people had access to it.
Álvarez was never convicted. He was released after two years in a maximum-security prison before the amnesty law passed. In January 2023, a judge finally closed his case. He suffered an attack after his release that left him partially blind in one eye, and his attacker said he planned to kill him. He wants to leave the country.
"Thank God I was a prisoner and not a martyr," he said. "But my life also matters, and I think the effort that I gave to this country is already large enough." Knowing the police have so much information on him has made Álvarez feel even less safe than before. "I keep thinking that it's better to ask for asylum in another country," Álvarez said.
During the Hernández years, it was not just direct political opponents that became targets of Honduras' surveillance regime. Lawyers and activists told me they saw similar trends among civic groups in other parts of the country. Nidia Castillo, a human rights lawyer in the southern state of Choluteca, explained how the previous government also went after environmental groups, which are sometimes seen as a threat to industry, and campesino (tenant farmer) organizations. "They need to have profiles and to know who are the leaders to initiate actions of criminalization, persecution and threats," she said.
Activists with social movements in the Bajo Aguan region told me that their phones were regularly confiscated or tapped. Once when members of the campesino group COPA used code to thwart ubiquitous surveillance of their conversations, a misinterpretation of their conversation appeared in state-aligned media. Two COPA members told Coda that they had their cell phones confiscated by police, after they were questioned about the murder of their colleague. Authorities have not formally accused them of any crime, making the confiscation of their cell phones illegal. Four campesino leaders from this region were murdered in January 2023.
Christopher Castillo, a coordinator at the environmental rights group ARCAH, also became a target. His organization investigates and reports corrupt companies and individuals whose activities threaten Honduras' natural resources. The organization has become skilled in uncovering information on corporate and government wrongdoing, making the state see them as a threat, he told me.
In Tegucigalpa, on March 29, 2021, about 15 activists from ARCAH protested outside a chicken processing plant they said was polluting the local river with its waste, turning the water brown and giving it a putrid odor. Around 10 a.m., police officers far outnumbering the activists arrived to break up the protest. At least one drone circled above.
Seven were detained and arrested by the police on charges of "forced displacement," punishable with up to nine years in prison. The charge is usually brought in cases of gang members who force residents to flee their homes.
Four of the activists had their phones taken away: Christopher Castillo, Jeffrey Alexander Suazo Girón, Victor Alfonso Hernández and Michael Aguilar. Coda confirmed through court records that the police used Cellebrite technology to extract extensive data from all four phones. This included WhatsApp messages, incoming and outgoing calls, photo albums, Facebook Messenger and Twitter messages, emails and memory archives.
By April 2022, the charges against the seven ARCAH activists were dropped when a judge ruled that there was not enough evidence of a crime for the case to continue. But they still haven't gotten their phones back.
Christopher Castillo thinks he and his colleagues were targeted for a specific reason: their activism often uncovers information that threatens the interests of powerful companies and politicians. "The message is clear. What bothers us is your information," he said.
All of these activists reported receiving death threats and said they feared that the police and security forces could harm them. "If you ask me who has this information and this technology, they aren't the best people," said Osorio, the tech consultant. "They can cause you harm."
V. MEET THE NEW BOSS: XIOMARA CASTRO
Six months after Flores was detained by the police outside the gas station, he was tapped to join the administration of Xiomara Castro, who had prevailed in national elections. Castro's December 2021 victory brought the Libre party into power for the first time.
Castro rose to political prominence after leading a protest movement in the wake of the coup. In her third presidential run, she promised to demilitarize public security and promote a community policing model. Against the odds, Hondurans decided to give her a chance.
Activists and student leaders make up a core of President Castro's political base. In February 2022, the Castro government passed an amnesty law under which the judiciary threw out the cases of people persecuted for their political beliefs or for protesting the previous government. Flores had his case thrown out under the law. Silva is applying for his case to be overturned. Court documents we've received thus far do not explicitly mention the use of digital surveillance technologies against either Flores or Silva.
Castro says she wants to strengthen the rule of law and turn the police — one of the primary institutions wielding these surveillance technologies — into an effective and honest institution. But after a little more than a year in office, her long list of campaign promises hangs heavily over the administration. And support among her base has begun to falter. "It's true there has been a change of government," said environmental activist German Chirinos. Nevertheless, he said, "The authorities are the same — the police officers, the people in the judicial system."
The security minister, police director and other high level police officials repeatedly declined my requests to interview them about surveillance and initiatives to fight corruption within the ranks.
Along with former president Hernández, Honduran police arrested 11 other people on extradition requests from the U.S. after he left office. The Castro government touted this as a major success. But apart from the "big fish" strategy, it's unclear how the new government will eradicate corruption and the influence of the drug trade on politics and security institutions. Castro's own government and family have come under scrutiny for potential drug trafficking ties. Zelaya, Castro's husband, was accused of taking a bribe from drug traffickers in a New York court case. A promise to bring an international anti-corruption commission has stalled. And cocaine seizures actually declined during Castro's first year in government.
Key laws that enable abusive surveillance, including the wiretapping law, remain. "Until they are overturned, we're not going to accomplish anything," said ARCAH activist Christopher Castillo. In November 2022, he was stopped by the police again outside his house, without cause.
In early December 2022, Castro's government declared a state of exception in certain gang-controlled neighborhoods in the country's two largest cities in an attempt to fight extortion, which grants broad powers to security forces. At least four environmental leaders have been killed so far this year. UN human rights experts have called for an independent investigation into the killing of two activists in the north, who had previously been arbitrarily detained after opposing a mining project sanctioned by the Hernández government.
Maria Luisa Borjas, the former police officer, has been following the new government closely, particularly its security policy. "There are no clear policies to combat corruption, neither in the government in general, nor in matters of security, nor in the Armed Forces," Borjas said. She criticized the amnesty law — which has become one of the Castro's government's most controversial policies — for providing impunity to corrupt officials instead of fulfilling its intended purpose of liberating political prisoners.
VI. 'YOU DON'T WANT ME TO KNOW WHERE YOU LIVE'
When the police gave me an extensive tour of their investigative unit, agents offered sweeping details about their work, on everything from collecting evidence at a crime scene to deactivating explosives. Many emphasized the need to follow protocol and obtain warrants for searches.
It all made me wonder if the institution is finally achieving real reforms.
But at the end of my tour, my confidence evaporated. A police officer offered to give me a ride home. I politely declined, saying I didn't want to inconvenience him. "You don't want me to know where you live," he said. "Even though I could find out anyway."
He explained how based on my phone number he could find records from the phone company that document my address or even use GPS data from my phone to figure out where I spend most of my time.
"You couldn't do that, because you would need a warrant," I said, repeating what the police had gone through so much trouble to emphasize to me when they explained all the technology in their power.
He responded that he could just send the woman who operates the computer to go buy a soda, and he could log into the computer without her knowing.
"But that would be corrupt," I said. "And you're not corrupt, right?"
Of course not, he said. He had just been joking.
---
This reporting is sponsored by the Bruno Foundation, set up by journalist and writer Martin Walker. Walker is a celebrated international reporter, historian, and author of the popular Bruno detective series. Bruno's eponymous protagonist has a distinct awareness of justice, intrigue, and tenacity – traits the Bruno Fellowship encourages.
The Big Idea
Shifting Borders
Borders are liminal, notional spaces made more unstable by unparalleled migration, geopolitical ambition and the use of technology to transcend and, conversely, reinforce borders. Perhaps the most urgent contemporary question is how we now imagine and conceptualize boundaries. And, as a result, how we think about community. In this special issue are stories of postcolonial maps, of dissidents tracked in places of refuge, of migrants whose bodies become the borderline, and of frontier management outsourced by rich countries to much poorer ones.
Read more