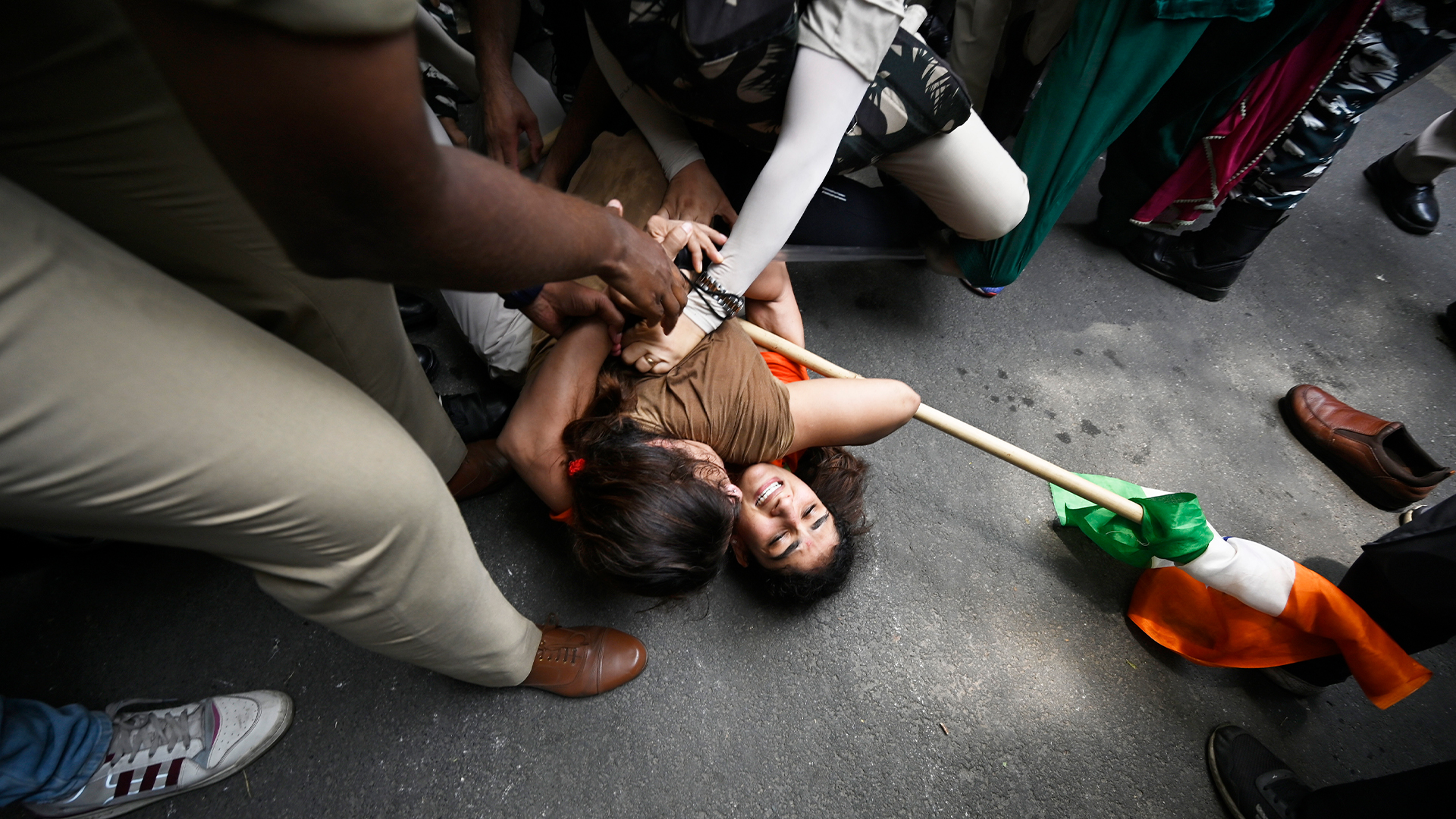 Indian wrestlers say 'me too' but the BJP is not listening
Olympic medalist athletes are camped out on the streets of Delhi, alleging sexual harassment by a powerful politician
On the morning of May 28, the Delhi police manhandled a group of high-profile Indian wrestlers, including Olympic medalists, into a police bus. Images of the athletes — the most prominent of whom were women — being shoved, roughed up and dragged along the streets went viral, causing anger and outrage in a country with very few individual medal winners at the highest levels of international sport.
About a mile away, as the wrestlers were being violently restrained by the police, Indian Prime Minister Narendra Modi was opening the country's new parliament building, estimated to have cost $120 million, in a controversial ceremony that was boycotted by at least 19 opposition parties. The wrestlers were marching toward the building to draw attention to their cause when they were stopped. They had already been protesting for weeks at Jantar Mantar in central Delhi, a site designated for protests. But permission to protest outside the new parliament building, said the police, had been denied.
For a little over a month, the wrestlers camped out at Jantar Mantar. They have alleged that Brij Bhushan Singh, arguably the single most powerful official in Indian wrestling over the last decade, has been sexually harassing young female wrestlers for years. The protesters include some of Indian wrestling's biggest names — Sakshi Malik,the bronze medalist at the 2016 Rio Olympics, Vinesh Phogat, a medalist at the World Wrestling Championship in both 2019 and 2022, and Bajrang Punia, the bronze medalist at the 2020 Tokyo Olympics. Since it became an independent nation in 1947, India has won 30 Olympic medals, seven of them in wrestling. Medal-winning athletes are celebrated with fervor largely because there are so few of them in India.
Brij Bhushan Singh, the man the wrestlers accuse of systematic sexual abuse, is a six-time member of parliament. He is an influential figure in the Bharatiya Janata Party, India's ruling party.. Singh has the reputation of being a strongman who wields considerable political muscle in Uttar Pradesh, a vast northern state that is electorally crucial for keeping the BJP in power. In addition to his parliamentary duties, Singh has been the president of the Wrestling Federation of India since 2011. Though he was asked to temporarily step aside from his role at the Federation after the allegations came to light, he is still listed as its president on its website.
Since April 23, Indian wrestlers, including the sport's biggest stars, have been living in a makeshift plastic tent and sleeping on mattresses laid out on the pavement. They have called for Singh's dismissal from the Federation and for his arrest. "We have been sitting here asking for justice," Vinesh Phogat told me. Their supporters point to the lack of action by the police, including delays in just registering a complaint, as evidence that the BJP is shielding Singh.
He has, the wrestlers say, been harassing young athletes, including at least one minor, for over a decade with impunity. When Sakshi Malik joined a training camp in the city of Lucknow in 2012, she told me, older wrestlers warned her that Singh "was not a good man, that he sexually harassed girls." She described his predatory behavior as an open secret in the wrestling community. "The parents, the women's coaches, the men's coaches, everyone knew this was happening." But, she added, he was so powerful that "no one had the courage to speak out against him."
Phogat also told me that Singh would "harass almost every girl." And that if the young women wrestlers resisted, Singh "would ruin their game" and subject them to "mental torture." Many young women, Phogat said, "have left wrestling because of him."
Paramjeet Malik, a former official physiotherapist of the Wrestling Federation of India, said he was aware that Singh harassed women. He told me that in 2014, three young wrestlers had confided in him that they had been sexually harassed by Singh. Malik lived with the athletes at the training camp in Lucknow that year. He told me that, on several occasions, he had noticed a car that he knew belonged to Singh stop at the camp to pick up women wrestlers. "I saw them leaving the camp at night, after eleven, or sometimes at midnight," he told me. When he asked the girls what was going on, he said, some of them broke down and told him that they were being called to Singh's residence in the city.
If they refused to go, Malik told me, they were told that Singh "would have their names removed from the camp's list, that they would be declared unfit, that their careers would be ruined." Some of these girls, he said, were under 18 and came from low-income backgrounds. Sport, to them and their families, was a way out of poverty. Malik said he made a written complaint to a senior coach at the camp but no action was taken. Malik alleges that when he spoke to the media about Singh's behavior, he was fired. According to Malik, the coach who fired him admitted that he had been receiving calls from Singh himself. The coach warned Malik that Singh was a powerful man and that Malik's life could be in danger if he persisted. "That very night," Malik told me, "we had to flee the camp."
The three star wrestlers leading the current protests — Sakshi Malik, Vinesh Phogat and Bajrang Punia — said they believed they had reached a level of recognition that finally empowered them to take on Singh and stop the abuse. The trigger, Malik told me, was when she heard that 10 women had been harassed by Singh after a recent junior world championship. A few of the young women spoke directly to Malik. She said she had to speak up. "Enough was enough," Malik told me, "we didn't want coming generations of women to have to face the same thing."
On April 21, seven women wrestlers, including a minor, filed police complaints against Singh at a Delhi police station. Their identities have not been publicly revealed. The women listed specific incidents of harassment between 2012 and 2022 and said they occurred at Singh's official parliamentary residence in Delhi and during tournaments in India and abroad. The Indian Express newspaper reported that, in at least two complaints, the women described in detail how Singh touched them inappropriately on the pretext of checking their breath.
However, the Delhi police did not immediately register a case against Singh. The police in the Indian capital operate under the authority of India's Home Ministry — as part of the federal, rather than local, government. India's current home minister is Amit Shah, and he is effectively second only to Modi in the hierarchy of both the government and the BJP.
When the police failed to take note of their complaint, the wrestlers filed a petition with the Supreme Court asking for a police probe. Only after the court intervened did the Delhi police register two complaints against Singh. One of these complaints was from a minor and filed under India's stringent Protection of Children from Sexual Offenses Act — a guilty verdict under the act results in, at minimum, a five-year sentence.
Singh denies all allegations and says he is willing "to be hanged" if found guilty. He has called the wrestlers' protests "politically motivated." Over the last month, several leaders from India's opposition parties have visited the wrestlers' sit-in to extend solidarity. Singh has since described the athletes as "toys" in the hands of opposition parties.
"Sexual harassment is not a political issue," Phogat told me. She said it was Singh who was trying to make their complaints about politics in a bid to "save himself." The wrestlers, Phogat said, have put their careers on the line for their cause. "We have some respect, some standing in the country," she told me. "Something must have happened for us to be here."
Phogat pointed to the U.S. gymnast Simone Biles, who testified against the U.S. national gymnastics team's doctor Larry Nassar — accused of sexual abuse by more than 100 women. "When Simone Biles spoke up against sexual harassment," Phogat said, "did they call her political?" She described Singh as India's Larry Nassar. "There are many Larry Nassars here," she told me, "not just one, but at least we are taking on one now."
Kavita Krishnan, a feminist activist and writer, says that the BJP is "backing their leader" in a "brazen and shameless" way. "The ruling party has not distanced itself from this man," she told me. "I cannot remember so blatant a case of political protection." She said Singh's "political power" in Uttar Pradesh, which has 80 seats in the Indian parliament, more than any other state, is "the basis of very cynical calculations this government is making about keeping this guy around."
Krishnan added that in a normal, healthy democracy, the wrestlers' complaints would have caused huge political embarrassment. One of the primary reasons for the absence of pressure on the BJP, she said, was the lack of serious and sustained mainstream media coverage of the scandal. The BJP exercises its control, she said, not only through government bodies but also through one of its "main propaganda arms" — the media. "The control of the propaganda media over public opinion," Krishnan said, is what "the government relies on" to shape public conversation. Most mainstream media, she said, are either neglecting the story or suppressing it. "The most influential media with the greatest reach, especially in non-English Indian languages," Krishnan told me, "are, for the large part, totally batting for the BJP and Brij Bhushan Singh." Vinesh Phogat told me that "national TV is making Singh the hero and us the villains."
The wrestlers first held a public protest in Delhi in January 2023. At the time, the government persuaded them to call it off by forming an oversight committee to examine the allegations and by asking Singh to "step aside" from his role at the Wrestling Federation. By late April, though, the wrestlers felt they had no choice but to resume protests after they saw no serious action being taken against Singh. The oversight committee's report wasn't made public, and the athletes expressed a lack of faith in its functioning.
Sakshi Malik told me that she believed the committee had given Singh "a clean chit," which means effectively clearing him of all charges. The wrestlers claimed that Singh had also resumed overseeing tournaments in his area and was still calling the shots in the Federation, a sign of his political power.
To further show off his political clout, Singh has called for a mass rally on June 5 in the city of Ayodhya in Uttar Pradesh, a place sacred to Hindus. "On the appeal of the nation's revered saints, a grand rally for public awareness," reads a poster for the event, complete with an image of a Hindu god. Krishnan described the rally as an attempt by a BJP politician at "invoking Hindu identity" and "Hindu supremacist politics" to imply that he is innocent and deserves the support of all Hindus. Singh has claimed that over one million Hindu seers will attend. "Under the leadership of seers, we will force the government to change the law," he declared, referring to India's Protection of Children from Sexual Offenses Act.
The wrestlers say that Singh has tried to intimidate the athletes who complained to the police. Malik told me that the minor in particular has been targeted. "Phone calls have been made to her parents," Malik said. Strange cars have been spotted around her house at night.
Even as Singh has attempted grandstanding and deploying strong-arm tactics, the wrestlers have stood their ground. On May 28, the police detained the wrestlers for the day and arrested at least 700 others across the capital. With the wrestlers and their supporters held at different police stations, the authorities took the opportunity to clear their protest site and said they would no longer allow the month-long sit-in to continue. Delhi police also charged the wrestlers with "rioting" and "obstructing a public servant." The wrestlers have since announced that they will begin an indefinite hunger strike.
In the past few weeks, as the protests have intensified, the wrestlers have received support from student unions, women's groups, labor unions, farmers' collectives and even the International Olympic Committee. On the evening of May 23, nearly 500 people marched to India Gate, a war memorial in the heart of Delhi, as part of a candlelight protest in support of the wrestlers. Sakshi Malik stood on the edge of a police barricade and lit a candle, as hundreds gathered before her waving Indian flags. "This is a fight for India's daughters," she told the crowd. "We have to win this. And we will."
The Big Idea
Shifting Borders
Borders are liminal, notional spaces made more unstable by unparalleled migration, geopolitical ambition and the use of technology to transcend and, conversely, reinforce borders. Perhaps the most urgent contemporary question is how we now imagine and conceptualize boundaries. And, as a result, how we think about community. In this special issue are stories of postcolonial maps, of dissidents tracked in places of refuge, of migrants whose bodies become the borderline, and of frontier management outsourced by rich countries to much poorer ones.
Read more