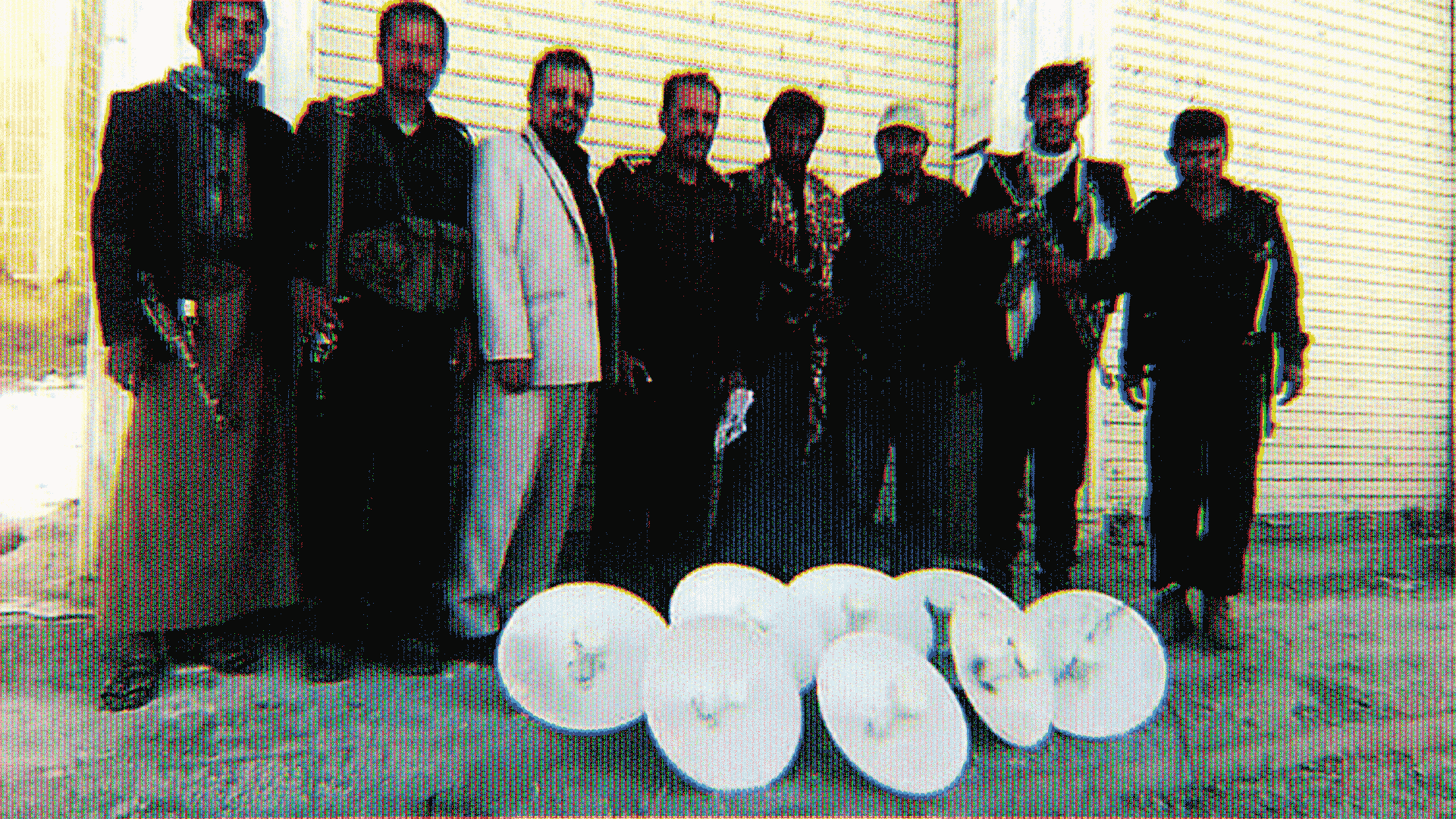 In Yemen, the internet is a key front in the conflict
Price hikes and slow broadband speeds have cut off many Yemenis from a world beyond the war
Perched on a remote mountain ridge in Yemen's southwestern Ibb province, a cluster of white dishes bolted to pipes and tree branches beams wireless internet to thousands of people in the area.
Parts of rural Ibb have no fixed telephone lines and limited mobile coverage. In an effort to deliver digital connectivity to his people, Nabil al-Mansouri launched a do-it-yourself wireless business, known as a community network, three years ago.
Sort of like the once-ubiquitous internet cafe, community networks purchase bandwidth from Yemen's state-owned internet service provider, YemenNet. It is then resold to members of the public. But rather than renting out a seat at an old PC in a smoke-filled room, community networks provide direct wireless internet access to customers in cities, suburbs and villages that would otherwise remain unconnected.
But last September, YemenNet surprised Mansouri and thousands of other community network operators with steep price hikes and data limits: One popular package, which used to cost $115 for 450 GB, now costs either $160 for 400 GB or $105 for 200 GB. A month later, the Iran-backed Zaidi Shiite Houthi government in Sanaa announced that it would no longer issue business permits to the community networks. Overnight, operations like Mansouri's became illegal. By December, Houthi authorities had dispatched armed men to confiscate equipment from wireless providers and issue cease and desist letters at community network offices.
"It's a disaster that has befallen us," said Mansouri. "I was shocked."
Unable to turn a profit at the exorbitant new rates, he had to decide whether to carry on in the hope that business would somehow improve, or shut down the network.
"If I close, it will isolate us from expats and the world," he said.
Critics believe that the cash-strapped Houthi rebels are trying simultaneously to curb internet access and raise funds for the ongoing war against a Saudi-led military coalition that seeks to restore the government of President Abdrabbuh Mansour Hadi. The rebels came to power in late 2014, after overrunning the capital Sanaa and driving Hadi into exile.
Saudi Arabia intervened on Hadi's behalf in March 2015, backing remnants of the Yemeni army with weapons and funding to halt Houthi expansion in Yemen's northern highlands. Forces from the United Arab Emirates, meanwhile, armed and trained anti-Houthi militias in southern provinces and pursued the Sunni militant group Al-Qaeda in the Arabian Peninsula. Nearly five years later, the war has claimed more than 100,000 lives and created one of the world's worst recent humanitarian crises. Access to information is a key front in the conflict, and for many Yemenis, the internet is the only way to find out about current events.
In October, responding to the recent price hikes, Yemen's national syndicate of community networks launched a social media campaign on YouTube, Facebook and Twitter. The campaign included testimonial videos with the hashtag "YemenNet is anti-citizen." Ahmad al-Alimi, the president of the union, estimates that about 3,000 community network owners from Sanaa joined the online protests, along with more than 15,000 nationwide.
In December, the syndicate sued the Ministry of Telecommunications and Information Technology to compel the government to explain the price hikes, data limits and permit changes.
The campaigners have been cautious to not blame the Houthi movement, out of fear of being arrested or worse. They have even adopted the Houthis' anti-Saudi Arabia stance, accusing those responsible for the price hikes of being so detrimental to the interests of Yemenis that they make the Saudis look superior.
"I'm not sure it's any use because [the increase in internet charges] generates income to those at the top," Walid Saqaf, senior lecturer at Sodertorn University in Sweden, told Coda Story. "The ends justify the means sometimes, and this appears to be a politically driven action that is camouflaged in the form of a price hike."
The internet price hikes, which have coincided with a fuel crisis in Houthi-controlled areas, is another blow to ordinary Yemenis, who can barely afford food, gasoline and diesel for generators. Many have come to rely on the internet as a lifeline to the outside world. Unable to find employment in a country beset by war, Yemenis have increasingly gone online to look for work or simply to request help from friends and relatives abroad.
Telecom wars
In Yemen, online censorship is as old as internet access in the country. Since the introduction of the first dial-up connections in 1996, shortly after the unification of the northern Yemen Arab Republic and southern People's Democratic Republic of Yemen, the government has filtered content including pornography, news and information from political opposition groups. High costs also kept most of the population offline.
By 2001, those in power had realized the political and economic potential of the new technology. Accordingly, longtime President Ali Abdullah Saleh created a government-owned internet service provider (ISP), YemenNet, to dilute the power of Yemen's original provider, TeleYemen, which was at that point majority owned by UK-based Cable and Wireless Plc.
The same year that Saleh founded YemenNet, prominent tribal leader and businessman Hamid Alahmar, whose father helped establish Yemen's main opposition political party Al-Islah, launched Sabafon, Yemen's first GSM cellphone network.
As Yemeni power brokers invested in infrastructure and services, prices steadily decreased.
Yemen's telecom wars entered uncharted territory in 2011, as Arab Spring-inspired uprisings opened up political fault lines between democracy activists, Islamists and authoritarian regimes in countries including Egypt, Tunisia and Syria. Then-President Saleh, the architect of the modern Yemeni state, suddenly faced the prospect that his 33-year reign might come to an abrupt end.
In Sanaa, the Al-Islah party joined the Houthis and other anti-Saleh protesters in an area that came to be known as Change Square. After nearly a year of demands for his resignation, Saleh agreed to hand over power to his deputy Abdrabbuh Mansour Hadi. The deal was struck as part of a UN-sponsored democratic political transition negotiated by the Gulf Cooperation Council, a regional political and economic union made up of Bahrain, Kuwait, Oman, Qatar, Saudi Arabia, and the United Arab Emirates. Long-banned websites that were critical of the Saleh regime saw the light of day for the first time in years – including Mareb Press, Almasdar Online, Yemen Press and Aden Press – as some internet controls were relaxed.
But the political transition collapsed in late 2014 when Houthi militias, backed by Saleh, toppled Hadi's government in a military coup and seized control of state-controlled institutions and services like YemenNet. Within months of the Houthi takeover, YemenNet ramped up its filtering of political content and independent media, according to Citizen Lab, an interdisciplinary laboratory based at the Munk School of Global Affairs & Public Policy, University of Toronto, focusing on the intersection of information and communication technologies, human rights, and global security. The Houthi government has since employed a variety of censorship tactics, including slowing down or disabling the internet in anti-Houthi strongholds and conflict zones like Taiz City, which has been besieged by the rebels since 2015.
One of Yemen's most populous cities and its busiest port, Hodeidah, is a test case. The Red Sea metropolis of about 600,000 people has had no government internet access since late 2018, when the U.N. intervened to stop fighting between coalition troops and Houthis. As the main source of food, fuel and aid imports to Houthi-controlled areas in northwest Yemen, Hodeidah has emerged as a lynchpin in the war. While the U.N.-brokered ceasefire has largely held, Hodeidah's inhabitants have remained almost completely cut off from the internet. If not for community networks, the only way to go online is via prohibitively expensive 3G mobile services like MTN-Yemen and Yemen Mobile, both Sanaa-based private companies operating under Houthi influence.
In anti-Houthi strongholds, like the southern port city of Aden, where Yemen's internationally recognized government has operated since being driven from Sanaa in 2015, Yemenis face another set of obstacles to getting online. Constant throttling from Houthi-controlled YemenNet makes the connection so slow that at times it might as well not be available.
In 2018, the UAE and Saudi Arabia sought to break the Houthi stranglehold on the internet and built another ISP, AdenNet. Despite ample investment, coverage remains limited to small pockets around the city. Political instability, along with reported mismanagement and corruption has compounded AdenNet's problems. In early November, Saudi Arabia negotiated a power-sharing deal that halted months of clashes between southern secessionists and the Hadi government, which are allies in the fight against the Houthis but are also competing with each other for influence in Yemen's southern provinces. Known as the Riyadh agreement, the power-sharing deal aims to restore a functioning government in Aden and by extension state services like AdenNet.
According to one employee of YemenNet, who requested anonymity due to security concerns, the Houthis have started to replace personnel with loyalists willing to continue censoring websites and carrying out cyber activities including surveillance and investigations into individuals who publish content on social media deemed threatening to the rebels.
Regardless of where in the country they are or where their political sympathies lie, most Yemenis continue to rely on YemenNet in one way or another, despite the fact the internet connection weakens the farther away from Houthi-controlled Sanaa one goes.
In early January, 80 percent of Yemen's internet capacity vanished when an undersea fiber-optic cable was cut near the Suez Canal. It would take more than a month to repair the so-called Falcon cable, forcing the vast majority of Yemenis offline and exposing how vulnerable Yemen's internet infrastructure is to large-scale disruptions. The outage also affected Kuwait, Saudi Arabia, Sudan and Ethiopia, but those countries had additional cable connections to fall back on.
"We're talking about the worst internet connection in the world to begin with," said Fahmi al-Baheth during an interview over WhatsApp. Baheth is a software engineer and president of Yemen's chapter of global NGO the Internet Society who lives in Dhale province, just north of Aden near one of the most active frontlines in the war separating Houthi and government-controlled territory.
According to M-Lab, an open-source project that measures broadband speeds around the world, Yemen's internet ranks last globally with an average speed of 0.38 Megabits per second. At that speed, it would take more than 30 hours to download a 5GB movie in Yemen.
Yemeni social media is also monitored by the Houthis, albeit using low-tech methods. The rebels have infiltrated WhatsApp chat groups, using the phones of detainees. Houthi gunmen stormed Ibb University in early January and abducted several law students who engaged in a political dispute with Houthi students via WhatsApp group chat. A Houthi military leader raided the home of a school teacher after she criticized the group on Facebook for not paying salaries. Various social media platforms have been blocked throughout the war. Facebook and WhatsApp are the platforms of choice for Yemenis, with more than 90 percent of internet users subscribing to them.
Like other tech-literate Yemenis, Baheth often turns to virtual private networks (VPNs) to bypass social media filtering. But he is in the minority. The syndicate of community networks estimates that only about 20 percent of Yemenis know how to find a VPN that isn't blocked by Houthi authorities. A downside of using a VPN is it adds an extra load on the already limited bandwidth, further slowing download speeds.
As Coda Story interviewed Baheth, gunfire and explosions were audible in the background. The online connection was disabled multiple times during the call. A few days later, when he tried to make a WhatsApp phone call, he was notified that his internet connection prevented such calls.
Back in Sanaa, Ahmad al-Alimi is still fighting to reverse the rate hikes and permit freeze. In December, a day after he took part in a strike in which nearly every community network in the country went offline, he and a colleague were invited to meet with Minister of Communications and Information Technology Musfer al-Nameer and Mohammed Ali al-Houthi, a prominent member of Yemen's Houthi-led Supreme Political Council. Both agreed to form a committee to reconsider the decision to raise internet prices and pledged to return all confiscated equipment within two weeks.
After the meeting ended, the Houthi-run Security and Intelligence Service arrested Alimi, claiming that the previous day's strike caused the state-run mobile network Yemen Mobile to shut off because so many people switched to 3G service at once. He was released the next day.
More than two-and-a-half months after the meeting, according to Alimi, the committee to reconsider price hikes has not been formed and the confiscated WiFi equipment have not been returned.
The Big Idea
Shifting Borders
Borders are liminal, notional spaces made more unstable by unparalleled migration, geopolitical ambition and the use of technology to transcend and, conversely, reinforce borders. Perhaps the most urgent contemporary question is how we now imagine and conceptualize boundaries. And, as a result, how we think about community. In this special issue are stories of postcolonial maps, of dissidents tracked in places of refuge, of migrants whose bodies become the borderline, and of frontier management outsourced by rich countries to much poorer ones.
Read more