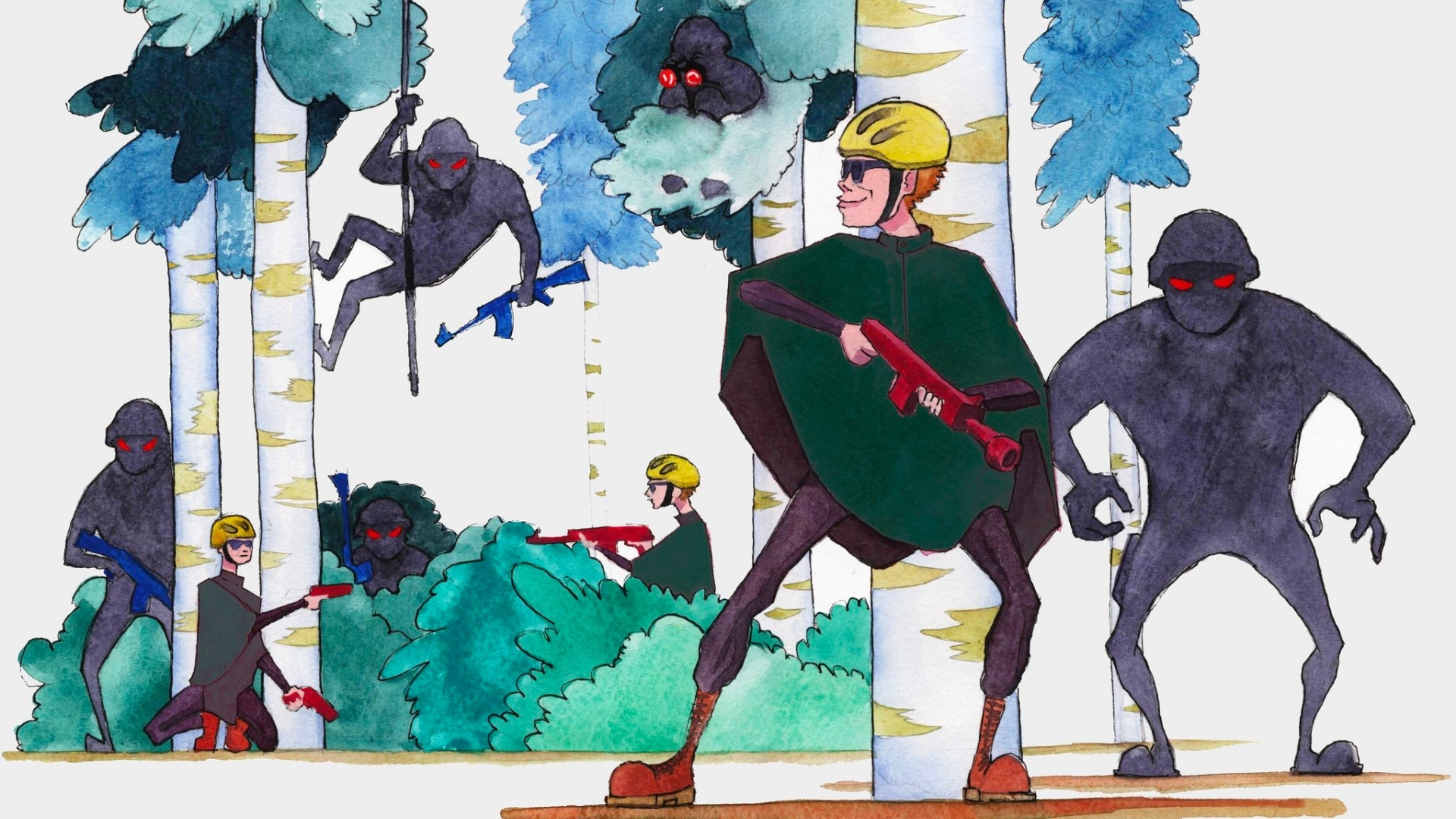 Was a Russian forest wargame a plot to bomb the World Cup?
Russia's FSB has arrested 11 people in connection with the alleged "Network" conspiracy, but activists say it's a fake plot
A group of men in camouflage crawl through dense forest, armed with Kalashnikov assault rifles and handguns. Balaclavas obscure their faces. They come to an abandoned building where they duck down and get ready. "Attack!," one shouts, and throws a smoke-bomb towards the building. Then another group of armed men bursts from inside the building, their guns blazing.
It's not an action-movie, but a clip from an amateur video of friends playing a combat-style game near the city of Penza, about 300 miles southwest of Moscow. They were playing a game called "Airsoft" or "Strikeball." It's a bit like paintball except that players use small plastic pellets or BB rounds. It is both very popular in Russia and legal.
What the men also had in common — apart from their interest in wargaming — was that they were members of a loose circle of left-wing, anti-fascist activists.
But according to Russia's FSB intelligence service, they are "radical anarchists" who are members of a previously unheard of terrorist group called the "Network." And the Penza Airsoft gathering was a training session for a conspiracy to bomb the World Cup and this year's presidential elections — with the goal of stirring "armed rebellion."
So far, the FSB — the successor agency to the Soviet-era KGB — has arrested 11 people in connection with the alleged plot, starting with five participants from the Penza Airsoft game. Agents detained four more people in St. Petersburg earlier this year. And this week, two more men from Penza who had apparently been on the run were detained in Moscow. All those arrested are left-wing activists, and all but one of them played Airsoft. FSB investigators say they were using their wargame for the "illegal acquisition of forest survival skills and first aid skills."
Some of those detained in Penza and St. Petersburg say they were tortured and forced to sign confessions. There has still been no trial, but a judge recently extended their detention until the fall, just as the soccer competition was getting underway across Russia.
But the Airsoft gamers and their supporters say the whole case has been fabricated by the FSB operatives, as a show of their own efficiency in dealing with supposed threats, and to intimidate any would-be opponents of Vladimir Putin. In the process, the activists have also become targets for what they say is a campaign of disinformation aimed at smearing them and justifying the security services' actions.
The FSB did not respond to requests for comment on the case for this article.
The organizer of the Penza Airsoft game, Dmitry Pchelintsev, has been charged with being the "Network's" leader. He is also a firearms instructor, and legally owns several guns.
But when agents searched his property, they also found two grenades in his car, in addition to his legal weapons. He insists they were planted. And after being brought to a detention center, Pchelintsev told his lawyer how he was repeatedly electrocuted by FSB agents until he signed a confession admitting his role. They have become targets for a campaign of disinformation aimed at smearing them and justifying the security services' actions.
At one point, he said they tried to put wires on his genitals. "They began to repeat: 'You are the leader.' To stop the torture, I answered: 'Yes, I am the leader.' 'You were going to commit terrorist acts.' I answered: 'Yes, we were going to commit terrorist acts.'"
"I caved almost immediately," said Ilya Shakursky, another of the Penza activists, as he described being given electric shocks in the same detention center. "They repeated the treatment until I promised to say what they told me to say."
Among the charges levelled against them is that they were using their woodland wargame for the "illegal acquisition of forest survival skills and first aid skills." Investigators said the group had code names for individual "Network" cells, such as "Sunrise" and "5.11."
The activists say these were just names they gave their Airsoft teams. But the FSB wasn't done.
Viktor Filinkov, one of those arrested in St. Petersburg, described how he was given a medical check-up to assess how much electric shock treatment he could take. After "bored" agents tortured him, Filinkov said he too was forced to sign a confession. And it was much the same story for other activists who were detained.
In total, nine anti-fascist activists are now known to be held in custody in connection with the alleged conspiracy.
The Russian government has a legitimate concern about combating terrorist threats — even more so with global attention focused on the country for the World Cup. And there has been speculation that the FSB mistakenly linked the activists with another alleged "terrorist" group. "I caved almost immediately" Ilya Shakursky, Penza activist describing his experience of electric shock torture
But it is unheard of for Russia's security services to admit mistakes. And human rights campaigners believe the FSB is, in effect, using the Airsoft gamers for their own wider agenda of disinformation and intimidation.
"The state is rapidly moving from authoritarianism to totalitarianism and does not want any activity, except its own", said Svetlana Gannushkina, who founded an NGO for migrants and refugees, and also works for Russia's Memorial Human Rights Center.
While almost no political scientist describes Russia as verging on totalitarian, her characterization reflects a deep concern among Russian human rights advocates that the country is sliding backwards into its Soviet past. Gannushkina has become known as one of Putin's most outspoken critics. "Anyone can be a target, without exception," she said. And once the security services have targeted someone, she argues, the facts have to fit the story. "This is how the fabrication started."
The apparent weaknesses in the case against the activists appears to be of little concern to the authorities. Instead, the FSB's effort have been trumpeted on pro-government media, showcasing the video of the Penza Airsoft game. "This is how the group prepared itself for attacks," said the voiceover, in a section of a 30-minute report on the case entitled "The Dangerous Network," which ran on the pro-Kremlin channel NTV in April.
At one point, a young woman with blond hair appears, smiling into the camera as she holds a machine gun. She is described as the "chief ideologist" of the terror organization the "Network."
It is Viktor Filinkov's wife, who sometimes took part in the Airsoft games in Penza. She dismisses FSB claims that they were involved in terrorism as ridiculous, she said, maintaining that their activism was mostly based on a shared lifestyle. "Now they think that I'm the mother of a revolution."
When I met her earlier this year, she said the image in the NTV video was taken in 2014, before an Airsoft game began. Filinkova said she had later uploaded it to her Instagram account, but had then deleted it — so it was chilling to see it reappear years later on a pro-government channel. "The state is rapidly moving from authoritarianism to totalitarianism and does not want any activity, except its own," Svetlana Gannushkina, Russia's Memorial Human Rights Center
Filinkova was in Kiev when her husband was arrested — where she was doing a computer programing course. But the NTV report said she was actually there to make contact with Ukraine's ultra-nationalist Right Sector in order to mount attacks in Russia. Filinkova drily pointed out that as a left-wing activist, "they are my opposition." But we met in Finland, where she is now seeking asylum.
The channel also targeted Vitaly Cherkasov, Viktor Filinkov's lawyer, seeking to highlight this alleged Ukrainian connection. Reporters accosted him as he was setting off for a jog, demanding to know why he was defending "terrorists" and whether he is a supporter of the 2014 Maidan uprising in Kiev.
NTV reporters have pursued similar tactics against volunteers from the Public Monitoring Commission who have been following the case.
Svetlana Gannushkina believes that another goal of the disinformation campaign around the "Network" conspiracy is to discredit human rights groups and any other organizations seen as challenging state narratives. "The authorities understand that people are seeking protection from them in the public sector," she told me. "Therefore, they are slandering NGOs. This task is performed by NTV and other TV channels."
The security services are also under pressure to justify their own narrative of protecting Russia from constant threats, according to Olga Romanova, the founder of "Russia Behind Bars," a Moscow-based NGO. "In order to reach this goal, the security forces have to expose plots and present perpetrators," said Romanova. "If there is no case, they have to create one."
The prospects for the activists don't look good. When a court recently extended their pre-trial detention, it also dismissed all charges against the FSB that its agents had used torture. This was despite extensive evidence to the contrary from the Public Monitoring Commission, who visited Viktor Filinkov and another activist in prison and confirmed "the fact of torture by FSB officers" against them. They could now face significant jail terms.
Aleksandra Filinkova has started an online campaign for the activists. But Russia's state media machine is still keen to ensure its version of events predominates. Recently, the Kremlin-controlled RT channel sent reporters to try to interview two of the Penza activists in custody, according to Mediazona. One of the activist's lawyers said the reporters advised his client not to get in touch with him.
The reasons why are clear according to Svetlana Gannushkina. "Propaganda is necessary for the people to believe that the state protects them and stays in power."
The Big Idea
Shifting Borders
Borders are liminal, notional spaces made more unstable by unparalleled migration, geopolitical ambition and the use of technology to transcend and, conversely, reinforce borders. Perhaps the most urgent contemporary question is how we now imagine and conceptualize boundaries. And, as a result, how we think about community. In this special issue are stories of postcolonial maps, of dissidents tracked in places of refuge, of migrants whose bodies become the borderline, and of frontier management outsourced by rich countries to much poorer ones.
Read more