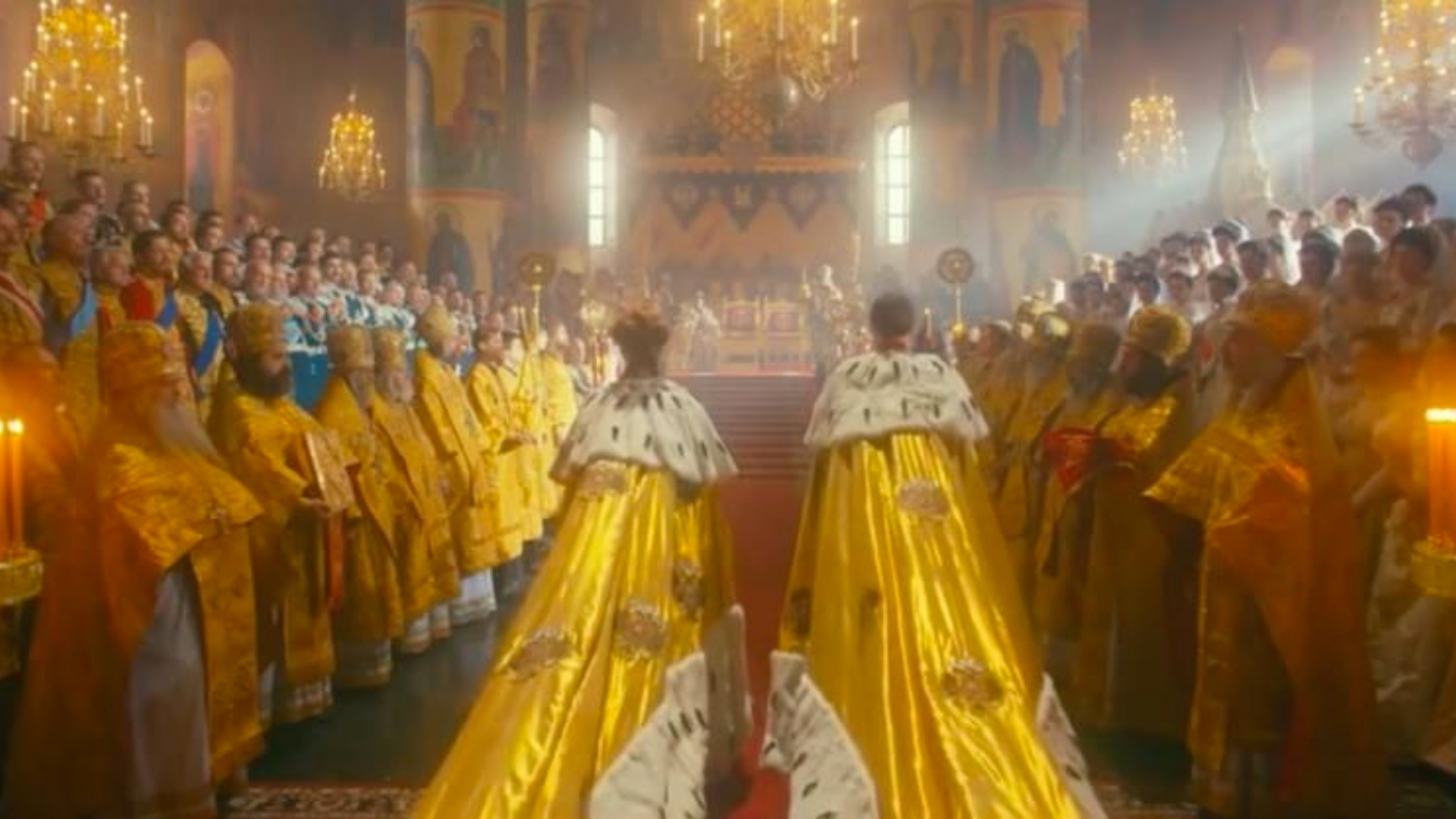 Kremlin, nationalists face off over Romanov romance 'Mathilda'
Moscow's conservative friends become its foes in campaign to defend Tsar Nicholas II's memory
The trailer for "Mathilda," a fictionalized retelling of the romance between the Tsarevich Nicholas Alexandrovich — later Nicholas II, Russia's last tsar — and ballerina Mathilda Kschessinskaya, looks like standard Hollywood-esque fare. Beautiful women dance, the royals live well, the poor are invisible. There are love triangles, fireworks, a diamond-studded crown rolling on the floor.
But this is more than just a two-minute preview of a feature marking the centennial of Russia's 1917 Bolshevik Revolution. It has become the focal point of a bitter struggle over the right to creative expression, and over whether or not the Kremlin has become the tool of the very religious nationalist movement it has encouraged.
The more than 16,600 signatories of a Change.org petition to ban "Mathilda" believe that the trailer's implication that Nicholas II engaged in pre-marital sex is a "deliberate lie" that dishonors his canonized status as a passion-bearer (someone who humbly submits to death) and insults "all of Russia." The petition requests action from both the Ministry of Culture and Russian Orthodox Church Patriarch Kirill.
No serious historian disputes the affair between Tsarevich Nicholas and Kschessinskaya. But the traditionalism promoted by church and state makes no exceptions for the facts.
Or for someone with the film director's credentials.
Sixty-five-year-old Alexei Uchitel is a pro-Kremlin member of Russia's cinema elite, and a supporter of Russia's 2014 annexation of Crimea. The president of St. Petersburg's Message to Man film festival, he is one of the country's most popular directors; a man who counts Soviet-era celebrity filmmaker Stanislav Govorukhin, a Kremlin ally and unabashedly censorship-happy politician, among his supporters.
That leaves the government in a double bind — it must now try simultaneously to gratify both religious nationalists and influential establishment artistic figures.
The task is complex. The Russian Constitution forbids all forms of censorship, but а 2013 law that makes insulting "religious feelings" a criminal offense carries greater force.
Leading the charge against "Mathilda" is 36-year-old Duma deputy Natalia Poklonskaya, Crimea's former general prosecutor and a member of the ruling United Russia party. Citing the "religious feelings," Poklonskaya wants prosecutors to scrutinize both the film's financing and its entire script.
An earlier review of the trailer, executed at Poklonskaya's request, found no violation of the law. The culture ministry's Public Chamber, a "consultative" body, plans to do its own review of the film as well.
Yet ultra-Orthodox groups and one senior Church official, Metropolitan Isidor of Kuban, insist that "Mathilda" should be banned.
Equally amused and annoyed by the outcry, Uchitel has opted to fight back. On February 8, he asked Russia's general prosecutor's office to protect those working on "Mathilda" from "threats and illegal actions" by individuals with "extremist inclinations;" an apparent reference to Orthodox groups burning the film's posters and pushing cinemas not to show "Mathilda." He also requested protection from Poklonskaya's "slander."
Prosecutors have not yet responded, but, in the first pointed government pushback against Orthodox activists, Kremlin spokesperson Dmitry Peskov has, noting that the state "will respond harshly" to attempts by "anonymous extremists" to put "pressure on culture, on mass media . . ." "We're getting more provincial as the result [of censorship], which means that Russian cultural influence in the world will further weaken," said filmmaker Mikhail Mestetsky.
The Kremlin has reason to see the attack on Uchitel as an attack on itself.
The Ministry of Culture helped finance "Mathilda's" estimated $25-million budget (the exact amount has not been released) and allowed scenes to be shot within the Kremlin's Uspensky Cathedral and the former royal residences Tsarskoe Selo. The state-run palace even hosted a display of costumes from the film.
Another government-owned facility, St. Petersburg's tsarist-era Mariinsky Theater, where Kschessinskaya danced, may host "Mathilda's" première.
The struggle over this state-cosseted film is just the latest example of radical conservatives turning their wrath on their heretofore government allies. Some stage-and-film professionals, like playwright-filmmaker Vassily Sigarev, a frequent target of conservative attacks, believe the situation is "getting out of control."
In 2015, ultra-Orthodox activists vandalized the works of non-conformist Soviet sculptors in Moscow's state-owned Manezh gallery for the way in which they portrayed some religious themes. The perpetrators served only a few days behind bars or were cleared of all charges.
More recently, the government got into a Kafka-esque farce when Chechen strongman Ramzan Kadyrov clashed with Kremlin spokesperson Peskov for demanding that one of Kadyrov's associates, biker Alexander Zaldostanov, apologize for insulting prominent theater director Konstantin Raikin, who, in turn, had denounced the government for censorship of the arts.
"I sometimes get the suspicion that [people in the Kremlin] are actually shocked by this Dr. Moreau-like zoo that they've built up around themselves," commented Sigarev, alluding to the human-animal hybrids of H.G. Wells' science-fiction novel, "The Island of Dr. Moreau."
"But it's the Kremlin that created these aforementioned monsters, and now they're reaping what they've sown."
Against this backdrop, some stress that Russian artists need to start weaning themselves off state sponsorship. Chief among them is Mikhail Ugarov, the artistic director of Moscow's independent basement theater Teatr.doc.
"The government is counting on these lambs to stay silent with only the occasional bleating," Ugarov said of government-financed filmmakers. "Fall out of love with the pile of cash, and you will realize that you can do what you want."
But with limitations.
Private funding for the arts can be hard to come by. The tradition largely died with the 1917 revolution.
With much of the economy under government control, filmmakers cannot easily ignore the state purse. The culture ministry set aside 7.6 billion rubles (about $129 million) for film production in 2016; filmmakers do not have to return unused funds.
That purse may not last forever — amid sanctions, lower oil prices and a sharply devalued ruble, the finance ministry recently projected that government spending could decrease for almost the next 18 years.
For now, however, those who pass up state financial support can be exposed to harsh attacks.
The Moscow city government evicted the independently financed Teatr.doc from its facilities in 2014 after it showed a Ukrainian documentary about the EuroMaidan uprising and the battle with Russian-backed separatists in eastern Ukraine. The theater has since twice relocated. Police raids, administrative fines and a lack of money are routine.
Smear campaigns are another tactic. One private gallery in Moscow opted to close an exhibit of American photographer Jock Sturges' photos of nudist families after a popular pro-government blogger deemed the works "an exhibit for pedophiles." Protesters doused one of the photos in urine for good measure.
Or consider the case of "Rag Union," a 2015 satirical comedy about a group of aspiring anarchists and performance artists that pokes gentle fun at Russia's controversial law on foreign agents.
Last summer, the low-budget film, the feature-length debut of director Mikhail Mestetsky, lost a free screening in a public park in the western city of Smolensk when the park administrators stated they could only welcome events "based upon cultural and moral norms . . . based on taking pride in our history, on a love for our Motherland, on spiritual growth of the individual, and on living a healthy lifestyle." "Nobody owes cultural workers anything; it's you people who owe society," Deputy Culture Minister Vladimir Aristarkhov declared at a 2016 roundtable.
Mestetsky and his crew initially laughed off the controversy, but the director believes that Russia is only sabotaging itself with such bans.
"We're getting more provincial as the result [of this kind of censorship], which means that Russian cultural influence in the world will further weaken," he said.
Conservatives don't see it this way. Edgy art can damage respect for the government, they claim.
"In February 1917 [when the tsar abdicated, according to the Julian calendar], Emperor Nicholas II and his family were victims of black PR — both by the press and by artists . . ." recollected Dmitry Babich, a writer for the state-run broadcaster Sputnik International and a contributor to Problemy Literatury, a conservative publication on fiction and theater. "The end result was that Nicholas was isolated everywhere."
Not wishing the same, the government still stands by the notion that "serving the state" is the most honorable calling for creative professionals.
"Nobody owes cultural workers anything; it's you people who owe society," Deputy Culture Minister Vladimir Aristarkhov lectured director Raikin during a public roundtable last fall over the closure of Sturges' exhibit. "If you don't like it, don't work for state-owned [cultural] institutions."
Whether or not the "Mathilda" fight will prompt Russian filmmakers to do exactly that remains to be seen.
Natalia Antonova is married to director Alexey Zhiryakov, who has worked on projects at Teatr.doc.
The Big Idea
Shifting Borders
Borders are liminal, notional spaces made more unstable by unparalleled migration, geopolitical ambition and the use of technology to transcend and, conversely, reinforce borders. Perhaps the most urgent contemporary question is how we now imagine and conceptualize boundaries. And, as a result, how we think about community. In this special issue are stories of postcolonial maps, of dissidents tracked in places of refuge, of migrants whose bodies become the borderline, and of frontier management outsourced by rich countries to much poorer ones.
Read more