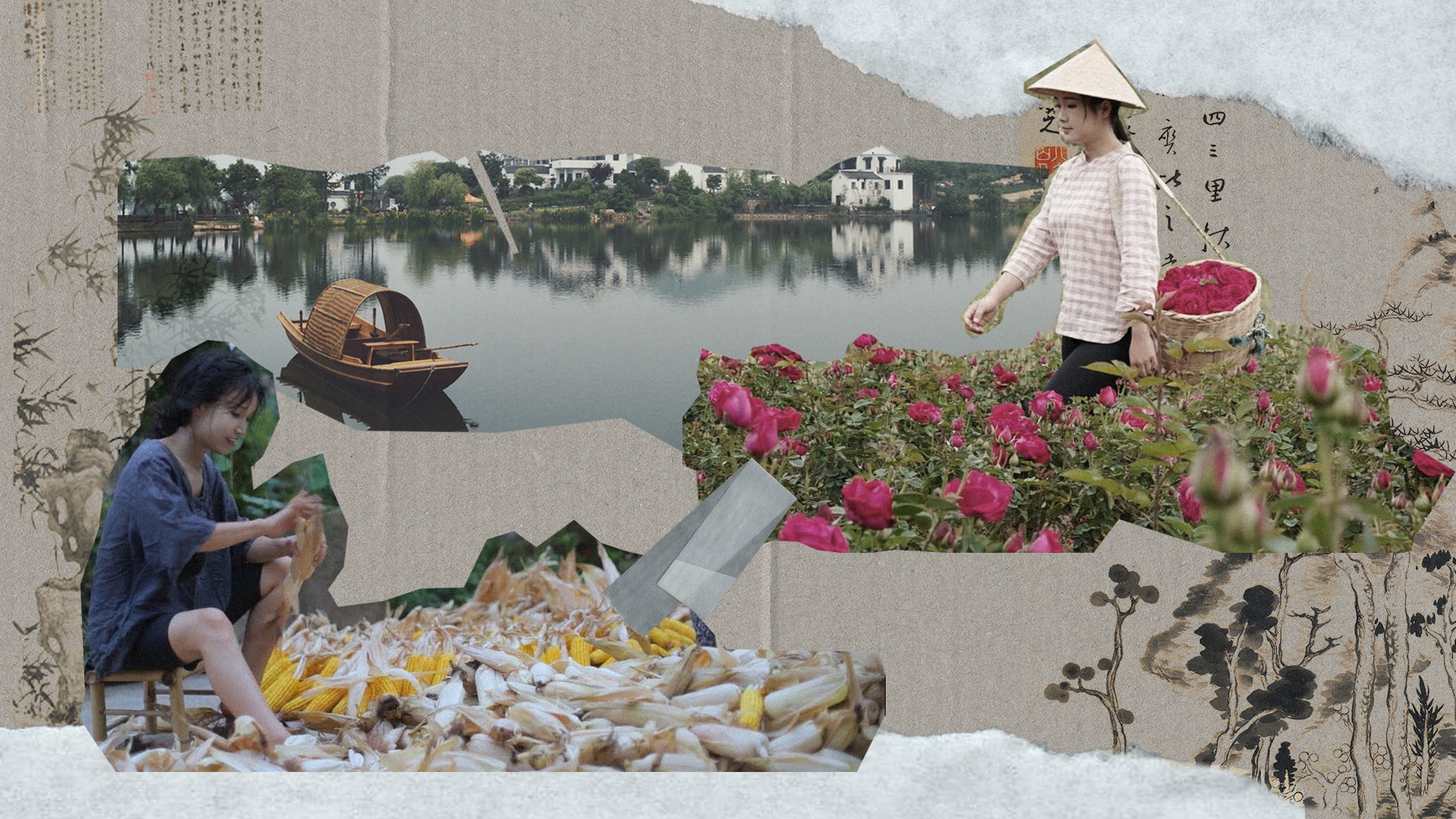 How Chinese cottagecore swept the internet
Li Ziqi and Dianxi Xiaoge have billions of views documenting a fairytale version of life in rural China
The scene opens in a village courtyard in China's southwestern Yunnan province, a family sitting around a flickering fire. The camera pans as they chat in the glow. "Will Chun be back for the spring festival?" someone asks. A young woman named Dianxi calls her brother. The action cuts to a man in his early twenties, his face lit by a computer screen. "I don't know yet," he says. We then see him walking through the streets of a bustling city, alone.
That melancholy image contrasts sharply with the morning peace of the countryside, where lowing cows are led through leafy lanes, and the family prepare for the celebrations. Dianxi begins to cook. Bull-shaped buns for the year of the ox, steamed in a bamboo basket. Beef ribs, braised with spices in a clay pot. A fat fried carp, smothered in spicy sauce. Her dog, an Alaskan Malamute named Dawang, chews on festive lanterns.
Dianxi Xiaoge's real name is Dong Meihua. She has seven million subscribers on YouTube and another five million on the Chinese microblogging site Weibo. Her videos offer beautifully shot vignettes of rural life that are a world away from the highly industrialized, urban China many of us are now used to seeing. Filmed on a bucolic family farm, fans can watch her perform a variety of wholesome and traditional tasks: preserving meat, picking fruit, harvesting vegetables and making noodles.
Dianxi's enormous audience is outstripped only by that of Li Ziqi, who documents a similar existence in neighboring Sichuan province. Li's subscribers total more than 15 million. Her videos have an ethereal quality, showing her riding a horse through her village in a long red cape, or walking through orchards filled with peach blossom and making flower crowns with her grandmother. Commenters marvel at her skills, which include making furniture out of bamboo, traditional embroidery and calligraphy, woodblock printing and cooking elaborate dishes.
For Jennifer deWinter, a professor of art, communications and media at Worcester Polytechnic Institute in Massachusetts, watching Dianxi and Li's videos has become a calming family ritual during the pandemic.
"Every lunchtime, we sit at the TV and I'm like, 'Now, it's time to watch China,'" she told me. "It's a complete brain break: pleasant sounds and pleasant visuals and a kind of Chinese cottagecore aesthetic."
In the West, the online phenomenon of cottagecore has rocketed in popularity during the pandemic, with influencers showcasing picture-perfect lives of vegetable growing, knitting and baking in gingerbread-house surroundings. The trend has taken apps like TikTok by storm, filling timelines with homemade jam and pansy-print tea towels. For burned-out young people trapped in apartments and tethered to Zoom calls, this well-scrubbed rustic way of being has become the ultimate aspiration. While Li and Dianxi have a similar timely allure, their videos also appeal to ideas deeply rooted in Chinese culture.
Dianxi's spring festival video shows her brother coming back from the city, pulling his suitcase behind him. The emotional foundation of Chun's return to his village has a name in Chinese. "Xiangchou," referring to a romantic longing for the rural homeland. Upon his arrival, fireworks go off and happy people surround a table to tuck into a sumptuous feast.
YouTube — Dianxi and Li's platform of choice — is banned in China. Given their visibility and large followings, it is likely that their work has at least the tacit approval of the state. After all, the vision of life they present is a useful one.
"Without a word commending China, Li promotes Chinese culture in a good way and tells a good China story," the government-controlled broadcaster CCTV said in 2019.
Both women have faced accusations of providing content that serves the interests of the Communist Party of China. Though most of their work appears to be free of the heavy-handed tropes seen in the state media's output, the homespun tone of Li's videos is occasionally interrupted. In one about chili sauce, the camera cuts to an enormous studio version of the Forbidden City, which she runs through as the music swells. In another episode, she visits the Malaysian royal family, bearing homemade calligraphy scrolls.
"There are these weird breaking moments where it just doesn't make sense – you can hear it in how it's produced," said DeWinter. "The soaring Chinese music starts and it is 100% nationalist propaganda."
In 2019, the state-backed People's Daily newspaper gave Li its People's Choice award for her video featuring calligraphy and the Malaysian royals. In August, she was nominated as a member of the CCP-backed All-China Youth Federation, which counts previous presidents and premiers among its alumni.
Li Ziqi and Dianxi Xiaoge's teams did not respond to requests for comment.
In recent years, China's international reputation has taken a battering over Beijing's repressive policies in Xinjiang, Hong Kong and Tibet. State media outlets have used colorful short films showing happy Uyghurs and Tibetans in traditional dress to paint those places in a positive light. State representations of Xinjiang and Tibet often appear to mimic the look and feel of Li and Dianxi's videos, complete with smiling people cooking traditional food and working the land.
Dianxi has recently expanded the scope of her work to include travel dispatches. In July, she went to a Tibetan autonomous prefecture in Yunnan and filmed life in a small mountain community, its people, architecture, and food. The footage is filled with heartwarming scenes of Dianxi living among the villagers, learning how to make traditional pots and drinking yak butter tea. Any thoughts of China's decades of repressive policies towards Tibetans are gently spirited away.
"People get to see a different side of China that they didn't know. And they can be like, "Oh it can actually be pretty beautiful. Oh, it's not just the oppressive CCP with surveillance everywhere. All this is actually a fairytale," said Linda Qian, a PhD candidate researching Chinese rural nostalgia at the University of Oxford.
While such videos help to portray China favorably on the international stage, they also fit perfectly with the state's domestic goals. After years of rapid urbanization and mass migration from the country to cities, Beijing's "rural revitalization plan" is a top priority for 2021. The government wants to modernize agriculture, eliminate poverty and diversify countryside economies by encouraging tourism.
Farming vacations have become increasingly popular with city dwellers, who are escaping to the country to reconnect with nature, try on traditional clothes, learn crafts and participate in folk customs. Meanwhile, growing numbers of Chinese millennials are quitting cities to set up communes in the countryside, where they can live out the cottagecore dream.
In a policy document published in February, Beijing has also laid out a strategy to move the country's tech talent to rural areas, with the aim of reversing the "brain drain" effect and boosting e-commerce and "smart" agriculture. Dianxi and Li are ideal ambassadors. Both left city jobs for the country and now show pastoral family life in an idealized, sun-dappled light — all the while running lucrative and influential online content businesses.
The Big Idea
Age of Nostalgia
Infatuation with a mythologized history has overtaken communities, cultures, entire regions, sending society and identity into a fun-house mirror of nostalgic reflections. This special issue brings you stories of people finding solace in pasts imagined and grieving for futures foreclosed in a time of existential threats.
Read more