The Coda-Caravan Fellowship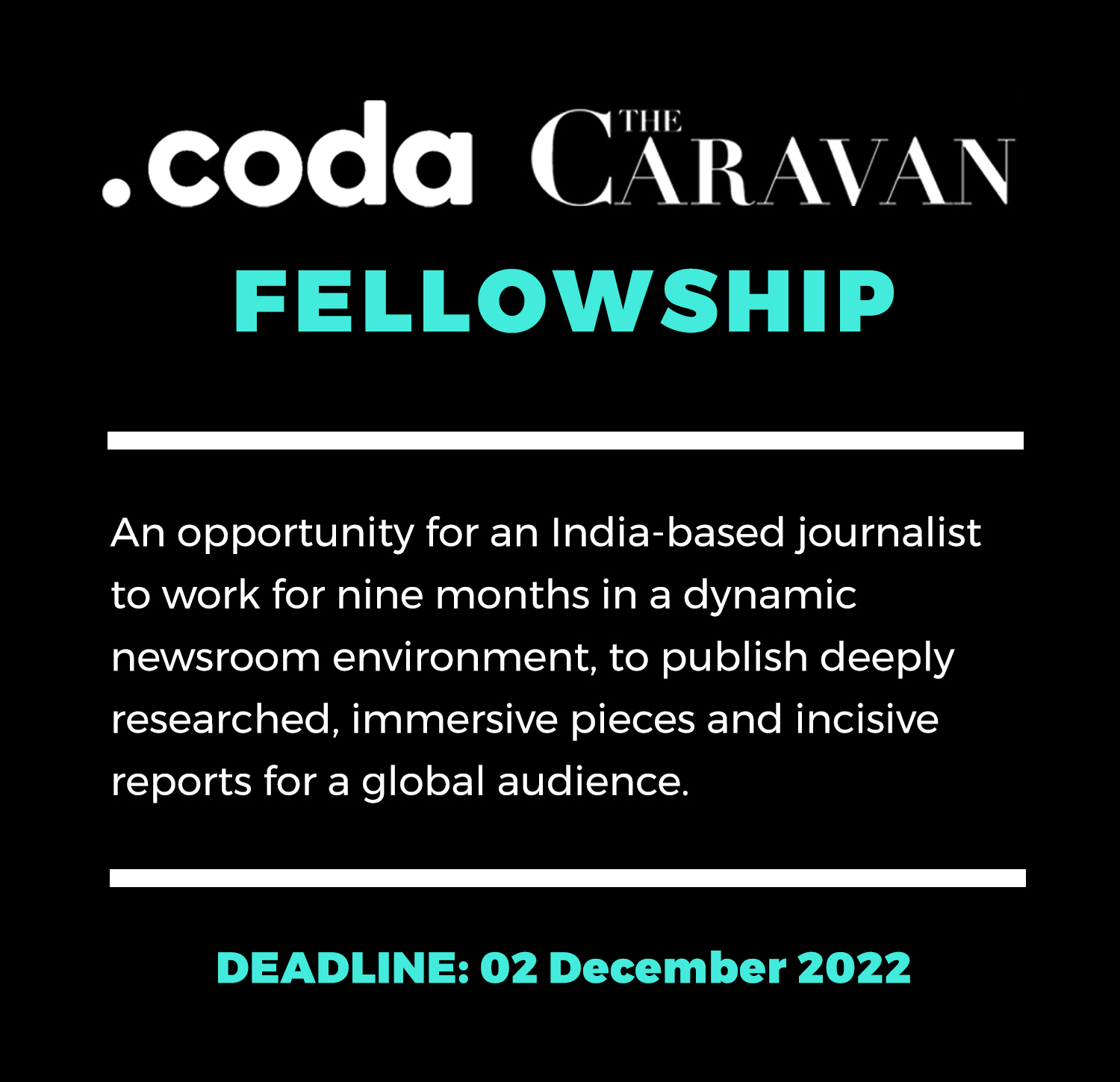 The Coda-Caravan Fellowship is an opportunity to work for nine months in a dynamic, collaborative, cross-border newsroom environment with award-winning colleagues, and to publish both deeply researched, immersive magazine stories and shorter, incisive pieces of reporting for an intelligent global audience.
We expect the Coda-Caravan fellow to report stories and pitch ideas that align with our overarching editorial themes. These include disinformation, authoritarian tech, rewriting history, and the war on science.
As India approaches the 2024 general elections, we believe these themes will underpin much of the public conversation. We want a Coda-Caravan fellow who is committed to engaging with India's complexity and who is curious about the experiences of people across Indian society in a politically and economically anxious time.
The Coda-Caravan fellow must have at least five years of experience and a demonstrable capacity for longform reporting and writing. Experience in multimedia reporting and/or data analysis is a plus. The Coda-Caravan Fellowship is only open to candidates in India. We give special consideration to candidates from marginalized groups.
This is a fulltime reporting position and the fellow will receive a stipend of Rs 85,000 per month.
To apply, submit a cover letter, a resume and three ideas for stories to [email protected] by December 2.
Coda Story is an award-winning 501(c)3 non-profit organization which puts a team of journalists on a story to provide depth, context and continuity to coverage of major crises. We are committed to producing engaging stories on complex issues and we work closely with a range of editorial partners. Coda was set up by a team of veteran foreign correspondents and is overseen by a distinguished board that includes some of the biggest names in modern day journalism.
The Caravan occupies a singular position among Indian magazines. Its stories present a unique mix of detailed reportage and lively and vivid writing, with a commitment to the art of storytelling, whether the subject is politics, business, technology or culture. The Caravan is published by the Delhi Press Group, one of India's leading publishers. Started in 1939, Delhi Press today publishes 33 magazines in 10 languages.