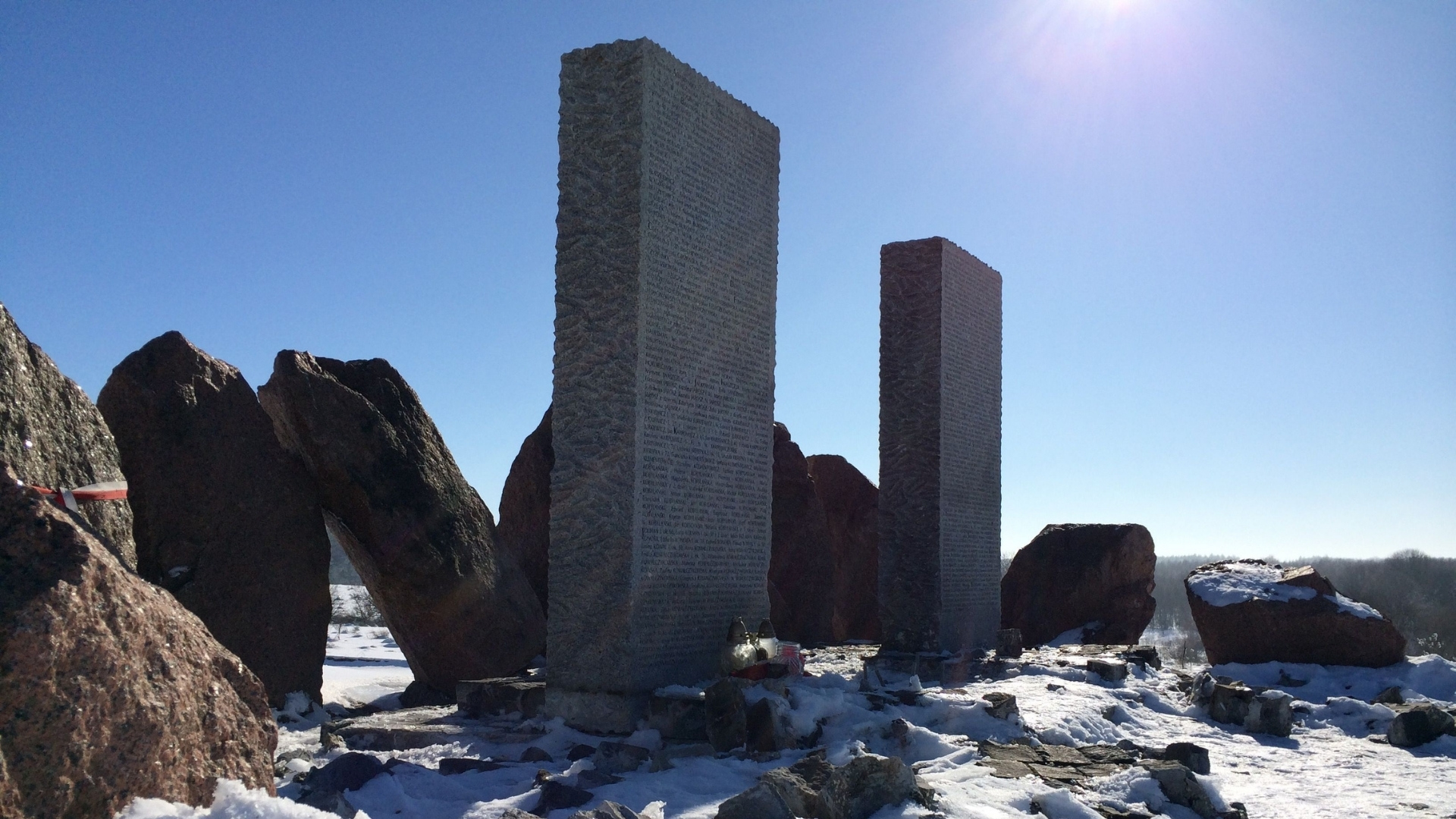 Weaponizing History: World War II Memorial attackers aim to divide Poland and Ukraine
The two allies claim Moscow is using their fraught wartime history to stir up suspicions between them
Seventy-three years ago, a visitor to the village of Huta Pieniacka in the icy backwoods of western Ukraine would find a wide clearing dotted with the tracks of deer and hare, ringed by trees tipped with frost, a quiet landscape steeped in blood.
Nazi German troops had driven back the Red Army in the region, but still battled Soviet and Polish militias, who, in turn, clashed with Ukrainian guerrillas seeking to carve out an independent state. Amid that struggle, on February 28, 1944, Huta Pieniacka was attacked, razed to the ground and about a thousand ethnic Polish residents were slaughtered. Survivors said villagers were locked inside their own homes and barns and burned alive, and those caught trying to flee were gunned down or hacked to death.
Two stone slabs engraved with the names of the victims still stand in the clearing, but chunks of rubble lying in the snow are all that remains of a large stone cross that was the centerpiece of a memorial to the people of Huta Pieniacka.
It was blown to bits in January by unknown assailants, who also daubed the slabs with the blue-and-yellow colors of Ukraine, the red-and-black flag used by the country's nationalists, and the symbol of Nazi Germany's SS paramilitaries.
Barely two weeks later, at Bykivnia cemetery near Ukraine's capital, Kiev, a monument to thousands of Poles murdered by the Soviet secret police was defaced. This time, the name of the SS Galicia division — a wartime Nazi unit mostly made up of men from the western Ukrainian region of that name — was scrawled in red paint across the memorial.
In both cases, suspicion could swiftly have fallen on far-right Ukrainians who fly the red-and-black banner of the wartime Organization of Ukrainian Nationalists (OUN) and its paramilitary arm, the Ukrainian Insurgent Army (UPA). They still resent Poland's oppressive rule over western Ukraine between the world wars.
But both Ukraine and Poland see another power at work: Russia.
Poland's ambassador to Ukraine, Jan Piekło, believes that the fact that the cross was destroyed during Ukraine's Orthodox Christmas suggests "a provocation by pro-Russian elements, aimed at dividing Poles and Ukrainians and causing hostility."
"The Polish government and Ukrainian government and Polish security services and Ukrainian intelligence are trying to find out and to trace what's going on," Pieklo said in an interview in which he suggested a likely possibility that "a criminal gang simply did it and it was paid by Moscow."
Other odd aspects of the incidents also cast doubt on Ukrainian involvement.
"It is not the Ukrainian tradition to put the 'SS' sign with the red and black flag," said Vasyl Zvarych, minister-counselor at the Ukrainian embassy in Poland. No supporter of the UPA would equate them with the Nazi occupiers. "Another sign is the mistaken use of [the] Latin letter 'N,' not the Cyrillic 'и,' in the word 'Galichina' [Galicia] in the vandalism at Bykivnia," he added.
Zvarych, like the Polish ambassador to Ukraine, points a finger at Russia. "Polish officials support us all the time in crucial areas, and, so, Russia is trying to stir up anger and make us blame each other. We must not allow these provocations to influence our relations in any way." "Polish officials support us all the time in crucial areas, and, so, Russia is trying to stir up anger and make us blame each other. We must not allow these provocations to influence our relations in any way."
Poland is a major trade partner with Ukraine and one of its closest allies among members of the European Union and North Atlantic Treaty Organization.
Arguably, that makes the two countries prime targets for Russian disinformation, which works in Europe and Eurasia to undermine faith in governments critical of Moscow, weaken bilateral relationships, and divide alliances like NATO and the EU.
Ukraine is already familiar with Moscow's forms of so-called hybrid aggression. "Little green men," or soldiers without insignia, took over Crimea for Russia in 2014 and the Russian government continues to support covertly separatist militants in eastern Ukraine's Donetsk and Luhansk regions. Kremlin-controlled media routinely publish false or misleading stories to portray Kiev's pro-western leaders as Russia-hating "fascists."
The focus of attack, however, differs according to a target's sensitive spots. In Poland, for instance, "history wars" with Ukraine are a potent issue, and one that allows Russia to sidestep widespread suspicion of Sputnik or RT as Kremlin-propaganda outlets.
"Disputes over history with Ukraine are an effective button for Russia to press here," said Olgierd Syczewski, a communication specialist at the Warsaw branch of the Center for European Policy Analysis, an American non-profit. "Conflict between Poland and Ukraine is a gift for the Kremlin, and Russia heats it up and mainstream media spread it without realizing they are helping Moscow." "Conflict between Poland and Ukraine is a gift for the Kremlin, and Russia heats it up and mainstream media spread it without realizing they are helping Moscow."
Moscow flatly rejected accusations about the Huta Pieniacka incident.
"To destroy monuments — especially if the vandalism has ideological or political motives — is shameful and unacceptable," said Russian foreign ministry spokeswoman Maria Zakharova.
"Such behavior contradicts the norms of human morality, especially when we hear lines from certain Ukrainian figures who call the destruction of the monument a provocation aimed at harming Polish-Ukrainian relations to the benefit of a third side. And we understand full well that by a third side they always mean one side [Russia]."
Moscow further accuses Poland of failing to prevent vandalism of Soviet war memorials and cemeteries and of joining with Ukraine to "rewrite" wartime history and belittle the Soviet role in Nazi Germany's defeat.
Yet while many see Russia weaponizing history to poison Ukraine's vital relationship with Poland, the neighbors' disagreement over their bloody past is both real and painful.
Last July, Poland's parliament pronounced the UPA, the Ukrainian nationalist World War II militia, guilty of genocide in its killing of an estimated 100,000 Poles in western Ukraine between 1943 and 1944. Earlier that same month, Kiev's city council had decided to rename the city's Moscow Prospect after Stepan Bandera, a Ukrainian fascist whose followers killed Poles as well as Jews and fought for a racially pure Ukrainian nation.
At the huge street protests that ousted Ukraine's pro-Kremlin regime three years ago, Bandera's image and the UPA's red and black banner returned to prominence as a symbol for some Ukrainians of the nation's continuing struggle to escape Moscow's grip.
The Kremlin seized on this to claim the uprising was actually a fascist coup. In Poland, where sympathy ran strong for Ukraine's protests, there also was disgust at the lionizing of Bandera.
Ukraine accepts that Bandera's followers committed atrocities, but rejects genocide claims, and complains that Poland tends to minimize Soviet and Nazi attempts to discredit the UPA and the murder of perhaps 10,000 Ukrainian civilians by Polish guerrillas.
Kiev also believes that Polish officials were slow to react to recent acts of vandalism against Ukrainian cemeteries and memorials in eastern Poland. Many of these attacks were swiftly reported by Russian websites.
"I'm sure all this is happening with the clear engagement of a third side," said Ivanna Klympush-Tsintsadze, Ukraine's deputy prime minister for European integration. "This kind of thing did not happen in previous years, when there was no hybrid aggression by Russia against Ukraine and Europe."
As Poland's parliament was discussing its genocide resolution last July, Klympush-Tsintsadze witnessed what she called a "hybrid war in action."
A tweet posted on an account that purported to be hers referred to Nazi death camps in occupied Poland. "Poles with their Auschwitz and Treblinka should be the last ones to accuse us of genocide," the message read.
On Facebook, Klympush-Tsintsadze implied that Russia, as a potential beneficiary of Ukraine "arguing with the Poles," was behind the fake post. Moscow did not respond to the claim.
Ukrainian and Polish historians now meet regularly to discuss their tortuous past, but still deeply disagree about many things, including what happened at Huta Pieniacka. Poles blame Ukrainians for the massacre, while prominent Ukrainian academics say Germans led the attack on the village, a base for Soviet and Polish guerrillas.
"Differences in our interpretation of history are not new. In the Soviet era, these issues were exploited by communist propaganda and Ukrainians were described as fascists, Banderites and enemies of the Polish people," said Polish Ambassador Piekło.
He is now preparing to travel to the site of Huta Pieniacka for a joint Polish-Ukrainian event ahead of the 73rd anniversary of the day, on February 28, when the village and its residents met their horrific end.
"It will be a ceremony focused on commemoration and reconciliation," Piekło said. "Relations between Poland and Ukraine were, are and will be of crucial importance to both countries and to the region. We shouldn't let anyone spoil them."
The Big Idea
Shifting Borders
Borders are liminal, notional spaces made more unstable by unparalleled migration, geopolitical ambition and the use of technology to transcend and, conversely, reinforce borders. Perhaps the most urgent contemporary question is how we now imagine and conceptualize boundaries. And, as a result, how we think about community. In this special issue are stories of postcolonial maps, of dissidents tracked in places of refuge, of migrants whose bodies become the borderline, and of frontier management outsourced by rich countries to much poorer ones.
Read more