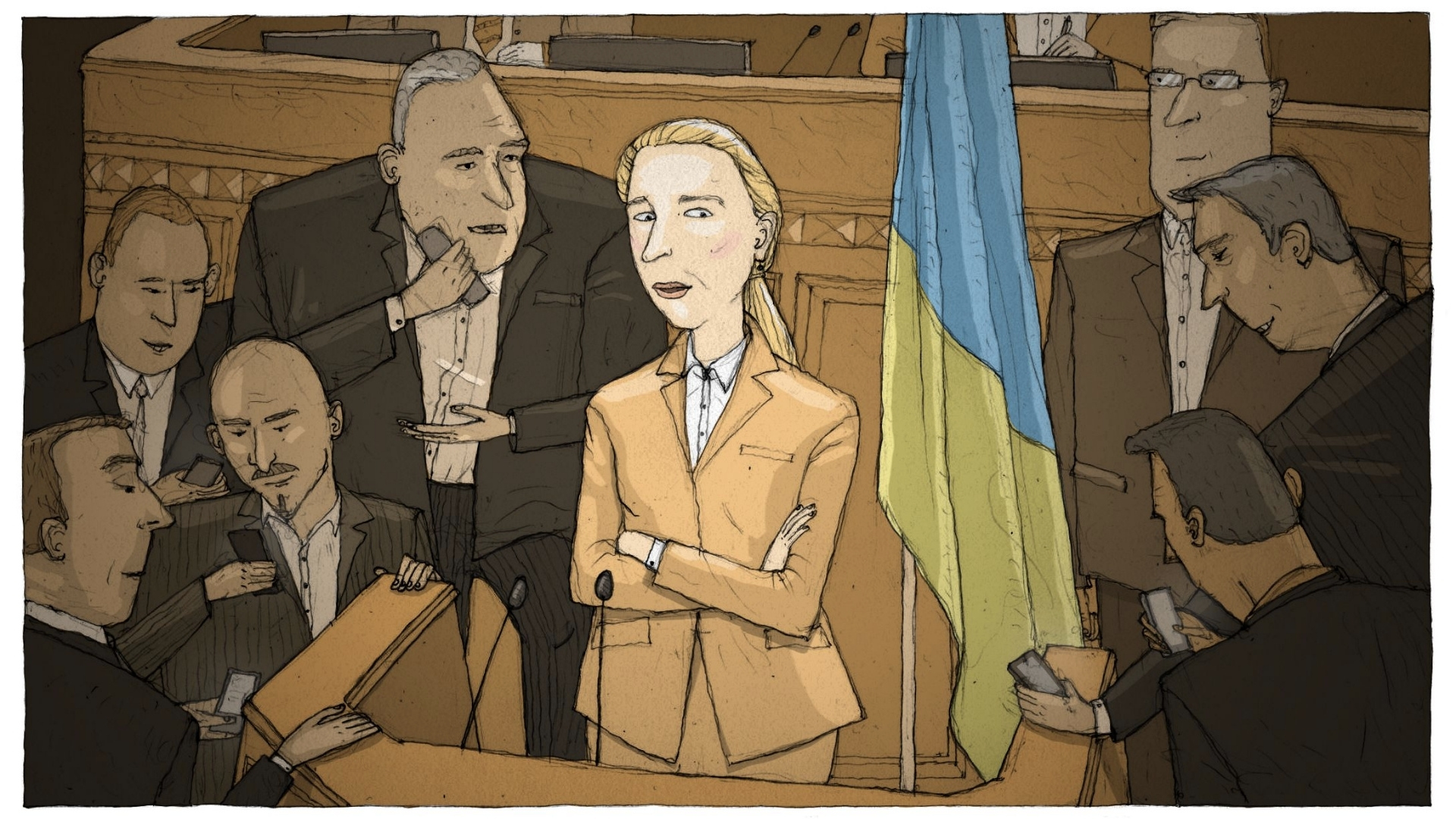 How disinformation became a new threat to women
Female politicians and other high profile women face a growing threat from sexualized disinformation
When Ukrainian MP Svitlana Zalishchuk gave a speech to the United Nations on the effect on women of her country's war with Russia, she won widespread praise for her performance.
It was only a few months since the 32-year-old had been elected to parliament, one of a new generation of politicians who had come to power since Ukraine's Maidan revolution. But because of the conflict, she told world leaders, Ukrainian women had shifted their focus "from equality to survival."
But by taking a stand, Zalishchuk also became a target for a new kind of disinformation. A screenshot began appearing on posts about her speech showing a faked tweet claiming that she had promised to run naked through the streets of Kiev if the Ukrainian army lost a key battle. To underline the point, the message was accompanied by doctored images purporting to show her totally naked. "It was all intended to discredit me as a personality, to devalue me and what I'm saying," says Zalishchuk.
She is far from alone. Female politicians and other high profile women worldwide are facing a deluge of what you could call sexualized disinformation. It mixes old ingrained sexist attitudes with the anonymity and reach of social media in an effort to destroy women's reputations and push them out of public life.
Several female politicians in the small Caucasian nation of Georgia were the victims of a sexualized disinformation campaign last year, in the run-up to parliamentary elections. A series of videos purportedly showing them having sex were released online, with intimidating messages. The goal was to spread "fear" among women involved in politics, says Tamara Chergoleishvili, a prominent journalist and activist, whose husband is a well-known opposition politician. Georgia is a very conservative country where patriarchal attitudes remain strong, so that made the attack more potent. To underline the point, the message was accompanied by doctored images purporting to show her totally naked.
Chergoleishvili was targeted too, in a video supposedly showing her engaged in sex with two other people. But Chergoleishvili says it was a fake. "They didn't know I've had a huge tattoo on my back since, like, 2000," she laughs.
Though it backfired in her case, another female politician implicated in an extramarital affair as a result of the videos has all but retreated from Georgian political life.
By contrast, the men who featured have not suffered, "because male adultery is a common thing," says Chergoleishvili. "Maybe the family suffered, but society would be less judgemental, whereas women are supposed to be the Virgin Mary. They're not supposed to have sex."
There was one exception. A man who appeared in the video aimed at Chergoleishvili was labelled as "gay," which put him at extreme risk because of deep-seated homophobic attitudes in Georgia. "It took a long time for him to get over that," she recalls.
Like Chergoleishvili, Zalishchuk has withstood the attacks against her, and continues to maintain a high profile. But she can't escape her naked doppelganger. "Whenever I speak publicly somewhere abroad, someone will comment on it [on social media]," the Ukrainian MP says, often adding a link to the photo. "I have no resources to fight that." "It was all intended to discredit me as a personality, to devalue me, and what I'm saying." Ukrainian MP Svitlana Zalishchuk
Zalishchuk suspects a pro-Kremlin hand in the abuse she has experienced, as it started at the height of the conflict with Russia. And the fake claims and doctored images first appeared on pro-Kremlin platforms. But whatever the case, it has become a worldwide problem for any women who takes a position online.
The use of realistic pictures — which is easy to achieve with modern software — adds to the potency of these misogynistic disinformation campaigns, says Sandra Pepera, director of Gender, Women, and Democracy programs at the National Democratic Institute, in Washington, D.C. "Obscene harassment is bad enough, but the visualization of it is what tips the balance."
Such abuse is becoming almost part of the job for female politicians. But logging off to try to escape is not really an option, as being on social media is such a crucial part of being a modern-day politician.
In Georgia, the government eventually condemned the release of the sex tapes, and they were removed from YouTube. But that could not mitigate the damage entirely, as the names of those shown in the videos spread widely. And intimidation like this can have a smothering effect on female engagement in politics, says the NDI's Pepera, "limiting both the number of women able to participate online and the range of issues discussed."
And in countries where violence against women is common, online slurs can quickly translate into direct physical threats. "If it happens to you and you're Hillary Clinton that's one thing," says Pepera. "If that happens to you and you're in Indonesia, Malaysia, or Pakistan, you could pay for it with your life."
There is more awareness now of the the threat of sexualised abuse online, but both governments and the social media giants have yet to come up with an effective response. Sexualized disinformation mixes old ingrained sexist attitudes with the anonymity and reach of social media in an effort to destroy women's reputations and push them out of public life.
Examples like Georgia's, where offending videos were removed have been rare. Twitter and Facebook have been facing mounting criticism over what is seen as selective enforcement of their own rules. Victims who have responded to abuse with harsh language have sometimes been censored, while the perpetrators of the initial attack — who frequently threaten rape or other violence — have been left alone.
A new bi-partisan bill introduced by U.S. lawmakers to clamp down on so-called "revenge porn" may be of some help to victims there, and provide a lead for other countries. But sexual disinformation is still a slightly different case, as almost by definition it is from anonymous sources — and so it is much harder for victims to seek legal redress. Libel and slander laws offer similarly spotty protection, and once the online attacks are out there, it is often too late to salvage damaged reputations.
Zalishchuk recalls how, months after the campaign against her died down, a German journalist closed an interview by asking if it was true that she ran naked through the streets of Kiev. "How could you believe this?" she responded, shocked at the question. She is convinced it won't be the last.
The Big Idea
Shifting Borders
Borders are liminal, notional spaces made more unstable by unparalleled migration, geopolitical ambition and the use of technology to transcend and, conversely, reinforce borders. Perhaps the most urgent contemporary question is how we now imagine and conceptualize boundaries. And, as a result, how we think about community. In this special issue are stories of postcolonial maps, of dissidents tracked in places of refuge, of migrants whose bodies become the borderline, and of frontier management outsourced by rich countries to much poorer ones.
Read more