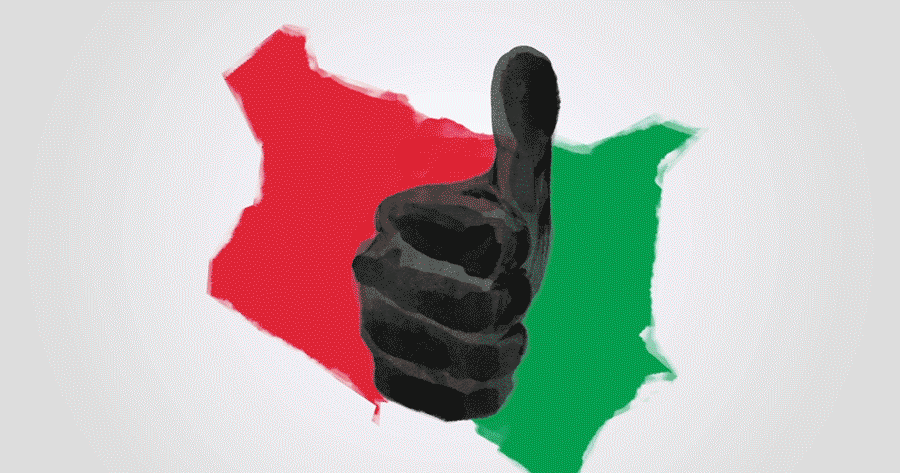 Kenya's Controversial Biometric Project Is Shrouded in Secrecy
A $60 million government initiative to collect the data of millions in an effort to enhance services has been marked by criticism about its inefficiency and allegations of misconduct
Across from the Hilton hotel in downtown Nairobi, a small group of people are queuing under the midday sun, braving an unusually hot April day in the normally temperate city. Registration agents in branded yellow vests are hurriedly at work, armed with tablet computers supplied by the French multinational company IDEMIA.

This modest turnout is a partial success for the Kenyan government's inauspicious launch of Huduma Namba (or "Service Number" in Swahili), an ambitious mass biometric registration campaign marred by controversy and legal challenges. Kenya's ruling coalition has branded itself a vanguard in digital governance, and Huduma Namba, a $60 million project, is its latest initiative. Cabinet Secretary Fred Matiang'i claims that Huduma Namba will not only enhance security and curb corruption, but also "streamline resource allocation and improve service delivery."

Since Huduma Namba's nationwide rollout began on April 2, state officials have taken to the radio, TV, print media, and Twitter to exhort its benefits. Registration stations have been set up in heavily trafficked areas with 35,000 tablets in use across the country. State agencies have threatened to cut off services to those who refuse to register. According to government sources, more than 20 million people have enrolled thus far. Gradually, amidst cajoling and pressure, Kenyans are lining up to acquire a number that many state representatives claim will soon become essential.

If it proves successful, the Huduma Namba initiative will capture and consolidate millions of Kenyans' data into a single digital system—the National Integrated Identity Management System. This database, according to President Uhuru Kenyatta, will serve as the "single source of truth on personal identity in Kenya." Every recipient will be issued with a unique identity number not unlike the Indian Aadhaar number. As one assistant chief called it, Huduma Namba will be "the mother of all numbers."

But many Kenyans are skeptical. In a country where moral and political critiques often draw on religious themes, rumors have swirled that Huduma Namba is the mark of the devil. The Kenyan Human Rights Commission (KHRC), a nonprofit, has called on Kenyans to boycott the initiative, while parliament and the courts have threatened to derail it entirely. On Twitter, the government's aggressive Huduma Namba push has become an object of derision. One Twitter user, referencing Kenya's recent dry spell, remarked: "The government is falling short of saying; No Huduma Namba, no rains."

Kenyan officials, however, continue to press on. Huduma Namba is the latest in a global trend—also seen in countries like China and India—towards governing through big data. State representatives have portrayed Huduma Namba as a neutral and efficient means to collect, verify, and digitize Kenyans' bio-data, which will consolidate all other registration numbers in "one digital wallet."

Despite confusion about its purported benefits, the enrollment process is relatively straightforward. Anyone above the age of six can register. Enrollees must arrive with at least one government-issued ID—whether a birth certificate, driving license, national identity card, passport, or alien card. Registration agents assist people in filling out a two-page form, which asks for an array of personal information, including birth details, marital status, address, education level and land holdings, that is then scanned onto a tablet that doubles as a camera and fingerprint scanner.

At the end of the enrollment process, recipients are handed a long strip of paper that will let them claim their Huduma Namba at some as-yet-undisclosed future date. Many are left wondering how and when they will finally receive the elusive number.

Ten Year Ban

Concerns about efficiency and scepticism are not the only issues swirling around the program. There are grounds for unease about the French multinational charged with collecting the data of Kenyans. IDEMIA, formerly known as OT-Morpho, first courted controversy during the contested 2017 election when it was forced to deny claims that its biometric voter identification system had been hacked. Opposition leaders have accused the company, which supplied voter identification and results transmission kits, of misconduct—an allegation that IDEMIA vigorously denies.

But there are serious grounds for concern. A recent report by Privacy International and the Centre for Intellectual Property and Information Technology Law (CIPIT) has shown that voter data was available for sale in the run-up to the election. And just last week, the Kenyan Parliament voted to ban IDEMIA from conducting business in the country for at least ten years.

The ban hasn't deterred the government, which announced that the Huduma Namba exercise will continue in spite of parliamentary blacklisting. Still, this vote has cast even greater scrutiny on the secretive process by which IDEMIA was awarded the government tender. Earlier this year, MPs criticized the government for circumventing Parliament's Budget and Appropriations Committee and pushing the initiative into law through a Miscellaneous Amendment Act.

Minority groups also worry about discrimination. "The government is speaking about a 'single source of truth.' But whose truth is it?" asks Naima Ibrahim of the Nubian Rights Forum, one of three civil rights organizations that filed a case with the High Court of Kenya to block Huduma Namba. Ibrahim fears that the Huduma Namba registration process will worsen discrimination against Nubians, one among several predominantly Muslim communities who face discrimination in acquiring identity documents. Like many Somalis and Arabs, they are often perceived as potential refugees, terrorists, or foreigners.

Whose Truth?

For decades, civil registration has been a site of contestation over who is and is not "Kenyan." Without a legal identity in Kenya, individuals cannot move around freely, gain formal employment, open a bank account, register a SIM card, or access numerous other private and public services. Citizens and refugees alike often turn to illicit means of gaining documentation. For the past seven years, Mohamed (not his real name) has tried in vain to acquire a coveted national ID. Despite a cache of documentation proving his citizenship, he is met with suspicion as a Kenyan-Indian and Muslim. "Today, they say you are an alien. The next day, Al Shabaab," Mohamed said. One registration officer rebuffed him on the grounds that "many refugees have the name Mohamed." Others have demanded bribes.

Rights groups fear that the Huduma Namba process will only digitize these existing forms of discrimination. According to the Nubian Rights Forum, the government should not move forward until it can "improve the current registration systems and eliminate discrimination in access."

But it's not only the stateless and marginalized who should be concerned about Huduma Namba, say civil rights advocates. Kenya has yet to enact any data protection legislation. Because of this, the government is collecting information "in the absence of any real legal oversight" said Nanjala Nyabola, a Nairobi-based political analyst. There are unconfirmed reports that the government is storing unencrypted files collected during the enrollment process for later processing. IT experts and human rights activists are also worried about recent data breaches.

Contradictory and inconsistent government statements have further heightened public confusion. While IDEMIA has collected the data, the Ministry of ICT claims that the "the core registration software of the National Information Integrated Management System (NIIMS) was designed and integrated by local software engineers."

In early April, Matiang'i appeared on Iqra FM, a popular Muslim radio program, to reassure listeners that undocumented people could register. Nevertheless, civil rights groups have reported that those lacking identity documents have been turned away by registration agents. Mohamed, who doesn't have an ID card, has not bothered to enroll.
Monetizing Data

This has created an environment rife with speculation and rumor about the government's intentions. Like everywhere else, data is a valuable political and economic commodity in Kenya, and the gradual digitization of Kenya's population databases has been a boon to mobile credit providers like Safaricom, Kenya's largest telecommunications company. If used as a census, a tax register, or as proof of citizenship, Huduma Namba could impact the distribution of resources under Kenya's constitution, expand the county's tax base, or shape voter registration.

Dr. David Ndii, a critic of the government, has accused the ruling party of using Huduma Namba to market a new mobile phone lending service linked to the president's family. He describes the registration scheme as "a social security cum surveillance system with commercial interests lurking in the background."

It is little surprise that many Kenyans are likewise suspicious of government intentions. Over the last year, corruption scandals involving large tenders have plagued the Jubilee administration. On Tuesday, Kenyans congregated in Nairobi's Uhuru Park for a People's March to protest government graft and misguided initiatives, including the Huduma Namba exercise.

Testing Ground

To many of its detractors, the Huduma Namba exercise is yet another white elephant scheme. But the project also speaks to larger dangers involved with the growing reach of data-gathering and biometric technology.

Many technology and financial companies view countries in the Global South as "testbeds for innovations in technological surveillance." Postcolonial African countries and other "low-rights environments" are especially vulnerable to invasive, non-transparent and undemocratic methods of data harvesting. In the West, Cambridge Analytica may have become infamous for its role in Brexit and President Donald Trump's 2016 election campaign, but the company first honed its techniques in countries like Nigeria, India and Kenya where it operated with far less oversight and restraint.

This means that technological fixes are often imposed on African countries without sufficient consideration for the potential benefits or hazards to local populations.

"The more I continue talking to experts involved in the litigation against Huduma Numba, the more I realize this project was rushed, ill-defined with no privacy safeguards of sensitive data collected from Kenyans," said Hassan Ibrahim, a local journalist.

As one commentator in the Daily Nation recently wrote, in the end, people will "be left with a fancy card" and no guarantee of better services.

Kenyans, however, are not passive recipients of technology. Due to wide-ranging objections from legal advocacy and human rights groups, the High Court of Kenya has put brakes on the registration effort. The government has been warned that it cannot tie government services to Huduma Namba, impose a registration deadline, or compel anyone to register. The court has also barred the state from collecting DNA or GPS data or sharing data with outside parties.

A final determination in the case is still pending. Meanwhile, Kenyan officials have already shown signs of flouting the court ruling. Refugees in the town of Kakuma are being "persuaded to undertake the Huduma Namba registration without any prior knowledge of the exercise," reported journalist Qaabata Boru. Such pressure, he argued, is an unlawful violation of the ruling declaring registration to be voluntary.
Civil rights and legal empowerment groups like the Nubian Rights Forum, NAMATI, and Haki na Sheria continue to challenge the constitutionality of Huduma Namba and push for greater transparency. In the end, passive resistance may prove the most powerful form of protest. Many Kenyans are simply refusing to line up at registration stations. As the Kenyan entrepreneur Huston Malande said in a widely shared thread on Twitter: "To date, I've tried to find one single source of truth about Huduma Namba. Nothing…As always, the choice is yours. I'm out."
The Big Idea
Shifting Borders
Borders are liminal, notional spaces made more unstable by unparalleled migration, geopolitical ambition and the use of technology to transcend and, conversely, reinforce borders. Perhaps the most urgent contemporary question is how we now imagine and conceptualize boundaries. And, as a result, how we think about community. In this special issue are stories of postcolonial maps, of dissidents tracked in places of refuge, of migrants whose bodies become the borderline, and of frontier management outsourced by rich countries to much poorer ones.
Read more