Killer robots have arrived to Ukrainian battlefields
A new generation of autonomous machines is appearing in Ukraine. They augur a new military era, offering capabilities that far outstrip current weapons
Amid Ukraine's muddy trench warfare, grinding artillery bombardments and Soviet-era tank battles, a futuristic digital war is waged as the line between human and machine decision-making becomes ever thinner.
Since Russia invaded Ukraine in February, AI-powered drones — both homemade and highly sophisticated — have been deployed on an unprecedented scale on the battlefield. Russia has reportedly used the Kalashnikov Kub and Lancet Kamikaze "highly autonomous" drones. Ukraine has relied on the Turkish Bayraktar TB2 that has autonomous flight capabilities and boasts "laser guided smart ammunition." The U.S. has committed to sending Ukraine 700 Switchblade kamikaze drones and "Phoenix Ghosts" that use GPS-tracking and object recognition software.
But now a new generation of autonomous machines — colloquially known as "killer robots" — is debuting in Ukraine. They augur a new military era, offering capabilities that far outstrip the current generation of weapons, and are no longer limited to drones in the sky or sea. They are poised to upend modern warfare and introduce new challenges, lethality and concerns.
In late November, Germany discreetly announced that it would provide 14 tracked and remote controlled infantry vehicles for support tasks as part of this year's $1.64 billion spent on military support for Kyiv. These unmanned vehicles rely on far superior tech to similar robots used during wars in Afghanistan and Iraq — mostly for landmine disposal.
Estonian military contractor Milrem Robotics, the maker of the Tracked Hybrid Modular Infantry Systems unmanned ground vehicles, also called "THeMIS," will provide Ukraine with units primarily designed for casualty evacuation, an example of how the war in Ukraine is serving as a testing ground for cutting edge, but unproven, technology.
Milrem Robotics CEO Kuldar Väärsi, said their THeMIS vehicles, which can be outfitted with light or heavy machine guns and anti-tank missiles, are "considerably cheaper than a tank" and will be a common sight on the battlefield in coming years.
"As with all new technology, especially technology that hasn't existed before, concept development and experimentation are needed to see how it fits into the doctrine before large quantities will be deployed," he said.
Germany's ministry of defense invested in THeMIS at an early stage of development, but in a design version for saving lives rather than its lethal version, according to a source familiar with European military procurement. A German ministry of defense spokeswoman declined to comment citing security reasons.
Some experts have begun to sound warnings, worried that military aid to Ukraine is substituting flashy new-fangled weaponry over proven, effective conventional arms deliveries.
"Much will be made of the importance of using emerging and disruptive technologies in wars of the future," Daniel Fiott, professor at the Brussels School of Governance and Fellow at the Real Elcano Institute, said. But the lure of high-tech solutions should not come at the expense of conventional arms deliveries to Ukraine, he argued.
"No doubt, many powerful militaries will be arguing that the application of high-tech solutions will be needed to enhance the performance of arms and give militaries an advantage in the information space," Fiott said.
Ukrainian robotics company, Temerland, has released a weaponized reconnaissance robotic platform called GNOM, designed as an anti-mine vehicle that is tailored for operational combat units. "In the next decade we will see the introduction of ground-based drones with automation elements and further increase AI for independent response and decision making," Eduard Trotsenko, the CEO of Temerland, said.
Meanwhile, NATO allies like the Netherlands are already testing AI-powered robotics. Lieutenant Colonel Sjoerd Mevissen, commander of the Royal Netherlands Army's Robotics and Autonomous Systems unit, said every war is a technology test.
"We see a big advantage in the future, having these types of systems," he said, referring to the THeMIS unmanned ground vehicle. "It will also lower the cognitive and physical burden for soldiers when they are able to deploy more of these vehicles."
Colonel Mevissen said pricing — each unit costs approximately $350,000 — remains a significant barrier to having these types of robots fighting side by side with soldiers in the short term.
Russia's war of aggression has spurred Ukrainian homegrown military tech innovation. Ukrainian soldiers have modified commercial drones for the frontlines, and a whole suite of tech ingenuity has come together in groups. Ukrainians call it hromada, a self-organized community.
In late October, Ukraine's Minister of Digital Transformation Mykhailo Fedorov told a NATO conference that Ukraine was developing "Delta," a situational awareness platform that helps soldiers locate enemy troops and advises on the best coordinated responses. Delta was instrumental in helping Ukrainian troops retake Kherson from Russia, in what Fedorov described as "World Cyber War I."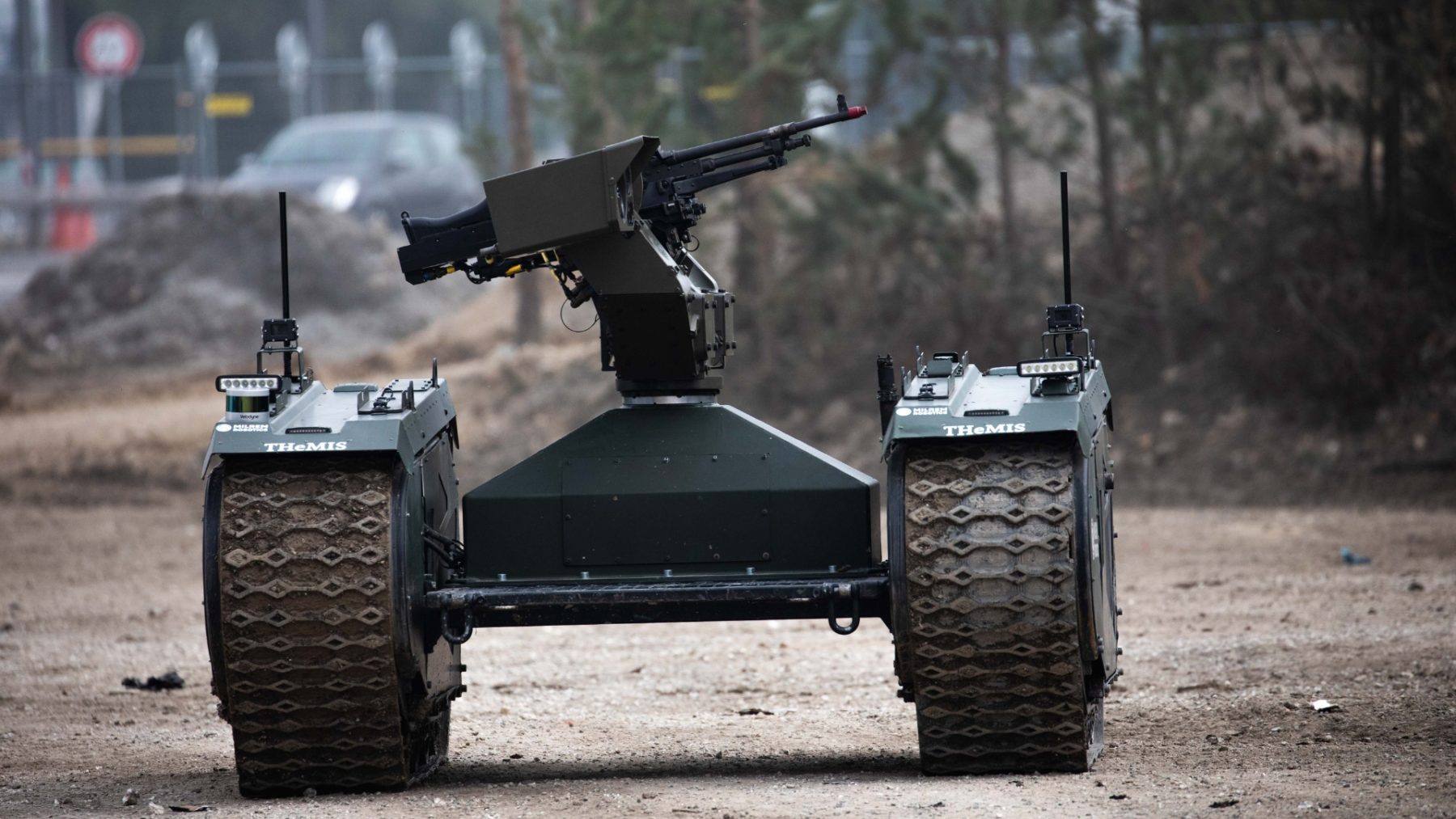 To counter Russia's drones, many of which are made in Iran, Ukraine's army has deployed newly designed Lithuanian "SkyWipers" that have the capacity to not only shoot down Russian drones but to take control of them, effectively to hijack them, in the first widespread use of such devices.
But much of the most advanced killer robot work is kept within the borders of NATO countries. U.S. military and European defense companies are withholding much of their latest high-tech equipment to prevent it from ending up in the hands of Russia or China, said Fiott, the professor from Brussels.
In late November, the U.S. Navy launched a "Digital Horizon" exercise to develop the world's first "unmanned surface vessel fleet." U.S. General Erik Kurilla recently told a conference in Bahrain that AI-powered marine drones intercepted a dhow sailing ship carrying thousands of kilos of explosives in the Arabian Gulf "without any orders and without the team in the operations center even pushing a button."
U.S. defense giant Lockheed Martin has developed a crew-less helicopter called Matrix that demonstrated flying autonomous missions in October. And the first squad of pilot-less aircraft "wingmen," which fly alongside manned fighter jets, are being developed for the British army's 20-year "radical transition" plan, dubbed Future Soldier.
These types of drone projects are more successful because AI can better model and navigate homogenous and predictable environments in the sky and sea, according to Max Cappuccio, a Canberra, Australia-based academic and co-author of a research paper entitled "Saving Private Robot." "I don't think anybody could say exactly when fully autonomous 'killer robots' will be ready to be systematically deployed in contested scenarios," he said.
Regardless of when fully autonomous military technology comes online, Mevissen, the colonel who heads the Dutch army's robotics unit, believes the world faces a "new arms race," one of constant software redesign, AI development and cybersecurity upgrades.
"The hardware is quite easy," Mevissen said. "So, this is mainly a race for software."
As a result, militaries are adjusting recruitment strategies to meet an urgent need for software engineers, AI experts and soldiers able to work with tech-rich equipment.
"You need good soldiers who are also very good gamers," Mevissen said.
Critics disagree. "We need to prohibit autonomous weapons systems that would be used against people, to prevent this slide to digital dehumanization," Human Rights Watch argued in a campaign against the deployment of fully autonomous weapons.
In 2023, the Dutch government will host the world's first international conference on the military applications of AI.
Colonel Mevissen counseled calm: "Humans are giving the system the target. We are giving the system the mission. What is possible only comes from us."
The Big Idea
Shifting Borders
Borders are liminal, notional spaces made more unstable by unparalleled migration, geopolitical ambition and the use of technology to transcend and, conversely, reinforce borders. Perhaps the most urgent contemporary question is how we now imagine and conceptualize boundaries. And, as a result, how we think about community. In this special issue are stories of postcolonial maps, of dissidents tracked in places of refuge, of migrants whose bodies become the borderline, and of frontier management outsourced by rich countries to much poorer ones.
Read more