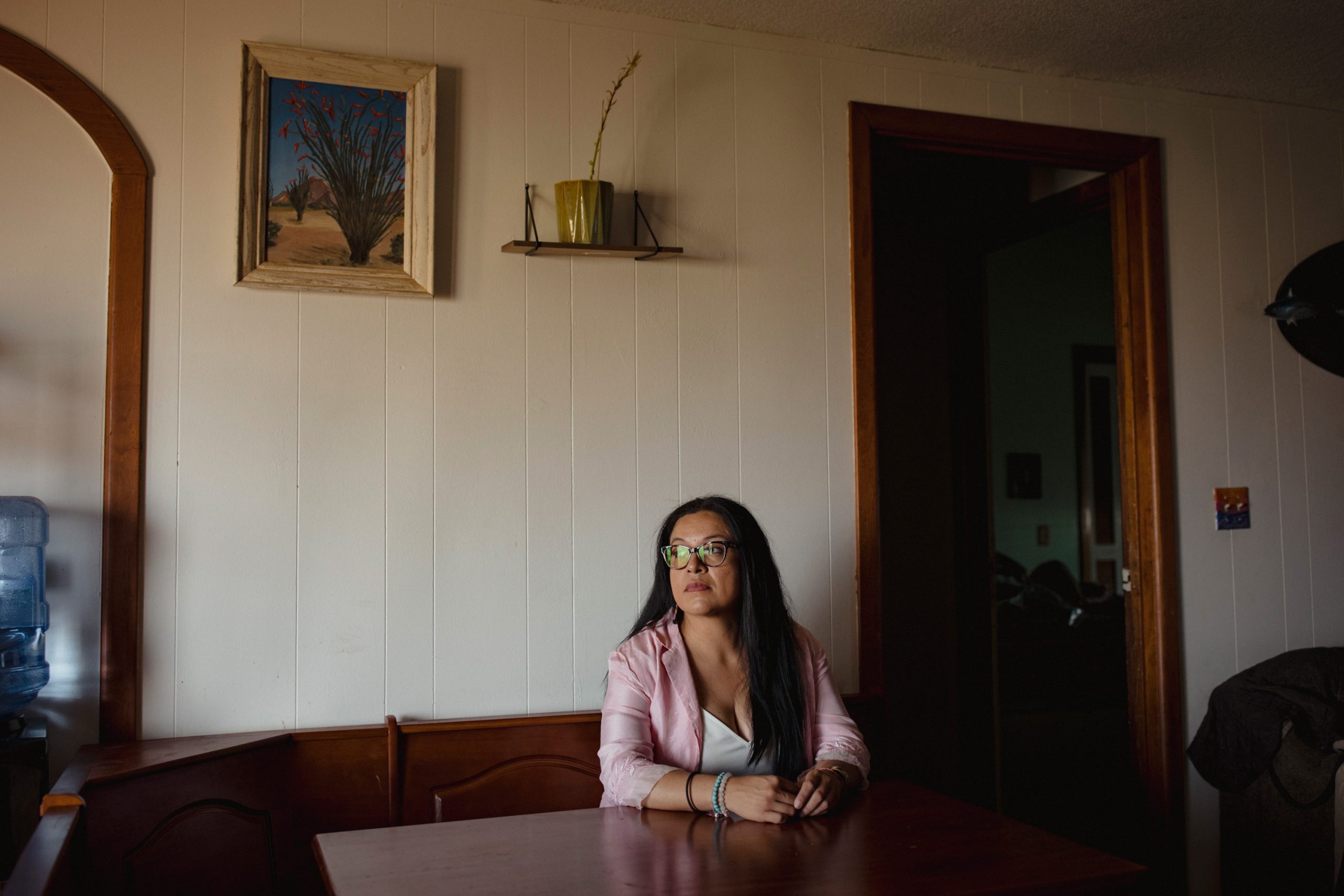 Inside New Mexico's struggle to protect kids from abuse
A safety scoring tool was supposed to improve child welfare. But former caseworkers say it's not helping
Photography by Adria Malcolm
Ivy Woodward can turn her emotions off like a water faucet.
It served her well when she worked in child protective services in Hobbs, a small oil town in southeastern New Mexico.
She looks at it this way: "If you give in to emotion, the job's not going to get done. You don't process emotion. You walk in on a scene, and the first thing you see isn't a tragedy. The first thing you see is a checklist of things you need to do to resolve the issue."
But when Woodward looks back on all the horrible things that she witnessed as a caseworker, the weight of the decisions she had to make is almost too much to bear.
"Each decision that you make changes your life. Every single, solitary decision that I made, I still carry it," Woodward said when we met in the spring.
Woodward used to work for the state of New Mexico's Children, Youth, and Families Department, supporting children who had been the victims of abuse or neglect. She was part of the CYFD staff teams that deliberated on whether to take kids away from their parents and put them into foster care.
Woodward is still haunted by the memories of one little girl in particular. Woodward had reason to believe that the girl, who was living in foster care with her grandfather, was being abused.
But something stood in the way: It was a safety assessment tool that the state requires caseworkers like Woodward to use. Formally known by its somewhat clunky brand name — "Structured Decision Making" — the tool is meant to help determine whether a child is in great enough danger to be removed from their home.
Her concern was based on more than just a hunch. The girl's mother had told Woodward that the grandfather was an abuser – he had raped her when she was young. Woodward took this information to her team and called for another office to send a caseworker to investigate. But that caseworker's report, based on the tool, indicated that there was no reason for concern about the girl's safety. Despite Woodward's pleas, CYFD staff decided to keep the girl with her grandfather.
It became clear months later that Woodward was right — the little girl's grandfather had been sexually abusing her all along. The girl was eventually taken away from her grandfather and placed in a different foster home.
The agency is adamant that the tool isn't meant to supersede a caseworker's judgment. "It's not about giving the job of a caseworker to an electronic tool," said Sarah Meadows, the head of the agency's research, assessment and data bureau. "That's 100% not what it's intended to do."
But in cases like this one, it felt to Woodward as if the tool had won out.
"You can no longer go on all of your training, all of your experience in the field. It's a moot point because the tool said so," Woodward told me.
"You're going off of a scoring system now. And if the family doesn't meet the score, you have to turn around and walk out."
Across the U.S., child welfare agencies are looking to algorithms and risk assessment tools to help support the arduous labor of caseworkers in child protective services agencies. The hope is that these tools will help caseworkers make better and more equitable decisions that will ultimately improve outcomes for vulnerable children. But these agencies' problems run deep. Oftentimes, there is no single tool or policy solution that can fix them.
Facing high rates of child abuse and neglect, the New Mexico Children, Youth, and Families Department rolled out the Structured Decision Making safety scoring tool in 2020. The goal was to help the agency decide whether or not children are safe living with their parents and to assess the risk of future abuse if a child remains in their home. But in the face of severe staffing shortages and a push to remove kids from their families in only the most extreme cases, former CYFD staff and children's attorneys in New Mexico say that the safety scoring tool has been replacing caseworker judgment and leaving some kids in harm's way.
New Mexico had the 15th highest rate of child abuse or neglect in the 2021 fiscal year, a drop from the 8th highest in 2020. About a third of children who died from abuse, neglect or homicide between 2015 and 2021 had prior involvement with child welfare, according to the New Mexico Department of Health.
One of them was named James Dunklee Cruz. There were countless warning signs that the little boy was at risk of harm. When he was just a few months old, caseworkers found ample evidence of neglect: The home where he lived with his mother was roach-infested and strewn with trash and dog feces.
In October 2019, when Dunklee Cruz was four, he was brought to the hospital with multiple injuries, including a black eye, a bruised penis and an injured shoulder. He told a CYFD investigator that he had been abused by three people in his life. But somehow those allegations were declared unsubstantiated. The Strategic Decision Making tool classified Dunklee Cruz as "safe with a plan," allowing him to stay with his mother.
Two months later, James Dunklee Cruz died as a result of blunt force trauma to his head and torso at the hands of Zerrick Marquez, one of the men he had named as his abuser two months before. Marquez pleaded guilty to killing Dunklee Cruz and was sentenced to 30 years in prison.
CYFD conducted nine investigations into allegations of abuse and neglect during the boy's short life. Caseworkers put what they call "safety plans" in place for Dunklee Cruz, but this wasn't enough to keep him safe. These details appear in a publicly posted child fatality review summary report. The section of the document drawing on the child's autopsy also describes a litany of injuries, including "healing jaw fractures and healing subdural hemorrhage indicating significant blunt head trauma that occurred earlier than the acute injuries" — in other words, injuries that didn't kill him but proved that Dunklee Cruz was at risk of serious harm before his final days.
A wrongful death lawsuit is also working its way through the court. A complaint filed in December 2022 in a federal district court in New Mexico accuses CYFD of failing in their duty to protect the boy and states that Dunklee Cruz's mother repeatedly violated the safety plans CYFD put in place. The complaint also specifically points to the Structured Decision Making tool.
It reads: "Over the span of his four years of life, CYFD investigators repeatedly failed to rely on accurate and well-documented facts when it utilized the agency's Safety Risk Assessment Tool, causing its repeated contacts with James to result in flawed and underestimated risk assessment and flawed decision-making resulting in James' death."
When I asked about the boy's case, CYFD offered this response: "The death of James Dunklee Cruz is tragic. The loss of any child is felt deeply and grieved by our caseworkers and staff. Regarding the function of the tool in this case, he was identified as safe with a plan. This means that the safety assessment tool identified at least one danger indicator and that in order for the child to stay in the custody of the parent, a plan was required. Our caseworkers worked with James' mother to find a safe place for her to live and alternative childcare for James to mitigate against the threats that were identified by the caseworker."
What happened to James Dunklee Cruz reflects the most significant problem that former CYFD workers raised when they talked to me about the Structured Decision Making safety tool: It doesn't always convey how much danger kids are truly facing.
The tool's launch coincided with a change in the agency's approach to decision-making about when to remove a child from their family's home. This was a part of a nationwide shift with the passage of the federal Family First Preservation Services Act, a policy that was designed to keep children "safely with their families to avoid the trauma that results when children are placed in out-of-home care."
The safety tool doesn't tell caseworkers what to do. It is meant to facilitate a conversation between the worker and their supervisor about whether to declare the child "safe," "safe with plan" or "unsafe." The tool sets the tone for what, ideally, should be an extensive, in-depth dialogue between people from across the agency. But due to staffing shortages, it doesn't always play out this way. The tool "doesn't take into account that there's not enough workers, there's not enough supervisors," said Matt Esquibel, a regional manager at CYFD.
Some former caseworkers have told me that, in this context, the assessment takes on an outsized role in determining a child's fate.
"It's not meant to streamline or fast-track decisions, but it helps focus the conversations, which is helpful to supervisors and to workers," said Meadows, the head of the agency's research, assessment and data bureau.
Former CYFD workers told me that the risk and safety assessments did not always match what they observed about the level of danger a child was facing, particularly when it came to substance abuse, domestic violence or repeated involvement with child protective services.
"We saw issues with the safety tool immediately," said one former CYFD worker who had knowledge of the tool and reviewed investigations in which it was used. She requested anonymity out of fear of retaliation.
The former CYFD worker said she would see cases in which she thought a child should have been removed from the home but the safety tool didn't reflect that.
"I'm reading a report that comes and I'm reading their notes that they've entered. And then I'm looking at their safety assessment, [and it] does not match what I'm reading," she said.
Workers are only allowed to check off a danger on the safety tool if they can observe or otherwise prove it. But investigators don't always have time to do multiple home visits or to gather more information, said Esquibel. They may not be able to gather all the details right away, and children may not initially disclose abuse. There is an "override" for the risk assessment that requires supervisor approval. If the worker thinks that the risk score is too low, they can bump the score up one level. CYFD's Meadows emphasized that workers should use their judgment and critical thinking, work with supervisors and override the tool if necessary.
"I think the workers and supervisors do the best that they can when they're out there," Esquibel said. "But your assessment is only as good as what information you're gathering or who's available at the time."
Ultimately, the former CYFD staff member who requested anonymity thinks the assessments are not capturing the seriousness of some cases and that the consequences for kids are real.
"I think it's leading to dangerous situations for children," she said. "I think the agency is leaving the children in situations based on that tool when they should be removing them."
Meadows said that shouldn't happen. "If a worker feels strongly that a child is unsafe and they don't want to walk away from that child in that home, they shouldn't. Safety tool be damned," she said.
Even though she's moved on from CYFD, this all still weighs heavily on Ivy Woodward, who has worked with children for most of her career. Before working in child welfare, Woodward, who is Native American and Hispanic, taught elementary school on the Apache reservation in San Carlos, Arizona and in southwestern New Mexico. In 2017, CYFD brought her on as a permanency planning supervisor. This meant she worked on cases where the agency had credible evidence that a child was being abused or neglected at home. The work spoke to core elements of Woodward's personality.
"I'm a protector," Woodward told me. "You can do a lot to me and get away with it. But if I see somebody doing something to someone else, that triggers my inner anger."
She calls it like she sees it and pushes back when she disagrees. "I don't know what is broken in my head, but I question everything," Woodward said.
When Woodward left CYFD in the summer of 2020, she and a colleague filed a lawsuit alleging that they faced retaliation after raising concerns about a case in which a child was severely injured after she and her siblings were returned to their parents. The agency settled the lawsuit for more than $300,000 without acknowledging liability.
Woodward has a fast, forceful way of speaking, a reflection of her often overly-caffeinated state. But when she talks about the kids she worked with at CYFD and the horrible things she heard or saw on the job, her voice gets a little higher. Her emotions begin to flow.
"You do have to be able to turn off the emotions and make those cold, hard decisions when the time comes to make them," she said. "But until that time comes, you have to see people, not casework."
Woodward now lives across the border in a tiny county in West Texas with her husband and two daughters. She works as the chief of juvenile probation and coordinates emergency management for the county.
In some ways, Woodward was an outlier among other CYFD staff. Many start working with the agency soon after college and have little or no experience in child welfare. The agency struggles to stay fully staffed — this spring, nearly a quarter of positions were unfilled. A July 2022 review by an outside consultancy found that CYFD employees felt overwhelmed by the work they were being asked to do. Staff said they would rush from one emergency to the next and had little ability to make progress on other cases.
This is not unique to New Mexico. A caseworker I spoke with in Indiana described feeling like he was stretched so thin that he would race from one emergency to the next without ever having time to put out the fires. He felt like he was just identifying a fire and then moving on to the next one.
The issues of understaffing and high turnover rates were top of mind for many CYFD workers. High turnover isn't just bad for morale. It directly affects the ability of those who remain on staff to do their work. When one person leaves, those who stay have to absorb their caseload. It is daunting. The review described a "culture of fear" in which staff were afraid that if something bad were to happen with a case, they would be punished or "scapegoated."
And the forced intimacy of the work can be grating and even traumatic. Caseworkers must regularly intervene in painful moments of struggle and conflict within families, and they are sometimes met with resistance. As agents of the state, they are caught between a bureaucracy that requires them to treat each situation as consistently and objectively as possible and real life-and-death conflicts in which people's actions are largely driven by emotion.
For strained child welfare agencies, algorithms and risk assessment tools are an attractive solution to the vexing challenge of maintaining consistent decision-making practices.
Some states have experimented with predictive analytics, with limited success. Illinois used an algorithm to estimate the likelihood that a child would die or be seriously injured as a result of abuse or neglect. Social workers were flooded with cases erroneously determined to be urgent, while children that the algorithm deemed low-risk were dying. The state soon stopped using the tool after the Illinois Department of Children and Family Services declared it ineffective.
A child welfare algorithm in Allegheny County, Pennsylvania is currently facing scrutiny from the U.S. Department of Justice. Using arrest records, Medicaid data and documented struggles with substance abuse, the algorithm generates a score from 1 to 20 that determines whether to open a neglect investigation. Reporting by the AP found that the algorithm disproportionately flagged Black children for neglect investigations. There was also evidence that the algorithm did the same for parents with disabilities.
Torn between pushback against opaque algorithms and the desire to use technology to streamline decision-making, some states are turning to scoring tools that are less opaque and less automated. New Mexico's Structured Decision Making tool, created by the nonprofit Evident Change, is one of them. Oregon, New Hampshire and California also use assessment tools built by Evident Change.
Structured Decision Making offers a checklist that is meant to help the investigator understand "the risk of imminent and serious harm," according to a CYFD progress and impact report. Children are ranked safe, safe with plan, which involves in-home services, or unsafe, which is grounds for removal. There's also an actuarial risk scoring tool, which is meant to assess "the likelihood of any future maltreatment" and additional CYFD involvement in the next 18 to 24 months, if the child remains with the family.
The safety scoring tool asks about abuse or neglect, including physical or sexual abuse, failure to meet the child's basic needs, unsafe living conditions, emotional harm or unexplained injuries. Both assessments are intended to guide caseworkers to think about risk factors, vulnerabilities and the impact on the child.
"What Structured Decision Making tries to do is to help workers and supervisors make accurate, consistent and equitable decisions at these high-stakes moments," said Phil Decter, the director of child welfare at Evident Change.
Structured Decision Making is also "intended to reduce bias, whether that's related to race, ethnicity, socioeconomic status, making sure that we're not conflating poverty with neglect," said CYFD's Meadows.
But in New Mexico, as the Dunklee Cruz case and insights from caseworkers make clear, the tool does not always work as intended. And the tool can't solve some of CYFD's biggest problems. The agency doesn't have the workers to meet the needs of the population. Emblematic of a national trend, CYFD is chronically understaffed. Workers juggle heavy caseloads and often have precious little time to dedicate to each child's case.
The safety tool isn't meant to fix that. CYFD says hiring is a priority. "Structured Decision Making is not intended to replace human beings in terms of lightening their caseload," Meadows said. "The role of it is to create consistency, making sure that we're looking at every angle of the case, every potential impact to a child."
But for caseworkers racing from one emergency to the next, the tool begins to play a different role. It sometimes becomes a shortcut, they told me — a stand-in for real human decision-making, in a system already weighed down by the rigid requirements of the state.
Reed Ridens remembers everything about the day the state took him away from his father almost seven years ago. It was a typical January afternoon at school. About an hour before classes ended, Ridens, who was 15 at the time, was pulled out of orchestra practice and brought to a conference room. Waiting for him were two of his teachers, the school social worker, representatives from CYFD, a police officer and his dad. 
"I'm just looking around like, what is going on?" Ridens recalled. 
For nearly an hour, the adults in the room went back and forth about whether Ridens' dad could take care of him. There were concerns, they said, about neglect and his father's alcoholism. 
"The entire time, I was just sitting there, crying, like, 'Hey, please don't take me out of my home,'" Ridens said.  
His protests were futile. Ridens stayed in the foster care system until he was 18, moving between 15 different placements. It left him with a deep-seated trauma, compounded by his father's death four years ago.
"I felt like the state was taking me out of my household and then not doing any better for me than my father did. And in fact, actually putting me in worse-off situations," he said.
"I don't really feel like they saw me as a person," he told me when we met in Albuquerque.
"I feel like they didn't see me as more than a list of checkmarks. I feel like they didn't see my dad as anything more than a monster."
Today, kids in a position like Ridens' are not only dealing with adults trying to decide what's best for them. Their fate is also shaped by tools like Structured Decision Making.
How did New Mexico get here? In part, the objective was to prevent the wrong kids from entering foster care, said Beth Gillia, the former deputy secretary of CYFD.
"Foster care really should be the absolute last resort in extreme circumstances where needs cannot be met in the home and where a child cannot be safe at home," she told me.
The state paid the nonprofit organization Evident Change $1.3 million to develop a risk and safety assessment tool, according to a state legislative finance committee report. The nonprofit creates similar tools for criminal justice, education and adult protective services.
After a pilot in some counties in 2019, including in the country where James Dunklee Cruz lived, Structured Decision Making was rolled out statewide in January 2020.
The tool works best in situations where there is plenty of time and staff capacity to dedicate to this kind of deliberation. But CYFD's investigations unit was short almost 25% of its workforce as of May 2023, according to the state's public statistics dashboard, and maintains a steep turnover rate.
"If a child welfare organization is not being resourced well, if it's understaffed or if caseloads are high, it's going to be hard for optimal work to happen in any situation," said Decter, who previously worked in child welfare in Massachusetts. "Good decision-making takes time."
A report presented to a CYFD steering committee found that, according to focus groups made of CYFD workers, Structured Decision Making is "not being used as it was designed to be utilized. They go out and do their investigation and then come back in and click whatever needs to be clicked to show it has been done."
A former investigator in Hobbs told me that the Structured Decision Making tool just added more work to her plate.
"It didn't take a whole lot of time, but it was just another tedious step that you're going through when you've already made up your mind," she said.
As a result, she said, some people rushed through checking boxes on the safety tool.
"I watched people go click, click, click, click, click, and just move on," she said. It wasn't the deciding factor. But she did feel like it could be "manipulated" to justify a certain decision.
CYFD says this isn't how it's supposed to be used. "Safety assessment is not a quick activity," said Meadows. "Workers should take their time with it, really do their best to engage the family to get as much information as possible so that the safety assessment is accurate."
Ivy Woodward, the former supervisor in Hobbs, had concerns about the safety scoring tool from the very beginning. In particular, she worried about how it dealt with a caregiver's substance use, which is not listed as one of the danger indicators that must be checked in order for the agency to remove a child. In a sharp pivot from New Mexico's previous assessment, substance use is treated as a "complicating factor" rather than a deciding one.
The risk tool adds points if the parent struggles with substance abuse. However, the tool doesn't weigh substances differently. Meth gets the same number of points as marijuana, for example.
In the Structured Decision Making training, Woodward and some of the other experienced caseworkers challenged this, fearing that it would put children at risk. The discussion got so heated that the head of the agency came to intervene. Woodward said she was effectively shut down. It was clear that the agency would be using the tool, whether she liked it or not.
Other CYFD workers and child welfare attorneys also raised concerns about how the safety and risk assessments handle drug abuse, a factor affecting almost one-third of children who were victims of maltreatment in 2020, according to statistics from the U.S. Department of Health and Human Services.
While investigators are supposed to consider substance use in their decision about removing a child, it's not supposed to be the sole reason for removal. This is part of a recent change in the agency's approach to substance use. Caseworkers are now told to focus not solely on substance use, but rather on the impact substance use has on the caregiver's ability to care for their children, said Gillia, the former deputy secretary of CYFD.
"It's only if the substance use interferes with parenting that it becomes abuse or neglect," Gillia said. "So I think what the tool is trying to do is force a look at what parenting behavior is impacted by the substance use."
Phil Decter at Evident Change says the safety tool also helps when it comes to an inexperienced workforce. It has detailed instructions that help workers decide whether to check 'yes' or 'no' for a danger indicator. It points staff without a background in child welfare in the direction of things to look for, he said.
But out in the field, Woodward sees problems with this. The decisions are so monumental — literally life or death. For Woodward, the tool is not a substitute for a seasoned supervisor guiding less experienced staff through decisions.
"It becomes a crutch for a lack of confidence," said Woodward. "I don't think that being armed with a piece of paper and a laptop is an adequate replacement for someone who's been in the trenches for 20 years and can tell them this is what you do."
And the tool doesn't capture the unspoken cues that an investigator may notice, like a child who can't make eye contact with a family member or won't answer open-ended questions, Woodward said.
The safety tool has an "other" option where investigators can write in safety concerns not addressed by the nine danger indicators. But that should be used "rarely and infrequently," said Decter. "That's by design. The other danger indicators should be sufficient."
The success of the tool depends on how it's used, and this is where Woodward hit roadblocks in Hobbs. She said her supervisors would tell her she was paying attention to things that the safety tool said weren't an issue, rather than focusing on what she was called upon to investigate. Woodward felt like she was being instructed to ignore history, context and other dangers that she knew were significant from past experience.
Information about those more subtle cues may be presented to a judge if CYFD files a petition to remove a child. But if the tool indicates that the child doesn't need to be removed, the case likely won't reach that stage.
Former CYFD staff like Gillia emphasized that the agency wants to keep kids living with their families unless they are clearly at risk of imminent and grave harm. The agency settled a lawsuit in 2020 that accused the state of failing to take adequate care of foster children in CYFD custody.
But former caseworkers I spoke with worried that the tool was being used as a way to all but ensure that kids would remain in the home, even in cases where it might leave them at risk. The worry, for people like Ivy Woodward, was that the tool was being used to justify decisions that had already been made.
Evident Change emphasizes that "tools don't make decisions, people make decisions." But former CYFD workers told me they worried that this particular tool has an outsized impact on the agency's final decision.
CYFD commissioned a report from an outside group, Collaborative Safety, to look at what went wrong in five specific cases from 2021 in which children died. In the report, released in July 2022, staff involved in those cases said that sometimes the Structured Decision Making tool would say the child is "safe," even if the worker felt there were "significant concerns with the family."
"This places staff in the position where they perceive they cannot act on those concerns as it would go against what the tool's output is," wrote the report's authors.
"Investigators were just using the tool as the end-all-be-all to a decision and an assessment. That's not correct. We don't want it to substitute their good judgment," former CYFD Secretary Barbara Vigil told members of the New Mexico House Appropriations and Finance Committee in February 2023. In response to the Collaborative Safety report, CYFD announced they would overhaul their training protocols and pledged to "make sure that every member of staff uniformly knows how to use the tool, including through enhanced training to investigators and supervisors statewide."
The former CYFD worker I spoke to who requested anonymity saw this reflected in the investigations she reviewed. "I don't even know how many cases I reviewed where it's like, you should have removed that kid immediately. And they didn't because of the safety tool," she said. "We would always say, use your common sense. This is a guide." But some workers and managers still put too much emphasis on the tool.
Esquibel said the tool played a major role in facilitating decision-making. "The weight is 100% on your safety assessment because that's really the snapshot of what happened the day that that worker was there," he said.
CYFD's Meadows put it differently: "It's not just a snapshot in time," she said. "Safety assessments are not a one-off, one and done thing. Safety is assessed on an ongoing basis when we have an open case because sometimes it does take effort and time to learn more about a family or child situation."
Woodward doesn't think the tool should carry so much weight. Instead, it should be "something in your toolbox that you utilize to help you through the process," she said. "I don't think they should be used as the ultimate decision maker."
When Vanna was first removed from her parents at age five, the adults in her life told her that her parents were going on vacation.
She remembers a woman pulling up to their house and talking to her parents. Her mother was crying, her father was trying to calm her down. The strange woman went up to her younger brother, who was four at the time, and said, "How would you like to go somewhere else?"

"I looked at her, I said, 'You're not taking my brother," said Vanna.
Vanna, who is now 21 and using a nickname to preserve her privacy, has been fiercely protective of her little brother since they were small.
As the woman stood talking to her parents, Vanna tried to get him out of his car seat. "And I tried to run with him, and she started running after us. And she said, 'I'm not trying to take your brother. I'm trying to take you both. You're going to this lady. Your parents are going on vacation."
She didn't realize until later that she wasn't returning home. Vanna spent 13 years in foster care until she aged out at 18. She estimates she lived in more than 50 placements.
In foster care, Vanna felt like she was treated like a case number. Someone else made decisions about every aspect of her life. Someone else had power over her.
"I got numb. I became this robot. You want me to be a puppet, guys? I'll be a puppet. Pull my strings and do whatever you want because that's how you treat me," she said.
Vanna would tell the adults around her what she wanted, but she didn't feel like they listened.
"They would always say, 'Honey, we wouldn't make any decision if it wasn't going to be safe for you or if we weren't keeping your best interests in mind,'" she said. "How do you know what my best interest is?"
The safety assessment that's currently in place rolled out statewide the year Vanna aged out of the system. But when she looks back at her own experience, systems like this still worry her. She thinks the assessments used to make decisions need to be more personalized, otherwise they do more harm than good.
"How do you put everyone in the same box, the same population? You put them under the same microscope, but they're not the same. They've had individual situations," she said.
If the assessments are too generalized, kids won't end up getting the help they need, Vanna said. Just as the assessments used to evaluate their needs are flattened and standardized, the care kids get is too.
For people like Vanna, many aspects of the child welfare system were dehumanizing. Ernie Holland, who worked at CYFD for 25 years, thinks that by relying on assessment tools like Strategic Decision Making, the agency could make these effects even worse. When he left, he ran the Guidance Center, a nonprofit that offers mental health and other community-based services in Hobbs.
Even as a young child protective services investigator, the weight of the decisions he was making never escaped him. He shares Ivy Woodward's belief that "each decision you make changes your life."
"Unless you've gone around the block three or four times to screw up your courage to knock on somebody's door and ask them why they sodomized their infant, you don't know what it's like," he said. "I've been there, done that, and I know what it's like. And I know you're risking some of yourself doing that work."
That pressure never goes away. Holland still remembers a family whose case he managed nearly 50 years ago. He's still not sure he made the right decision.
As the agency relies more on standardized assessments, he worries humanity gets removed from the equation.
For Holland, there's a big difference between being able to say, "I made the decision based on this tool" and "I made the decision."
"If you can hide behind an assessment tool," Holland told me, "it's not personal anymore. If you get it to where it's not a personal decision, the kid loses. If you're making life and death decisions, you damn well better own 'em."
This project was supported by the Global Reporting Centre and The Citizens through the Tiny Foundation Fellowships for Investigative Journalism.
The Big Idea
Shifting Borders
Borders are liminal, notional spaces made more unstable by unparalleled migration, geopolitical ambition and the use of technology to transcend and, conversely, reinforce borders. Perhaps the most urgent contemporary question is how we now imagine and conceptualize boundaries. And, as a result, how we think about community. In this special issue are stories of postcolonial maps, of dissidents tracked in places of refuge, of migrants whose bodies become the borderline, and of frontier management outsourced by rich countries to much poorer ones.
Read more