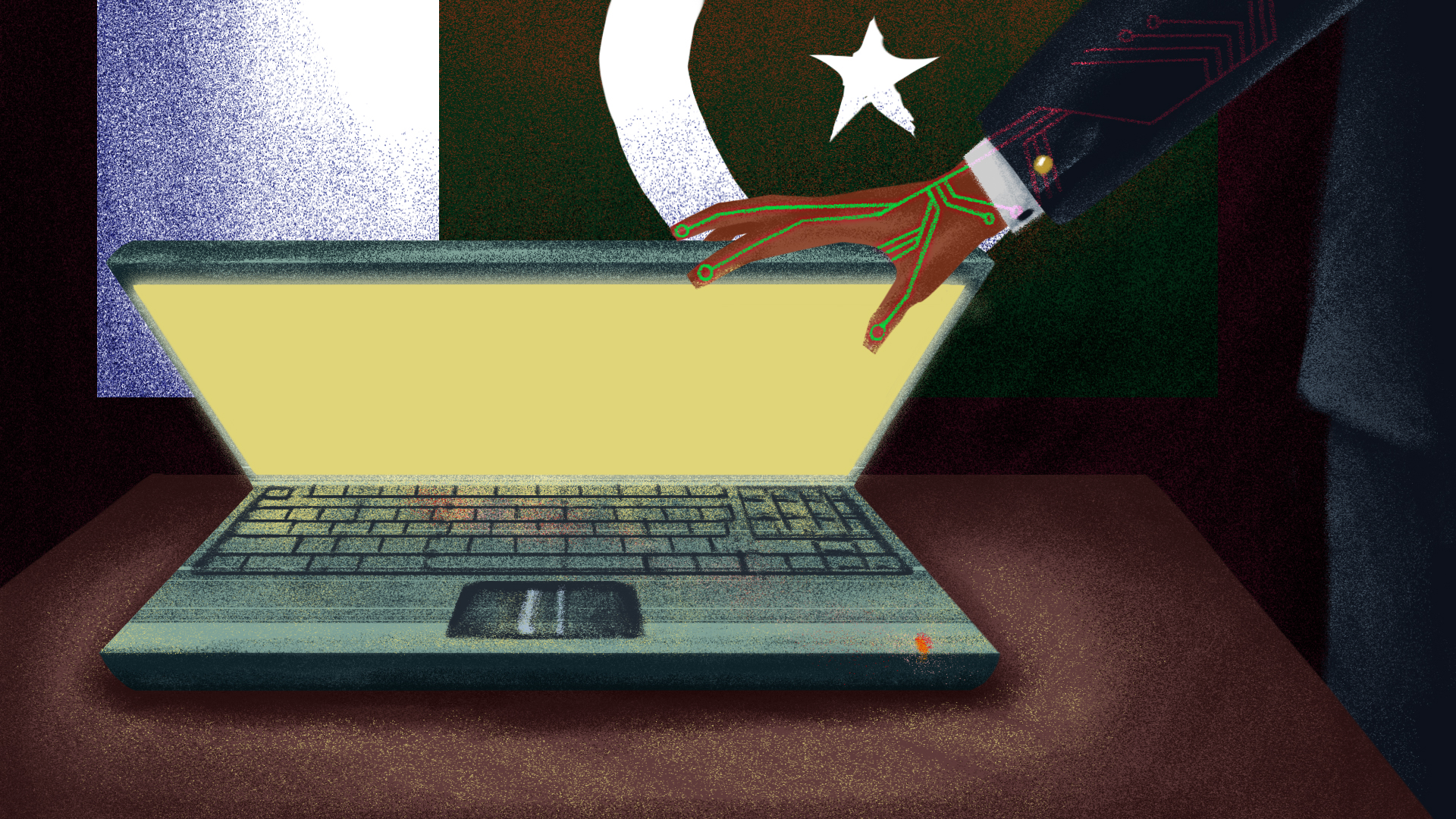 Pakistan's Tinder ban signals coming showdowns with YouTube and Twitter
Pakistan pushes Silicon Valley for more censorship
For Karim, Tinder provided a safe space. The 25-year-old software engineer, who lives in Karachi, describes himself as an introvert in search of companionship. He also belongs to the Ismaili Shia community, a minority religious group whose members frequently face discrimination and violence.
"Being Ismaili is a huge influence on my social life. It is difficult to find a girl outside my community who is willing to date. This is why I joined Tinder. I feel apps don't discriminate," he says.
Tinder — which was downloaded more than 440,000 times in Pakistan in the past year — has long been popular among young people, who make up 63% of the country's population.
But, on September 1, the government announced an abrupt ban on all dating applications, blaming them for the spread of "immoral content." Authorities regularly police online spaces in keeping with conservative and religious concerns. As the world's second largest Muslim-majority country, extra-marital relationships and homosexuality are illegal in Pakistan.
The move, which also includes other applications such as Grindr, Tagged and SayHi, comes at a time of renewed government efforts to align tech platforms with local laws, particularly over content deemed damaging to the country's moral fabric.
The crackdown on dating apps was quickly followed by the banning of another leading social media platform. On October 9, the Pakistan Telecom Authority (PTA) blocked access to TikTok, which had 20 million active monthly users in the country. The ban came after a "final warning," issued in July, ordering it to filter any obscene content.
The national communications regulator said that ByteDance, the Chinese company that owns TikTok, was given "considerable time" to respond to its concerns, but had failed to "fully comply."
ByteDance responded that it was committed to following the law and in regular contact with Pakistani regulators. "We are hopeful to reach a conclusion that helps us serve the country's vibrant and creative community online," it said in a statement.
The policing of digital spaces in Pakistan is now being tightened. According to guidelines issued last week, the PTA will be able to restrict social media content for a number of reasons, including insults to Islam, and content that violates security, public order, decency and morality.
Social media companies, including Facebook and Twitter will be obliged to publish community guidelines warning users not to post content in breach of a number of conditions relating to copyright, blasphemy, defamation or to share material that offends the "religious, cultural and ethical sensitivities of Pakistan."
Platforms will have 24 hours to comply with government requests for the removal of content, except in cases of emergency, where the PTA can demand removal within six hours.
Both sets of rules follow previous measures to regulate the online sphere. In February this year, Pakistan approved regulations to levy penalties against social media platforms that fail to comply with government requests to remove content it deems unlawful. These include hefty fines, potential bans and disruption to services in the country.
Critics say that Pakistan is using such laws to curb free expression and stifle criticism of the government and military. "No other country has announced such a sweeping set of rules," wrote the Asia Internet Coalition, an industry association that represents leading global digital companies on matters of public policy, in a letter to Prime Minister Imran Khan.
Following the introduction of the February guidelines, companies including Facebook, Twitter and Google responded, warning that the Citizens Protection (Against Online Harm) Rules 2020 would make it "extremely difficult" for them to continue operations in the country.
The backlash from tech companies and rights groups prompted the government to reconsider the rules and initiate a "broad-based" consultation on content regulation. After separate consultation meetings with media and tech firms — which were boycotted by 100 human rights organizations and individuals who want the rules revoked — the government is expected to release revised guidelines later this month.
In anticipation of the revised legislation, the Asia Internet Coalition earlier this month wrote to Khan, expressing its reservations. "The lack of transparency on the consultation, an abbreviated consultation process, and strict local office requirements for online platforms are very concerning," AIC managing director Jeff Paine stated. "The consultation process therefore appears to have lost credibility."
The rules announced in February also require any company with more than half a million users in Pakistan to establish a registered office in Pakistan, with a physical address, preferably in the capital city of Islamabad. They will also be required to appoint representatives based in Pakistan to engage with the government.
Social media companies are also required to record and store their data on servers in Pakistan and provide details, including "subscriber information, traffic data, content data and any other information or data" in "decrypted, readable and comprehensible format or plain version" as and when required by the authorities.
Similar measures came into force in Turkey earlier this year, requiring social media platforms with more than one million daily users to open offices in the country. The legislation also includes penalties for companies that fail to take down contentious posts on request from relevant authorities.
"Poorly designed rules risk stifling free expression, slowing innovation and making people less safe," Andy O'Connell, director for content policy at Facebook, wrote to me in an email.
For people like Karim, the government's policing of online spaces creates additional hazards.
"When everyone is going digital, we are going offline in Pakistan. There were already few options for minorities like us to connect safely with people. With such bans and restrictions, things will only become harder," he told me.
Blocking and banning
In recent months, the Pakistan Telecom Authority has made repeated requests that YouTube immediately block content deemed "vulgar, indecent, immoral" or containing "nudity and hate speech" to viewers in the country. The renewed push to limit the influence of social media is backed by Pakistan's top court. In July, while hearing a case in which a man was accused of writing blasphemous content, a Supreme Court judge hinted at a ban on the Google-owned video-sharing site.
Pakistan only ended a previous three-year ban of YouTube in 2016, when the platform launched a local version that allows the government to demand removal of material it considers offensive.
While companies such as Facebook and Amazon have independently contributed to the government's consultation on content management, Pakistan's authorities have expressed their frustration over repeated fruitless attempts to engage with Twitter.
"Senior management of Twitter has been approached multiple times through emails/letters on different issues like blasphemy, defamation, and fake content. Meetings were also proposed but they did not attend or respond at all," PTA chairman Amir Azeem Bajwa wrote in an emailed response to questions for this article.
Despite a relatively small user base of just over three million users in Pakistan, the government's standoff with Twitter stems from the PTA's desire to force the platform to engage more efficiently with official takedown requests, including alleged political and religious disinformation.
According to Twitter's latest transparency report, the company recorded a 35.2% compliance rate to more than 200 requests from Pakistan authorities to remove content or suspend accounts in the second half of 2019.
Regulators believe Twitter should moderate its content in line with Pakistan's laws. "Twitter moderates most content in accordance with its own community standards and less based on Pakistan's local laws," wrote Bajwa.
The PTA cites blasphemous content as a particular problem on the platform, highlighting both the offence it causes and the potential implications for law and order. It also believes that Twitter has acted inappropriately on matters of special concern to Pakistan, such as the disputed region of Kashmir.
"There are several important and sensitive issues such as illegal blocking of accounts highlighting atrocities of Indian forces in occupied Jammu and Kashmir," Bajwa added.
In September last year, the regulator reported 333 accounts to Twitter that had been "suspended for posting about Indian Occupied Jammu and Kashmir". The PTA claims the only 67 of them were restored by Twitter. The issue was repeatedly brought to the attention of Twitter's management but "no action taken in this regard", according to Bajwa.
In an email, a Twitter spokesperson declined to comment on questions about the company's dealings with authorities in Pakistan.
Examples of the type of content reported to Twitter, provided for this story by the PTA, show that posts considered to be Islamophobic are the most frequently flagged.
The government is also increasingly pointing out defamatory content to Twitter for removal. Of 2,157 tweets reported, only 641 have been removed by Twitter.
By way of example, the PTA highlighted two tweets about Prime Minister Imran Khan's wife:
Following the recent ban of TikTok and multiple dating apps, the official frustration with Twitter has prompted fears of a potential shutdown of the service in the country.
In May, Twitter and its video-streaming service Periscope were temporarily inaccessible in Pakistan. In a subsequent analysis of network data by the internet freedom monitor Netblocks and Pakistan's Digital Rights Foundation, the disruption was found to be localized to Pakistan.
Twitter says it has yet to identify the cause.
When asked for an explanation on the matter, the regulatory authority told me it had "not issued any instruction regarding blocking of Twitter in the recent past."
But it did not deny the possibility of an outright ban if Twitter does not fall in line.
According to PTA chairman Amir Azeem Bajwa, the regulator "has been given a mandate to block/remove unlawful online content which will be fulfilled."