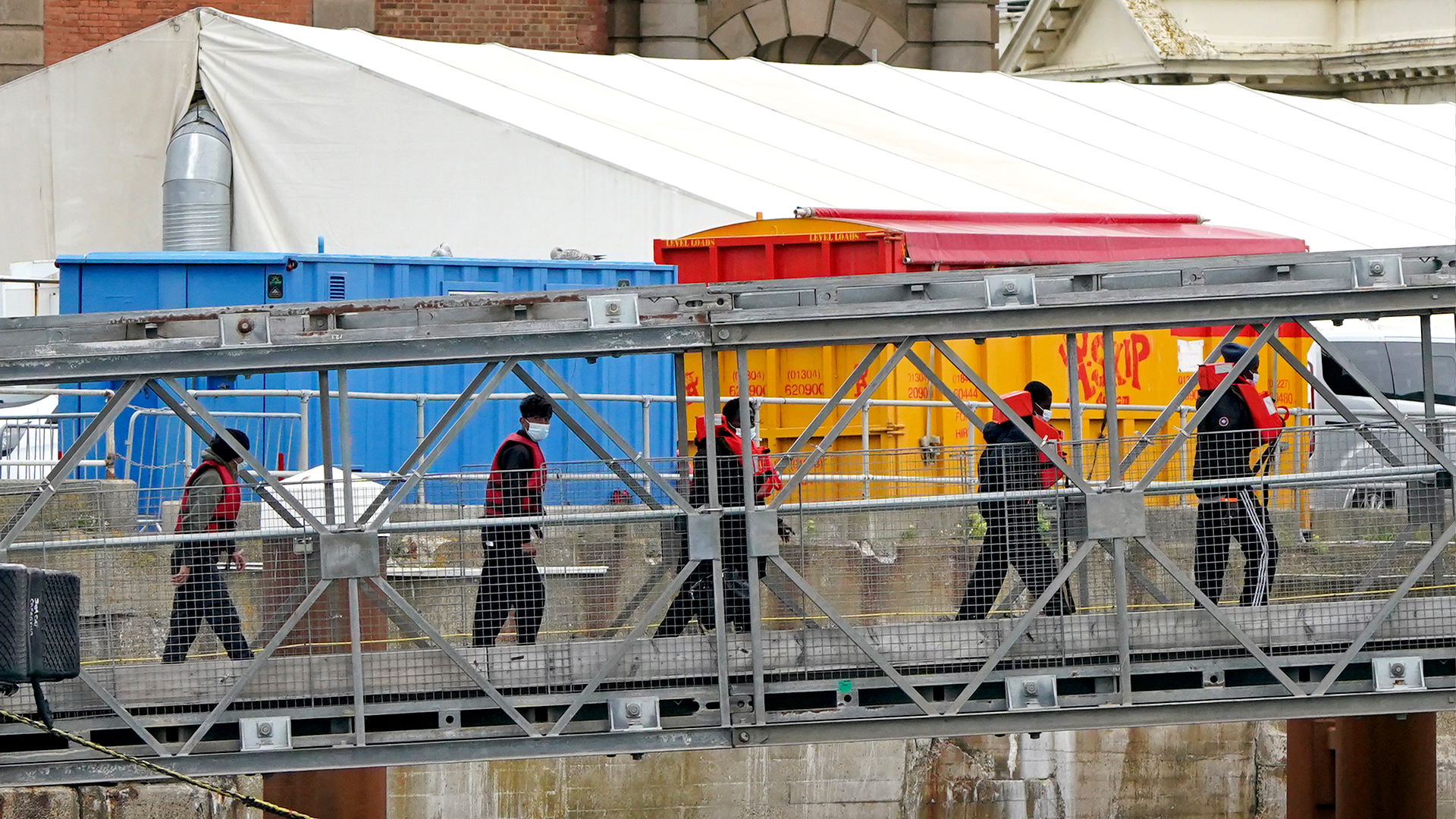 Without space to detain migrants, the UK tags them
The Home Office says electronically tracking asylum seekers is a humane alternative to detention. But migrants say it's damaging their mental health
The U.K. is presenting asylum seekers with an ultimatum: await deportation and asylum processing in Rwanda, face detention or wear a tracking device. Or leave voluntarily.
As thousands of people continue to arrive in the U.K., the British authorities are scrambling for new ways to monitor and control them. Under the government's new rules, Britain has a legal duty to detain and deport anyone who arrives on its shores via truck or boat regardless of whether they wish to seek asylum. Passed in July 2023, the Illegal Migration Act has already been described by the United Nations Human Rights Office as "exposing refugees to grave risks in breach of international law."
More than 20,000 people have come to the U.K. on small boats so far in 2023, and some 175,000 people are already waiting for an asylum decision. But officials say the U.K. does not have the physical space to detain people under the new law. And a public inquiry published this week argued that the U.K. should not detain migrants for more than 28 days. The report found evidence of abusive, degrading and racist treatment of migrants held in a detention center near London's Gatwick Airport.
With detention centers at capacity and under scrutiny for mistreating migrants, and with the Rwanda scheme facing court challenges, those awaiting deportation or asylum proceedings are increasingly being monitored using technology instead, such as GPS-enabled ankle trackers that allow officials to follow the wearer's every move. The ankle tracker program, which launched as a pilot in June 2022, was initially scheduled to last 12 months. But this summer, without fanfare, the government quietly uploaded a document to its website with the news that it was continuing the pilot to the end of 2023.
A Home Office spokesperson told me that "the GPS tracking pilot helps to deter absconding." But absconding rates among migrants coming to the U.K. are low: The Home Office itself reported that they stood at 3% in 2019 and 1% in 2020, in response to a Freedom of Information request filed by the advocacy group Migrants Organize. In other official statements, the Home Office has expressed concern that the Rwanda policy may lead to "an increased risk of absconding and less incentive to comply with any conditions of immigration bail." So authorities are fitting asylum seekers with GPS tags to ensure they don't disappear before they can be deported.
Privacy advocates say the policy is invasive, ineffective and detrimental to the mental and physical health of the wearers.
"Forging ahead, and massively expanding, such a harmful scheme with no evidence to back up its usefulness is simply vindictive," said Lucie Audibert, a legal officer at the digital rights group Privacy International, which launched a legal challenge against the pilot program last year, arguing there were not adequate safeguards in place to protect people's basic rights.
Migrants who have been tagged under the scheme say the experience is dehumanizing. "It feels like an outside prison," said Sam, a man in his thirties who fled a civil war with his family when he was a small child and has lived in the U.K. ever since. Sam, whose name has been changed, was told by the Home Office at the end of last year that he would need to wear a tag while the government considered whether to deport him after he had served a criminal sentence.
The Home Office has also outsourced the implementation of the GPS tracking system to Capita PLC, a private security company. Capita has been tasked with fitting tags and monitoring the movements and other relevant data collected on each and every person wearing a device. For migrants like Sam, that means dealing with anonymous Capita staff — rather than the government — whenever his tag was being fitted, checked or replaced.
After a month of wearing the tag, Sam felt depression beginning to set in. He was worried about leaving the house, for fear of accidentally bumping the strap. He was afraid that if too many problems arose with the tracker, the Home Office might use it as an excuse to deport him. Another constant anxiety weighed on him too: keeping the device charged. Capita staff told him its battery could last 24 hours. But he soon found out that wasn't true — and it would lose charge without warning when he was out, vibrating loudly and flashing with a red light.
"Being around people and getting the charger out so you can charge your ankle — it's so embarrassing," Sam said. He never told his child that he had been tagged. "I always hid it under tracksuits or jeans," he said, not wanting to burden his child with the constant physical reminder that he could be deported.
The mental health problems Sam experienced are not unusual for people who have to wear tracking devices. In the U.S., border authorities first deployed ankle monitors in 2014, in response to an influx of migrants from Central America. According to a 2021 study surveying 150 migrants forced to wear the devices, 12% said wearing the tags led to thoughts of suicide, while 40% said they believed they had been psychologically scarred by the experience.
Capita staff regularly showed up at Sam's home to check on the tag, and they often came at different times than the Home Office told Sam they would come. Sometimes, they would show up without any warning at all.
Sam remembered an occasion when Capita officers told him that "the system was saying the strap had been tampered with." The agents examined his ankle and found nothing wrong with the device. This became a routine: The team showed up randomly to tell him there was a problem or that his location wasn't registering. "It was all these little things that seemed to make out I was doing something wrong. In the end, I realized it wasn't me, it was the tag that was the problem. I felt harassed," Sam told me.
At one point, Sam said he received a letter from the Home Office saying he had breached his bail conditions because he had not been home when the Capita people came calling. According to Home Office documents, breaching bail conditions is a good enough reason for the government to have access to a migrant's "trail data": a live inventory of a person's precise location every minute of the day and night. He's worried that this tracking data might be used against him as the government deliberates on whether or not to deport him.
Sam is not alone in dealing with glitches with the tag. In a study of 19 migrants tagged under the British scheme, 15 participants had practical issues with the devices, such as the devices failing or chargers not working.
When I asked Capita to comment on these findings, the company redirected me to the Home Office, which denied that there were any concerns. "Device issues are rare and service users are provided with a 24-hour helpline to report any problems," a government spokesperson said. They then added: "Capita's field and monitoring staff receive safeguarding training and are able to signpost tag wearers to support organizations where appropriate."
Migration campaigners say contracts like the one Home Office has with Capita serve to line the pockets of big private security companies at the taxpayers' expense while helping the government push out the message that they're being tough on immigration.
"Under this government, we have seen a steep rise in the asylum backlog," said Monish Bhatia, a lecturer in Sociology at the University of York, who studies the effects of GPS tagging. "Instead of directing resources to resolving this backlog," he told me, "they have come up with rather expensive and wasteful gimmicks." 
The ankle monitor scheme forms part of Britain's so-called "hostile environment" policy, introduced more than a decade ago by then-Home Secretary Theresa May, who described it as an effort to "create, here in Britain, a really hostile environment for illegal immigrants." It has seen the government pour billions of pounds into deterring and detaining migrants — from building a high-tech network of surveillance along the English channel in an attempt to thwart small boat crossings to the 120 million pound ($147 million) deal to deport migrants to Rwanda.
The Home Office estimates it will have to spend between 3 and 6 billion pounds (between $3.68 and $7.36 billion) on detaining, accommodating and removing migrants over the next two years. But the option to tag people, while cheaper than keeping them locked up, also costs the government significant amounts of money. The U.K. currently has two contracts with security companies for electronically tagging both migrants and those in the criminal justice system. One with G4S, which provides the tag hardware, worth 22 million pounds ($27.5 million) and another with Capita, which runs electronic tagging services for 114 million pounds ($142 million), fitting and troubleshooting the tags.
The Home Office said the GPS tagging scheme would help streamline the asylum process and that it was "determined to break the business model of the criminal people smugglers and prevent people from making dangerous journeys across the Channel."
For his part, Sam eventually got his tag removed — he was granted an exception due to the tag's effects on his mental health. After the tag was gone, he described how he felt like it was still there for weeks. He still put his clothes and shoes on as if the tag was still strapped to his ankle.
"It took me a while to realize I was actually free from their eyes," he said. But his status remains uncertain: He is still facing the threat of deportation.
Correction: An earlier version of this article incorrectly stated Monish Bhatia's affiliation. As of April 2023, he is a lecturer at the University of York, not Birkbeck, University of London.
The Big Idea
Shifting Borders
Borders are liminal, notional spaces made more unstable by unparalleled migration, geopolitical ambition and the use of technology to transcend and, conversely, reinforce borders. Perhaps the most urgent contemporary question is how we now imagine and conceptualize boundaries. And, as a result, how we think about community. In this special issue are stories of postcolonial maps, of dissidents tracked in places of refuge, of migrants whose bodies become the borderline, and of frontier management outsourced by rich countries to much poorer ones.
Read more