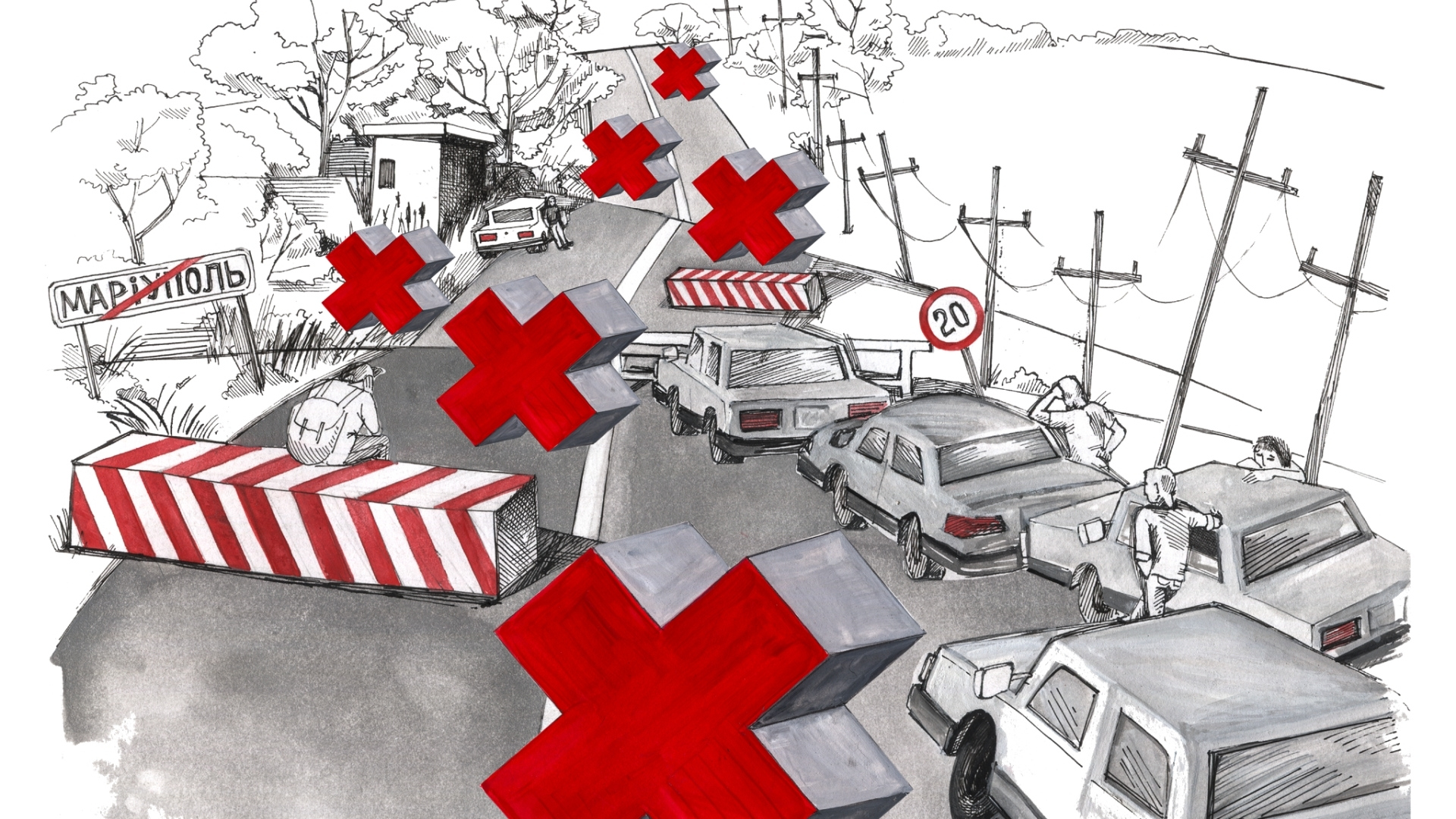 Now healthcare is a weapon in Ukraine's war
Russian-backed separatists are using medical treatment to try to win support for their cause
When Viktor, a 43-year-old Ukrainian man living on disability benefits, developed severe leg abscesses last year, he was told the only solution was immediate surgery.
The hospital in his hometown of Vuhledar, a small, shabby mining town in the Donbas region of eastern Ukraine, lacked the necessary specialist care. Viktor found other facilities further away where doctors offered to operate, but they wanted to charge him 5,000 Ukrainian Hyrvnia (about $190) — a commonplace act of corruption in a country where healthcare is supposed to be free.
Then a former girlfriend told Viktor about a "special program" in the region offering high-quality surgery, for free.
There was a catch, though. The hospitals involved in the program were on the other side of the frontline of Ukraine's grinding four-year-old war, in territory held by Russian-backed separatists. And they have been offering free medical care as a way of winning support in parts of Donbas under Ukrainian government control, thus turning patients into participants in an information war.
It is called the "Humanitarian Program to Unite the People of Donbas" and, in effect, it has turned healthcare — enshrined by the United Nations as a universal human right — into a propaganda weapon. It has turned healthcare — enshrined by the United Nations as a universal human right — into a propaganda weapon.
The war in eastern Ukraine still claims weekly civilian and military casualties, and both sides have been censured for using medical facilities as military bases and targets, in defiance of international humanitarian law. The conflict has disrupted day-to-day healthcare for the local population in more mundane ways too.
The 280-mile frontline chops the Donbas region in half, between areas under Ukrainian government control and those the government calls temporarily occupied territories, held by the separatists.
Crucially, the separatists hold the two regional centers of Donetsk and Luhansk, which they have declared the capitals of their unrecognized "republics," created and sustained by Russian support. Places like Vuhledar are trapped in a precarious limbo, still under Ukrainian government control but cut off from key services like healthcare.
For their part, the separatists call these areas "territory temporarily occupied by Kiev" and have made them a priority target for their hearts and minds campaign. Having Donetsk in their hands gives them a clear advantage in the healthcare propaganda war.
The city was the region's main medical hub before the conflict flared in 2014, providing tertiary, or advanced, care, for most of Donbas, including Viktor's hometown. Donetsk had a nationally recognized medical university, and the largest cancer center in Ukraine, headed by the country's chief oncologist. Donetsk surgeons were renowned for their "golden hands."
Much of this expertise and infrastructure has been destroyed by the war, which has decimated staff and equipment and cut medical supply lines. But the city still has some of the best medical specialists and facilities in the region.
It was Donetsk that Viktor needed to reach. Just 40 miles from his home, it took him all day because of the obstacles thrown up by the conflict.
To cross the frontline — known as the "Line of Contact" — people need a special pass from the Ukrainian security services. To get it, "you have to say your aunt lives there or something," Viktor explained. "Then it's checkpoints, queues, waiting everywhere, it takes ages. But I needed to save money so I went to see if they could help me."
At least one million people cross the line every month, according to United Nations figures, braving the risk of getting caught in crossfire, as well as the bureaucratic delays. Most make the trip for family reasons, or to claim pensions or other social support. The launch of the "humanitarian program" has added to this traffic. The "humanitarian program" refers to people living under government control as "hostages"
The two separatist "republics" jointly launched the program in February 2017, promising Donbas inhabitants on both sides of the Line of Contact free healthcare, as well as education, sport and cultural events and social benefits. And they say the message is getting through.
According to their website, more than 1,200 people from Ukrainian government-controlled Donbas have crossed over for treatment since the program began for services ranging from maternity and pediatric care to cancer surgery and vaccinations.
There is no way to confirm these figures. I was denied access to Donetsk and Luhansk, and no one there agreed to give an interview by telephone. On the Ukrainian government-controlled side, people are reluctant to admit crossing the contact line for treatment. None of the patients who agreed to talk to me would give their full names.

Despite being on crutches, Viktor agreed only to meet outside on a park bench. "You never know who's listening," he said. But from my own research, it is clear that there is now wide awareness of the program on both sides of the frontline, and many people from government areas continue to go to Donetsk for health services, while trying to stay out of the politics of the conflict.
Kiev has not outlawed receiving medical treatment in occupied Donetsk or Luhansk. But collaborating with the separatists — or supporting their propaganda efforts — is illegal. How exactly such charges are defined is not clear, but past experience has taught both individuals and organizations to be wary of such accusations.
The Ukrainian authorities have investigated non-governmental organizations (NGOs) based in Ukraine who have provided foreign-funded medicines and other supplies to occupied Donetsk and Luhansk. NGOs working there have been banned by the de facto authorities on similar charges. Doctors have found themselves placed on blacklists run by both Ukrainian officials and the separatists, accused of being "terrorist collaborators" by one side, or of being spies by the other.
Most Donbas residents and patients, who overwhelmingly have relatives and friends on the other side of the contact line, try to avoid openly taking sides. Words and categories such as "separatist," "pro-Russian" or "pro-Ukrainian" are rarely mentioned. But the de facto authorities in Donetsk and Luhansk do not hide their political and propaganda goals in running the health program. The de facto authorities in Donetsk and Luhansk do not hide their political and propaganda goals in running the health program.
Its official website describes people in government controlled-areas as "Donetsk and Luhansk citizens living in territory temporarily controlled by Ukraine," and calls them "hostages."
It continues with what reads like a call to arms: "Brothers and sisters! Countrymen! Residents of […] all cities, towns and villages held by Ukraine! Let's unite our efforts for survival and peace. For the fight against those sitting far away in Kiev, Brussels and Washington, who are trying to set us against each other over who will get richer from this war."
Would-be patients for the program from government-held territory are required to write a personal appeal to the de facto "minister of health" in Donetsk or Luhansk, thus legitimizing the separatist regimes.
The program is promoted in multiple ways, including special booths on the separatist side of the Line of Contact. It has a hotline telephone number, and according to the website, gets many calls from Ukrainian government-controlled areas.
Russian and separatist-controlled media outlets also promote the program, with regular reports showing patients gratefully receiving free, high quality treatment — treatment, viewers are told, that is unavailable in Ukrainian government territory.
The reality for Viktor was not so simple. Once he finally reached Donetsk, he found himself ensnared in a kind of Catch-22 situation.
The hospital staff told him "they haven't got the right to treat me without a doctor's referral from Ukraine," he recalled. But when he had asked for one before leaving Ukrainian government-controlled territory, doctors there had refused. "They said they haven't got the right to give me a referral because it's occupied territory," Viktor said. "So it's a closed circle."
Viktor did finally get the surgery he needed for free — though only when he collapsed in Donetsk, and was taken to hospital by ambulance. Crossing over into separatist territory had possibly saved his life, and he had only good words for the medical staff there.
But in most respects, Viktor said it felt like he was being treated in the old unified Ukraine. The hospital conditions and food were terrible, he said, and patients had to provide and pay for their own medications.
"It's just the same, and the people are the same as they were before," he said.
When someone calls the hotline, they are asked to give their name and location, and say where they heard about the program. Then they are asked if they have a particular set top box which allows viewers in Ukraine to watch a digital package of six Russian TV channels and four channels run by the two breakaway Donbas "republics." This is apparently a way of gathering data on the reach of these channels and their broader propaganda effect.
After that, the caller is transferred to someone introduced as a medical specialist, who advises what services are available. "Just come, and he'll be checked and get what he needs straight away," were the encouraging words one potential patient's relative heard when she called the hotline.
According to the program website, around a quarter of calls to the hotline have come from people in Ukrainian government-controlled parts of Donetsk oblast or district.
Yet away from the glowing picture painted by their propaganda, the state of healthcare in the separatist-controlled territories is bleak.
According to the United Nations, the war has decimated services with a knock-on effect on health. Seventy percent of medical equipment has been put out of action. Rates of tuberculosis and HIV have risen to epidemic levels. There are an estimated 80,000 unvaccinated children and close to 100,000 cancer patients — with just three radiotherapy machines left in Donetsk.
Much of the limited medication touted as being free, such as some cancer treatment, kidney dialysis and insulin, is actually supplied by three NGOs and a handful of UN organizations still allowed by the de facto authorities to work there. Or it is provided by Russia.
But what the separatist program says about the lack of medical services in government-controlled Donbas is also true.
The frontline town of Mariinka is facing the same kind of problems as Vuhledar, cut off from the regional hub of Donetsk. It's not a gap that can be filled quickly, explains Sergei Tkachenko, the head of Mariinka's health department. "In my forty years in medicine, we worked in one team with Donetsk, and to start again from scratch is really hard."
Mariinka's understaffed clinic provides only primary healthcare. The nearest secondary healthcare facility still controlled by Ukraine was destroyed by shelling. Four of its departments, including intensive care, have been crammed into another hospital designed for a population of 20,000, but now serving at least 80,000 local and internally displaced people (IDPs).
Patients with more advanced needs are referred 85 miles away to Mariupol, where Ukrainian authorities are working to establish a regional-level hospital, or even further afield where they have to compete with local patients for services.
Or, a mere four miles away from Mariinka, there is Donetsk.
"Of course people go there," said Tkachenko. "People go as they've been going for years. On their own initiative. And no one is turned away."
Tkachenko said his staff cannot provide referrals for patients to get treated on the other side of the Line of Contact. But it's clear that some medical specialists on the government-controlled side do help people make the trip.
Patients are required by the program to provide medical records and doctor's notes. Several people from government-controlled towns like Mariinka, Vuhledar or Mariupol who had been to Donetsk for treatment said local doctors had "advised" them to go there, instead of providing an official referral.
"Yes maybe someone can give the advice: 'go here' or 'go there'," Tkachenko admitted. "But to send someone to an incomprehensible quasi republic — what if we send them and there's shooting, or they say 'you're all separatists' and get in trouble?" he went on. "Our doctors are very careful. You understand the consequences; to send them officially is practically a crime."
What's more, when patients return to Ukrainian government-held territory, their separatist-issued medical documents will not be recognized, meaning they can't claim sick leave or disability benefits.
Viktor was given a Donetsk medical card after his surgery, but was told to hide it when he crossed the frontline on his way home. Whether this was for his own safety, or for the doctors who had signed it, he wasn't sure. "Everyone's afraid," he said.
There are also cases of doctors in separatist-controlled areas advising patients to cross into Ukrainian government territory for healthcare — another sign of pre-conflict ties continuing.
Tatiana, 40 and four months pregnant, had just returned from a trip to her hometown of Donetsk to see a gynaecologist when I met her in government-controlled Mariupol. The doctor in Donetsk had referred her — unofficially — to a colleague from the city who was now living and working in Mariupol, calming Tatiana's fears about having her child there.
"I felt relieved right away," she said. "If my doctor says she knows him and they worked together, I know it's alright."
Her first two children were born in Donetsk. But she can't have her third child there, because her husband, a policeman, was transferred to government-controlled Mariupol in 2014 and is now blacklisted in Donetsk.
Despite the potential consequences, Tatiana has crossed the Line of Contact regularly for medical services and has taken her oldest child, an eight-year-old with autism, to the Donetsk Yevtushenko Centre for Neuro-rehabilitation.
Before 2014 the Yevtushenko center was famous throughout Ukraine, with year-long waiting lists. Irina (not her real name) also recently took her autistic son to the center from Mariupol. The waiting time there is now reportedly down to a month, because of the fall in the number of patients. But she said she met other people there from government-controlled Donbas, and even from western Ukraine.
The political dimension to the program was explicit, she said, with the de facto authorities in Donetsk clearly encouraging patients to cross over. "The more people who go from Ukraine, the better. Those from Ukraine get free treatment or benefits."
The clinic staff were different though, Irina said. Although they asked where she and her son were from and put Mariupol on the medical card "I think as far as treating people is concerned they don't care where you're from," she said. "No one asked about our politics, they just wanted to help my child." Healthcare as a tool of propaganda and soft power is not unique to Ukraine. In nearby Georgia the government offers free healthcare for people from the breakaway territory of Abkhazia
Nonetheless, Irina only agreed to talk about her trips sitting in her car with me. She plans to take her four-year-old son again on the 60 mile journey that can now take more than nine hours. "I'm a despairing mother," she said. "I'll try anything."
Healthcare as a tool of propaganda and soft power is not unique to Ukraine. In nearby Georgia the government offers free healthcare for people from Abkhazia, a breakaway territory it still claims but which is now under de facto Russian occupation. The government is building a new modern hospital in the nearest town to the boundary line, aimed at people from Abkhazia.
Ukraine is struggling to employ similar soft power since it lost its key medical institutions in the east. Government-controlled Donbas lacks not just facilities and equipment but staff, with military medics making up for 30 percent of personnel in some hospitals.
"Doctors are a problem in the whole of the east," admitted Georgy Tuka, Ukraine's deputy minister for Temporarily Occupied Territories.
Ukraine provides no financial or other incentives for medics to work in frontline areas. The separatist regions also suffer huge staffing deficits. But reportedly, they have a simpler solution: they just stop medical specialists trying to cross into government-controlled territory.
But it's also a question of attitude. The Georgian government has adopted a conciliatory approach towards people in Abkhazia, distinguishing them from the Russian authorities who continue to exert control there. Ukraine tends to view all residents of Luhansk and Donetsk region that it doesn't control as separatists and enemies. In December 2014, the government stopped pensions and other social and budget payments for people living on its temporarily occupied territories.
"There's a wish to punish people," Tuka acknowledged.
Those living in separatist-held Donetsk and Luhansk are entitled to claim Ukrainian pensions and other benefits only if they cross into government-controlled territory and register as an Internally Displaced Person (IDP). Even then, it's difficult to access basic services, with IDPs last in line for medical treatment. As a result, the cross-border flow for healthcare is almost all one way — from government to non government-controlled areas.
Ukraine has offered one program of health-related assistance to people from its temporarily occupied territories. Also called the "Humanitarian Program", it was introduced in 2014 to provide opiate substitution therapy (OST) and support for patients with long-term drug addiction from Crimea. Russia shut down OST services there after annexing the peninsula, and the same happened in Donetsk and Luhansk. The program was funded by international agencies and ended in 2016, having helped around 200 people.
The Ukrainian government is reluctant to talk about the separatist-run medical program.
"I've seen announcements about it. But I have no data about whether people use this program," said Tuka, adding: "I don't believe it works."
International health workers familiar with the situation are similarly reticent. They would rather talk about the huge medical needs in separatist-held territory — unlike the de facto authorities there who "prefer to talk about [the 'humanitarian program'] than the real problems they have at this moment," said Christian Carrer from Association Internationale de Cooperation Medicale, a French foundation providing medical supplies to both sides.
But Carrer and many other aid workers agree with Donbas patients, that the remaining health specialists in separatist territory are caring professionals working in difficult conditions, and some of the services they provide — although far from all — are genuinely free.
"In Donetsk there is no corruption at least in terms of medicine," said Carrer, describing how hospitals in Donetsk post lists at the entrance of medicines and equipment received from humanitarian organizations, so that patients know what they can get for free. "Corruption is when you have money, but they are all without money there."
Even if there are doubts about the motives and the range of services offered under the program, simply attracting people to cross over can have an effect. Many people spoke wistfully about their experiences of being treated in Donetsk, mixed up with nostalgia for what they had lost.
"For a time I didn't miss [Donetsk]," said Tatiana, the IDP originally from Donetsk. "I was hurt. They took away our home, people came with guns."
But on her most recent visit she said she noticed how well-kept the city was, and the better quality of its roads compared to government-controlled parts of Donbas. "It's such a lovely city, and people there have changed and become friendly again," she said. "They used to be so enraged with Ukraine, or maybe some still are, but I didn't meet them this time. Everything was easier — and now, maybe, I started to miss it."
What both patients and doctors in Donbas miss most is the peace, normality and freedom of movement they had before 2014. And that is usually what they choose to talk about, rather than comment on the origins and geopolitics of a conflict that has split families, neighbors and work colleagues. "We have to finish this war and unite again and live as we did before: friendly and normal and everything comprehensible," said health director Sergei Tkachenko in Mariinka.
There are few more stark examples of how the war has torn up the lives of Donbas people than the fact that, to get medical treatment, they have to accept becoming pawns in a propaganda war. "We're just simple people and they ruined everything for us," said Viktor. "Simple people who lived together before."