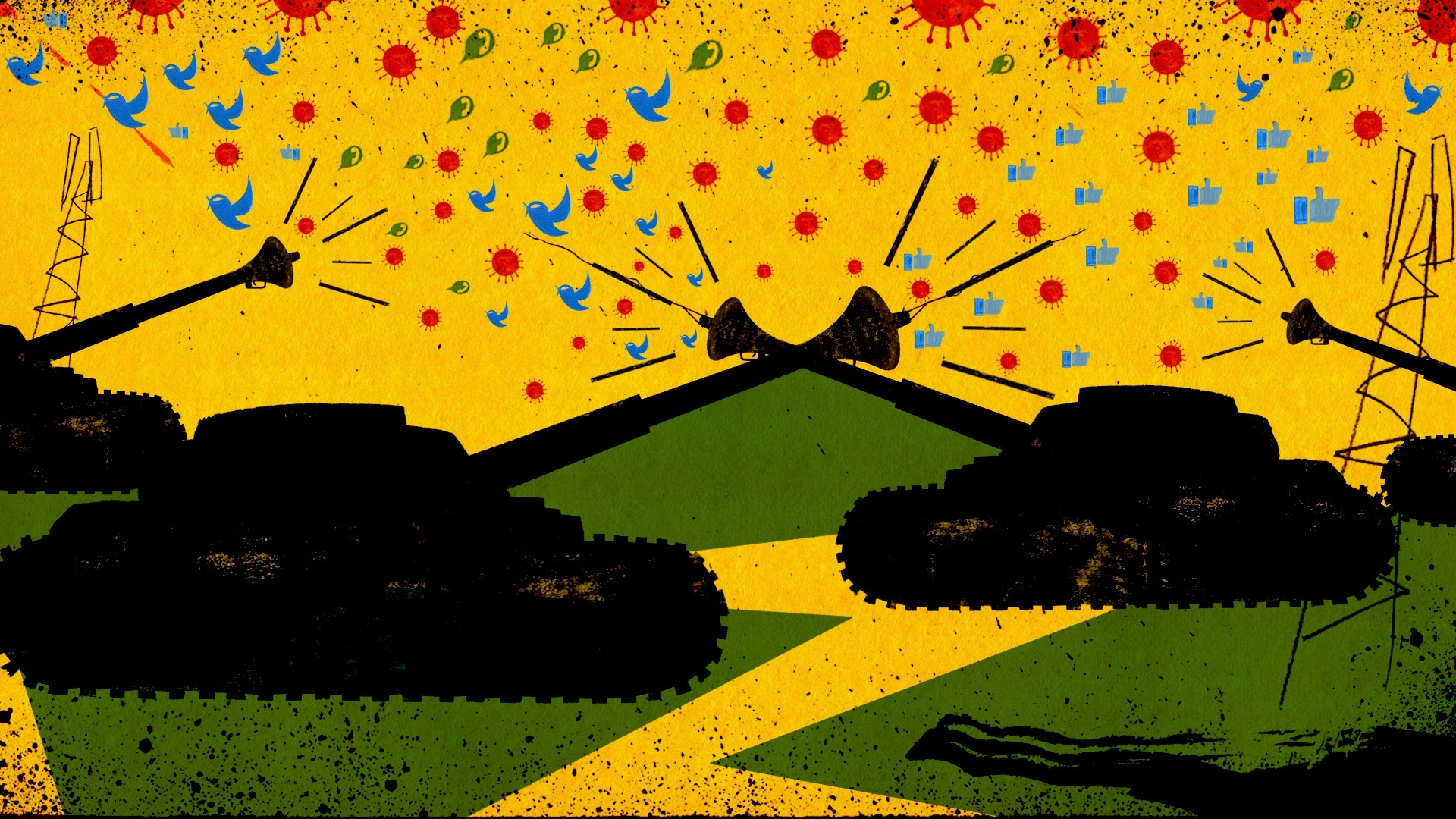 The information war eroding political reality in Brazil
After years studying the nation's military hierarchy, one academic believes that he has uncovered a coordinated program to contaminate discourse and bolster the army's power
On Saturday March 7, 2020, then U.S. President Donald Trump sat down to a lavish banquet at his Mar-a-Lago resort with Jair Bolsonaro, the far-right leader of Brazil. He was also photographed with Bolsonaro's press secretary, Fabio Wajngarten, both men sporting "Make Brazil Great Again" baseball caps.
When the delegation returned from Florida, Wajngarten tested positive for Covid-19. Before long, 24 members of the visiting team were also diagnosed. Then, Bolsonaro's son Eduardo told Fox News that his father had contracted the virus.
A media frenzy ensued. Bolsonaro took to Facebook to insist he had tested negative, posting a photograph of himself making an obscene gesture to the press. All the same, he was ordered into isolation by medical staff. No one knew for sure whether he was positive or not and, for a couple of days, the world wondered if he had passed the infection on to Trump.
Nationwide protests against Brazil's congress, which was locked in battle with the presidency over control of the annual budget, had been scheduled by Bolsonaro supporters for Sunday March 15. Bolsonaro originally discouraged the gatherings, owing to the pandemic. On the day, though, he broke quarantine to greet hundreds of demonstrators outside the presidential palace.
Bolsonaro continued to act erratically, saying that the media had grossly exaggerated the threat posed by Covid-19, describing it as a "fantasy" and as a "gripezinha" (little flu).
Today, Brazil — a nation of 210 million people — has racked up more than ten million confirmed coronavirus cases and nearly 250,000 deaths. These figures place it second in the world for fatalities, behind only the United States. Appalled by the statistics, numerous state governors have turned against the nation's president. And, yet, he has shown little remorse.
"So what?" Bolsonaro said, when reporters questioned him in late April about the thousands who had already lost their lives. "What do you want me to do?"
It wasn't always like that. In the early days of the pandemic, Brazil responded robustly. In March, major cities such as São Paulo and Rio de Janeiro introduced swift and stringent quarantine measures. International travelers were barred from entering the country and the government announced nearly $16 billion in support for states and municipalities to cope with the public health and economic impacts of the pandemic.
As the death toll soared in Europe and elsewhere, Brazil seemed well prepared. But Bolsonaro smashed any early sense of optimism, continuing to play down the severity of the virus, contradicting his own government's health advice and endorsing widely discredited drugs such as hydroxychloroquine. In less than a month, health minister Luiz Henrique Mandetta resigned, followed by his successor Nelson Teich, who was, in turn, replaced by General Eduardo Pazuello. As these events played out, the death toll soared.
Despite his apparent negligence, public support for Bolsonaro has not melted away, holding steady at around 40%. This may, in large part, be attributed to a deep distrust and paranoia that underpins politics in Brazil. Bolsonaro, a former army captain who ran for election with the far-right Social Liberal Party, is the archetypal populist leader. Unfiltered, crass and belligerent, his leadership has been characterized by vocal animosity towards institutions, experts of any kind and the communists he believes have infiltrated every aspect of the state and civil society.
The Brazilian far-right has for decades pushed the narrative that a left-wing conspiracy is secretly pulling the country's political strings. As well as being embraced by politicians, these beliefs are tacitly endorsed by the nation's powerful military. But others have different ideas about who is working Brazil's levers of power.
While large sections of the domestic and international press have been quick to paint Bolsonaro's behavior as blindly chaotic, some observers believe that it is part of a coordinated strategy of creating political crises in order to bolster the standing of Brazil's military. Retired and serving military figures account for nearly half of Bolsonaro's cabinet, with former four-star generals forming the inner core of his government — a strong position from which to present the army as a stable counterweight to the caprices of democracy.
The feedback loop
Piero Leirner, an anthropologist at the Federal University of São Carlos in São Paulo state, has spent 28 years studying hierarchical structures within the Brazilian military. A softly spoken and understated man of 51, he believes that the existence of such a program has become increasingly apparent during the global pandemic.
"This crisis only seems to have accelerated this feedback loop," he told me. "Creating deliberate discord is now a daily occurrence."
Leirner asserts that an ideologically driven cadre of senior military figures — including retired general Vice-President Hamilton Mourão — has installed itself at the highest level of state. He also believes that the Brazilian army is pursuing a campaign of "hybrid warfare," using a broad range of communications channels, from messaging apps to traditional media, to create a torrent of disinformation so strong that it has eroded and reshaped collective perceptions of reality. Its divisive narratives, he adds, have created a pervasive sense of conflict, in which "enemy combatants" are widely believed to be conspiring to destroy the nation from within.
By way of illustration, Leirner points to the widespread idea that the center-left Workers Party, one of Brazil's leading mainstream political groups, is part of an international communist plot. While similar conspiracy theories flow freely around the world, Leirner believes that Brazil is unique in that such narratives are being seeded by the military, against the very population it is supposed to serve.
He also says that the army's strategy is so covert that many of those involved may not be aware of the roles they are playing — even Bolsonaro himself.
"The most fundamental principle of hybrid war is that most of its agents or combatants carry out maneuvers and offensives without knowing what they are doing," he said.
In the first of several conversations between March and July, Leirner explained that the aim of this information battle is to make people believe that, rather than relying on democratically elected politicians, Brazil is better off with the army running things. He also views the nation's current state as just the latest chapter in a long-running story.

Inside the academy
Back in 1992, Leirner was starting a masters degree in anthropology at the University of São Paulo and scouting around for something to base his thesis on. As the son of an artist and a psychologist, he had no connection to the military and certainly hadn't planned on building his academic career around it. However, his supervisor was hooked on the subject and pointed him in its direction.
Leirner, then 23, initially thought of conducting field work with frontier platoons performing national security duties in the Amazon.
Brazil's military dictatorship, which began with the toppling of the left-wing President João Goulart in the mid-1960s, had ended in 1985. The country's transition to democracy was still ongoing and the army was constructing a new role for itself.
The top brass believed that the military regime had been too closely aligned with the U.S and had exposed Brazil's wealth of natural resources — including gold, diamonds, iron ore and vast reserves of hydroelectric power — to exploitation by foreign powers. No longer in charge of the country's destiny, they feared that history would repeat itself under the new democratic system, and so had formulated a doctrine based around presenting the army as the only viable defender of the Amazon's riches.
In preparation for his planned field work in the Amazon, Leirner gained access to the Army Command School (ECEME) in Rio de Janeiro, an elite academy that trains officers to become generals. However, it turned out that the school itself offered abundant material for ethnographic research.
At first, Leirner was welcomed as an academic observer and put to work reading texts and keeping records. During his time there, he came to realize that the ECEME was trying to forge a closer relationship with scholars, the goal being to jointly define the core ideas of what the military envisaged as a "common project for Brazil." The collective view was that the country lacked a natural ruling class capable of "completing the mission" of national development. The armed forces and universities were the only institutions considered both disciplined and hierarchical enough for the job.
"There was the idea that Brazilian elites were extremely disorganized and unable to establish a project for the nation, and that, therefore, it fell to the military to organize it," Leirner said.
Although the military had largely accepted the demise of its dictatorship, Leirner recalled that the ECEME was a hotbed of skepticism regarding democratic change. The majority of officers believed that the army still constituted the backbone of Brazil and that it should play the leading role in the country's rebirth. Accordingly, they envisaged the military at the center of a network of like-minded politicians and academics dominating the Brazilian state.
To draw up that framework, the ECEME invited visitors from both the left and right of the political spectrum. One was the prominent ultra-conservative commentator Olavo de Carvalho.
In his incendiary columns for Brazilian newspapers, Carvalho spread the narrative that the communist threat, which the military had used as a pretext for seizing power in the 1960s, was still alive and well. The only difference was that now, rather than seeking legitimate political power, the left was waging a clandestine war, via a wholesale takeover of the media, academia and the intellectual sphere. As it has in reactionary movements around the world, this idea of "cultural Marxism' was to prove highly influential.
"It matched perfectly with what the military was looking for, which was an ideological counter-attack," Leirner told me. "It reached a point that you could no longer tell what was his idea and what was the military's."
While at the ECEME, Leirner became immersed in the military worldview, which saw everything through what he describes as the "friend-enemy dichotomy," that everyone and everything — nations, foreign armies, institutions and ideologies, even ordinary civilians — is either an ally or an adversary.
Although the military was meant to be his subject, there came a point when Leirner began to think that it was he who was really being studied.
"They said that they always knew what I was doing, implying that I was being bugged, surveilled," he told me.
Leirner felt that he was the focus of an elaborate psychological experiment. He was routinely assigned mundane tasks and endless rereadings of the same texts; one particular chapter from Carl von Clausewitz's classic of military strategy "On War" sticks in his mind. He was also frequently instructed to prepare for events that never took place, then told that he had misunderstood. Then came what he refers to as "fidelity tests" — innumerable interview sessions, ostensibly to facilitate his research, but were reversed to make him feel like he was under interrogation.
"They were trying to find out if I really had the potential to be an infiltrator in the academic world," Leirner said.
Meanwhile, normal daily interactions would involve two army personnel speaking to him in tandem: one adopting a sympathetic role, the other coldly aggressive. It was the classic good cop-bad cop scenario, something that Leirner would later recognize, with increasing regularity, on the political stage.
In 1997, after five years at the ECEME, Leirner published "Meia-volta, Volver" ("U-Turn, Return"), a study that detailed the dynamics of power, obedience and ideology at play in the Brazilian military. It rapidly became clear that he had displeased someone at the top.
"They never told me anything. They just closed the door to further research at the ECEME," he said.
Despite that lack of access, Leirner continued to produce ethnographic studies of the army. In 2010, he finally made it to the Amazon to spend time with the border platoons, but his efforts were frustrated and his access to subjects impeded. After that, he resolved to abandon his work on the military, but events would soon pull him back in.
The Big Bang
During the 1990s, Brazil had developed into a thriving globalized economy. In 2003, the Workers Party candidate Luiz Inácio Lula da Silva was inaugurated as president. Popularly known as Lula, he had, despite his left-wing roots, risen to power on a ticket of working with Brazil's business elite, in order to bring increased prosperity to ordinary people.
By the time Lula was succeeded by his former chief of staff Dilma Rousseff in January 2011, the economy was growing at an annual rate of 7%. But, within a year, Rousseff's enormous popularity had evaporated and the economy, like many others, was suddenly tanking as a result of the global financial crisis. Conspiracy theories abounded that the Workers Party was leading the country towards a Venezuela-style regime.
Following a large-scale investigation into corruption involving Brazilian politicians and state companies, known as Operation Car Wash, mass protests erupted. Although there was no direct evidence that Rousseff had been involved in graft, she was impeached in April 2016 over a minor budgetary infringement and removed from office. She was succeeded by her vice-president Michel Temer, of the center-right Brazilian Democratic Movement, who was also charged with corruption during his presidency and then, in 2019, arrested.
Lula was convicted on little concrete evidence and, in 2018, jailed for 12 years — a move that prevented him standing in that year's presidential election, which opinion polls had predicted he would win. He was freed in 2019, until such time as the appeals process is exhausted.
It was Rousseff's downfall that drove Piero Leirner to turn his attention back to the military. Soon, he realized just how active it had been behind the scenes. The ideas he had seen being developed at the ECEME had, he believes, coalesced into a coherent plan for domination of Brazil's political structures and institutions by the army.
"I went after clues to understand what was going on," he explained. "The whole 'project for Brazil' narrative had turned into the Big Bang."
Leirner dug around internal military manuals, publications and websites. He found a mass of material referring to the use of information channels to confuse and disorient selected political targets. It was immediately familiar to him. Nearly a decade earlier, he had been exploring the use of anthropologists in Afghanistan and Iraq by the U.S military. While completing a postdoctoral study at the University of Lisbon, he had obtained a number of NATO and U.S. military field manuals containing similar details of counterinsurgency and psychological operations. He also uncovered a direct link to his time at the ECEME.
"I came across things written about hybrid war by one of the very colonels who guided me at the beginning of my masters," Leirner said, adding that the man in question later became a four-star general, the highest rank in the Brazilian military.
While such tactics were used by U.S forces against foreign adversaries, in Brazil they were specifically ranged against "internal threats." Leirner also uncovered an update of the old communist conspiracy theory. The military had identified a "narco-terrorist-neo-communist alliance 2.0" as its new bete noire. Left-wingers, drug traffickers and criminal gangs had been folded together to form a unified threat to Brazil that only the army could stop.
The narrative would soon become a central feature of right-wing discourse within the country. Owing to an ongoing boom in cellular connectivity, the internet proved the perfect delivery system for it.
According to one survey, 61% of Bolsonaro supporters said they got their political news through WhatsApp, compared to 38% of Workers Party supporters. Ahead of the 2018 presidential election, WhatsApp was flooded with fake news forwarded to thousands of users at a time by Bolsonaro supporters.
Leirner said that he believes that the military uses social networks and messaging apps as "relay stations," within a wider "swarm strategy" to seed manufactured narratives, the content and spread of which is carefully crafted to look organic.
"Nobody realizes that there is an architecture by which this was designed," he said.
Later, Bolsonaro's official spokesman General Rego Barros — the former head of communications for the military — essentially confirmed Leirner's theories.
"It was up to the army to plunge headlong into the social media underworld: Facebook, Instagram, Twitter, WhatsApp," he said in a February 2019 parting speech from the military, before assuming his new government role. He added that those steps were taken in order for the army to "become the public agency with the greatest influence in the digital world in Brazil."
Leirner didn't work alone. He established a network of experts and analysts who discovered the military's vast reach in civil society. Apart from its networks of digital militia, it had cultivated links within business, the media, the judiciary and state prosecution offices. Prominent members of those fields were invited to give speeches and meet with personnel at military schools and institutions, and some were given special honors and awards.
As the 2018 election approached, Leirner realized that the military's support was consolidating itself behind Bolsonaro, then a fringe congressman and one of the few Brazilian politicians to publicly express nostalgia for the dictatorship. Influential figures, such as former general Augusto Heleno, strongly backed him, both publicly and to military audiences, lending crucial momentum to his campaign.
On the election trail, Bolsonaro was offensive, outrageous and uncompromising. By comparison, the vice-presidential candidate Hamilton Mourão, a retired general, appeared sensible, measured, statesmanlike: the good cop-bad cop scenario once again.
At the same time, senior military officers and reservists made great efforts to convince rank-and-file troops that Bolsonaro was the solution to Brazil's problems. According to Leirner, it was an "incredible feat of engineering," enlisting high-profile military retirees trained during the dictatorship. However, perhaps the most important voice of all was that of a civilian who had established close links to the ECEME and other military institutions decades earlier.
The mastermind
Olavo de Carvalho, a self-styled philosopher who never finished high school, is widely regarded as the intellectual godfather of the Brazilian far-right. His ideas are reactionary, hardline Catholic, often conspiratorial and invariably filled with homophobic and misogynistic rhetoric.
He is also extremely popular. His Facebook and YouTube pages total more than a million followers, and thousands have taken the online philosophy course he launched back in 2009. Fewer, however, are aware of the precise nature and depth of his relationship with the Brazilian military.
In a video chat from his home in Richmond, Virginia, in early September, Carvalho acknowledged visits to the ECEME and other military-linked institutions dating back to the 1990s. He also admitted that he had warned high-ranking officers that communists would stage a takeover by stealth of the entire country. He remains unshakable in that conviction.
"Everything happened exactly as I described it, but now it's too late," he told me, with a hearty laugh.
Yet Carvalho insists that he has had little real influence on Brazil's current trajectory or the military's role in it. The reason for this, he said, is because senior officers are "too stupid" to understand his ideas. Despite several of Bolsonaro's ministers being avowed Carvalho fans and even online alumni, he described the notion that he holds any sway over the government as "absurd."
"Nobody in the government pays attention to me," he said. "If I were their guru, everything would be far better."
Carvalho sat in front of wooden shelves stacked with books, dressed in a salmon pink shirt and wearing large glasses that slid down his nose as he talked. He exuded a kind of grandfatherly charm, portraying himself as an affable and misunderstood genius. But, the truth is that he is far from ignored.
"When the military government finished, the only political force that had survived was the communists. And the communists dominate everything," he told me. "How can they say that they freed Brazil from communists? On the contrary — they gave Brazil to the communists."
Brazil's military dictatorship is widely considered to have suppressed opposition voices and committed numerous egregious human rights abuses, but Carvalho denies that they did anything of the sort.
"The real story of the military coup was not written yet," he said, adding that, for many years, he was "the only journalist that defended the honor of the armed forces."
In his bestselling books, Carvalho has attempted to expose what he believes to be a communist invasion of Brazilian civic and cultural life. According to him, communists are now all-powerful and in cahoots with organized crime.
"The leftists and the drug dealers control the House of Representatives and the Senate," he said, thumping his desk. "So they don't permit Bolsonaro to do anything he wants to do."
He described Bolsonaro as a "general manager" with no real power because communists effectively control every arm of the state. "Politically he can do nothing. He's a half-president," he said.
Carvalho does concede that the army casts a long shadow over Bolsonaro's government, though. "The president would never do anything that can displease the military," he told me. "He was just a captain — he's surrounded by generals now. This has some psychological importance."
Such unflattering pronouncements gloss over how connected the two men are. At his 2018 presidential acceptance speech, Bolsonaro placed one of Carvalho's books — "The Minimum You Need to Know Not to Be an Idiot" — on the lectern, beside the Bible.
Carvalho maintains that they have spoken on the phone and in person only a handful of times since Bolsonaro became president. However, two of Bolsonaro's sons, Flavio and Eduardo, have traveled to Virginia to meet him.
In 2017, Eduardo appeared in videos at Carvalho's house, wearing a T-shirt bearing the slogan "Olavo is right." Then, in 2019, he attended a screening of a documentary about Carvalho, hosted in Washington D.C. by Donald Trump's former chief strategist Steve Bannon. There, he told the audience that "without Olavo, there would be no President Bolsonaro."
Carvalho says that he has simply been engaged in a grassroots ideological battle, using his website, internet courses and YouTube videos to spread the word. In a 2019 interview with The Atlantic, he proudly stated he had created a "genius factory online" and went on to boast that his "influence on Brazil's culture is infinitely bigger than anything the government is doing."
In a Brazilian congressional commission on fake news earlier this year, Carvalho was linked to online mobs that spread disinformation and coordinate personal attacks on political opponents. When I asked him about this, he said that the people who served on the commission had no idea what fake news was and no clue what they were talking about. They, like pretty much everyone else, were "stupid."
Setting fires
Speaking to Leirner and Carvalho is enough to make a person question the entire concept of political reality in Brazil.
Carvalho scoffed at Leirner's theory that the military has been secretly waging an information war against the country. "They are not smart enough to do this," he said. The military has also long denied any influence on the nation's politics. However, Leirner's ideas seem increasingly credible.
General Eduardo Villas Bôas, who served as army commander during much of the past tumultuous decade, has consistently claimed that the army is politically neutral. Yet, after being inaugurated as president in January 2019, Bolsonaro praised Bôas for helping him win. Comments by Bôas about the military's "institutional mission," made the day before a crucial 2018 hearing on whether to remand Lula in custody for the duration of appeals against his sentence, were also seen by many as a public declaration of the military's full-blooded return to politics. The next day, Lula was duly jailed.
After becoming president, Bolsonaro appointed Sergio Moro, the judge who originally convicted Lula, as minister of justice and public security. Later, in June 2019, The Intercept Brasil published leaked messages that revealed how Moro had advised state prosecutors working on the very Operation Car Wash cases he was adjudicating — including Lula's. Moro, like many other judges and prosecutors, also has close ties to elite military-linked institutions, including Brazil's Superior School of War.
Now, military figures make up nearly half of Bolsonaro's cabinet. Leirner says that they observe a strict pecking order, based on the year they became officers during the dictatorship: Hamilton Mourão, as vice president; Fernando Azevedo as minister of defense and Edson Pujol as army commander.
"This is a line that does not dissolve easily," Leirner told me.
Under these men, Brazil already faces numerous challenges, from the ravages of the coronavirus to a rapidly contracting economy. According to the World Bank, the country is projected to fall into its deepest recession on record and has already experienced steep drops in personal income and employment. Like many other nations, its people will be looking to the government for solutions. However, according to Leirner, they should, instead, be braced for even more political fires, set deliberately for the army to put out.
The Big Idea
Shifting Borders
Borders are liminal, notional spaces made more unstable by unparalleled migration, geopolitical ambition and the use of technology to transcend and, conversely, reinforce borders. Perhaps the most urgent contemporary question is how we now imagine and conceptualize boundaries. And, as a result, how we think about community. In this special issue are stories of postcolonial maps, of dissidents tracked in places of refuge, of migrants whose bodies become the borderline, and of frontier management outsourced by rich countries to much poorer ones.
Read more