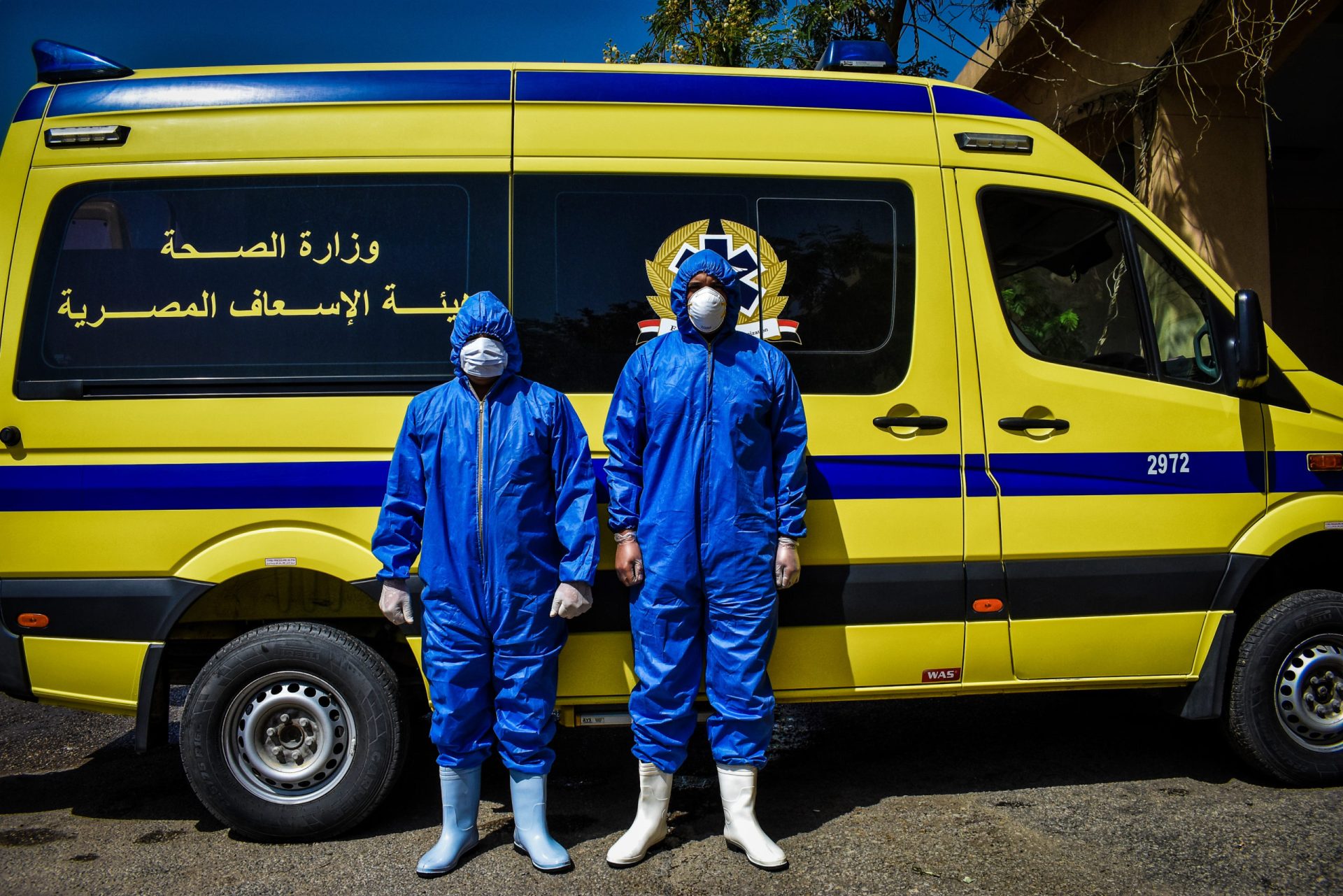 In Egypt, medics fear raising the alarm on Covid-19
Healthcare professionals worry that speaking out about a shortage of protective gear and poor crisis management will lead to their arrest
Fears of arrest for speaking out on shortages of protective gear and poor crisis management are hampering the efforts of doctors in Egypt to tackle the coronavirus pandemic.
While the nation has introduced a series of strict lockdown measures to curb the spread of Covid-19, authorities have reported more than 5,000 cases and more than 350 deaths.
But health professionals worry that criticizing the government could land them in jail for "spreading false news" — a charge commonly brought against those who defy Egyptian state narratives.
Doctors "are working in very stressful circumstances without protection," said Nayla, a general practitioner who is refusing to work due to the acute lack of resources in public hospitals. "I believe that we're going to lose many doctors in the coming days."
Nayla requested that her real name not be used, fearing reprisals by the authorities. She is just one of many Egyptian medical professionals who say that the government has failed to acknowledge the severity of the country's coronavirus outbreak.
In late March, one doctor was arrested for uploading a video to Facebook and so was a pharmacist for writing a post. Both complained about a shortage of protective masks, according to the U.N Human Rights Commission.
Since then, 43 doctors have been infected with Covid-19. According to the Egyptian Doctors' Syndicate, three have died from the disease. The U.N has urged Egyptian authorities to stop muzzling dissenting voices and to address false news by providing "reliable and fact-based information to the public."
In response to the pandemic, Egypt has enforced a nationwide curfew, closed all street markets and launched a hotline that offers instructions to anyone experiencing symptoms. The Ministry of Health has also sponsored ads on television instructing Egyptians to wash their hands frequently and stay indoors.
But some popular talk show hosts and religious leaders have undermined the state's campaign by propagating damaging quackery. One theory claims that Egyptians have developed a natural immunity to the virus from drinking poor-quality tap water. Others contend that Egyptians are immune because they're protected by God.
According to healthcare professionals, the biggest issue is a lack of testing across the country. As of April 22, Egypt — a country of 98 million people — has only confirmed 3,032 infections. The real figure is widely believed to be far higher. A recent study by the University of Toronto estimated that at least 19,310 people in Egypt had been infected with Covid-19 by mid-March. The estimate was based on infection rates and flight data. Egypt later expelled a Guardian journalist for citing this research.
Many Egyptian medical staff are ambivalent about the study, but a large number also agree that restrictive testing protocols are concealing the severity of the crisis. For now, only patients with symptoms who have either returned from an infected country or encountered an infected person are eligible for testing. Owing to these rules, the Ministry of Health performed tests on just 25,000 people by the end of March, despite having the capacity for 200,000, according to a technical commission from the World Health Organization.
"The current protocol assumes that the virus hasn't already spread in our communities," said Nora, an Egyptian public health specialist, who works for an international NGO in Cairo. She too declined to use her real name.
"My opinion is that the government is intentionally trying to keep numbers down, because it can't tell people to stay home and stop working for long," Nora added.
Medics and the general public also view the government's recent soft-power initiatives of sending aid to other countries as detrimental to Egypt's own efforts to control the coronavirus. Widespread anger erupted on social media when Cairo airlifted medical supplies to Rome, for the second time in three weeks, on April 3.
Many Egyptians suspect that President Abdel Fatah Al Sisi sent the aid to improve ties with Rome after the 2016 abduction and murder of the Italian PhD student Giulio Regeni in Cairo — a crime perpetrated by Egyptian security forces, according to U.S intelligence.
"When we saw the government take our resources to Italy, it made us angry and unmotivated," said Magdi, a frontline doctor in Cairo, who also declined to disclose his real name. "It was clear that the government didn't care about protecting us."
A recent incident at the National Cancer Institute (NCI) in Cairo also raised alarms about the spread of the pandemic. Most of the institution's staff demanded tests after a nurse exhibited symptoms of the virus last month. "We tried to tell the university that medical staff could kill our cancer patients if we infect them, but they wouldn't listen," said Hagar Essam Ashmawy, an NCI pharmacist.
The incident prompted President Abdel Fattah el-Sisi to order the Ministry of Health to test all NCI staff — a move that revealed 17 employees were infected with Covid-19. Sisi's intervention was celebrated by Ashmawy and her colleagues, many of whom lauded the president as a hero on social media.
But Magdi believes that the government is still woefully underprepared. "If our response proceeds in the same way, then Egypt will face a disaster in the weeks ahead. We'll be much worse off than Italy, thanks to our corrupted health care service."
The Big Idea
Shifting Borders
Borders are liminal, notional spaces made more unstable by unparalleled migration, geopolitical ambition and the use of technology to transcend and, conversely, reinforce borders. Perhaps the most urgent contemporary question is how we now imagine and conceptualize boundaries. And, as a result, how we think about community. In this special issue are stories of postcolonial maps, of dissidents tracked in places of refuge, of migrants whose bodies become the borderline, and of frontier management outsourced by rich countries to much poorer ones.
Read more