TV vs facts: realities clash as Russia goes into coronavirus lockdown
Doctors and medical staff are being used in an ongoing campaign of disinformation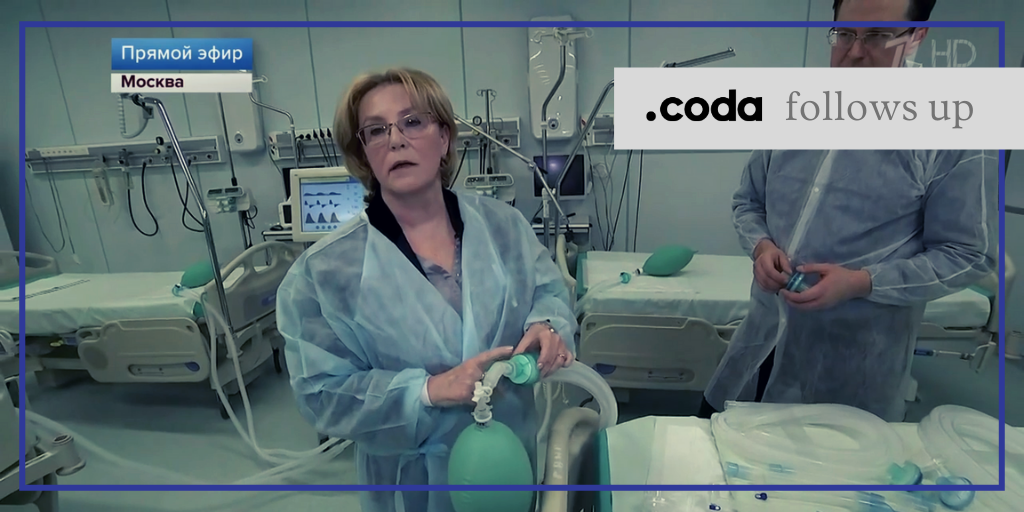 Russian medical staff say they are finding themselves on the frontline of a disinformation campaign that continues to play out on state television, despite the fact that coronavirus cases in the country have multiplied by almost four times in the past week.
Employees at one Moscow hospital readying itself to house COVID-19 cases told Coda Story that before the arrival of a film crew from the Kremlin-controlled Channel 1, they were forced to prepare an intensive care unit for the cameras. Veronika Skovortsova, the head of the Federal Medical and Biological Agency, went live from the unit the next day to announce how new, Russian-made technology allows for "up to four patients at a time" to be hooked up to one ventilator.
The government has promised the hospital 12 new machines. However, speaking on condition of anonymity, one staff member said that medical personnel have no training on how to use this technology.
"I am scared to go to work," the employee said. "It's only on the airwaves that everything is so beautiful. We have no idea how to even operate this new system."
Across the world, medics are reporting shortages in equipment, ranging from high-tech ventilators to basic supplies, such as gowns and masks. Critical shortfalls have been reported in the U.S., Italy, Spain and the U.K. One doctor in southern France went so far as to post naked photographs of himself on Facebook, in an appeal to President Macron about the lack of protective clothing available to employees at the hospital where he works.
In Russia, however, the narrative promoted by much of the state-controlled media contrasts starkly with the realities on the ground. Testimony from Russian doctors directly contradicts the assurances of a smooth response to COVID-19 broadcast on state television.
Today, Moscow imposed a strict lockdown, allowing residents to leave their homes only in cases of medical emergency, to travel to essential jobs and to shop for food or medicine. So far, Russia — a country of more than 140 million people — has confirmed 1,836 cases of the virus and nine deaths. Many doctors and experts believe that these figures are far from the real count.
However, Russian state media is investing its airtime in showing poor conditions in hospitals overseas and its mission to send supplies and military doctors to hard-hit nations.
On March 25, Anatoli Antonov, Russian ambassador to the United States, told Russian media that "ordinary Americans must know that Russia is ready to help the U.S." He also accused the country's media of not paying enough attention to its own coronavirus crisis and, instead, over-emphasizing the severity of the pandemic elsewhere.