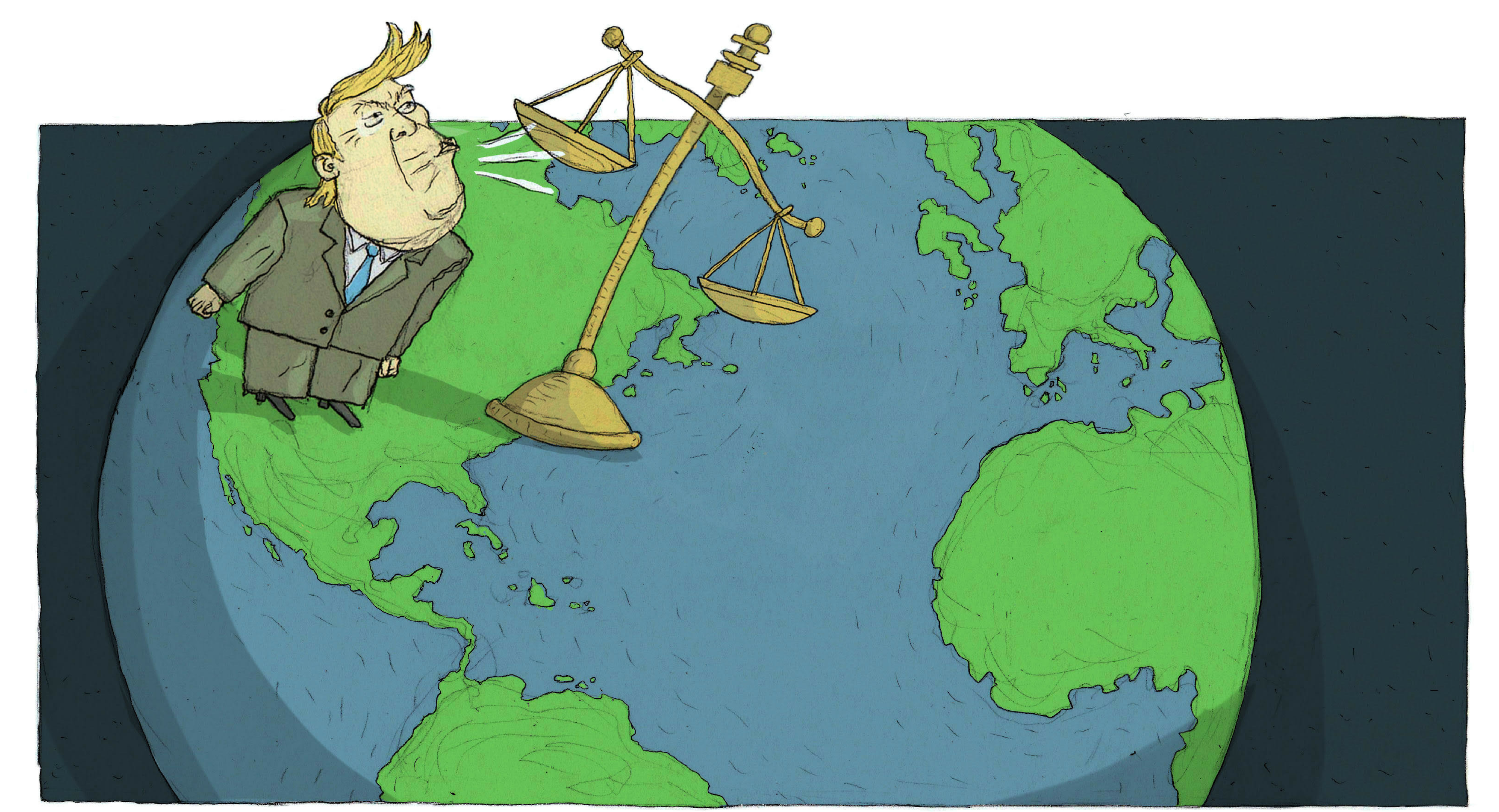 From Fake News To Real Censorship
President Trump turned "fake news" into a rhetorical cudgel. The world's authoritarians have turned it into a crackdown on free speech.
Last November, Cameroonian journalist Mimi Mefo Takambou was handcuffed and taken to jail.

Her apparent crime? A social media post attributing the killing of American missionary, Charles Wesco, to the Cameroonian military.

"I was in shock," Mefo told me. "I was really in shock. But not surprised, in the sense that we are in a country where journalists are thrown into jail for doing their job."

The bigger surprise was the charge laid against her: propagating "false information," according to her lawyer. Or, to put it more bluntly, spreading fake news.

Mefo had become another victim of a growing worldwide trend, of authoritarian governments exploiting the global crusade against disinformation as a pretext for going after the media and clamping down on dissent.

Cameroon has, in effect, become one of the testing grounds. The west African state has been an unsafe place for journalists for many years. But amid a spiralling civil war, the government has become especially keen to intimidate the media, with more than 12 journalists detained or questioned in the past year.
"It's a terrible problem for us — fake news, disinformation, poisoning," said Issa Tchiroma Bakary, the country's communications minister, as he sought to defend Mefo's arrest to the Washington Post.

"At least 28 journalists worldwide were in jail on "false information" charges by the end of 2018."


The Committee to Protect Journalists
By the end of last year, at least 28 journalists worldwide had reportedly been jailed on "false information" charges, according to the Committee to Protect Journalists, a sharp rise from previous years. Cases have included efforts by the authorities in Myanmar to silence investigative reporting they considered inconvenient. A growing list of governments have now passed or are in process of drawing up laws against fake news, albeit with widely differing mindsets and motives.

Among the first to act was Germany, in 2017, concerned about the threat of Russian-inspired disinformation fueling its widening internal divisions. Belarus, Kenya, Bangladesh, Myanmar, and Egypt have since passed their own laws — but they have been widely criticized as efforts to censor freedom of expression. Russia is currently debating its own version, even as the country is accused of helping to foment the global disinformation panic.

In total, at least 17 governments have now taken legal action against disinformation, including passing restrictive laws, forcing social media companies to censor, arresting bloggers, shutting down the internet, or opening investigations against citizens, according to the Poynter Institute of Media Studies.

An Old Fear

You have likely heard this story: On October 30, 1938, Orson Welles broadcast an adaptation of H.G. Wells' classic alien invasion novel "The War of the Worlds" on an American radio network. In the days that followed, newspapers reported that it had sparked widespread panic.

The nation, they said, had been "terrorized" by what people thought was a real news broadcast and they pointedly blamed their still fledgling competitor. "Radio is new but it has adult responsibilities. It has not mastered itself or the material it uses," the New York Times declared. It may not have been called "fake news" then, but historians now believe newspapers wildly exaggerated the effect of the broadcast on Americans.

Thus, the War of the Worlds drama is a story not just of how fake news can mislead the public, but of how powerful institutions can exploit the fear of fake news. And just as US press barons jumped on an opportunity to further their interests in the 1930s, groups such as Freedom House fear that authoritarian leaders are exploiting today's legitimate fears about fake news for their own ends.

Initially regretful over accusations his broadcast had caused panic, Welles reportedly later embraced the story as part of his personal narrative. And if 1930s America helped create a model for the use and abuse of fake news, it has played a similar role this time round.

The War of the Worlds drama is a story not just of how fake news can mislead the public, but of how powerful institutions can exploit the fear of fake news.
It's hard to remember now, but current fears about fake news actually began to spread before the November 2016 US election, with Buzzfeed helping things along with a blockbuster feature about teenagers in Macedonia getting rich by duping Trump supporters with hoax stories.

Then came the first of an avalanche of reports on Russia's efforts to influence the vote with fake news. It was "pretty crazy" to think Facebook had played any role in this, said Mark Zuckerberg in the days after the election. By the following week, he had been forced to unveil a plan to tackle fake news on his platform. Before November 2016 was out, it had become conventional wisdom in the West that fake news was an "epidemic" or a "cancerous trend."

Concerned at the potential threat inside its borders, the German government was quick to react. "We need to fully utilise all the legal authority at our disposal" to fight fake news, Germany's justice minister said in December, a month after Trump's won the presidency.

That same month, The Straits Times, widely seen as the mouthpiece of the Singaporean government, started writing about ways to fight the "scourge of fake news." By the time Donald Trump first tweeted the phrase "fake news" to refer to his critics in December 2016, the phrase had already caught on worldwide.

The German government has found itself on the defensive, by becoming the first to pass so-called "anti-fake news" laws. Conscious of the country's history, it believed it needed to update its methods of protecting against online hate speech and the new legislation imposed stringent rules on internet platforms, requiring them to delete content deemed illegal or defamatory under its existing criminal code. But that led to criticism that it was bringing in "overbroad censorship," and that this would also serve as encouragement to other, less-democratic, governments to follow suit.

Sure enough, Russian lawmakers cited Germany's example to justify bringing its own anti-fake news restrictions, which critics say is simply another censorship tool. So too did
Singapore's Ministry of Information, as it lobbied for similar restrictions, highlighting pro-Trump fake news as a cautionary tale. Singapore is set to introduce a fake news law later this year.

When the US first began talking about fake news, and contemplating ways to deal with it, some commentators on the Right warned it would lead to "censorship" by the left.

Instead, this approach has been exported abroad, where authoritarians happily adopted the language of combating informational threats. "The real danger is blowing up countries from within," said Egyptian president Abdel-Fattah el-Sisi, justifying Egypt's new fake news legislation.

The fake news scare "started in the United States of America. It came to Africa and it extended to Cameroon."


Mimi Mefo Takambou, Cameroonian journalist jailed on "false information" charges
Some analysts say the media should take some of the blame for allowing concerns about disinformation to be abused in this way. "We did this to ourselves, and by 'we', I mean the media," Alexios Mantzarlis of the Poynter Institute told the BBC, referring to what he sees as the overuse of the term "fake news" in the US and wider Western press.

Back in Cameroon, journalist Mimi Mefo Takambou is working again. Her case garnered widespread attention, leading to the charges against her being dropped. She walked free after just a week in jail, and sounded defiant when we spoke. "They cannot threaten me, because I have an assignment, I have an obligation to the audience, to the population of Cameroon, to inform them."

Yet the threat has not gone away. Three other Cameroonian journalists remain in prison on "false news" charges. And Mefo said the government continues its crusade against "fake news," widely seen as code for any coverage it doesn't like.

She is now speaking out on behalf of the jailed journalists. But Mefo is clear where this current threat began. "I can say that it started from the United States of America. It came to Africa and it extended to Cameroon."

The Big Idea
Shifting Borders
Borders are liminal, notional spaces made more unstable by unparalleled migration, geopolitical ambition and the use of technology to transcend and, conversely, reinforce borders. Perhaps the most urgent contemporary question is how we now imagine and conceptualize boundaries. And, as a result, how we think about community. In this special issue are stories of postcolonial maps, of dissidents tracked in places of refuge, of migrants whose bodies become the borderline, and of frontier management outsourced by rich countries to much poorer ones.
Read more