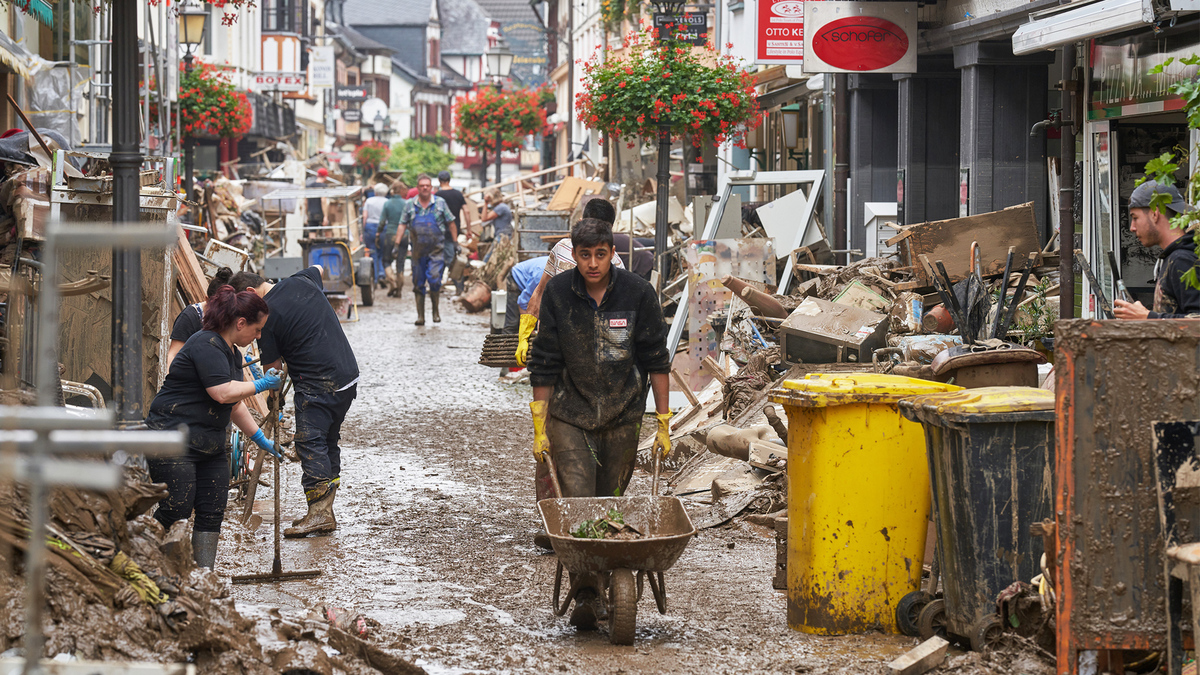 Far-right groups hit Germany's flooded regions with conspiracy theories and disinformation
Leading figures in the Querdenken anti-lockdown movement have traveled to some of the worst-affected areas, causing chaos and disrupting official relief efforts
In July, "once-in-a-century" flash flooding killed nearly 200 people in western Germany and left 30,000 homeless, or without basic services, such as water and electricity. In the aftermath, a retired army colonel and leading figure in the country's Querdenken anti-lockdown movement, named Maximillian Eder, announced that he was going to visit Ahrweiler, one of the worst-hit areas in the country.
On a YouTube livestream by the group "Honk for Hope," which had previously organized buses to anti-lockdown protests in cities across Germany, Eder called for a "unit" of like-minded individuals to ride down to the flooded area and work at a Querdenken stall to hand out food, flashlights and other "everyday necessities" to individuals affected by the disaster. He said that the local council was "letting people down terribly," because it had rejected his offer to coordinate all rescue operations.
Shortly before, Eder, who lives in the southern state of Bavaria, had appeared at an anti-lockdown protest in Berlin, calling for a military coup. In his YouTube stream, he wore his old uniform. "If I arrive somewhere in jeans, I have to explain who I am," he said. A doctor named Bodo Schiffmann, who regularly tells his 140,000 Telegram followers that most people who get vaccines will die and compares healthcare professionals to the mass-murderers of Nazi Germany, appeared in the same broadcast, promising "to get non-bureaucratic help directly to flood victims."
The floods, which occurred after two months' worth of rain poured down on western Germany in just two days, killed 141 people in Ahrweiler alone. German prosecutors have launched an investigation against the conservative head of the district, Jürgen Pföhler, on grounds of "negligent homicide." They allege that he failed to adequately warn and evacuate residents who lived near the River Ahr, which broke its banks, destroying bridges, roads and homes and injuring hundreds of people.
In response to the disaster, large numbers of people have donated to crowdfunded campaigns to provide relief. In just a few days, Schiffmann received €700,000 in donations to his PayPal account, which he had promised would "100%" go directly to flood victims. However, the money remained in Schiffmann's personal account, which PayPal froze in early August for undisclosed reasons. Around 2000 firefighters, police officers, soldiers and official rescue workers were deployed to the Ahr Valley. Meanwhile, according to the Ahrweiler emergency services, more than 5,000 volunteers from all over the country registered to hand out cooked meals and supplies, including flashlights, batteries and blankets to the people of Ahrweiler.
Along with aid from concerned citizens, authorities have also seen a surge of disinformation in flood zones. At a July press conference, the national government spokesperson Ulrike Demmer warned that false information was being spread with the aim of "aggravating and exploiting the tense situation and the completely understandable uncertainty of the people affected, harming trust in state measures and institutions."
In the North Rhine Westphalia, which neighbors Ahrweiler, intelligence officers observed that "members of the Querdenken movement" were "arriving in the flooded regions from across the country."
While members of radical right-wing political parties, including like the National Democratic Party and Der Dritte Weg (Third Way), traveled to Ahrweiler and took selfies amid the wreckage, a number of Querdenkers arrived to offer therapy for traumatized children, driving what they referred to as "peace vehicles." On July 20, local police tweeted that right-wing extremists were posing as "carers" and one such vehicle — painted to look like a police car — was using a megaphone to spread "fake news" that official rescue workers were soon to leave the scene. The mayor of the town of Sinzig told the national broadcaster Deutschlandfunk that another had driven through his town, announcing that a "second wave" of floods was imminent.
Querdenken activity has exacerbated the chaos and fear experienced by a population already reeling from the effects of the floods. In the first two weeks after the deluge, "there was no electricity or internet for people to check the rumors they were hearing," said one 22-year-old student, who asked to be referred to simply as Clara, raising privacy concerns.
Across the Ahr valley, word-of-mouth speculation about potential dam failures drove people to flee their homes, many leaving all their belongings behind. "My brother was volunteering in Sinzig, when a peace car drove by, announcing, 'The dam has burst, run!'" Clara added. 'There was no dam nearby, but some people began to run in panic, while others broke down crying."
At its height, the Querdenken movement held anti-lockdown protests that attracted tens of thousands of attendees in cities across the country. In recent months, however, it has shrunk to a core group of increasingly radical individuals and pivoted from criticism of Covid-19 restrictions to extreme anti-state and anti-globalist rhetoric. In April, the Federal Office for the Protection of the Constitution — Germany's federal domestic intelligence organization — announced that it would start surveilling Querdenken members and that it had set up a new category of extremism especially for them, defined as "actions that delegitimize the state."
According to Pia Lamberty, co-director of the Berlin-based think tank the Center for Monitoring, Analysis and Strategy, this new category is problematic, because it ignores the antisemitic and far-right background of many Querdenken protesters and frames criticism of the government and its actions as the main problem. She worries that the designation could be used by law enforcement and intelligence agencies to investigate protest groups that exist far from the fringes of the radical right wing, such as environmental activists and police abolitionists.
"The new category can be used differently, depending on who has political power," Lamberty said. "It could eventually be used to go after legitimate criticism."
Like Eder, many of the Querdenkers expressing extreme anti-government views appear to share backgrounds in the military or police force. After the floods in Ahrweiler, Eder and dozens of former officers occupied an empty primary school in the city Bad Neuenahr-Ahrweiler to offer medical aid, hand out meals and supplies near a sign that read "We are here. Where is your government?"
According to Sascha Klose — a rescue worker for the volunteer-run Federal Agency of Technical Relief, who lives in the village of Fritzdorf — people seeking help were met with a barrage of wild theories, among them that the disaster was planned and caused by chemicals that the German government had released over the district by airplane.
A significant number of the people who joined Eder in Ahrweiler belong to a 5,000 member Telegram group called Veteranen-Pool, set up in April to encourage army veterans and former police officers to fulfil their "soldiers' duty" and stand between Querdenken protesters and serving law enforcement officers. The group includes a former soldier named Frank Horn, who told the German news program Kontraste that he aims to prepare its members for the day when the state collapses, so they can arrest politicians for imposing lockdown measures and bring them to the International Criminal Court in The Hague.
Eder's group — one of whom was filmed by the public broadcaster ZDF showing neo-Nazi tattoos — were removed from the primary school on July 30, following orders from the city council, but reports continue to surface of Querdenkers volunteering in the region.
For the past few weeks, authorities in Ahrweiler have repeatedly had to reassure locals that official organizations, such as the fire brigade and the Federal Agency for Technical Relief, have no intention of ending their relief efforts.
A recent report by the North Rhine Westphalia's intelligence service found that while the aims of the Querdenken movement are more blurry than those of right-wing extremists, its prevailing "discourses clearly aim to overthrow the state."
As the locals in Ahrweiler begin to rebuild their lives, not everyone is keen to listen to the conspiracy theories promoted by Querdenkers.. Sascha Klose even recalled seeing one of Eder's team being punched in the face by a local resident.
"He had one of the sides of his house ripped out and found a severed head floating in his living room," she said. "After hearing a story like that, the veterans had responded by telling him that the rain had been artificially created."
The Big Idea
Shifting Borders
Borders are liminal, notional spaces made more unstable by unparalleled migration, geopolitical ambition and the use of technology to transcend and, conversely, reinforce borders. Perhaps the most urgent contemporary question is how we now imagine and conceptualize boundaries. And, as a result, how we think about community. In this special issue are stories of postcolonial maps, of dissidents tracked in places of refuge, of migrants whose bodies become the borderline, and of frontier management outsourced by rich countries to much poorer ones.
Read more