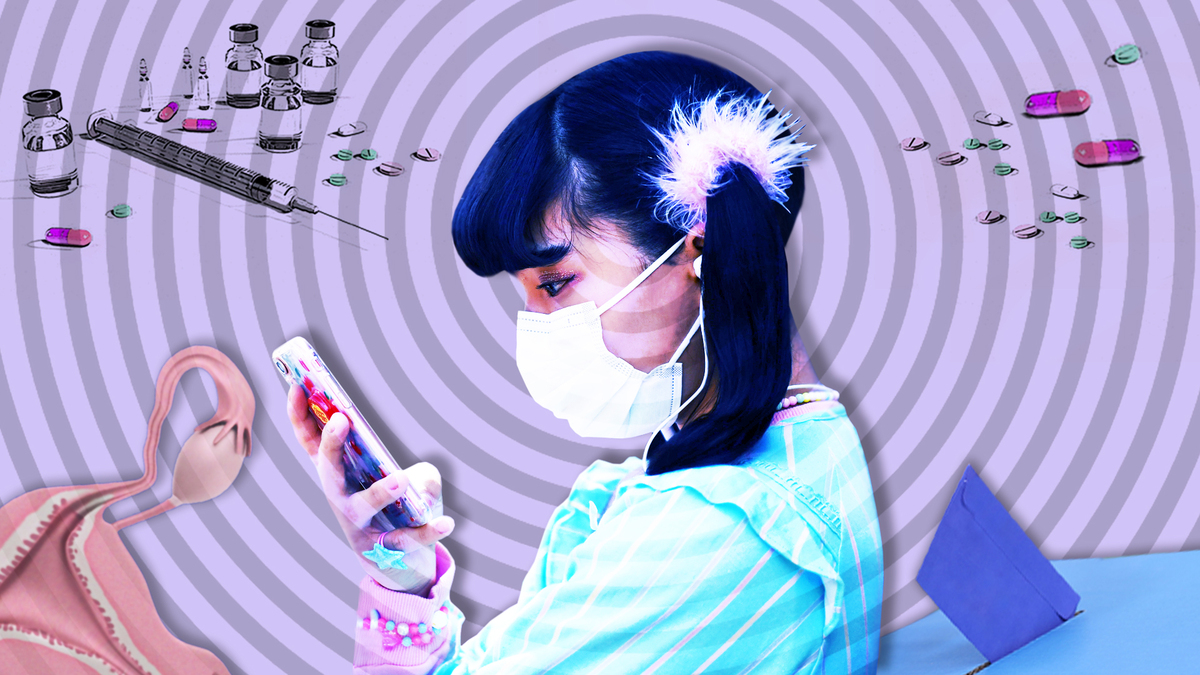 Social media health myths are destroying the lives of teenage girls
A new study shows the devastating effect of misinformation on the physical and mental wellbeing of young women
Ronja Holopainen didn't mean to fall down the rabbit hole. But, like so many things online, it just happened. One day last spring, the 21-year-old medical student was scrolling through Instagram when she stumbled into the strange world of period misinformation.
Her journey started simply enough. Searching Instagram using the hashtags "period" and "menstruation," she quickly came across a deluge of posts promoting unsubstantiated ideas, such as girls being able to regulate or predict periods based on their astrological signs. Visiting the accounts responsible for them appeared to populate her feed with even more falsehoods.
"When you get to one page, you start scrolling to the next and the next, and end up somewhere on the deep web," she said.
The volume of distortions and inaccuracies shook Holopainen. So, she decided to meet them head-on. She was well-positioned to do so. For the past seven years, she has campaigned with the global girls' rights organization Plan International. Bringing her experience of medicine and advocacy together, she set up an Instagram page — theperiodmove — to help girls climb out of the morass of pseudoscience that many of them have unwittingly stumbled into.
On May 1, she published her first post: a soft pink grid detailing how misinformation seeps into discussions about menstruation. "Due to the taboo nature of periods, a lot of mis- and disinformation is being spread," she wrote. "This may cause false and even dangerous beliefs."
It's no secret that our digital spaces are rife with conspiracy theories and fake news. But new research from Plan International suggests that disinformation is taking a severe toll on young women and girls, exposing them to ideas that are dangerous to their physical wellbeing, eroding their trust in democratic processes and negatively affecting their mental health. The report comes amid increased scrutiny of social media's influence on adolescents, following a series of damning allegations from a Facebook whistleblower about Instagram's "toxic" impact on teenage girls, including exacerbating disordered eating and suicidal ideation.
Plan International's study surveyed more than 26,000 girls across 26 countries about their exposure to disinformation and found significant numbers are harmed by online myths. In the United States, 80% of young women said misinformation has had a negative impact on their lives, while Brazil and the Philippines reported 91% and 95%, respectively. One-third reported that it has damaged their mental health, making them more stressed and anxious, and 20% said their faith in election results has been compromised.
The report also clearly showed that digital disinformation can affect the decisions that girls make about their physical health. For instance, a quarter of young women questioned whether to get vaccinated against the coronavirus. Like Holopainen, they also have also been confronted by a significant amount of erroneous health misinformation — one, in Brazil, recalled coming across a post suggesting that tampons cause cancer.
The flood of reproductive health-related misinformation has introduced Generation Z to a new variety of influencer: physicians debunking online misinformation about sexually transmitted diseases, fertility, the human papillomavirus vaccine, birth control and other reproductive health issues in snappy, bite-sized videos on TikTok and Instagram. But, for most doctors, myth-busting often takes place when they meet patients.
U.S.-based medical practitioners Trish Hutchison and Melisa Holmes routinely field an array of social media-driven questions on topics ranging from coronavirus vaccines to infertility. Hutchison, a physician who works at the College of Charleston in South Carolina,, and Holmes, an obstetrician-gynecologist in the state, also run an online sexual education hub for parents and teens called Girlology. This work has allowed them to see that what young women see on screen often migrates directly into their real-life choices and beliefs.
Falsehoods about menstrual products — such as the myth that non-organic tampons leak chemicals into girls' bodies — are widespread. However, the most common lies that they find themselves patiently refuting are that the birth control pill causes infertility or that women need to periodically take a break from using contraception to "cleanse" their bodies. "The only thing that happens when you take a break from birth control is that you have an unintended pregnancy," Holmes says.
They also routinely confront misconceptions about feminine hygiene, largely propagated by online vendors of pseudoscientific products claiming to promote vaginal cleanliness. "Self-treating vaginas is huge on Instagram," Hutchison told me. "I pulled a sprig of lavender out of a vagina a couple of weeks ago, because TikTok talks about how to clean yourself. Don't do that."
Some social media channels lay heavy emphasis on self-treatment and diagnosis, leading them to delay visiting a doctor until their conditions are more advanced than they need to be. Holmes pointed to a patient who developed a kidney infection after attempting to self-treat a urinary tract infection with cranberry juice, or young women who gave themselves skin conditions after using DIY remedies to treat what they wrongly believed were yeast infections.
"There's so much self-treatment that's happening based on Dr. Google that people are later getting health care from a trusted and licensed provider," Holmes said. "Someone may think they think they have a yeast infection and it's not getting better and they've looked online. They come in finally and they've got raging herpes infection, and they didn't recognize what it was. We are definitely seeing more misinformation and it's impacting people in bigger ways than it used to."
The Big Idea
Shifting Borders
Borders are liminal, notional spaces made more unstable by unparalleled migration, geopolitical ambition and the use of technology to transcend and, conversely, reinforce borders. Perhaps the most urgent contemporary question is how we now imagine and conceptualize boundaries. And, as a result, how we think about community. In this special issue are stories of postcolonial maps, of dissidents tracked in places of refuge, of migrants whose bodies become the borderline, and of frontier management outsourced by rich countries to much poorer ones.
Read more