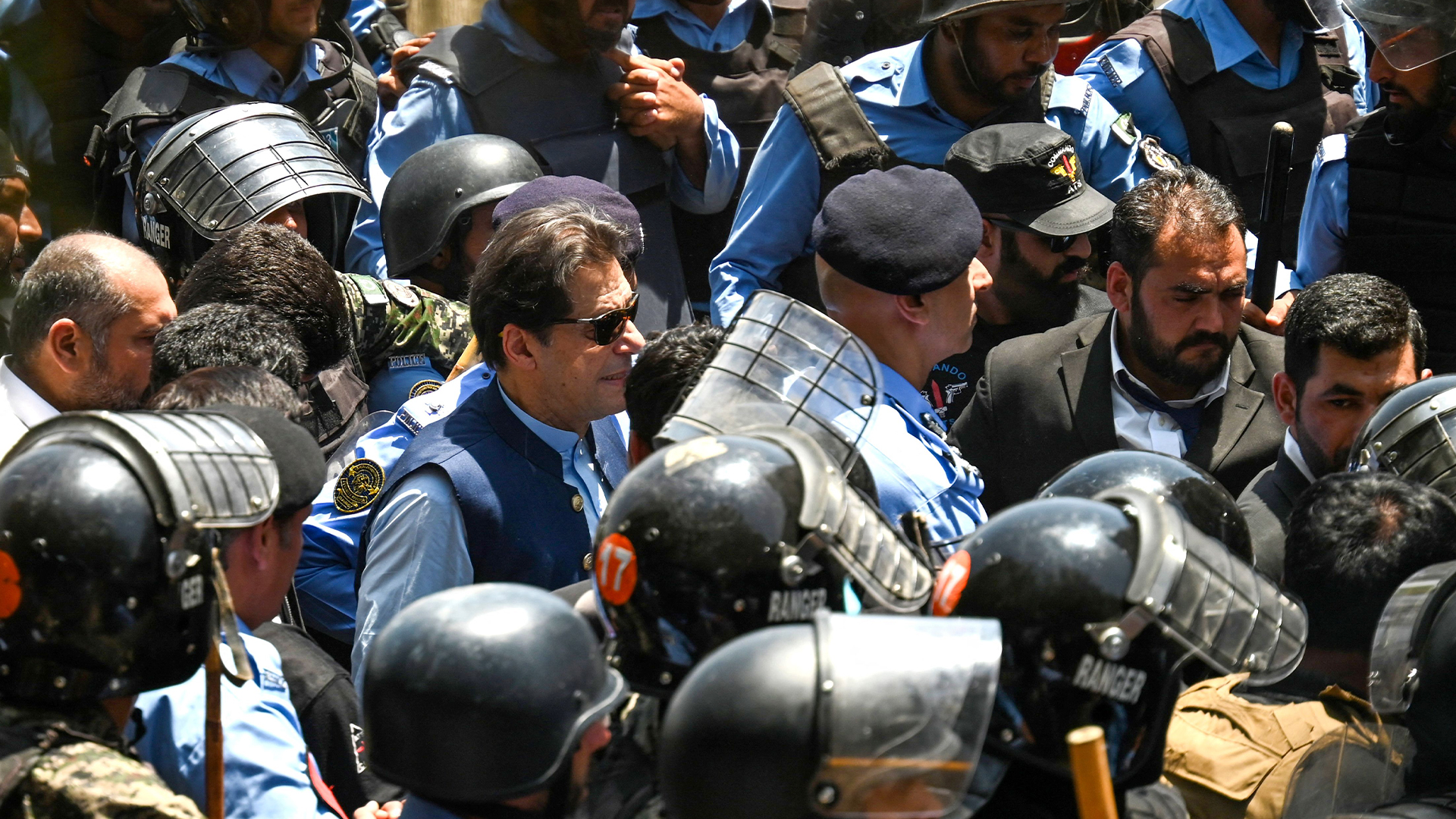 Amid chaos, Pakistan shut down the internet to little effect
Disrupting internet services did not stop protests in Pakistan but hurt ordinary people and an economy in crisis, say experts
On May 12, former Pakistani Prime Minister Imran Khan was let out of prison on bail. After four days of chaos in Pakistan — marked by violent protests and the inevitable internet shutdown — the country's Supreme Court granted Khan two weeks of respite.
Khan, who became prime minister in 2018, was a former superstar cricketer known for his dashing good looks and his complicated love life. He ran for office, though, as a religious conservative, eager to clean up corruption in Pakistan. He now faces corruption charges himself and was arrested for allegedly receiving free land as a bribe from a Pakistani real estate tycoon.
Ousted from office in April 2022, Khan remained a powerful opposition figure with a large and fervent support base. In November, just months after he had lost a parliamentary vote of no-confidence, Khan was shot while leading a protest rally to the Pakistani capital Islamabad.
He was in a wheelchair when he was arrested on May 9, 2023 by a paramilitary force on the steps of the Islamabad High Court, where he was appearing on a separate matter. After Khan's release on bail, he blamed the Pakistani army chief for his arrest, claiming he had a personal vendetta against him. Khan's supporters turned much of their fury, after his arrest, on the army. In Pakistan's 75-year history as an independent nation, it is unlikely that the army, a venerated and feared institution, has ever been confronted with such a show of public disgust. One protester was interviewed holding peacocks he had taken from the lavish house of an army officer in the northeastern city of Lahore. Army officers, the protestor said, were living in grand style on the "people's money."
As videos of Khan's arrest went viral, and in the face of growing violence nationwide, the Pakistani government chose to suspend mobile internet across the country for an "indefinite period" and ban access to sites such as Twitter, YouTube and much-used messaging services such as WhatsApp. At the time of writing, while the internet was largely restored, social media services were still being disrupted.
The economic impact of the internet shutdown on an already crumbling economy has been significant. P@sha, a trade association for Pakistan's information technology industry, said the industry is losing $3 to 4 million every day that the internet is blocked. Pakistan's central bank reserves currently cover barely a month's worth of imports, and the crisis is so severe that the ratings agency Moody's believes Pakistan could default on its debts without a bailout from the International Monetary Fund.
I spoke to Hija Kamran, a digital rights advocate from Pakistan who has been working to defend the rights of Pakistani citizens to access information online for almost 10 years. Hija strongly condemns the current internet shutdown and is concerned about the long-term damage it will inflict on the international investment climate in Pakistan and on the country's once-exciting tech startups industry.
What has been the impact of the internet shutdown since May 9, when Imran Khan was arrested?
The shutdown has drastically impacted the ability of people to work, to earn money, and in this economy that is very concerning. Fiverr, a global hub for freelancers, has literally just barred Pakistanis from getting any jobs on the website due to the internet shutdown.
The banning of entire websites such as Twitter and YouTube is effectively censorship. We know from past experience that when YouTube is banned in Pakistan, industry is left behind, and it can take years to recover. Countries around us that were starting at the same point have now raced ahead of us. And we are never going to be able to compete because censorship and control over people's access to the internet hinders tech companies and puts investors around the world off investing in Pakistan's economy.
But is the internet shutdown necessary right now because of the internet's potential use to incite violent protests?
Internet shutdowns, either complete shutdowns or partial shutdowns, do not help Pakistan in any way whatsoever. Right now, the justification for the shutdown is national security, but there is no evidence we can point to anywhere in the world that shows that shutdowns help to restore security. In Pakistan, once the authorities shut down mobile internet services, did the protests stop? People were still killed, and public property was still destroyed.
Are the authorities afraid of disinformation being spread if they do not shut down the internet?
Disinformation cannot be stopped through internet shutdowns. There have been multiple instances when there has been political unrest and the government resorted to internet shutdowns. What that has done is to promote even more disinformation. The internet is a way for people to access critical information, to fact-check information and to connect with each other. People still talk, still find ways to send WhatsApp messages, but now there is no way to provide credible information to large numbers of people. So shutdowns only promote disinformation and misinformation and, as a result, promote chaos.
How will this shutdown hurt Pakistan's economy?
We can agree that there is a lot of money in the technology sector globally. Just across the border in India, Google has been making a lot of investments, and Apple has opened its first store. These are the kind of investments that Pakistan, too, could see in the future, but the atmosphere is too uncertain, too volatile.
Our technology startups have been doing very well over the past few years, but continual crackdowns on internet access and internet shutdowns are a major hurdle that prevent startups from raising any funding.
What is the way forward?
Immediately unban all platforms that have been banned and open up access to the internet. And that must be the only way forward. After Imran Khan's release, you would expect that now the internet would be restored. But again, the internet shutdown was not about his arrest, it was about the protests. The shutdown ends up hurting ordinary people and the economy. Students use mobile data and wireless devices. So when you suspend the internet, you are also depriving children from attending class or accessing educational material. You also deprive people of their livelihoods. These are the hidden costs of internet shutdowns.
The Big Idea
Shifting Borders
Borders are liminal, notional spaces made more unstable by unparalleled migration, geopolitical ambition and the use of technology to transcend and, conversely, reinforce borders. Perhaps the most urgent contemporary question is how we now imagine and conceptualize boundaries. And, as a result, how we think about community. In this special issue are stories of postcolonial maps, of dissidents tracked in places of refuge, of migrants whose bodies become the borderline, and of frontier management outsourced by rich countries to much poorer ones.
Read more