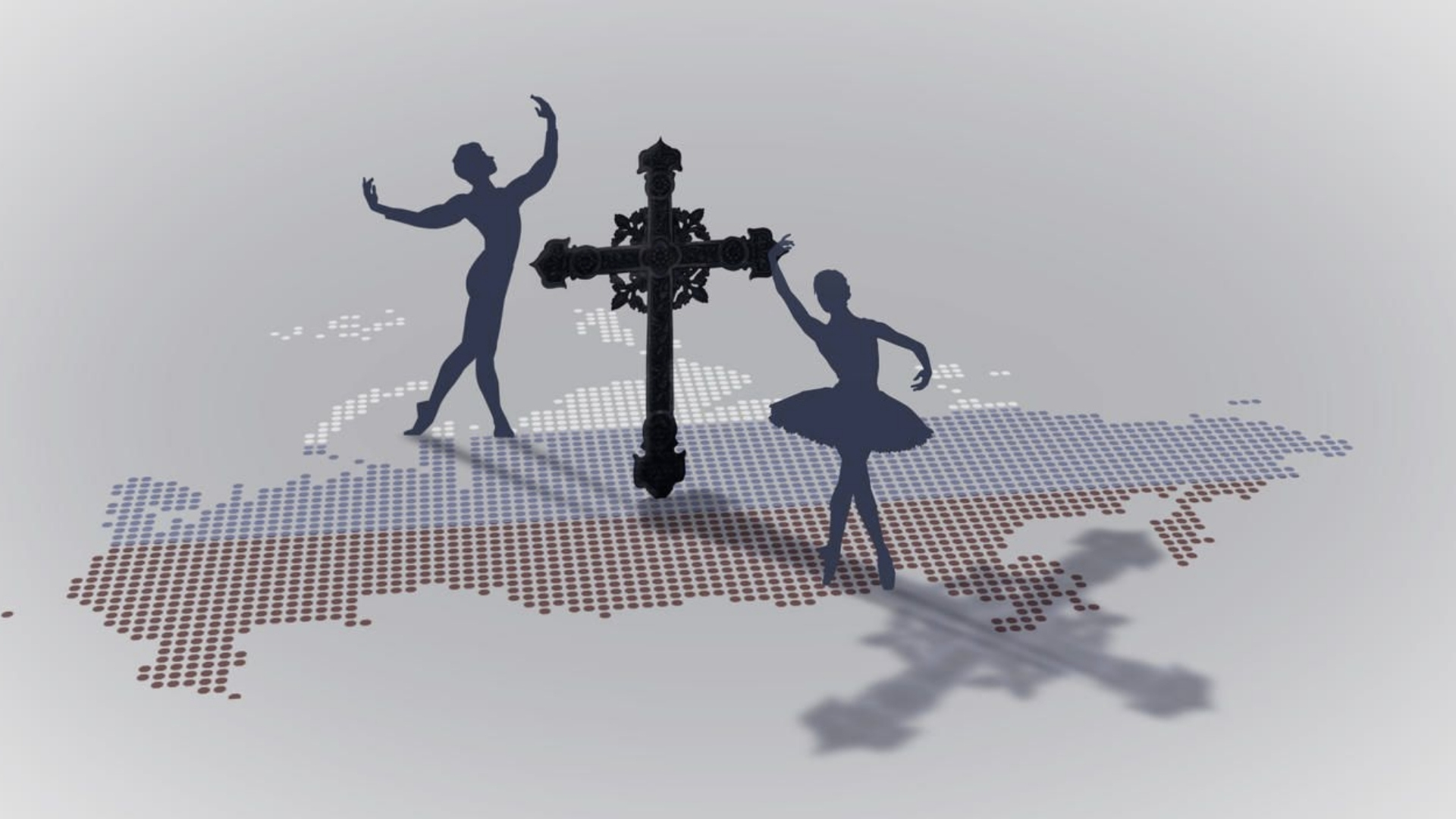 Why the Kremlin is waltzing over 'Matilda'
A new movie about Russia's last tsar, Nicholas II, and his affair with a Polish ballerina has brought protesters onto the streets — and many are Putin supporters. But the Kremlin is dancing with both sides
If all publicity is good publicity, then "Matilda", a new film about Russia's last tsar, should be on track to be a box office hit.
But as next month's international release date approaches, the movie's backers are facing an increasingly virulent campaign for it to be banned.
Orthodox Christian activists have led nationwide protests calling the film "blasphemous" and "a slap in the face to Russian nation". The director's studio has been firebombed and Russia's largest cinema chain now says it won't show the film because of security fears.
The film — which tells the true story of Nicholas II's love affair with a teenage Polish ballet dancer – has poked a central nerve among the standard-bearers of Russia's Orthodox and traditionalist post-Soviet identity. It is a vision that President Vladimir Putin has himself encouraged, and many of those advocating the ban are his natural supporters. Yet for the moment, the Kremlin is staying above the fray – biding its time, some speculate, in the hope of using this clash of narratives for its own ends.
At the root of the controversy is a deepening personality cult around Russia's last emperor – whose reign was brought to an end by the Bolshevik revolution 100 years ago.
DIVINE SACRIFICE
The campaign against the film has been underway for nearly a year, led by Natalia Poklonskaya, a lawmaker from Putin's own United Russia party. According to Russian media reports, she is close to Archimandrite Sergiy Romanov, a controversial Orthodox priest from Yekaterinburg – where Nicholas II and his family were executed by the Bolsheviks in 1918. He believes the last tsar is a deity who was sacrificed to redeem Russia's sins. Protesters condemned what they called this "evil attack" on "royal passion bearers" — a reference to Nicholas II's past canonization as a believer "who had faced death in a Christ-like manner"
The fact the film focuses on Nicholas II's affair with the ballet dancer Mathilde Khessinska has sharpened the outrage. Poklonskaya has called for the director to be prosecuted for "intrusion into one's private life" among a host of other alleged violations, citing complaints from offended Orthodox believers. And an online petition calling for a ban has attracted 24,000 signatures.
Yet so far the Russian authorities have remained unmoved – saying they could find no legal violations in the film. In July, Putin himself gave a brief show of support to Matilda's director, Alexei Uchitel, saying that he respected him as "patriotic" and talented. And last month the Culture Ministry gave the go ahead for Matilda to be screened in all Russian regions.
But that decision has provoked growing street protests. Orthodox activists recently organized demonstrations in cities across Russia, including Moscow and St. Petersburg – and as far away as Petropavlovsk-Kamchatsky in the Far East. Sorok Sorokov, an ultra-conservative Orthodox movement previously known for backing pro-Russian rebels in Ukraine, played a key role in coordinating the gatherings, according to Russian media.
Some protests were turned into public prayer sessions where activists condemned what they called this "evil attack" on "royal passion bearers" – a reference to Nicholas II's past canonization as a believer "who had faced death in a Christ-like manner."
The leaders of Russia's Muslim republics have joined in the dispute as well, taking sides with Poklonskaya to demand that the Culture Ministry exclude their regions from the film's distribution certificate.
FIREBOMB ATTACKS
There has been violence too. In late August, unidentified assailants firebombed the Lendok film studio in St. Petersburg where Uchitel works. Then a preview screening in Moscow was cancelled after cars parked outside the law firm that represents the director were set alight. "Burn for Matilda," read a note left nearby. Poklonskaya is supporting a "terrorist organization", said Alexei Uchitel, director of Matilda. Her campaign "has nothing do with Russian traditions, nor with Orthodoxy."
Just days earlier, a Yekaterinburg movie theater was partly destroyed after a suspected Orthodox activist drove a truck full of gas canisters into the building and set it on fire. And earlier this week, the Cinema Park and Formula Kino chain had decided not to show the film in its theaters.
"They are only interested in destabilizing society," said Uchitel in a statement denouncing the attacks, accusing Poklonskaya of supporting a "terrorist organization." Her campaign, he said, "has nothing do with Russian traditions, nor with Orthodoxy."
CULTURE WAR
The Orthodox Church has belatedly condemned the violence, though with the caveat that "true believers" could not have been involved. Alarmed by the movie theater chain's decision to drop the film, the Russian culture minister, Vladimir Medinsky, has weighed in too, denouncing what he called "shameless 'activists' pressuring the state and cinema business… through socially dangerous means."
In a statement, he also criticized Poklonskaya for initiating the "uproar," adding that he "didn't see anything [in the film] offending Nicholas II's historical memory."
Yet some observers believe this new culture war over Russia's identity suits the Kremlin just fine.
"If the presidential administration wanted to, it could have been stopped this in three minutes," says Yuri Saprykin, former chief editor of Afisha, previously Russia's flagship culture magazine. "It means they need this for some reason."
KREMLIN ADVANTAGE
You can detect the Kremlin's 'wait-and-see' approach in the state media, says Andrei Akhrangelsky, culture editor of Ogoniok magazine, emphasizing the "different opinions" about the film without coming down on any side.
One theory is that the Kremlin is using the dispute to divert attention from this year's anniversary of the 1917 October revolution – while preparing to use next year's anniversary of the regicide of Nicholas II and the Romanov family to its advantage. "Some members of the royal family are still unburied," points out Saprykin, "so next year they can bury them with great fanfare, turning it into a huge event."
What's more, he says, with presidential elections also due next year, the dispute could be politically useful too. "The more you have these relatively small, local conflicts here and there, the more people will want to vote for Putin," says Saprykin, "as the one and only arbiter who can end this."
But personality cults have a habit of getting out of control. And with passions flaring, the man who has been called Russia's new tsar will have to be careful how he handles the legacy of the last.
For earlier Coda coverage of this story, read: Kremlin, Nationalists Face Off Over Romanov Romance 'Mathilda'
The Big Idea
Shifting Borders
Borders are liminal, notional spaces made more unstable by unparalleled migration, geopolitical ambition and the use of technology to transcend and, conversely, reinforce borders. Perhaps the most urgent contemporary question is how we now imagine and conceptualize boundaries. And, as a result, how we think about community. In this special issue are stories of postcolonial maps, of dissidents tracked in places of refuge, of migrants whose bodies become the borderline, and of frontier management outsourced by rich countries to much poorer ones.
Read more