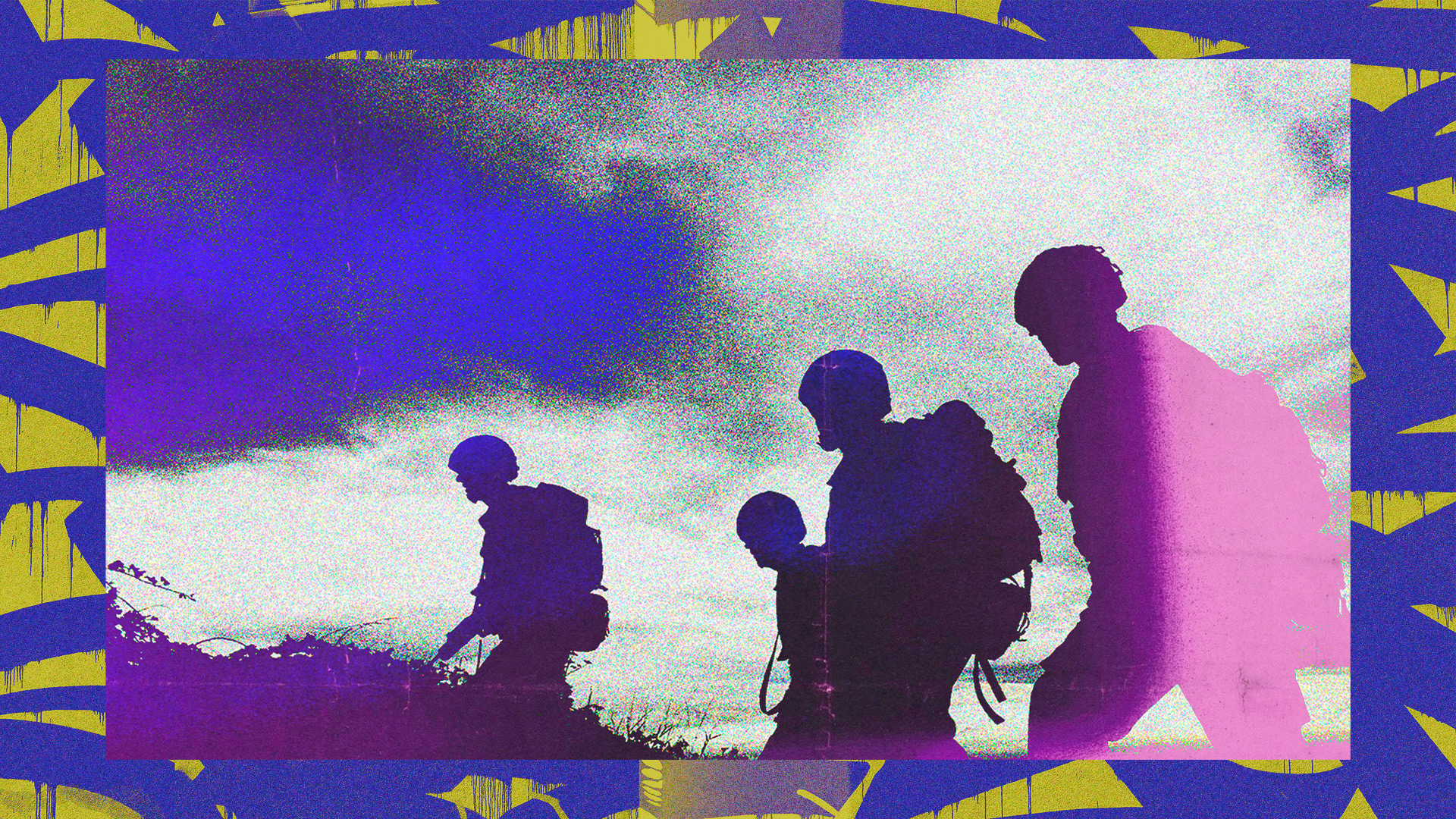 The LGBTQ rights debate is testing Ukraine's commitment to Europe
The visibility of LGBTQ soldiers may herald a turning point in the fight for equal rights
When Russian troops swarmed Kyiv in early 2022, Andrii Kravchuk was summoned to serve. As he approached the military office to enlist, his heart raced. He wasn't afraid to defend his country. But as a gay man, he knew that he would have fewer rights than most Ukrainians should he be sent to the front line.
A slender man of 54, with piercing blue eyes and a gentle manner, Andrii knew that if anything happened to him on the battlefield, Yurii, his partner of nearly 25 years, would not be able to make medical decisions on his behalf. If Andrii died, Yurii would not be allowed to pick up his body from the morgue or arrange a funeral. Under Ukrainian law, the love of Andrii's life would be little more than a stranger.
Following the 2014 Maidan revolution that overthrew a pro-Kremlin leader and installed a president dedicated to pursuing integration with the West, Ukraine took a handful of steps toward protecting its LGBTQ population, including an amendment to Ukraine's labor code that made it illegal to fire a person on the basis of their sexuality. "The Ukrainian LGBTQ movement never had any support from our authorities until around 2015," Andrii told me.
But past gay pride parades in Kyiv have been marred by violence, and the country of 43 million people has stopped well short of offering the full civil rights of citizenship to gay people. This could all change if those pressuring Ukrainian President Volodymyr Zelenskyy to protect the civil rights of LGBTQ people achieve their aims. LGBTQ soldiers have been particularly influential in changing public opinion. An estimated 200 people who openly identify as gay serve in the Ukrainian military, upending existing ideas of what constitutes a national hero.
So far, the country has taken fitful steps toward protecting gay rights. After the invasion, a petition for Ukraine to amend Article 51 of its 1996 constitution — which states that "marriage is based on the free consent of a woman and a man" — gathered 25,000 signatures, enough to necessitate a presidential review. Zelenskyy's office replied that Ukraine's constitution "cannot be changed during a state of war or emergency." The response did say that the government would look into the legalization of civil partnerships, which would extend certain financial benefits to LGBTQ couples, but exclude others, such as adoption rights.
For Ukraine, the fate of proposed LGBTQ protections during the war with Russia carries special significance. Russian President Vladimir Putin has framed Russia's invasion as an existential holy war that pits Russia's blood-and-soil religious, political and social values against Ukrainians who support a jaded, morally corrupt West. He has called LGBTQ people vessels of Western amorality, targeting them for violence and censure inside Russia, and enacted a law that banned children from accessing any media that positively portrays LGBTQ identities. Any legislative protection extended to LGBTQ people in Ukraine now would be cast as a cultural rebuke of Putin's — and by extension, Russia's — worldview.
It's not only in the war between Russia and Ukraine that LGBTQ rights have become a singular litmus test for whether a country has decided to evolve toward a more tolerant vision of society or to join the wave of emerging authoritarian states around the world. A crucial legal battle is currently underway at India's Supreme Court, in what could be a landmark moment for LGBTQ communities in the country. The increasingly authoritarian government of Prime Minister Narenda Modi is pushing back against the legalization of same-sex marriage, calling it an "urban elitist concept." The hearing is expected to go on for at least two weeks. A favorable verdict would be historic and would make India only the second country in Asia, after Taiwan, to legalize same-sex marriage.
In Hungary, the government of Prime Minister Viktor Orban has vowed to defend a law that bans the use of materials seen as promoting homosexuality and gender change at schools. A case before the Court of Justice of the European Union, which interprets EU laws to make sure they are applied equally in every EU member state, has the potential for a clash with Hungary, where Orban's insistence on preserving the law has reinforced Budapest's increasingly authoritarian bent. 
Andrii, the man called up to fight, did what he could to mitigate his lack of civil rights. He went to a notary and drafted his will to ensure that his partner Yurii could at least inherit the apartment they owned together in Kyiv — the city that the couple has called home since fleeing Luhansk in 2014, when fighting erupted there between Russian proxies and the Ukrainian military. Yurii would not be entitled to death benefits should Andrii pass away.
"I don't refuse to protect my country, it's my duty. But I don't have my ordinary rights," Andrii told me recently when we met in central Kyiv. After following his military's summons, he received a temporary deferral. This allowed him to continue his work with Nash Svit, one of Ukraine's oldest LGBTQ rights organizations. Andrii co-founded the organization in 1997, just six years after the fall of the Soviet Union, at a time when the gay rights movement in the region was only beginning to stir.
Since then, progress on equality has been blocked by Ukraine's religious institutions and ultra-conservative groups. Same-sex marriages and civil partnerships are not recognized by the state. But the Russian invasion has changed minds. Some Ukrainians, who were previously unsure of their personal views on LGBTQ rights, are taking a pro-gay rights position simply because it is contrary to Moscow's. While around 41% of Ukrainians do not support "the introduction of a registered partnership for same-sex couples similar to ordinary marriage," a growing number are uncomfortable with the rights of soldiers in wartime being undermined because of their sexual identity.
Ukraine follows a global trend in which negative attitudes towards LGBTQ people can be deeply entrenched in the country's armed forces. It's a situation that has been exacerbated by disinformation pumped out by Russia. Detector Media, a media research group, has tracked the rise of false pro-Russian social media narratives about Ukrainian troops having AIDS "because they are gay." This has made some members of the Ukrainian military sensitive to any steps taken to encourage the acceptance of gay soldiers. When LGBTQ Military, an NGO fighting for equality in Ukraine, promoted the establishment of a gay-fiendly unit in the armed forces in 2021, the head of PR for Ukraine's army told local media that reports of a so-called "Ukrainian LGBTQ battalion" were false and accused LGBTQ Military of having Russian origins. LGBTQ Military continue to deny this allegation.
For many LGBTQ soldiers, the flurry of talk around equal rights has sparked hope over the past year. Vlad, a cadet from the southern Ukrainian city of Kryvyi Rih, told me that official recognition of same-sex partnerships would mean real freedom for him. Currently based in Odesa, the 18-year-old endured years of bullying. When he joined LGBTQ Military, he found power in numbers. "I took an example from the guys who have already come out," he told me in a Telegram message.
Among Ukrainian lawmakers, the leading voice on equal rights for LGBTQ people is Inna Sovsun, a 38-year-old opposition member of parliament from the eastern city of Kharkiv. We met last month at a Crimean Tatar restaurant in Kyiv. A few days before, she had proposed a law on same-sex partnerships that received bipartisan co-sponsorship. The bill would offer an alternative path to official same-sex partnerships, as Zelenskyy's government drags its feet on the legislation it promised in its 2021 National Human Rights Strategy.
"For a while we were thinking that we should introduce a bill which would give the right to same-sex partnerships only to those where one person was in the military as that would have a greater chance of getting through parliament," she told me. "But we decided against it because that would be discriminatory."
And it's good timing. Her new bill could help mitigate a wave of negative publicity that is expected to follow a pending judgment by the European Court of Human Rights, in Maymulakhin and Markiv v. Ukraine. The case, filed in 2014, was brought against Ukraine by a gay couple who claimed the state discriminated against them by refusing to legally recognize same-sex family partnerships.
"The argument I am going to use is: We are going to have to use this legislation to pre-empt this negative decision against us," Sovsun told me. Depending on where things land, Sovsun's bill could give policymakers a way to demonstrate a concrete commitment to equal rights straight away.
But support for LGBTQ equality legislation will not come easy on the floor of Ukraine's parliament, the Verkhovna Rada, where the Ukrainian Council of Churches wields considerable influence. In a statement issued in late March, the organization said it was "outraged" by Sovsun's bill, alleging that it threatens "both the institution of the family and the value foundations of Ukrainian society as a whole." Ultra-conservatives will also coalesce against the law. The mayor of the western city of Ivano-Frankivsk declared that "a gay cannot be a patriot."
Recognizing the long odds of receiving legal recognition of same-sex marriage, some of Ukraine's soldiers have gone to extraordinary lengths to ensure their wishes are respected in death.
Last November, Leda Kosmachevska, a 33-year-old woman from Crimea, received a call from a childhood friend. Would she marry him? The man on the other end of the phone had been in a committed relationship with another man for 15 years.
She thought it through and agreed.
Leda wasn't surprised when she got the call, she said. Her friend had been in the army since March 2022, and she was well aware of the kinds of pressures and discrimination that gay people face in Ukraine.
"He doesn't have any close relatives and was raised by his grandmother," she told me. "We've known each other since we were eight. He told me he was gay when we were 18."
The two friends talked through the logistics. They laid out the terms around his medical care, what to do if he went missing, funeral arrangements. As their conversations continued, Leda grew more comfortable with the idea of being a liaison between her friend's actual partner and the state. But she was also nervous. The stakes were incredibly high.
Leda wrote about what she was doing on Facebook. She posted her story with a high-quality photograph of herself, sitting on a sofa, wrapped in a white sheet. She explained to me that her public name, Kosmachevska, is different from what appears on her official documents. This was done, she said, to protect her friend, and herself, from hostile actors.
When the post went viral, her story ricocheted around Ukrainian media and became another example of the extraordinary measures some Ukrainians have taken to protect each other in wartime. It also triggered a torrent of abuse from Facebook users who tried to shame her. Still, she left the post up.
"There are people who will use those details to apply to the courts and say the marriage is fictional," she said, but "my friend is still on the frontline fighting for our country."
Tusha Mittal contributed additional reporting to this article. 
The Big Idea
Shifting Borders
Borders are liminal, notional spaces made more unstable by unparalleled migration, geopolitical ambition and the use of technology to transcend and, conversely, reinforce borders. Perhaps the most urgent contemporary question is how we now imagine and conceptualize boundaries. And, as a result, how we think about community. In this special issue are stories of postcolonial maps, of dissidents tracked in places of refuge, of migrants whose bodies become the borderline, and of frontier management outsourced by rich countries to much poorer ones.
Read more