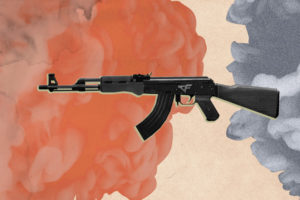 News Brief
Armed Conflict
'Homosexuality a Disease' — St. Petersburg Psychiatric Center Refuses Care to a Gay Patient, Outs Him on Social Media
A St. Petersburg psychiatric center refused care to a patient after learning that he was gay and the director of the center Alexander Bronshtein later posted the personal details of the patient on social media with a message that homosexuality is a disease, reported Meduza.

According to LGBTQ activist Elena Klimova, the patient called the center's hotline but after hearing that he was gay, a clinic employee told him, "Our phone is not for faggots" and hung up. When the young man complained to the head of the center over social media, Bronshtein defended the actions of his employee and published the patient's personal details.

Klimova, a veteran LGBTQ activist and the founder of the now-banned LGBTQ teen organization Children 404, posted the screenshots of Bronshtein's interaction with the young man.

Following Kimova's post, the medical center updated their website with a message from Bronshtein that homosexuals are sick people.

"I received lots of messages with insults which yet again confirm that homosexuality (faggots, sodomist sinners, sodomoists…you can call them what you wish, the meaning doesn't change) are sick. I'm not the only one who thinks this, it's the opinion of sexologists," Bronshtein wrote.

Though Russia's most westernized city, St. Petersburg has become a bastion of anti-gay witch hunts and homophobic violence since 2012 when the city passed one of the country's first "gay propaganda" laws which was later copied on a national level in 2013. Groups of "gay hunters" who lure men on dating websites, outing and attacking them, and in some cases killing their victims, largely go unpunished. Last year, a local reporter was stabbed over 30 times in his apartment by a young man he met on a dating website. The murder was not tried as a hate crime.

Those who resist the anti-gay tide are increasingly forced underground, like psychiatrist Dr. Dmitry Isaev who was forced to open a secret clinic in order to continue seeing LGBTQ patients last year.