Australia searches for national identity in the trenches of WWI
Australian memory culture offers a warning for the United States
The Sir John Monash Centre, an Australian government-built project just outside the town of Villers-Bretonneux in northern France, offers a bizarre take on World War I. In an immersive theater experience, pointedly dubbed "The Experience," melancholy classical music plays while a warning about graphic war scenes and strobe lighting flashes on one of the floor-to-ceiling screens, which ring the seats on three sides. The rear doors close, and The Experience begins.
Suddenly, we are Australians at war on the Western Front in 1918: Shells fly overhead with flashing lights, while the room shakes with the kaboom of bombs and machine guns. Actors shout and fall across the screens, their blood flying out in cartoonish spatters. The surround screens position us in the center of the action, a soldier in the trenches. Over on the right, a man fires off his prop machine gun, his face contorted like a boy playing soldiers.
A booming voice comes over the speaker, warning us about the unequaled horror of gas attacks. Darkness — then a fixture opens up on the floor, filling the room with smoke. It rapidly clears, and soon we are watching the brave Australian soldiers defeat the Germans, guided throughout by the military genius of the handsome Australian general John Monash. After an upswell in the music, the French prime minister is congratulating those brave Aussies for turning the tide of the war. We knew that you would fight a real fight, the heavily-costumed Georges Clemenceau declares, but we did not know that, from the very beginning, you would astonish the whole continent. The lights come back on and the doors slide open. The Aussies have won the war, saving the whole of Europe, and perhaps the world, from tyranny.
The Monash Centre is more than just a vivid historical fantasy. It is the culmination of a decades-long, state-sponsored conservative campaign to reorient Australian national identity — one aimed at shifting Australian public memory towards a triumphant set of narratives about war.
The Centre isn't a popular destination. It's hard to get to. Almost all professional historians have disavowed it. And it cost the Australian government a fortune to build. Naturally, I decided I would have to go and see it.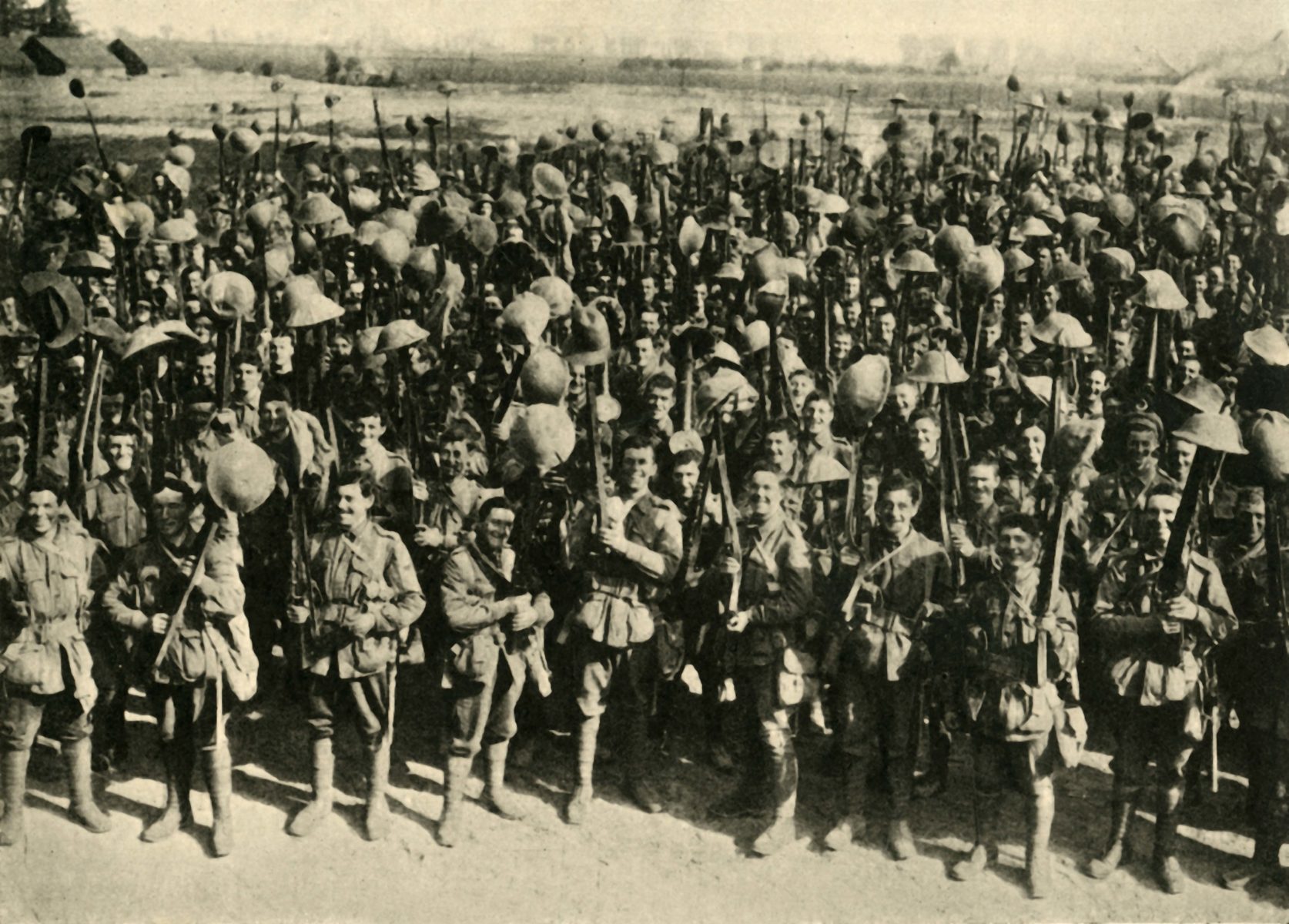 Buying history
When the renowned military historian Bruce Scates was invited to advise on the Monash Centre, he was cautiously hopeful. Scates had published widely on WWI and advised the Australian government on numerous projects. The government at the time had been dedicating increasing sums of money to the commemoration of WWI, loosely timed around the centenaries of Australia's involvement in battles at Gallipoli (now in Turkey) and on the Western Front — particularly at the French town of Villers-Bretonneux.
Villers-Bretonneux is important to Australians. In April 1918, all five Australian divisions — alongside forces from Britain and the French Empire, most notably Morocco — successfully recaptured the town in order to help slow Germany's spring offensive. In the years following the war, an Australian connection remained in Villers-Bretonneux. Australian school children donated money to the rebuilding of the war-damaged town, while family members of deceased Australian soldiers — many of whom were buried in nearby cemeteries — came to pay their respects. Villers-Bretonneux became Australia's European war commemoration hub. An Australian National Memorial was erected there in 1938 and expanded in 2014 with a massive budget and a crack team of advisors — Scates plus six other top historians.
"I thought the possibilities were enormous," Scates told me. "Firstly, this was the most literate fighting force in the world: These men and women have left behind an extraordinary testimony. And I hoped, given the amount of money that was spent on the Centre, we're talking about 100 million Australian dollars [roughly $67 million], we could do a lot with those stories throughout the exhibition and make a really powerful statement about the human cost of war. But that didn't happen."
Gradually, Scates realized that the parts of the Australian government responsible for designing the Monash Centre were uninterested in presenting a realistic version of Australia's involvement on the Western Front. "They were working to manufacture a certain view of the war, one that was seen as politically desirable and had nothing to do with the actual telling of history," he said. Suggested material about the causes or costs of war was continually edited down or removed. In meeting after meeting, Scates watched government officials steer the museum towards jingoism. "The assumption was: 'We're paying for this museum, so we will buy the kind of history that we want to hear,'" Scates said.
Scates and three other historians resigned in protest, but the Centre carried on, eventually opening in 2018 to great fanfare, boasting that it uses extensive "immersive and emotive elements" to "deliver a compelling visitor experience." This appears to be accurate. According to one of the Centre's contracted designers, Russell Magee, "We've observed people walking out crying on a daily basis and that's what we wanted to achieve."
The Monash Centre may have missed its projected visitor targets by around 50% in the first year, but it has become a touchstone for conservative cultural politics in Australia. And it remains a monumental presence in the cold, rainy countryside of northern France. It is a lasting tribute to the chauvinism and steady militarization of Australian public memory over the last two decades and a clear articulation of the right-wing project — driven, above all, by the Australian Liberal Party and Australia's Department of Veteran Affairs — to reshape Australian memory politics and national identity.
Celebrating war
I came to Villers-Bretonneux on a rainy spring day to see for myself this monument to the memory culture that has dominated Australian public life since I was a child. That culture has tended to center on Anzac Day, the national public holiday on April 25 that takes its name from the Australian and New Zealand Army Corps (Anzac), which, despite both nations having recently acquired independence from Britain, supported the British army in WWI.
The date was chosen to reflect the anniversary of the 1915 landings at Gallipoli in modern-day Turkey, when Anzac soldiers joined British and French Imperial forces in a combined attack on the Ottoman Empire. Although the campaign was a disaster in military terms, with the Anzacs withdrawing after months of terrible suffering, the bravery and togetherness shown in defeat inspired Australians in the latter half of the 20th century to claim Gallipoli as an emblem of the young nation's identity. Since the 2000s, state-sponsored commemoration has been moving away from the losses at Gallipoli and toward Australian victories on the Western Front, including the battle at Villers-Bretonneux that also happened to occur on April 25.
The Monash Centre is located about a mile and a half outside Villers-Bretonneux, a quiet town that still wears its Australian connection with pride. The town hall has kangaroo decals on its facade and an Australian flag alongside the French tricolor.
I walk north among stony green fields until the Australian National Memorial looms into view. The Monash Centre has been dug into the hillside so as not to disturb the view of everything else. There are hardly any other visitors, but the grounds are crowded with half-erected marquees, portable toilets and half-unpacked tables and chairs. Workers shout to each other as they prepare for a massive Anzac Day ceremony, which will be broadcast live to Australia in 10 days.
During the interwar period and after World War II, Anzac Day was a relatively somber affair, primarily aimed at people who lost loved ones in the conflicts. As the 20th century proceeded, WWI commemorations shrank as ever fewer veterans were alive to participate. But it also retreated on account of the cultural shifts, beginning in the 1960s, that saw progressive Australians looking to distance themselves from a military history with Britain and instead to rally more around multiculturalism.
This cultural shift, however, began to reverse course in the late 1990s, when the incoming conservative prime minister, John Howard, made WWI commemoration the focus of his cultural program. Opposed to recognizing Australia's history of colonial violence and dispossession, Howard rejected what he called the "self-laceration" and "guilt" of prior governments. "In the Anzacs can be found the model and inspiration for the nation's own self-esteem," boasted an editorial in the conservative newspaper The Australian on Howard's first Anzac Day. The federal government initiated a wave of massive state funding for education and memorialization programs, all of which focused not on independent Australia's successful defense against fascist Japan in WWII but on the country's achievements while fighting for the British Empire in a distant war that is widely considered avoidable and wasteful.
Howard also injected a celebratory tone into WWI commemorations, which had previously prioritized sober mournfulness. The idea that Anzacs had been fighting to defend democracy and freedom became commonplace in political speeches, in the media and in classrooms. "It is about the celebration of some wonderful values of courage, of valor, of mateship, of decency, of a willingness as a nation to do the right thing, whatever the cost," Howard said on Anzac Day in 2003, two months after Australia had joined the Iraq War. "They went in our name, in a just cause, to do good things to liberate a people."
Anzac Day is now Australia's de-facto national day. Politicians of both major parties, the right-wing Liberals and the center-left Labor, give speeches — often at the sites of overseas battles like Villers-Bretonneux — about how Anzac values of courage, camaraderie and sacrifice helped "forge" the young Australian nation. Anzac-themed football games draw large crowds. Pubs host parties involving the wartime betting game "two-up." Throughout, the word Anzac has come to mean not just Australians who served in WWI but also, by association, that wartime generation and Aussie soldiering generally. And a specific set of images and stories about WWI — those battlefield values, red poppies and muddy trenches, the melancholy silhouette of a lone mourning infantryman — have coalesced into a quasi-mythological national narrative that Australians refer to as "the Anzac legend."
Any critical voices are accused of disrespecting the suffering soldiers and, by extension, Australia itself. The sports journalist Scott McIntyre was fired from his public broadcaster job after tweeting critically about Anzac's role in public life. The Sudanese-Australian media presenter Yassmin Abdel-Magied left Australia after being harassed by right-wing media and politicians for making a Facebook post one Anzac Day that referred — using the standard Anzac commemorative phrase "lest we forget" — to armed conflicts in Syria and Palestine and to Australia's scandal-ridden offshore refugee detention centers.
According to Frank Bongiorno, the president of the Australian Historical Association, the 21st century resurgence of interest in WWI history was not a revival of earlier Anzac narratives but rather a total reinvention of them. By the 1960s, Bongiorno explained, Anzac had come to seem "irredeemably identified with conservative values of the old imperial white Australia" but has, in recent decades, been reinvigorated to emphasize the involvement in WWI of women, migrants and Aboriginal Australians. To Bongiorno, however, this newfound inclusiveness is only superficial, eliding the real diversity of Australian wartime experience while insisting on the privileged status of British (and occasionally Irish) Australians.
The new variation on Anzac has become a robust point of political consensus. Successive Liberal and Labor governments have continued to bolster Anzac's profile by committing huge sums to commemoration activities. By 2015, it was estimated that over 500 million Australian dollars (about $336 million) of taxpayer money had gone towards the centenary, including over $67 million for the Monash Centre. "It's said that Australia's spending on the WWI centenary was greater than all the other countries combined," Bongiorno said. "And since then, we've seen further spending."
All in the family
I walk across the cemetery toward the Australian National Memorial, which lists the names of roughly 10,700 graveless Australian soldiers who died in France. My phone buzzes with a notification from the Monash Centre app, which I was instructed to download upon arrival. Brief stories about dead soldiers have been loaded into the app and geotagged, with an actor's reading designed to begin as users approach the relevant grave. The app invites me to try looking up a name on the walls, perhaps that of an ancestor. I decline.
At the entrance to the memorial, I encounter a series of wreaths and one laminated card:
In loving memory

Of my great great great uncle

Gone but never forgotten

I thank you all for that you

Sacrificed for my freedom
The geographer Shanti Sumartojo, who has researched Australian commemoration sites in Western Europe, describes Villers-Bretonneux as the "jewel in the crown" of a curated set of experiences marketed together as the Australian Remembrance Trail. To her, the emotional impact of the memorial lies in how it combines personal and collective elements, making individual visitors feel physically humbled by the monumental architecture and the massive accumulation of soldiers' names. It is no coincidence that Villers-Bretonneux and other Remembrance Trail sites are advertised using explicitly Christian language: Visitors are called "pilgrims," cemeteries are referred to as "hallowed ground" and "sacred sites."
The memorial also serves in the construction of a national narrative. Above all, according to Sumartojo, the emphasis on family names — coupled with the language of inheritance and the close focus on WWI — reinforces a national identity based not in civics and democracy but in ethnic kinship. This national kinship is, of course, slanted in favor of those whose family histories in Australia go back past 1918. "As an immigrant to Australia, and as a biracial person myself, that's one of the reasons I'm so fascinated by Anzac: It's this really powerful narrative, but I don't think it actually holds space for contemporary Australia very well, because it's so masculine and settler-colonial and white," Sumartojo said.
At Villers-Bretonneux, memory follows the logic of inherited valor. I happen to have my own family connection here, although it's not listed on the wall. My great-grandfather served Australia as a stretcher-bearer on the Western Front, where he was injured — so the family story goes — by a shell explosion that buried him, rendering him mostly amnesiac, left for dead and wandering lost. Eventually, he found his way to a company of Canadians who, recognizing his accent, passed him on to Australian forces in Belgium. From there, he was sent home to Australia where, gradually working off his trauma, he became gainfully employed and started a family — our family.
For most of my life, my family's wartime history did not interest me at all. (My grandfather was in the army, too, having served in the Pacific against Japan.) Growing up in Australia of the 2000s, being descended from Anzacs meant occupying a privileged position in the national narrative — but I never felt comfortable accepting it. For one thing, this badge of honor felt like something I had done nothing to earn. For another, the way Anzac was discussed under the Howard government did not at all match the diverse Australia I knew.
Only recently did I discover the urge to learn more about my great-grandfather and his life. I had only ever known two things about him. He had been anti-war, hence his decision to enlist as a stretcher-bearer rather than a soldier, and he had been blown up on the Western Front. It suddenly struck me as a terrible irony that this man, who hated war so much that he cried when his son enlisted for WWII, would be remembered by his descendants only for being a soldier. Peppering my mother with questions, I learned that my great-grandfather was a man of remarkable gentleness. He loved birds, especially magpies. He was a whiz at fixing radios. And he was a committed pacifist.
My previous incuriosity is nobody's fault but my own. Still, I cannot help but think that the Anzac legend offered me no viable narratives for thinking about my ancestors except the one that centered war. My pacifist great-grandfather, who never participated in Anzac Day, didn't fit into the narrative, so I scarcely thought about him.
What happens to a society when war stories — even gruesome and sad ones — dominate its self-image? I wonder this as I follow the signs out of the National Memorial and toward its 21st century extension, the Monash Centre. These signs lead me down into a series of trench-like walkways, where bits of retro Aussie slang (cobbers, diggers, mates) are carved into the walls and speakers blaze with noises of gunfire and shells. This place, it seems, is at once a cemetery, a museum, a monument and a reenactment experience — a reflection, perhaps, of the Anzac legend's own crossed purposes.
Entering the Centre, I am greeted by a friendly Australian docent. She recommends hurrying so I have time for The Experience, which, she assures me, is very immersive and very moving. The interactive app guides viewers through the exhibits, triggering massive screens that show historical photographs and ultra-high-definition reels of actors who, dressed in WWI garb, either reenact key moments from the war or deliver quotes taken from soldiers' letters and published testimonies. These screens, interspersed with boxes of objects, tell a version of the Anzac experience that heavily emphasizes Western Front victories. Hardly any space is dedicated to Australia's decision to enter the war. No space at all is allotted to the vigorous peace movement — or, indeed, the two tremendously divisive conscription referenda that were voted down during the war. One follows the Anzacs' narrative arc from excitement and confusion through the shock of gory early battles to the Aussies' triumphant mastery of trench warfare. When it is suggested that Anzacs were defending the democracy and freedom of Australia and its allies, I begin to wonder if the Centre's organizers have got their world wars mixed up.
Bongiorno has described how images of Anzac changed during the postwar decades, from the celebration of successful warriors toward the increasingly funereal tones of the 1980s and 1990s, when Anzacs started being represented primarily as sufferers. This mournful tone — and the accompanying gruesome portrayals of war — has been offered as a defense against accusations that Anzac's prominent role in Australian memory culture is essentially militaristic. Yet, at the Monash Centre, battles are referred to as being among "the greatest" on the Western Front, with John Monash branded the "greatest" general. War is where nations are forged, where men are made and where a community's heroic status can be secured for eternity. As William James once wrote: "War is the strong life; it is life in extremis." If all the focus is on how the war was "won," not on why it was fought — and who tried to stop it — then military engagement becomes the only viable form of courage.
As I enter the Centre's middle chamber, and the video-game jingoism of The Experience gets underway, it becomes clear how easily the ostensibly anti-war strains of earlier Anzac memory culture can slip into the full-on glorification of violence. The French-Australian military historian Romain Faithi has been an outspoken critic of the Centre's lurch toward national chauvinism. "Sometimes I just wonder what the men who are under would think about it," he told me. "Would they be touched that thousands of people remember them, or would they be like, 'You are so wrong. Fighting this war served no purpose except killing millions of people.'"
The Monash Centre reflects the broader imbalance of war and peace in Australian public memory. Throughout the 2010s, former Prime Minister Howard's opposition to historians and the arts was taken up by successive Liberal governments, which inflicted crippling austerity on national cultural institutions and the main public arts funding bodies. To the academic and journalist Ben Eltham, this represents a kind of "implicit cultural policy" whereby arts budgets are cut while comparatively massive waves of funding are directed towards Anzac-style war commemoration.
Eltham also emphasized the war memorial's enthusiastic courting of corporate sponsorships from defense companies, including Lockheed Martin and Boeing. (The ex-Liberal leader Brendan Nelson, who ran the National Memorial from 2012-2019, was chosen as the president of Boeing Australia in 2020.) I asked Eltham if it was surprising that military contractors were eager to contribute to a cultural mythology that still emphasized the goriness of wartime suffering. "I think it makes perfect sense," he said. "In every nation, there seems to be a pretty direct relationship between the veneration of these old dead young soldiers and the glorification of future conflicts."
The Monash Centre, and Australian memory culture more broadly, offers a warning for the United States. The U.S. author and former Marine Phil Klay has written eloquently on the limitations of a culture that offers veterans showy rituals of gratitude but remains essentially indifferent to the soldiers themselves and to the emotional and physical costs of war. James Fallows has noted in The Atlantic that politicians and the press typically discuss the military with "overblown, limitless praise," while pop culture emphasizes the "suffering and stoicism" of the troops without ever venturing to learn about them. Outsiders, Fallows concluded, view the military "both too reverently and too cavalierly, as if regarding its members as heroes makes up for committing them to unending, unwinnable missions." One example of the funereal turn in American military memory culture came in the debates over Colin Kaepernick's NFL protests. When commentators accused Kaepernick of "disrespecting the troops," they typically pointed not to U.S. military successes but to the immensity of the veterans' sacrifice and suffering. His then-teammate Alex Boone said that Kaepernick "should have some fucking respect for people who served, especially people that lost their life to protect our freedom."
A national soldier cult, it seems, serves nobody — not even the soldiers. And an iconography of suffering offers no protection against militarism. Leaving the Monash Centre, I remember the story Romain Faithi told me about Alec Campbell, the last living Anzac who experienced the battle at Gallipoli. Campbell was a socialist and trade unionist. He warned against the glorification of Gallipoli and was bemused by the frenzied media attention he received in old age. "When he was the only one left," Faithi said, "the government approached him for a national funeral and he said, 'Heck no, I used that part of my life. Don't go to war!' But of course it was bigger than him. So when he died, the government used him anyway." Alec Campbell's state funeral took place in 2002. His casket was placed on a two-piece gun carriage and led by a military Dodge truck, preceded by four riders on horseback wearing WWI uniforms.
The Big Idea
Shifting Borders
Borders are liminal, notional spaces made more unstable by unparalleled migration, geopolitical ambition and the use of technology to transcend and, conversely, reinforce borders. Perhaps the most urgent contemporary question is how we now imagine and conceptualize boundaries. And, as a result, how we think about community. In this special issue are stories of postcolonial maps, of dissidents tracked in places of refuge, of migrants whose bodies become the borderline, and of frontier management outsourced by rich countries to much poorer ones.
Read more