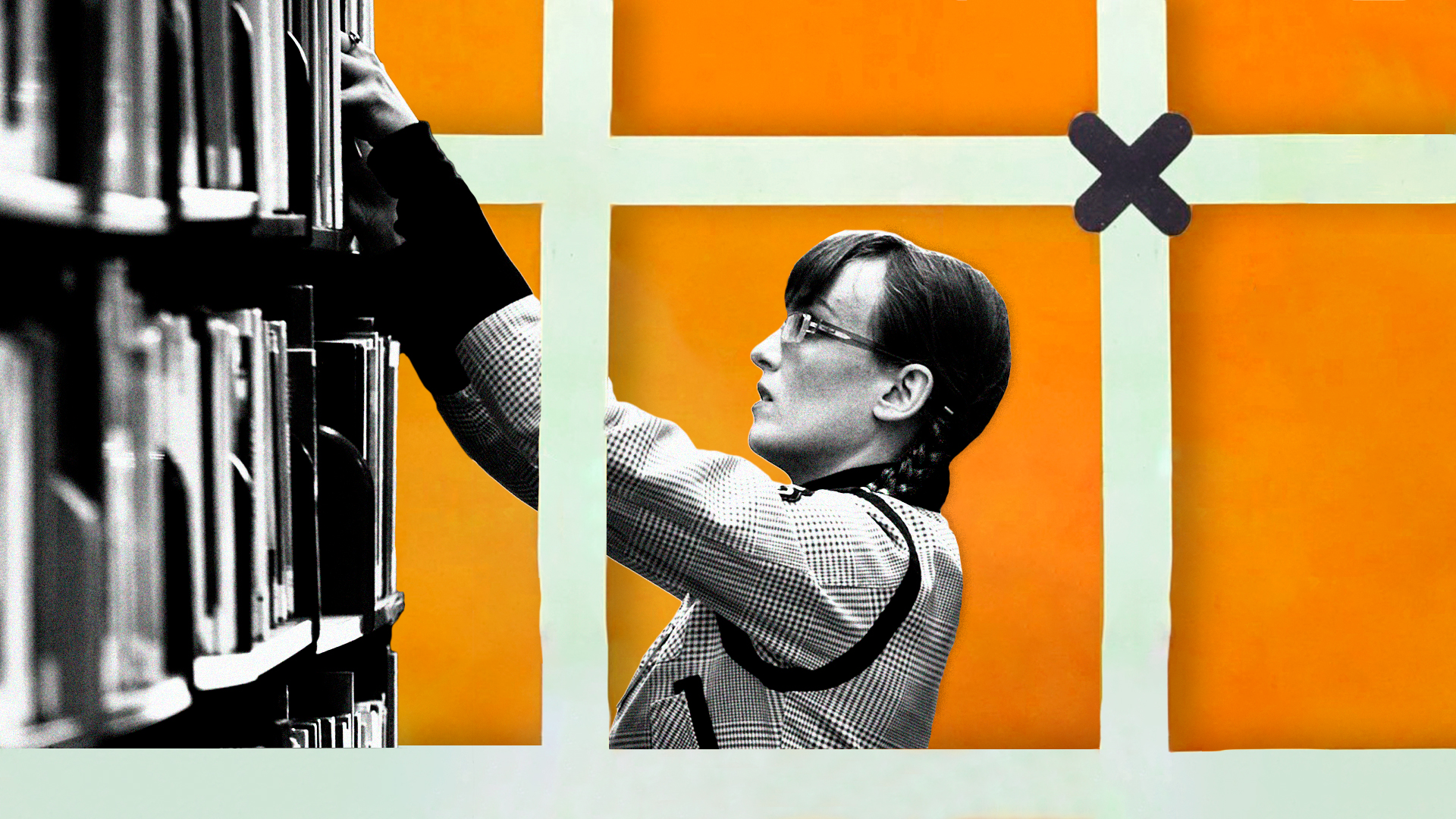 Missouri librarians are risking jail time – for doing their jobs
Librarians in Missouri fear prosecution under a new law criminalizing anyone who provides 'sexually explicit material' to students
Amy was busy at her job in the outskirts of St. Louis, Missouri, when the officer strode through her open doorway to investigate a sordid accusation: Someone had called the police department and reported that she had been giving pornography to children, a criminal offense in Missouri.
She looked at the uniformed man in disbelief. She was the mother of a toddler and a long-time public servant. The scene of the alleged offense was not an adult bookstore or the dark web. It was a high school library. The officer explained the situation. A parent had told the police that she was circulating pornography to students through the books in the school's library collection. The policeman, a school resource officer employed by both the Wentzville School District and the O'Fallon Police Department, came to the library to investigate the claim. He came back again six months later, prompted by similar complaints from another parent at the school. The visit did not lead to any disciplinary action against Amy. But it left her deeply unsettled.
"It just honestly shook me," Amy, who asked to be identified only by a pseudonym, told me. "The audacity to claim that I was making pornography available to kids, it was just devastating. Like, what is this going to do to my reputation if this is what people truly think I'm doing?"
The Wentzville School District and the O'Fallon Police Department did not respond to my requests for comment.
At the time of the officer's visit, it was illegal under Missouri law to give pornography to minors. But what enraged a parent enough to call the police was a school library book — Amy never found out which one. At the time, library workers were trusted to choose books based on school board-approved selection criteria.
But that changed in August 2022, when the Missouri state legislature passed a law banning books that contained "explicit sexual material." Under the new rules, police visits to libraries may become a more regular occurrence — and librarians found guilty of violating the policy could even end up behind bars. The statute, Senate Bill 775, has led to the removal of hundreds of children's books across the state and caused library workers to aggressively self-censor under the threat of incarceration.
"This has struck fear into the work that many of our members are doing professionally," said Tom Bober, the vice president of the Missouri Association of School Librarians, which represents hundreds of library specialists statewide. To Bober's knowledge, no one has been criminally charged under the new rules yet — my reporting indicated the same. But the message the rules send is clear to him.
"What we have with SB 775 is politicians saying, 'We are going to determine what books should sit on your library shelves and be available to your students. And if you go against what we said there are criminal implications,'" Bober said.
Such a scenario would have been unthinkable for Amy when she began working in the field 15 years ago. But over the last several years, the conditions for library workers in Missouri and across the United States have taken a dramatic turn for the worse. The Missouri law is part of a much broader movement, largely driven by conservative politicians and parents' rights groups, whose primary target is books dealing with race, gender and sexuality. PEN America found that more than 80% of the 1,648 books banned from schools in 2021 and 2022 focused on, or featured, LGBTQ+ characters and people of color, and attempts to ban or restrict access to books from school and public libraries since 2020 have shattered previous records.
The movement's secondary target is the workers who make those books available to students. As I reported for Coda last year, librarians have been subjected to online harassment and verbal attacks, accused of grooming children and promoting pornography, inundated with hateful messages, threatened with physical violence and, increasingly, targeted with hostile laws like SB 775.
The Missouri law is among the most extreme of the state policies singling out library work, although states like Tennessee and Oklahoma have also passed new laws targeting "obscene" materials in school libraries and databases. Tacked on as an amendment to a bill aimed at combating child sexual exploitation and protecting sexual assault survivors, the Missouri law makes it a Class A misdemeanor for librarians, school officials and teachers to provide students with "explicit sexual material." Any librarian or educator found in violation of the policy faces steep penalties: a yearlong prison sentence and up to $2,000 in fines.
State library associations and library workers I spoke with described the law's rollout as chaotic and panic-inducing. Librarians and school officials scrambled to make sense of the sweeping language of the bill, which defined "explicit sexual material" as any visual image that showed sexual intercourse, masturbation or genitalia, except for images that appear in books on anatomy or biology. Districts' interpretations and applications of the law varied widely. According to Bober, whose organization surveyed hundreds of librarians statewide about their experiences with the law, some librarians received lists of titles to remove from district administrators and attorneys, while others were left in the dark and instructed to interpret the statute themselves.
Statewide, nearly 300 books — a disproportionate number of which are written by or about LGBTQ+ people — have been removed from school library shelves in response to SB 775, the nonprofit PEN America found. And the lack of guidance from state officials has become visible on library shelves. Some school districts have chosen to ignore the law or remove just a handful of books, while others have interpreted it more broadly. Wentzville, where Amy works, pulled 220 books after the law went into effect — more than any other district in the state. The long list of removals included a handful of Holocaust history books, scores of graphic novels and comic books, illustrated adaptations of Homer's "Odyssey" and Shakespeare's "Macbeth" and more than 70 art history books featuring works by the likes of Henri Matisse, Pablo Picasso and Vincent van Gogh. PEN America has a complete list of the books banned on the basis of SB 775.
Mernie Maestas, the lead librarian for the Wentzville School District, said the district's middle school and high school librarians were given two weeks to go through their entire collections and remove any books that could potentially violate the law or lead to prosecution. "We had one librarian who began pulling absolutely everything because the fear became so overwhelming," she said. "Others wound up shutting down their library for periods of time just so they could ensure they had gone through everything."
Amy told me that she was in tears as she pored over the books in her school's library, confused and overwhelmed about how to evaluate the material on her bookshelves. "Do I pull a picture because there are breasts on the page? Are breasts included with genitalia? Who decides?" she said. "It was just a mess because you didn't know what you were looking for."
Amy decided not to ask other library staff to help make decisions about what books to keep because she didn't want anyone else to be liable for potential criminal charges. So she went through it all by herself. She estimates she set aside about 30 books to be reviewed by the district's legal team. The entire process "felt so wrong, like I was being used for something I did not support," she explained. But she felt she had no other option. She had a kid. She didn't want to end up on the wrong side of the law. "What do you do when you think you could go to jail?" she asked.
Following a public outcry, most of the Wentzville titles that were taken down — including an illustrated children's version of the Bible — have been put back on the shelves. But 17 have been permanently banned, including the graphic memoir "Gender Queer" and illustrated adaptations of "The Handmaid's Tale" and "Slaughterhouse-Five," according to a list compiled by PEN America, which has been tracking statewide book removals.
Wentzville librarian Maestas said the law has caused library workers to rethink which books they add to their collections. "You second-guess everything that you're purchasing so you wind up self-censoring, even though that's not our goal," she said. "But you're fearful."
Maestas runs a reading club at the elementary school where she works. One day, a parent contacted the school to complain about a book on the group's reading list, which explores themes related to sexual identity. The parent withdrew their child from the club and accused the district of promoting an "agenda."
Maestas worries about how the children in her school process that kind of language. "The kids absorb what's happening in their home," she explained. "And so when parents feel like the library has potential evil in it, so do the kids."
So far, Maestas has not removed any books from her library under SB 775. I asked if she worries about the possible consequences of her decision. "Yes," she replied. "All the time." When she became a librarian nearly two decades ago, she added, "never would I have ever thought that the library could land me in jail. For people to think that I'm a monster and a villain, it stabs at your heart."
For some, the pressure is too much to sustain working in the field. Amy had planned to be a librarian until she reached retirement age, but instead she is leaving the profession at the end of the 2022-2023 school year. She said the police visits, as well as SB 775, played a role in her decision to switch careers. She told me that the restrictions imposed on librarians under SB 775 left her unable to adequately carry out her job's responsibilities, including providing students with material that could help them make sense of their identities, such as books about LGBTQ+ experiences.
But Amy also feels conflicted about the decision to leave the field: "In many ways, it feels like a cop out," she confessed. "It is this war of, 'Am I doing the right thing?' I don't know. It's been very difficult in the last couple of years and I'm just choosing something different." To be a librarian in Missouri feels like a precarious tightrope walk, where criminal prosecution is always a looming threat. Some, like Amy, are choosing to walk away.
But others are fighting to put librarians on more stable ground. Last month, the Missouri ACLU sued the state over SB 775 on behalf of the Missouri Library Association and the Missouri Association of School Librarians, arguing that the law is vague to the point of being unconstitutional and puts educators in the position of violating students' First Amendment rights or exposing themselves to criminal prosecution. Just last week, a top Missouri Republican lawmaker responded to the lawsuit by threatening to cut the entire state budget for public libraries in his proposed state funding package. On Tuesday, the Missouri House of Representatives approved the lawmaker's budget. If approved in the state senate, it will strip public libraries of $4.5 million in state aid that they were slated to receive in the next year. The Missouri secretary of state has also proposed a rule change that would force public libraries to adopt a variety of "age-appropriate" checkout policies for minors or lose public funding.
Joe Kohlburn, an academic librarian at Jefferson College in Missouri, said the array of policies targeting public library employees has prompted many in the field to search for jobs out of state. He mentioned a colleague who recently fled Missouri for Florida. "It's pretty bad when you move from Missouri to Florida," he chuckled. "I definitely am getting the message the Missouri state government is sending, that they don't value librarians and are antagonistic towards our foundational ethics. And who wants to work in that situation?"
At the center of all of this are the students themselves, the subjects of so many of these laws, book challenges and policies — who rarely get airtime to weigh in on what they want to read, despite their starring role in the debate. But some are speaking out. When a set of proposed book bans came to a high school in Nixa, a conservative town in southwest Missouri, a group of high school students decided to push back. In preparation for a school board vote on the books, they asked hundreds of their classmates about their position on the restrictions and discovered the vast majority of students opposed the bans.
Then, they put themselves to work, reading each and every book on the list, like Toni Morrison's "The Bluest Eye" and Yaa Gyasi's "Homegoing," which explores the legacy of colonialism and slavery in the African diaspora. They also read Stephen Chbosky's "The Perks of Being a Wallflower." Thomasina Brown, a high school junior, said the coming-of-age story resonated with her as an "important representation of the adolescent experience," helping teens process themes like grief, trauma and mental health in their own lives. If the district banned the book, "I felt like maybe kids wouldn't be exposed to things they might deal with later in life," she told me.
Brown's classmates also brought their observations to the school board meeting, describing the books and characters that reflected parts of their identities and life experiences or introduced them to new perspectives. But the meeting quickly descended into chaos, with some parents booing loudly, shouting over the students and calling on the school's librarians to resign.
Meghana Nakkanti, a high school senior who took part in the meeting, likened the situation to a role reversal: The students were showing more maturity and capacity to deliberate on the issue than the adults in the room. But the board ultimately voted to remove several books.
The students found the adults' vilification of the librarians they knew especially painful. One meeting stood out to them. A parent stood up and declared that the school's two librarians should be placed on a sex offender registry. One of the librarians, who was present in the room, burst into tears and rushed for the door. Someone had to accompany her to her car because she was so distressed, the students recalled. That's when the severity of the situation dawned on them: These librarians were being named, confronted and run out of public meetings in tears. Not just by adults, but by parents.
Nakkanti told me it was hard to watch the librarians smeared because "of a few people who aren't willing to read more than a few pages of a book that someone told them they shouldn't like." The students in the group, she added, are "trying to make people realize that the words that people say and the implications that are surrounding this have real meaning. These are people and they deserve to be respected."
A classic lesson from an adult to a child — turned upside down.
The Big Idea
Shifting Borders
Borders are liminal, notional spaces made more unstable by unparalleled migration, geopolitical ambition and the use of technology to transcend and, conversely, reinforce borders. Perhaps the most urgent contemporary question is how we now imagine and conceptualize boundaries. And, as a result, how we think about community. In this special issue are stories of postcolonial maps, of dissidents tracked in places of refuge, of migrants whose bodies become the borderline, and of frontier management outsourced by rich countries to much poorer ones.
Read more