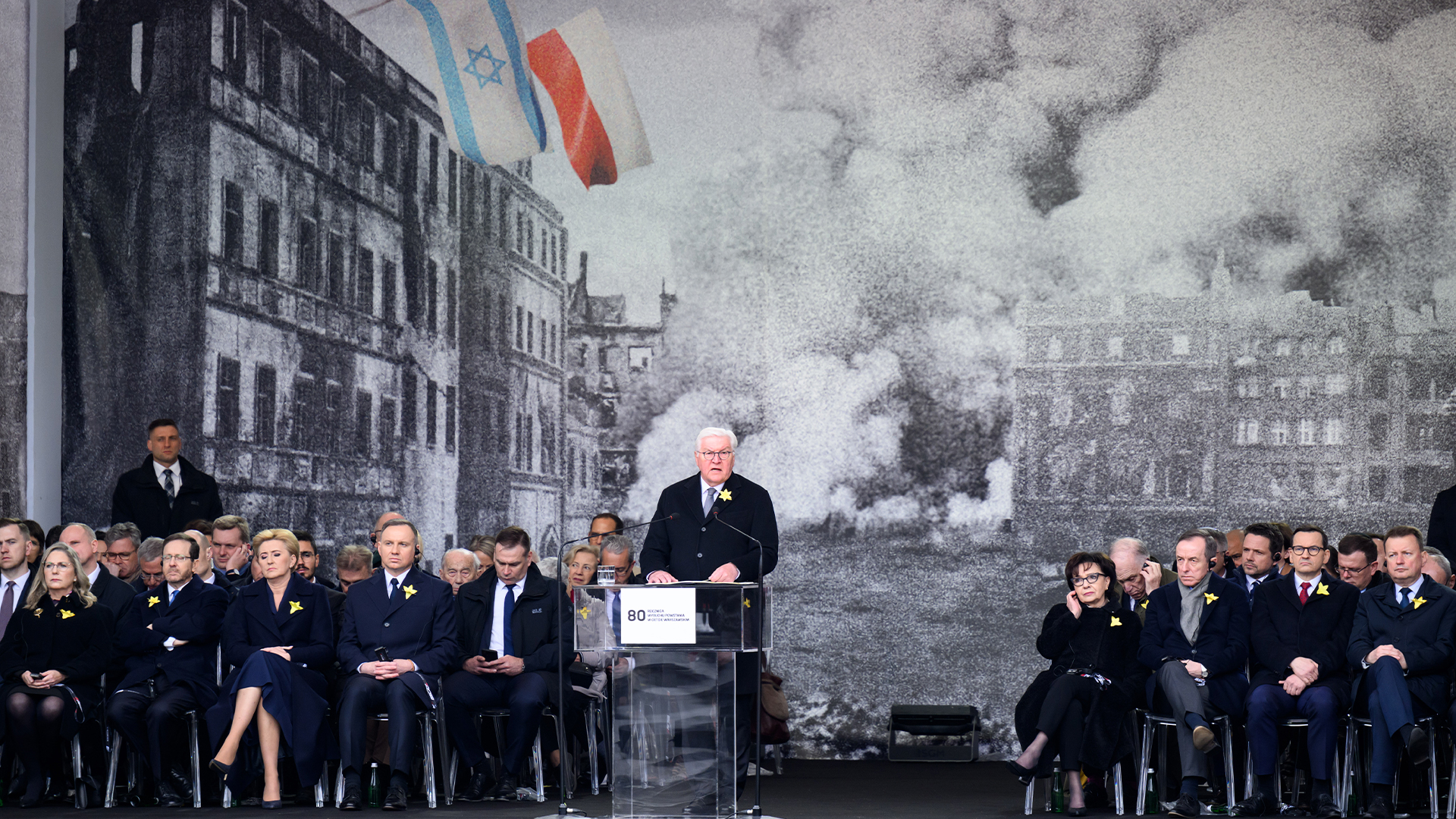 Poland's ruling party demands Germany pay reparations to score political points
Poland is demanding WWII reparations from Germany ahead of its fall election. But most Poles want to look to the future instead
The president of Germany, Frank-Walter Steinmeier, stood in central Warsaw and asked for forgiveness. Attending a ceremony in April for the 80th anniversary of the Warsaw Ghetto Uprising, the largest armed Jewish resistance effort against Nazi forces during World War II, Steinmeier expressed remorse and "deep shame" for Germany's crimes.
Joined by the presidents of Poland and Israel, it was the first time a German head of state took part in a commemoration of the uprising. Tensions between Poland and Germany, however, fermented on the sidelines.
Before the ceremony, the Polish culture minister, Piotr Glinski, who is also the deputy prime minister, circulated a report tabulating Polish wartime losses to President Steinmeier. Poland has demanded $1.3 trillion in World War II reparations from Germany. For Glinski's Law and Justice party, it was an opportune moment to press its claims that Germany is disrespecting Poland by refusing to engage with its call for reparations and to appeal to an electorate struggling with inflation and fearful of the war in Ukraine next door. For the government's detractors, it was a schoolboy gesture staged to draw votes ahead of Poland's parliamentary election this fall.
 The Polish government's willingness to stress test the country's public relationship with Germany may be part of an election strategy, but, behind the scenes, the real relationship between Poland and Germany continues to grow stronger. This throws into question the effectiveness of Poland's efforts to muddy Germany's reputation as a model for successfully reckoning with its past.
The two countries are becoming more economically intertwined. Poland is Germany's fifth-largest trading partner, and bilateral trade is reported to have grown by 14% in the last 12 months. Germany makes up around 20% of foreign direct investment in Poland.
It's an economic closeness that is light-years away from the stark rebuke of German-Polish business dealings often seen in Poland's state-controlled media. "On the governmental level, we see a real cold era, but, at the same time, German investors are coming to Poland, and more Polish companies are based in Germany," said Agnieszka Lada-Konefal, an expert in Polish-German relations. In December 2022, Mercedes-Benz announced plans to invest over $1 billion in an electric van factory in Poland. But while the economic relationship is good, it could be better: Lada-Konefal added that Poland's ongoing battle with the European Union over the country's democratic backsliding has spooked some German investors.
While Poland's government has said it is willing to wait out Germany's current position on the reparations issue, the majority of Poles want to push the relationship into the future. According to the German-Polish Barometer, an annual polling project that has examined the relationship between the two countries since 2000, 64% of Poles in 2021 wanted to disconnect from the past.
Poland's government is often accused of distorting the past. It has tried to center Polish heroism and sideline Jewish victims by arguing that the majority of Poles tried to protect Jews from Nazi forces.
Germany has taken the position that all financial claims from World War II were resolved in 1953, when Communist Poland said it would not pursue reparations at the behest of Moscow. This position was settled again, the German government says, in the Two-plus-Four Treaty of 1990, which led to the reunification of Germany. Poland counters that earlier calls for reparations were ignored.
Calling for reparations may play out as a key tactic for the Law and Justice party in the Polish parliamentary election expected later this year, allowing it to take votes from the far-right Confederation party. "Only the very hard part of the Law and Justice electorate really want to hear anti-German slogans, and the party needs to give something to this group," said Lada-Konefal. In Polish elections, addressing the concerns of small groups of the electorate can have a disproportionate effect on the outcome.
Germany's hesitation to send lethal military aid to Ukraine has reinforced Polish perceptions of Germany as being too soft on Russia. When Russia invaded Ukraine in late February 2022, Poland said it was disappointed by the immediate German response. And despite Germany signing off on historic military aid packages for the Ukrainian armed forces, Poland's government continues to argue Berlin is not doing enough to protect Europe from a Russian threat. "The ambiguity around the German position on initial support for Ukraine and perceived sympathy towards Russia has affected the relationship," said Maria Skora, a research associate at the Institute for European Politics, a policy research center.
Among the German public, Poland can be an afterthought in German politics, said Monika Sus, a visiting professor at the Hertie School in Berlin. "In general, there is a total lack of knowledge in Germany on Poland," she said. "There is an education problem on modern Poland, especially when you compare this to the general understanding of France in Germany."
In late May, Poland's embassy in Berlin criticized the German government for issuing teacher training material that portrayed a fictional Polish mother as a "devout Catholic" and a person who "hates gays." Speaking to Polish media, Poland's ambassador to Germany, Dariusz Pawlos, said the material "reproduces anti-Polish stereotypes and harmful generalizations." Despite Law and Justice presenting LGTBQ rights as an attack on so-called traditional family values since coming to power in 2015, a growing number of Poles in all categories, from young to old, are in favor of civil partnerships and same-sex marriage, according to a June 2022 poll.