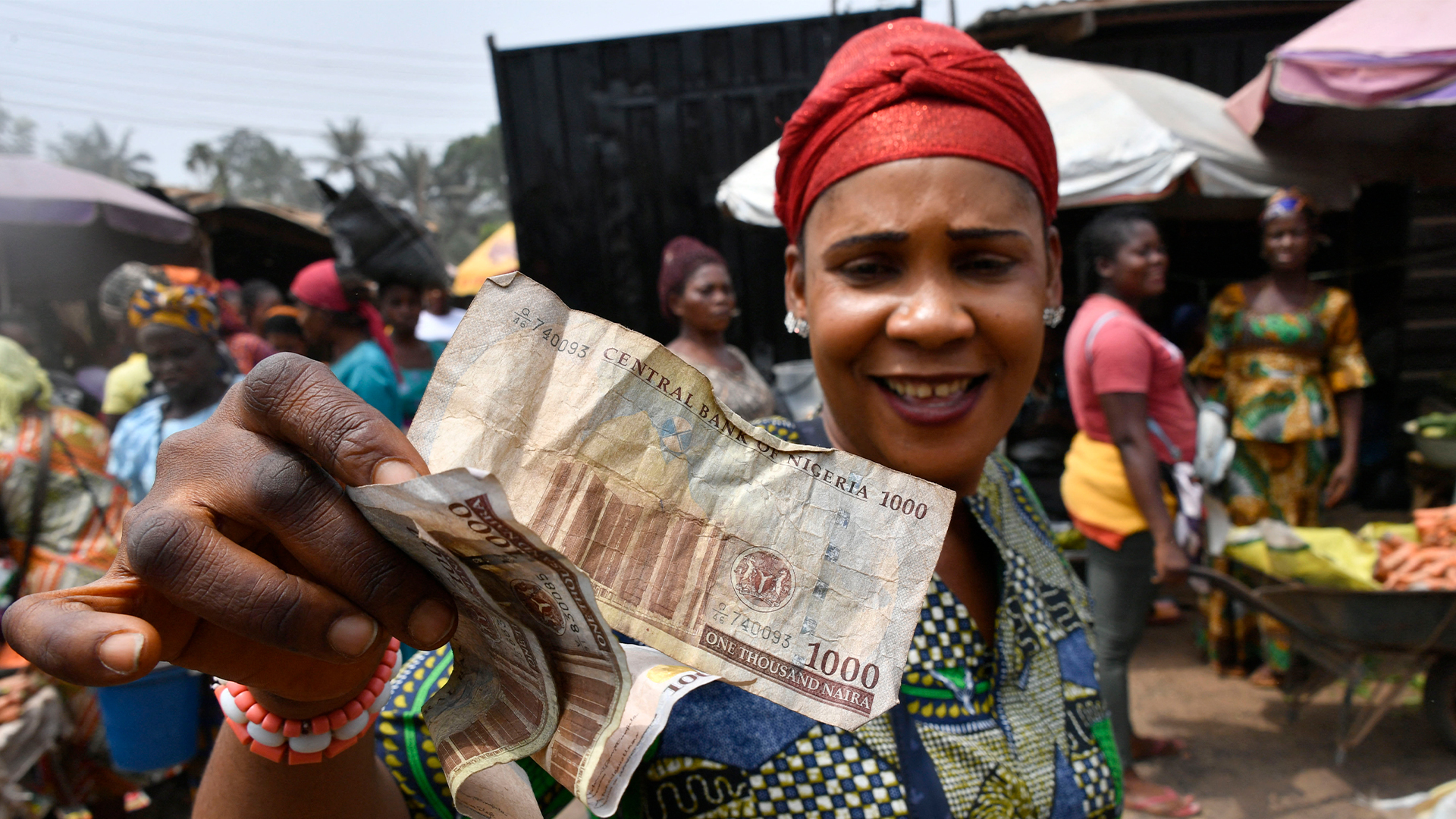 Nigeria plunges into a cash crisis on the eve of presidential elections
Lengthy queues outside Nigerian banks and mounting anger has made the country's cash crisis a hot button issue
Just past noon on Friday, February 17, George Chinedu, a trader, was in a lengthy queue in front of Guaranty Trust Bank in Palmgrove, a suburb of Lagos.
With the sun beating down on them, a crowd of customers perched on railings or tiny seats, while others just sat on the ground. Some had been in the queue since 5 a.m., but the bank's doors remained closed. They had no idea if, or when, the bank would open.
Long queues have become permanent outside banks and ATM machines across Nigeria in recent weeks, as Nigerians are struggling to get their hands on the naira, the country's official currency. And with the country headed to the polls on February 25 to elect a new president, the lack of ready cash is a hot button issue.
Chinedu folded his arms across his chest. "I am just tired of this country," he complained. A week earlier, he had managed to get only 2,000 naira (about $4) out of the 25,000 naira ($54) he needed to pay his daughter's school fees after five hours in the queue. Like financial institutions across Nigeria, the bank was rationing its cash reserves.
In October 2022, the Central Bank of Nigeria unveiled redesigned notes of the currency's higher denominations — 200 naira, 500 naira and 1,000 naira. The rationale, according to the government of Muhammadu Buhari, was to rein in inflation, reduce crimes involving demands for ransom and curb vote-buying, a practice that had become a fixture in Nigeria's electoral process.
Buhari, who has held office since 2015 and reached his two-term limit, has promised free and fair elections. By redesigning the currency and ensuring fewer notes are in circulation, the government argues, it has effectively wiped out the undeclared cash it believes politicians have stockpiled in their homes to use while campaigning, to influence voters' choices.
The currency redesign also helped the Central Bank's governor, Godwin Emefiele, put into motion his signature "cashless economy" plan. Controversially, Emefiele had hoped to run for president himself while still holding on to his position as the bank's governor until a Nigerian court scuppered that ambition.
Despite the criticism that the currency redesign received, Emefiele has stuck to his guns. According to a January circular, before the currency redesign, there was 3.2 trillion naira in circulation, of which only 500 billion was held in the banking system, with the rest of the money held largely in people's homes. Within three months of the redesign, the Central Bank had collected 1.9 trillion naira, leaving 800 billion naira that had yet to be swapped for the new notes.
Mallam El Rufai, the governor of Kaduna state in the northwest region of the country, claims that only 500 billion naira worth of new notes was printed. The bank did not disclose how many notes it has printed, but there has been an acute shortage of new cash in circulation leading to widespread frustration and violence, including banks being burned down in several cities.
The impact of the Central Bank's policy on the polls is uncertain. But some analysts have contended that it could be counterproductive. Rather than remove the influence of cash-rich politicians, "the cash shortage may make people vulnerable to selling their votes to whomever can pay for it," Joachim Macebong, a senior analyst at Stears Intelligence, told me.
In Nigeria, 130 million people in a population of 210 million live in poverty. And only 40% of Nigerians have a bank account number. This makes the pivot to a cashless economy wildly impractical and a hugely unpopular policy among Nigerians, including the elites. The policy has sparked a Supreme Court tussle between 10 state governors and the presidency. Days ago, Buhari allowed the recirculation of the 200-naira notes, after a national uproar, until April 10 but has refused to shift grounds on higher notes.
Since the policy went into effect, Nigeria's online banking system has become extremely prone to technical failures, effectively shutting off all avenues for people to access money online and creating a gray market for currency purchases where those who do have cash are selling it at an exorbitant rate.
Chinedu said that just to get access to cash at all, he was forced to pay an extra 20% of the amount he needed. Analysts say Nigeria does not have the existing infrastructure to sustain a cashless economy.
"In terms of the architectural structure of financial transaction, settlement and bills payment, on paper, we sort of have one of the best systems in the world but we do not have the infrastructure in reality," said Ikemesit Effiong, the head of research at SBM Intelligence, a Lagos-based think tank. In other words, the Central Bank neglected to ensure a smooth transition to cashlessness, to ensure that people were ready to make a sudden and drastic switch.
Iyabo Salami, who sells clothes in Lagos, decried the impact of the bank's policy. "The cash scarcity has caused my business to nosedive," she told me. "The cash I have will be used to eat." Non-cash sales, she said, are unreliable. Transactions fail and banks are often uncommunicative. "I am very pained," she told me. "I just cannot blame God for creating me in this country."
Politics aside, trust in Nigeria's banking system is very low, Effiong from SBM Intelligence told me. "Why would anyone want to interact with the banking system, having experienced what they have experienced over the last couple of weeks?" he said.
But the immediate effect of the Central Bank's policy will be on the upcoming polls. As Nigerians prepare to vote this weekend, the cash crisis will be a top concern. Macebong, the analyst at Stears Intelligence, believes that the anger people feel does not bode well for the ruling party "because the hardship will still be connected to the party in power."
If the precise impact on the election is uncertain, the Central Bank's decision has at the very least injected an additional note of chaos into arguably the most unpredictable election since Nigeria transitioned from military to civilian rule over two decades ago.
The Big Idea
Shifting Borders
Borders are liminal, notional spaces made more unstable by unparalleled migration, geopolitical ambition and the use of technology to transcend and, conversely, reinforce borders. Perhaps the most urgent contemporary question is how we now imagine and conceptualize boundaries. And, as a result, how we think about community. In this special issue are stories of postcolonial maps, of dissidents tracked in places of refuge, of migrants whose bodies become the borderline, and of frontier management outsourced by rich countries to much poorer ones.
Read more