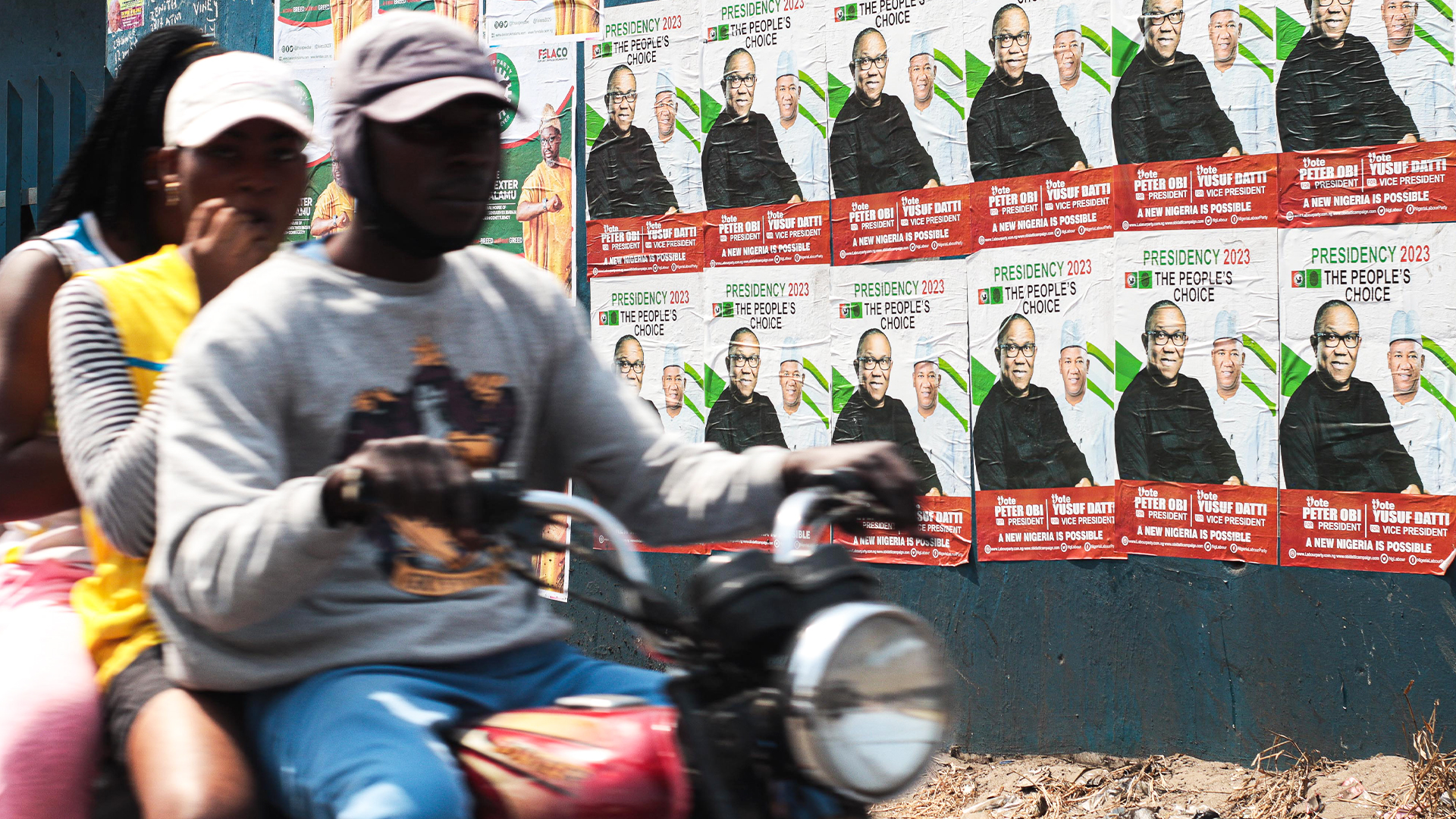 The rise of the Obidients
The Nigerian youth movement is looking to take power
On October 20, 2020, as the staccato of bullets ripped through the air and people scampered in different directions, a popular DJ made sure the event was witnessed in real-time.
DJ Switch flipped to her Instagram story to livestream the chaos — gore, live ammunition going off and victims lying in pools of blood — at a protest site in Lekki, a wealthy suburb of Lagos, Nigeria. At least 12 people were killed in that shooting according to Amnesty International, and DJ Switch now lives in Canada, having had to flee Nigeria for fear of reprisals from the government.
That October, thousands of young Nigerians had been protesting over 13 days across the country against police brutality. The protests, aimed at a rogue police unit called the Special Anti-Robbery Squad, began after a video surfaced online of a police officer killing a young man in Delta, an oil-rich area of Nigeria. But what started as a protest against police brutality morphed into demands for better governance, which continued even after the government shut down the police unit.
Then came the atrocity at Lekki.
Nkemchor Guru, 20 years old at the time, watched the event unfold live in her Lagos residence. Now in her final year as a student at a Lagos university, she recalls the sound of gunshots. "I saw people writhing on the floor. The whole situation was just horrible," Guru said. "It caused a very big pain and anger in me and I know that was the story for a lot of young Nigerians."
The government has denied responsibility for the shooting and clamped down on activists calling for justice. But the mowing down of 12 protesters has upended Nigerian politics and the comfortable, business-as-usual environment for the two dominant parties, the All Progressives Party (APC) and the Peoples Democratic Party (PDP). A third force has emerged from the corners of social media, making the upcoming February 25 presidential election a three-horse race for the first time in modern Nigerian history.
Exhausted by the unprecedented level of insecurity, record inflation and unemployment rates and currency devaluation, among many other issues, young people in Nigeria are using social media to disrupt the system and support Peter Obi, a former governor and Nigeria's insurgent Labour Party presidential candidate.
Unlike the two dominant parties, who have shared power between themselves since 1999, Obi and his Labour Party do not enjoy a political grassroots infrastructure and are instead being propelled forward in the race by angry social media users. In 2021, the Nigerian youth now making up Obi's base revolted when President Muhammadu Buhari banned Twitter for seven months after the company deleted the president's genocidal post, catalyzing widespread anger among those who have relied on the platform to criticize the government's policies and the state of the nation.
Buhari is term-limited out of participating in this year's election. And several polls have called the election for Obi. "We desperately need a leader who is committed to changing things," Guru said.
Obi had been a member of the Peoples Democratic Party, serving two terms as a state governor in the country's eastern region, and was once that party's vice presidential candidate. He was an unlikely figure to challenge the politicians backed by the two dominant parties — Bola Tinubu, a two-term governor of Lagos and kingmaker in Nigerian politics, and Atiku Abubakar, a perennial presidential candidate.
Before moving to the Labour Party, a fringe party with no political reach, Obi had run in the Peoples Democratic Party primary. As the primary approached, it became clear that Obi would lose the race and lose the support of the party's upper echelons, so he left the party and dropped out of the running. Without the political machinery available to the candidates of the big parties, a bid for the presidency of Africa's most populated country and largest economy was viewed as quixotic at best.
But thousands of youth who had participated in the social justice protests were looking for a leader who would back their calls for a change in the government and mete out punishment for the October 20 killings.
Nigeria is currently reeling from record 22% inflation, an unemployment rate of 33% and insecurity that includes terrorism, deadly banditry, mass abductions and all manners of violence. This situation has made many Nigerians feel the country is at an existential tipping point and led to the death of thousands of people across the country since Buhari began his first presidential term in 2015.
At 61, Obi is the youngest of the major candidates. The youth movement propelling his candidacy calls itself "the Obidients." It is a gathering threat to Nigeria's political establishment — young voters make up the largest demographic voting bloc in this year's elections at nearly 40% of the 93.4 million eligible voters. While especially pronounced in Nigeria, how younger voters respond to social media messaging is poised to play a pivotal role in other important elections around the world, in countries like Pakistan, Argentina, Bangladesh and Turkey.
"It is clear to everybody who will want to be very honest in their evaluation of the current Nigerian situation that Nigeria is headed in the wrong direction," said Joseph Onuorah, a national administration member of Take Back Naija, one of the several youth coalitions working for the Obidient movement.
"We are mounting up debt at a rate that is simply unsustainable, the government does not seem to have a formula for what educational system they want to run, medical care is simply non-existent, insecurity pervades the entire country," he added.
That the street-level protest movement would combine with social media to evolve into a major factor in presidential politics was all but inevitable, said Ifeomah Areh, a social media expert and communications consultant. This is despite the perception that Nigerian youth are apathetic in elections.
"This model [of online mobilization] is new in some ways but also not that new. People are always looking for where they can come and rally together," she said. "All over the world, young people are beginning to form communities that are standing against whatever inequality they perceive."
"In 2015, young people did not endorse any candidate. But in this election, you will find young people are getting more partisan," said Amara Nwankpa, director of the Public Policy Initiative at the Yar' Adua Foundation, a think tank engaging citizens and policymakers on democracy in Abuja, Nigeria's capital.
In the din of Nigeria's rancorous retail politics, disinformation has also been prominent. With social media as a major battleground for debates, online disinformation has been spreading with little in the way of restraint. For example, Obi, who is a Christian, has been accused of ransacking Muslim communities when he was governor and has been portrayed as sympathetic to the Indigenous People of Biafra, a secessionist organization in the country's east.
Onuorah, the administrator of one Obidient organization, told me the movement has an army of internet-savvy youth whose work is to debunk the accusations. "Every disinformation you throw at the movement, there are people that are able to go into data and history and bring to nothing that particular disinformation," he said.
"People assume that [the Obidient movement] is totally organic but it is not, it is an effective use of young people. If you look behind it, there is always a concerted effort," Areh, the social media expert, said of the movement's use of social media.
Nevertheless, it remains to be seen if the Obidients can displace the two major parties and if social media advocacy will spur enough turnout among the youth demographic to be decisive.
Offline, however, hundreds of thousands are flocking to Peter Obi's campaigns across Nigeria, catching the country by surprise. It is due to the work of young people like Guru, the university student, who work tirelessly online to sell their candidate and offline to bring more young people into the fold.
"Up till now, nobody has been held accountable, that is just the crazy part," said Guru, who has now amassed tens of thousands of online followers in her constant campaigning for the Labour Party. "I hope Nigerians are able to choose right and look past tribalism, religion and everything that has held us back for years. I was 15 years of age when Buhari came to power and I felt like the past eight years of my life have been a waste."
CORRECTION [01/19/2023]: This article previously said that Obi had lost the Peoples Democratic Party primary to Atiku Abubakar. Obi dropped out of the primary before it took place.