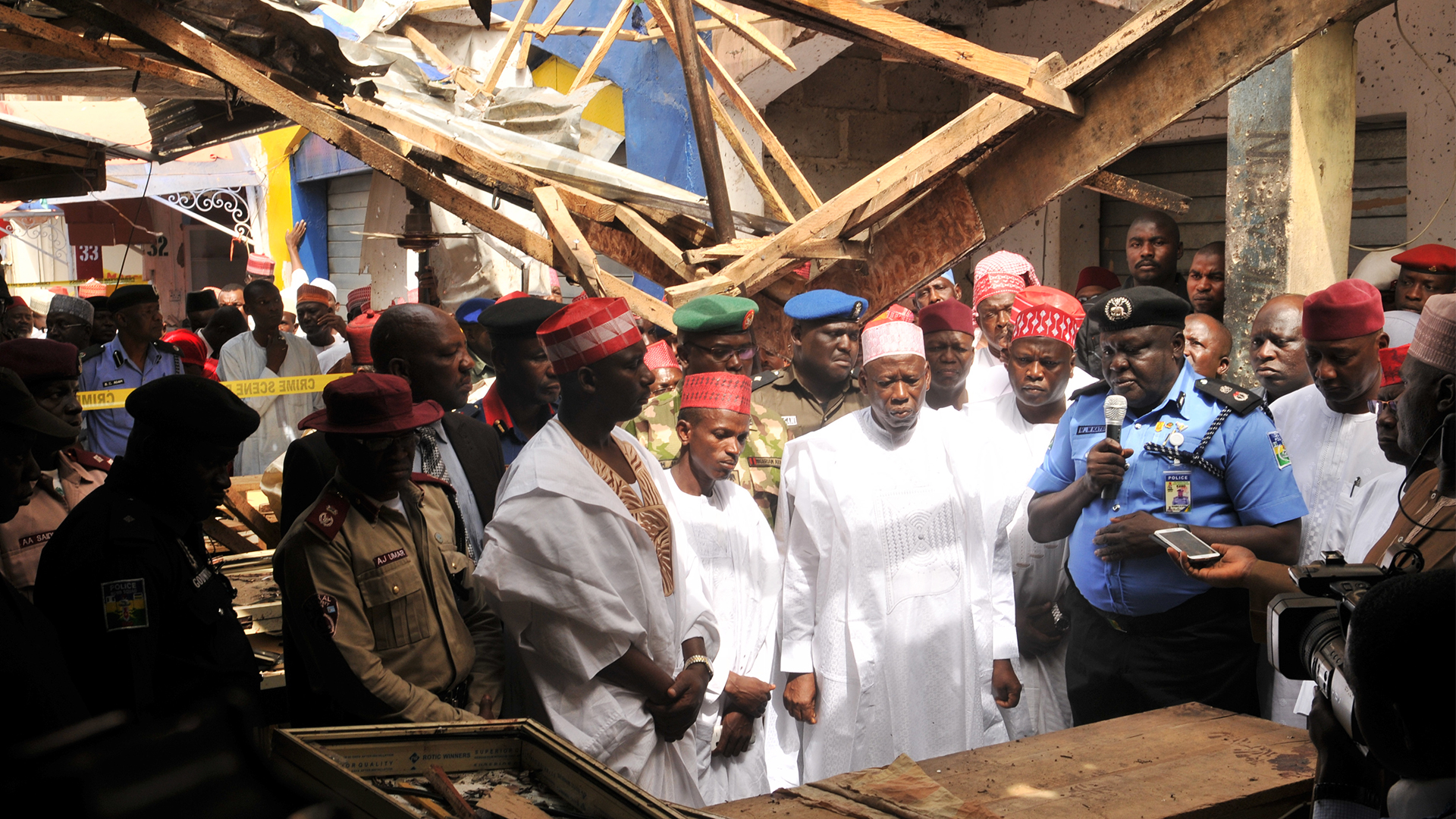 Nigerian trolls defend the government and gaslight victims
An atmosphere of mistrust stokes ethnic tensions as elections in 2023 approach
It was a day of trouble and horror.
As early as 9 a.m. on May 17, Bashir had already seen up to four corpses pulled out of the wreckage of a building that once stood in the Sabon Gari area of Nigeria's populous northern Kano state. He'd seen crying children in bloodied uniforms spilling onto the streets. He'd seen body parts scattered around those same streets and agonized families searching for their loved ones.
The businessman, who asked me only to use his first name, had been on his way to work when a blast thundered through the dense neighborhood. He rushed towards the sound, recorded the carnage on his phone and posted the footage on Twitter.
Eyewitnesses told him how minutes before, a suspected suicide bomber, who, failing to get past a primary school gate, detonated the explosives in a structure opposite the school. "Bomb blast in Kano," Bashir tweeted.
He was unprepared for the ferocious response from his compatriots. Bashir had found himself on the wrong side of an information war that highlights the Nigerian government's sometimes desperate attempts to muddy narratives around the country's worsening insecurity. And he is still reeling from the impact.
While the government can be frustratingly opaque and unpredictable in its responses to crises, Bashir did not realize that there was an entire online community of trolls, many of whom were based outside Nigeria, who made it their business to spread the government's version of events, even if it meant denying the lived experiences of other Nigerians.
Government authorities arriving at the scene that day immediately denied there was any attack at all, let alone a suicide bombing. Kano police chief Sama'ika Dikko told reporters that "it was a gas explosion," and redundantly scolded those who were spreading "false lies" about a bomb.
That was when the social media army that supports the government decided to attack Bashir. "Agent of darkness," one wrote, accusing Bashir of escalating tensions in a country on edge from alarming increases in violent incidents in recent months.
"I swear it was a bomb," Bashir tweeted again, trying to impress on the doubters that he was a witness, that he had seen for himself the barely-there bodies that looked as if they had been turned inside-out, that he had seen for himself the massive damage at the epicentre of the blast.
It didn't work. As major media houses ran with the government line about a gas explosion, Bashir was tagged across Nigerian Twitter as a liar.
Then, days later, after the news agenda had moved on, Nigeria's police released forensic "findings" — a jumble of words that neither confirmed nor debunked the bombing but that carried a line Bashir seized on as validation of what he knew to be true.
Materials "suspected to be used for making Improvised Explosive Devices (IEDs)," were found at the site, the statement read, and "some arrests have been made."
"I received so many abusive messages," Bashir told me, still pained by his experience. "I jotted down the handles of all the people who accused me, but when I wrote to them all after the police report, no one replied."
It hurt him that, in an ethnically and religiously fractured Nigeria, many people on social media seemed to discount the news specifically because it had affected one of Kano's minority Christian areas, where tribes from the country's south live — Sabon Gari loosely translates to "stranger's quarters" in Bashir's Hausa tongue.
"It felt like this is the truth of what is happening but officials were trying to change it," Bashir said. "And seeing people twisting the narrative really demoralized all of us in the neighborhood."
The Kano incident is only one of many in response to which Nigerian officials have chosen to stick their heads in the sand. They are aided in their efforts by partisan social media debate in which attitudes and ideological positions are far more important than facts or witness accounts.
But this is not a new tactic nor is it unique to this administration, argues Cheta Nwanze, the lead researcher at SB Morgen, an intelligence firm in Lagos that has been tracking such violence.
"Nigerians love to look at things going wrong and pretend that it's not happening, so this has been a systematic thing," Nwanze points out, referring to what some scholars describe as a culture of impunity in the country.
There is little accountability, few consequences and seemingly no appetite to discuss a fraught history. And attacks such as the May 17 bombing that are perceived to be targeting southern Igbos in Nigeria's Muslim-majority north could lead to chaos — they are too reminiscent of the beginnings of the 1967 civil war.
Many of Nigeria's contemporary convulsions stem from that war in which the majority Igbo and Christian south attempted to create their own separate state of Biafra. They were pummelled with bombs, isolated, and starved. By the end of all the fighting, in 1970, two million people had died.
Little time if any is spent on the civil war in Nigerian schools, nor has a process of reparation and reconciliation been instituted. In fact, since the war, Igbos have been politically marginalized in a country where it is the third largest tribe and constitutes over 15% of the population.
Yet there is no meaningful national dialogue on these issues. Instead, silence permeates. And many other groups and tribes claim to have been wronged in similar fashion, with only simmering anger and resentment in place of justice.
"What we do is hope that if we sweep it under the rug it will go away and that has been entrenched in the way our governments operate" Nwanze continues. "What has happened now is that the bottom of the rug is full." Denial as a mode of official communication is a form of disinformation. It is designed to mislead.
A June 2022 study on fake news by the Abuja-based Center for Democracy and Development (CDD) notes that Nigerian authorities often knowingly employ rebuttal tactics on social and traditional media platforms, or in some cases, stoic silence, as a way to save face.
In the Kano case in particular, experts believe the aim was to reduce panic, although it inadvertently caused confusion.
In an eerily similar case to the one in Kano, officials denied a suicide attack in Lagos at the height of the Boko Haram insurgency in 2014, refusing to admit that the terrorists, whose home base is up in the country's northeastern fringes, had infiltrated Nigeria's commercial nerve center.
Boko Haram has been seeking to create a caliphate in Nigeria since 2010 and has been behind many suicide bombings and kidnappings. But the Lagos explosion was blamed on gas canisters too — a fairly common cause of accidents in the country.
But the worst case of government denial — or more accurately, disinformation — would come in October 2020. Nigerian youths protesting the brutality of a notorious, bribe-collecting police unit popularly called SARS (Special Anti-Robbery Squad), were gunned down by security forces in Lagos.
Authorities denied then — and still deny — the killings, despite video evidence from eyewitnesses who streamed the shootings on Instagram.
The incident spurred a worldwide social media campaign, with millions using "#ENDSARS" in solidarity with Nigeria's youth, shaming President Muhamadu Buhari and his government.
"ENDSARS was when the government deployed all their fake news arsenal," says Idayat Hassan, lead at CDD and co-author of the fake news report. As with Bashir, government trolls discounted witness testimonies online, gaslighting even the wounded who barely survived. "They went all out," adds Hassan.
The consequences of official lie-peddling online could be far-reaching in a presently divided Nigeria with 122 million internet users, 24 million of whom are active on social media. Already, the discourse, online and offline, brims with tribal and religious sentiment as citizens experience both rising violence and a deteriorating economy under Buhari.
His leadership has failed to emphasize unity in the multi-ethnic nation and has led to calls for secession in several quarters. Fake news, separate from the fake news spread by the state, has flourished, sometimes leading to deaths.
The spreaders of disinformation are often everyday users, online influencers, hired foreign companies or Nigerians in the diaspora. One of the persistent recent conspiracy theories is that Buhari is in fact an impostor, and that the real president died after he traveled abroad for medical treatment in 2018. The much-better looking man who returned to Aso Villa, the president's home in Nigeria's capital Abuja, is actually a Sudanese man named Jubril, or so the theory goes.
As Buhari's eight-year term ends in 2023, the race to succeed him is in full throttle as are the fake news campaigns. In previous elections, politically-motivated groups and troll farms were fixtures, churning out propaganda for their favored candidates. Former President Goodluck Jonathan's supporters were known to have hired the infamous U.K. firm Cambridge Analytica to run their election campaigns.
In the larger west Africa region, disinformation tactics are becoming normalized too. Although internet penetration is at a low 17% in the region, many west Africans online and offline are vulnerable to fake news. News spreads rapidly from platforms like the Meta-owned messaging app Whatsapp to having an effect on real life, notes Hassan, the CDD researcher. Online rumors are often fodder for serious debates on TV news stations.
Sometimes, official gaslighting tactics escalate into repression. Abuja resorted to banning Twitter in 2021 after a tweet by President Buhari was flagged for incitement. Indeed, save for Ghana, Guinea-Bissau and Cape Verde, all 15 West African nations have ordered internet shutdowns in the last decade, according to CDD.
Nine people were killed and 27 injured in the Sabon Gari blast — the highest civilian fatality count of Nigeria's 14 IED explosions this year. The last bomb attack in Kano was in 2015, at the peak of the Boko Haram insurgency.
But no group has so far claimed responsibility for the bombing in May. The silence adds to the confusion surrounding the incident. Even government officials, who admit in private that there was a bomber don't know who to blame it on, says Hassan.
Bashir's neighborhood still bears the scars of May 17. The primary school building is now empty — the school authorities have moved the kids to another location. Opposite it, the building in which the bomb exploded remains a wreck.
The Kano police chief who initially swore there was no bomb could not be reached for comment. There is little indication that authorities will ever state clearly the results of their analysis.
As the February, 2023 general elections roll around, heated ethno-religious political campaigns rely on the spread of disinformation. "No one knows what the truth is anymore," Hassan says. "And it might only get worse."
Bashir, so alarmed by the scale of the trolling he faced, would no doubt agree.
The Big Idea
Shifting Borders
Borders are liminal, notional spaces made more unstable by unparalleled migration, geopolitical ambition and the use of technology to transcend and, conversely, reinforce borders. Perhaps the most urgent contemporary question is how we now imagine and conceptualize boundaries. And, as a result, how we think about community. In this special issue are stories of postcolonial maps, of dissidents tracked in places of refuge, of migrants whose bodies become the borderline, and of frontier management outsourced by rich countries to much poorer ones.
Read more