Saudi Arabia ramps up surveillance at holiest sites
A new government app threatens Mecca's undocumented residents
Aziz Ali Naeem first came to Mecca in 1948 to perform Hajj, a pilgrimage that is compulsory for all able Muslims once in their lives.
Within days of his arrival, he decided he was not going back home to Hyderabad in newly independent India. Although Naeem, who died in the early 1980s, wasn't fluent in Arabic, he managed to find work at a small company that catered to pilgrims journeying by sea from South Asia. Three years later, his two older brothers and their wives joined him — also using pilgrimage visas.
Although oil had been discovered in the Kingdom, Saudi Arabia was far from the regional economic and political power it became after revenue from hydrocarbons began to increase in the early 1950s. Immigration laws were also significantly less strict than they are now.
"Citizenship status was not relevant when my grandfather moved here," said Naeem's granddaughter, Sundus.
She recalled being told that when her grandfather first moved to the country, Saudi passports and citizenships could be bought for $5. "Mecca has so many people who were like us and had stayed back after a pilgrimage that it didn't seem like something important," she added. "And we weren't unique."
While Sundus was born in Mecca and has spent her entire life in the city, like the rest of Naeem's children and grandchildren, she fears such privileges may no longer be possible.
Even though Sundus is married to a Saudi Arabian citizen, she has not been able to acquire nationality through marriage. She continues to live in legal limbo, like the millions of other undocumented residents of Mecca, whose families have resided in the city for generations.
According to media reports, over five million undocumented people live in Saudi Arabia, a country with an official population of 33 million. Most have roots in South Asia and East Africa. The majority live in the Mecca region and, for years, were unofficially tolerated as immigrant communities who had integrated with the local culture.
But the Mecca Sundus grew up in no longer turns a blind eye to undocumented individuals. The threat of surveillance from new digital apps looms large over the city's marginalized populations. Saudi Arabia has also drastically increased deportations of migrants in the past decade. In 2017, it began actively seeking to remove undocumented migrants as part of a new agenda of economic reform. The "Nation Without Violators" campaign was launched with the aim of deporting "foreign workers illegally staying in violation of residence, labor, and border regulations of the Kingdom."
Nearly 38% of all deportations so far have taken place in the holy city, leaving families such as Sundus's in a state of constant fear and uncertainty.
"I cannot 'go back' to India. I wasn't born there, nor were my parents," said Sundus, who is in her late 30s, but not entirely sure about her date of birth. "My brother went to the Indian embassy once asking if he could have a passport made, and they asked for some sort of proof but there is none. I belong nowhere but in Mecca, but even that is even uncertain now because a crackdown can happen any time."
She stated that for the past few years she has been so afraid of deportation that she has stopped leaving the house, except to perform the Umrah pilgrimage or pray at the Grand Mosque of Mecca once a month.
"In the past few years, I just stopped going out almost entirely because of the fear of getting caught. I would only leave to go to the mosque every few weeks." she said, standing on the balcony of her living room, a string of prayer beads wrapped around her right wrist. The balcony has only a small opening, so men on the street cannot see her.
Now, even visiting the Grand Mosque looks impossible. The site, which can accommodate 900,000 worshippers, gradually reopened in September to smaller congregations after a seven-month-long suspension to contain COVID-19. However, it was announced that anyone who wishes to visit will need to reserve a specific time and date, using a newly launched government app called Eatmarna, created by the Ministry of Haj and Umrah.
As of October 23, the app had recorded more than 2.5 million installations, 1.2 million registrations and issued 650,000 permits. Users are required to upload their citizenship or residence ID before they can request a permit that allows them access to the mosque for a given number of hours on a specified day. This automatically excludes Mecca's large undocumented community.
Sundus understands the need to control the number of worshippers, but she is concerned that the app — or a similar technology — might permanently exempt her from entering the mosque even after the pandemic.
"I know it is temporary and the best option there was, but I hope that once everything is back to normal, we don't continue to use such technology," she said.
As legal residents, Sundus's husband and her daughter Safa, 17, have both successfully used Eatmarna and visited the Grand Mosque. Sundus, however, could not join them.
"The Kaaba is all I have in my life," she said. "I pray that, once life returns to normal, they get rid of the app and I can go pray there again."
Although the ministry intends to only use the app as long as social distancing measures are necessary, other forms of technology, such as drones and facial recognition are increasingly being deployed to streamline pilgrimages to Mecca, especially during Ramadan and Hajj.
"We know that Saudi Arabia is investing huge amounts of money in surveillance technology and while we have not ourselves done any research on how this impacts the migrant community, I wouldn't put it past them to use it to identify and deport people," said Hiba Zayadin a researcher for Human Rights Watch focusing on the Middle East and North Africa Division. "Even if this is not currently the case, it is an area worth keeping an eye on."
Mecca has been home to a number of efforts to push technology in order to improve services for religious visitors. Hajj pilgrims are required to wear electronic ID bracelets that track their visits using GPS and provide healthcare workers with their personal medical information in case of emergency. The bracelets also provide pilgrims with access to a help desk service, operated in several different languages. Asefny, an app launched by Saudi Arabia's Red Crescent in 2018, aims to help pilgrims request emergency medical attention and is able to locate users via GPS.
A spokesperson for the Ministry of Hajj and Umrah declined to comment on the use of Eatmarna.
The Saudi government has also substantially increased its investment in digital technology in order to lessen the spread of Covid-19. These include launching new command and control centers and apps to coordinate public services and security, and deploying CCTV and thermal imaging to monitor people's temperatures in open spaces. These measures have also coincided with rising use of biometrics for both religious pilgrims, as well as the 12 million foreign citizens living in Saudi Arabia.
Sundus's daughter Safa, a Saudi citizen, worries that the increasing prevalence of such technology could one day take her mother from her.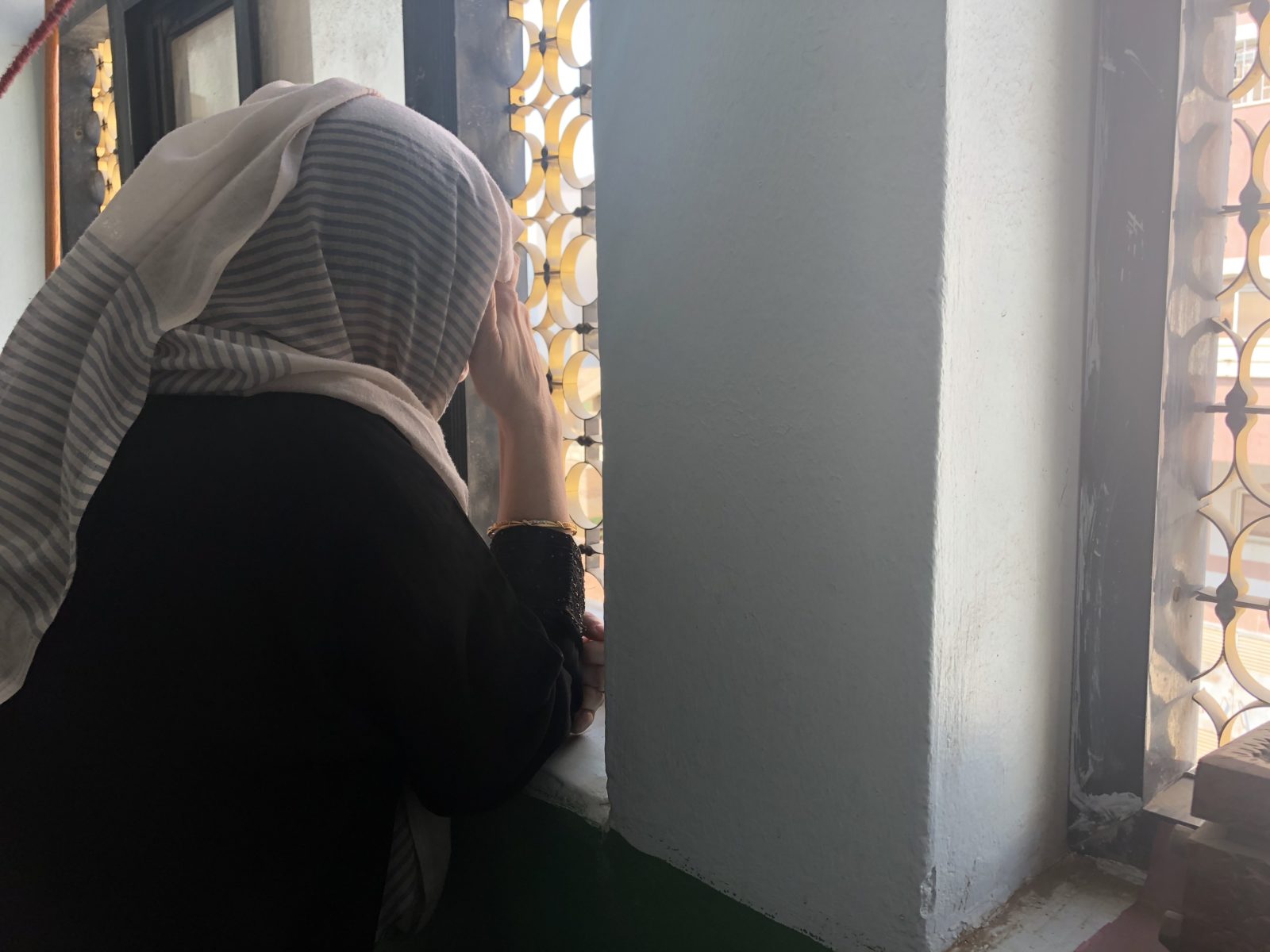 "I have been reading about surveillance and privacy a lot, ever since I started understanding that people can just show up and take her away someday if they want," she said. "I just worry that it is going to make it increasingly difficult for my mom and people like her to live in this constant secrecy, if there is always a new type of technology that makes it difficult to do so."
Other undocumented residents interviewed for this story expressed the same fears.
"Campaigns focused on Saudization have seen mass deportation and a lot of uncertainty and fear amongst undocumented migrants in the country," said Zayadin. "There is a huge fear of detention as migrant workers are held in despicable conditions in crowded places."
Amna, from Pakistan, first entered the country on an Umrah visa in 2013 but overstayed. She is in her thirties and has been working mainly as a domestic worker. Mindful of possible deportation, she leaves her employer's home only to risk visiting the Grand Mosque.
"It is so busy all the time and there are people from all over the world so I think it is easy to blend in," she said. "It is not entirely risk-free, of course, but how can you be a Muslim and live so close to the Kaaba and not take that risk?"
The presence of technology in Mecca is only set to grow. In February, the first Saudi Smart Cities Summit and Expo in Jeddah saw the Ministry of Hajj and Umrah launch "Smart Mecca," an ambitious plan to incorporate digital monitoring through every step of a pilgrim's journey.
"I know there are laws in the country, but my grandparents have been here since before the laws. And so have so many other people," Sundus explained. "Mecca used to belong to everyone but it doesn't anymore. I don't understand technology that much, but things like these apps are just making it more difficult for my community to continue living here. Where do we go when they find us?"