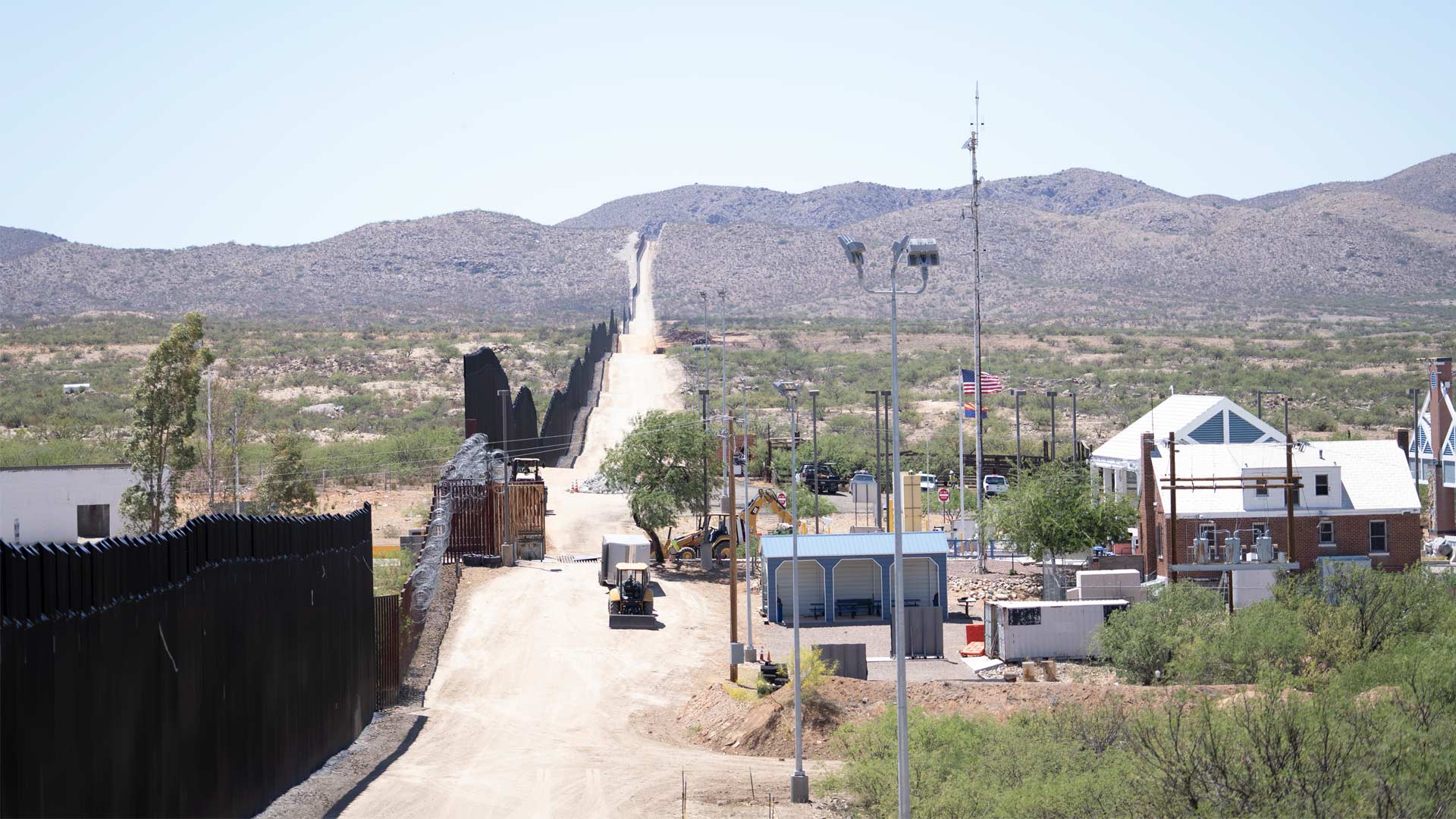 Between the US and Mexico, a corridor of surveillance becomes lethal
Immigrants, asylum seekers, and criminal gangs are all caught up in the Biden Administration's deadly surveillance dragnet
The silhouettes moved so quickly they blurred out of focus in seconds. Squinting, I could barely make them out from where I sat, in a border patrol truck in Nogales, Arizona, overlooking a stretch of hills in Mexico. The Sonoran desert unfurled in front of us; burnt orange and cracked open.
My guide, a Nogales native and agent with U.S. Customs and Border Protection, scanned the ridge. Cartel scouts, he guessed. The hills serve as their home base. The scouts survey the desert, watching out for border patrols during drug and migrant-smuggling operations. Local reports describe them being equipped with semiautomatic rifles, encrypted radios, cellphones and binoculars. "They're constantly monitoring our movements in order to get people across without getting detected," the agent told me.
Nearby, a surveillance tower pierced the cloud-streaked sky. The tower is one of roughly 48 spread out across the 1,950-mile southwestern border between the United States and Mexico. Stretching up to 160 feet tall, the structures are outfitted with high-resolution infrared and daytime cameras, and radar sensors with a seven-mile range, which transmit video and location data to border patrol agents.
The towers are part of a web of surveillance that blankets the frontier with Mexico, a decades-old U.S. government effort to fortify the southern border whose origins can be traced to the jungles of Vietnam. In 2020, border patrol apprehended nearly 460,000 people at the southwest border. In 2021, nearly 930,900 have been apprehended, with over 180,000 in May alone.
This matrix of technology stretches the border from California to Texas as part of a U.S. attempt to curb illegal immigration. It's made up of stationary and mobile surveillance towers, hidden underground sensors that send alerts to border patrol agents when they detect motion, radar-equipped aerostat blimps operating from 15,000 feet in the air, Predator B drones enabled with video and radar sensors, facial recognition cameras at pedestrian border crossings and license plate readers at U.S.-Mexico ports of entry and internal checkpoints.
Data from the sensors, towers, and cameras is sent to a control room in Nogales where agents monitor computers for alerts. Steering his truck on a dirt path near the border wall, the agent told me the technologies free up agents to patrol wide swaths of territory, and form one of three core elements of border security: Infrastructure, technology, and manpower.
"It helps us a lot to have this technology," he said. "The scouts — they know it's up. They try to adjust to our improvements. And they're constantly monitoring our cameras, our agents. The technology is an extra person out there, basically."
The steady march toward a smart border has lavished private companies with hundreds of millions of dollars in government contracts and earned the support of lawmakers on both sides of the aisle. Among those at the forefront of the "smart" approach to border policing is President Joe Biden, who, despite ceasing funding for Donald Trump's physical border wall in his administration's proposed 2022 budget, is asking for more than $1 billion in funding for "border infrastructure" and "investments in modern border security technology and assets."
The Biden administration's budget proposal for "smart" border funding brought me on a journey from Tijuana to San Diego and across nearly 1,000 miles in Arizona to map out existing technologies and how they are used. The route revealed an expansive surveillance ecosystem that poses risks to U.S. citizens and migrants alike, and laid bare the weaknesses of a technology-driven approach to immigration enforcement.
Crossing through southern Arizona's rugged desert is a potentially lethal endeavor. The harsh and searingly hot landscape is a "land of open graves," according to University of California, Los Angeles anthropologist Jason de León. Over the past two decades, the remains of 3,721 people have been uncovered in the region, with a significant increase in the early 2000s. Experts have connected the death toll to a 1994 border enforcement policy established under former president Bill Clinton. Known as Prevention Through Deterrence, it pushed migrants away from traditional urban crossing points in places like San Diego and El Paso, and into the desert.
Humanitarian and migrant rights groups have argued that the border's high-tech surveillance infrastructure funnels people into ever-deadlier corridors. The suite of technologies has also come under fire from critics, who say that the electronic perimeter raises significant privacy and civil liberty concerns.
While there is little research on the intersection between border surveillance and migrant deaths, a 2019 peer-reviewed study by researchers from the University of Arizona and Earlham College found that the surveillance matrix along southern Arizona's border — including towers and ground sensors — forced migrants to use more dangerous routes in the desert, exposing them to greater risk of dehydration and heat exposure.
Geoffrey Alan Boyce, academic director of the Earlham College Border Studies Program in Tucson, Arizona, and a co-author of the report, disagrees with the idea of a humane "smart" border.
"Biden and the Democrats have really pushed the idea that this is a kind of more humane alternative to the border wall and family separation. I'm sure, from a marketing standpoint, they believe that this is like a convincing kind of framing. But the reality on the ground is that all of these technologies become integral, not only to the intensification of suffering and deaths for undocumented border crossers, but also this expansion of surveillance throughout the interior of the country."
Border surveillance with military roots
The U.S. government's use of surveillance technology in the border zone has military roots. As Boyce, whose research focuses on the evolution of U.S. border enforcement strategy, explained, the system's origins can be traced back to technological tools, including acoustic and heat sensors, used during the Vietnam War to track the Viet Cong.
After the war ended in 1975, the government installed 177 of the Pentagon's Vietnam-era ground sensors along the U.S.-Mexico border, laying the foundation for "the germinal elements of what's become a virtual fence," he said. By 2012, the number of ground sensors had expanded to 12,000 across the southern border. Today, there are some 20,000 ground sensors across the southwest border, according to U.S. Customs and Border Protection (CBP).
The investment in smart border technology continued under presidents Ronald Reagan and George H.W. Bush, and accelerated under Bill Clinton. In the early stages of Clinton's presidency, the government launched an automated biometric identification system that collected migrants' fingerprints, photographs, biographical data, and arrest records. Beginning in 1997, two surveillance programs were rolled out that placed cameras and ground sensors in urban border crossings in San Diego, Arizona, and Texas.
The U.S. has since expanded its efforts to monitor the border. From 2006 to 2011, the government appropriated roughly $1.5 billion to establish a surveillance system made up of towers and ground sensors. The Department of Homeland Security nixed the program in 2011, pointing to its cost and problems with the technology, including ground sensors unable to distinguish between the footsteps of animals and humans. But just a few years later in 2014, the Obama administration awarded the Israeli defense contractor Elbit Systems — which built smart wall systems in Gaza and the West Bank in 2002 — a $145 million contract with CBP to build a network of 50 surveillance towers across southern Arizona.
The U.S. government has directed hundreds of millions of dollars into this project in the past few years alone. From 2017 to 2020, Congress appropriated more than $743 million to CBP to fund border security technology, according to a February 2021 report from the Department of Homeland Security's Office of Inspector General.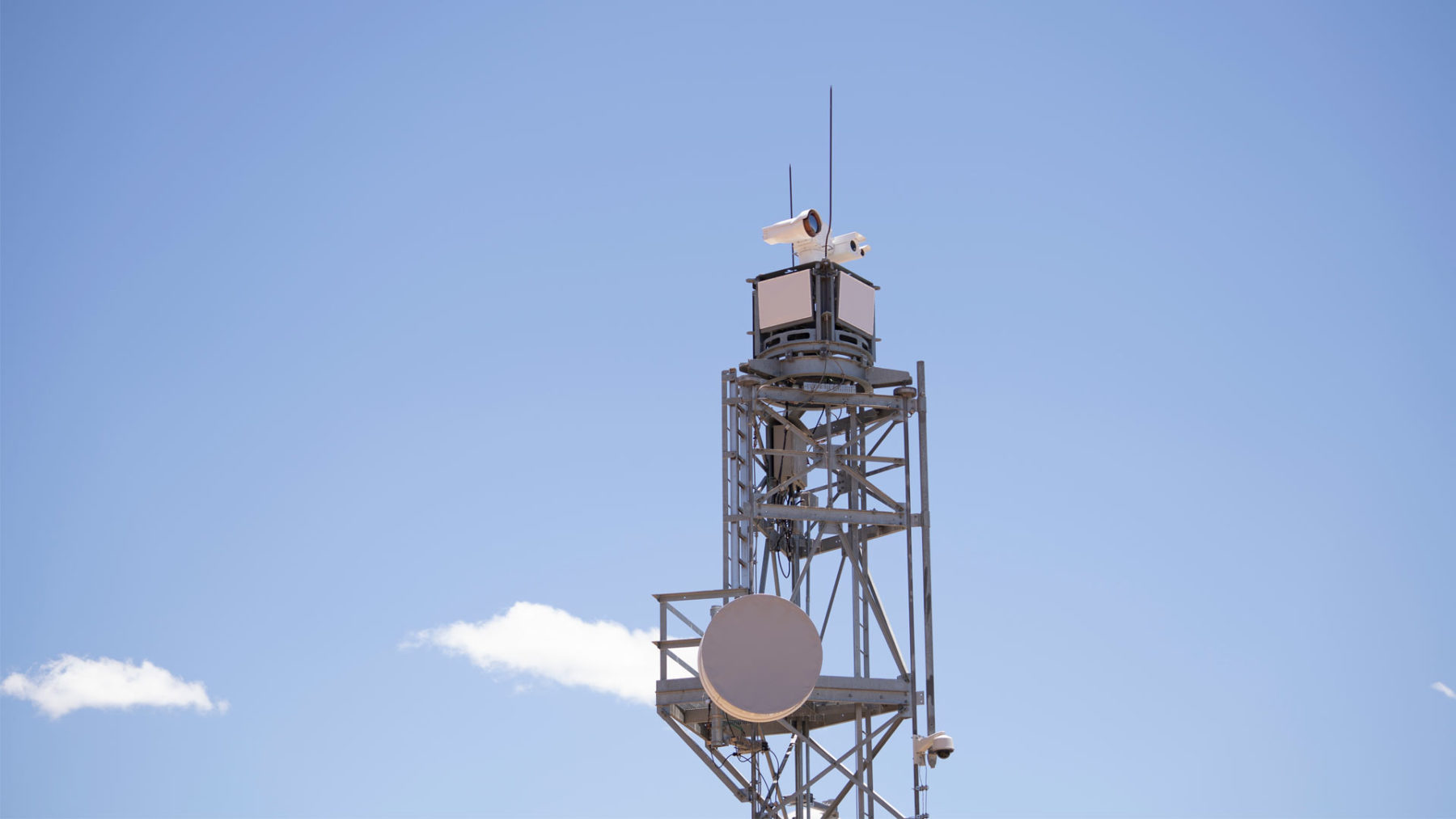 The technological approach has earned the support of leading Democrats, including U.S. president Joe Biden, House speaker Nancy Pelosi and Congressman James Clyburn. In addition to Biden's budget proposal, the president's proposed immigration bill, introduced by Congressional Democrats in February, calls for the Department of Homeland Security to deploy border surveillance infrastructure and technology, including "improvements to computer infrastructure and data management systems, secure communications technologies, non-intrusive inspection equipment, and radar and aerial surveillance equipment."
The government's investments in smart border innovation have created a cash cow for private companies and contractors. In July 2020, the Trump administration awarded the defense technology startup Anduril Industries a five-year contract, reportedly worth "several hundred million dollars," to deploy hundreds of surveillance towers outfitted with cameras and artificial intelligence technologies across the southwest border. The AI-driven system would be capable of differentiating between humans and animals, and then relay location data to the cell phones of border patrol agents.
'This technology is killing them'
César Ortigoza ambled down a sandy hill in Tijuana, Mexico, occasionally steadying himself in the dark against the border wall. A few feet to his right, a portion of the barrier separating the U.S. and Mexico jutted into the ocean, illuminated by a row of lights. The Pacific crashed against its edges.
Ortigoza wore an electric orange windbreaker emblazoned with the name of a humanitarian group he co-founded in 2018, "Armadillos Ni Un Migrante Menos." The volunteer group runs search and rescue missions into the California, Arizona, and Mexico deserts, looking for migrants who have vanished while attempting to enter the U.S.
In his decade of experience trawling through the desert — before Armadillos, he was part of a different California-based search and rescue group — Ortigoza has encountered corpses and armed criminal groups. Once, deep in the Sonoran desert of Mexico, about 70 miles from the border, a group of hooded men carrying AK-47s sprung from a vehicle and forced him to the ground, pressing a gun against his head. Ortigoza assured them he was doing humanitarian work, and eventually they let him go — but not before telling him, "If we come back and you are still here, we're going to kill you."
"It's really dangerous to do the work out there," he said.
According to a 2018 Border Patrol presentation, surveillance technology in the San Diego region includes mobile cameras mounted on trucks that feed information back to border patrol agents, two surveillance towers and 41 remote cameras attached to poles, towers and buildings.
In addition to the threats that criminal groups pose to migrants, Ortigoza's treks have shown him the routes people take to avoid both immigration authorities and a virtual system including cameras and motion detectors. He recalled a recent conversation with a man who tried to cross the border in southern Arizona, but, upon spotting surveillance towers, moved to a more remote part of the desert, deeper into the wilderness.
"This technology is killing them," he told me. "It's pushing them to find their own death, forcing them to go through these remote places, with no way back."
The technology used to monitor migrants extends beyond the desert. Earlier in the evening, Cesar picked me up in San Diego and drove me across the border into Tijuana. We parked near the El Chaparral plaza, a public square close to the border crossing between the U.S. and Mexico. The plaza was filled with hundreds of asylum seekers, many from Central America and other parts of Mexico, camped out in tents — parents cooking food over portable stoves, kids on scooters — as they waited to request asylum in the U.S.
Surveillance also looms over the asylum and pedestrian border crossing process. U.S. border officials recently introduced a facial recognition app that allows them to collect information on asylum seekers. Pilot projects involving facial recognition technology for people migrating on foot are also underway at least five U.S. border crossings in Arizona and Texas.
Civil rights experts say there is no way to escape the surveillance dragnet. Shaw Drake, a staff attorney with the American Civil Liberties Union's Border Rights Center, told me about his attempt to opt out of being screened by facial recognition technology at a pedestrian border crossing in Texas in the fall of 2019.
"When I asked to be exempted, the agent was like, 'Why? We have all your information anyway,'" he told me. Drake's experience was backed up by a 2020 report by the federal watchdog Government Accountability Office, which found that CBP has provided "limited information on how to request to opt out of facial recognition."
A few days later, and about 200 miles from San Diego's border crossing, I met up with James Holeman, who runs Battalion Search and Rescue, a volunteer group that conducts monthly search and rescue missions throughout the southern Arizona desert. Holeman's group occasionally links up with Ortigoza's organization to do searches together.
Holeman, a chatty former Marine, drove me into the Barry M. Goldwater Range, a sprawling plot of land owned by the federal government within the southern Arizona wilderness along the U.S-Mexico border. The range is home to miles of prehistoric-looking saguaro cacti that sprout from the parched desert floor. As we trudged along a dusty path in the dry heat, he listed elements of the surveillance ecosystem that he encounters in his humanitarian work: underground motion sensors, cameras, drones, and mobile surveillance units installed in trucks. He stopped to look at a mountain rising in the distance.
"There's a lot of eyes on us right now," he said. "We've probably got cartel guys around somewhere in the mountains, they're watching us. And of course, we have the border patrol eyes on us, virtual and otherwise."
Holeman's group has frequently set off underground sensors while working rescue missions deep in the desert, leading to encounters with border patrol agents. "We can be out in the middle of nowhere but we'll trip a sensor and they'll just appear," he told me.
A few hours later and deep in the desert, a border patrol truck pulled to a stop next to us. An officer rolled down his window, striking up a conversation. He told us we had tripped a hidden camera.
After the officer drove away, Holeman reflected on the proliferation of surveillance technology. "I was in the Marine Corps," he said. "I see the militarization of the border first-hand. I recognize it. They're adopting tactics and technology that's been used in conflict zones. The border is more and more militarized every year and all these policies, technology enforcement kills people. It just kills people."
Arivaca and the long view
A steady breeze rustled the desert shrubs as Eva Lewis maneuvered her gray truck down a dusty road in the southern Arizona wilderness. It was a bright afternoon in Arivaca, a rural town in Pima County at the edge of the US-Mexico border. Lewis had spent the better part of the day taking me on a border surveillance tour. The latest stop brought us to a white house at the base of a sloping hill. About 100 feet away, perched on top of the ridge, a surveillance tower loomed over it. Lewis swept her arm across the street. "This whole area, everything we just drove past is homes," she explained. "So, the tower is just overlooking all of that."
Arivaca, with a population of about 700 people, lies 11 miles north of the U.S.-Mexico border, flanked by cattle ranches, mesquite trees and terracotta hills whose ridges glow under the midday sun. Stationed at different points throughout a 260-mile stretch of border across southern Arizona including Arivaca, are 25 surveillance towers outfitted with radar systems and cameras that can scan the landscape for miles.
The web of surveillance technologies in Arivaca has a deep psychological effect on some residents. For Lewis, a member of the migrant aid and advocacy group People Helping People, who moved to the town a decade ago to volunteer with a humanitarian organization, the towers contribute to the sensation of being in a "panopticon" — under persistent surveillance in a community at the edge of a humanitarian crisis.
More than 30 permanent checkpoints are spread out across the southern border, some equipped with license plate readers and cameras. In Arivaca, they are stationed at the two roads leading in and out of town, meaning that a person cannot enter or leave without encountering border patrol agents.
One of the town's checkpoints is about 25 miles north of the wall. To avoid it, migrants have to walk miles longer, often through inhospitable terrain. "It's just pushing people into more and more remote areas, which results in much higher death rates," said Lewis.
Driving towards the border wall, she motioned outside her window. "People find bodies here all the time. I know people who have had migrants die in their arms." Since 1990, more than 3,400 people seeking to enter the United States have perished in southern Arizona, according to the nonprofit Humane Borders, which works with county medical examiners in Arizona to maintain an interactive map of migrant deaths in the state.
A glance at the map shows Arivaca and its surrounding areas awash with red dots, each representing the location where a body was found. 2020 was the deadliest year on record for border crossers in Arizona, according to Humane Borders, which recorded 226 migrant deaths statewide, and 182 in Pima County. Lately, Lewis says it is typical for at least one person a day to stumble into Arivaca, often dazed from days-long treks through the desert.
"You feel so powerless that people keep dying and nobody is doing anything. It's a nightmare," she told me.
The impacts of the surveillance dragnet extend to Arivaca residents like Lewis. The town's surveillance infrastructure regularly inserts itself into the routine aspects of her life, from tripping sensors while hiking, "and all of a sudden you have a border patrol helicopter overhead," to driving through technology-equipped border patrol checkpoints whenever she needs to leave town.
"I think I've become a lot more paranoid since living in the border zone," she told me. "A lot more paranoid about government surveillance and feeling like I never have privacy or can never have full trust in privacy."
In addition to endangering the lives of migrants, privacy advocates and civil liberties groups argue that the kinds of surveillance that have enveloped life in the borderlands can violate the civil liberties of millions of U.S. citizens living along the border.
"Even if it's a camera near the international boundary, that camera can turn and surveil streets that cover hundreds and hundreds of households, read license plates and use facial recognition technology," said Shaw Drake of the American Civil Liberties Union's Border Rights Center "What has happened is a massive surveillance infrastructure throughout the entire region."
They also warn that the surveillance technologies deployed in the region threaten the rights of people living far outside the borderlands. Last summer, CBP dispatched drones to more than 15 U.S. cities — from Philadelphia to New York City — during protests held in response to the police killing of George Floyd. The drones logged more than 270 hours of video footage in a digital network managed by the Department of Homeland Security and accessible to local police departments. The news prompted a Congressional inquiry by House Democrats, who called on the Trump administration to "explain its use of Customs and Border Patrol resources to conduct surveillance on Americans engaging in peaceful protests."
The Department of Homeland Security's Office of Inspector General has cast doubts on the CBP's drone program, referring to the devices as "dubious achievers" that cost $12,255 an hour to operate, while delivering fewer than 2% of all border apprehensions. "We see no evidence that the drones contribute to a more secure border," the report concluded.
Julie Mao, deputy director of the immigrant rights legal firm Just Futures Law, which specializes in the intersection of technology and immigration, predicted a future where immigrants and U.S. citizens alike are subjected to "constant, real-time surveillance" by the Department of Homeland Security.
"I think that this administration is actually expanding the power of tech-based surveillance, and then it's handing over the keys of that surveillance apparatus to what will potentially be coming down the line, a more authoritarian administration that will be really able to deploy that mass surveillance for their purposes," she said.
For Eva Lewis and the residents of Arivaca, the real-time surveillance has already arrived. It's the sensation of feeling "pinned down and watched."
"All of this technology is about dehumanizing," she said, staring out at the desert sprawled out in front of her for miles. "It's about dehumanizing an entire category of people and creating a world in which those people are criminalized and their deaths are normalized."