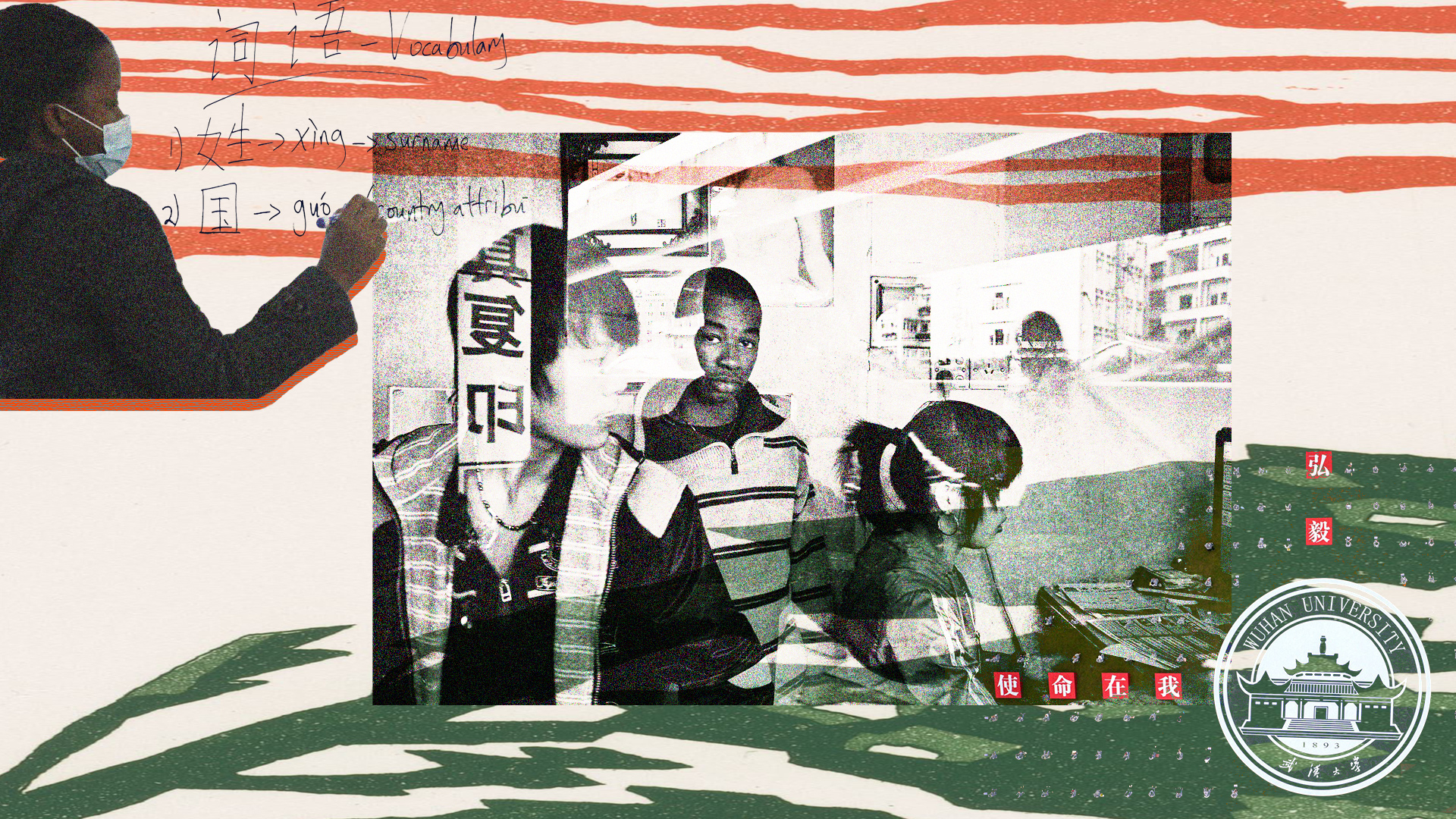 Chinese government finds African scholarship students return home to tell of disturbing experiences
China funds thousands of scholarships for African students to come to China, so they can tell "A good China story." They are leaving China with a worse impression of the country than when they arrived. Is this soft power backfiring?
Emmanuel treads carefully when he leaves campus. He likes his colleagues at the University of Wuhan, but people on the streets don't take well to people who look like him. "It's very bad," he says. "When they see a black guy, they see a covid thing."
Emmanuel, a pseudonym to shield the Tanzanian PhD student from punitive measures by Chinese officials, hustled hard to get his scholarship to study for a masters in management studies eight years ago. He grew up in a village in the north of Tanzania, the son of subsistence farmers. Getting the scholarship to study in China meant that he wouldn't have to save up for tuition fees. He was the first person in his family to leave the country.
He was assigned to a university in Wuhan. When he first stepped off the plane he was overwhelmed by the levels of development and construction work in the city. "The roads, the airports, the train stations, literally everything was just amazing," described Emmanuel. "I was like, 'wow, this is a good country to live in.'"
He was similarly impressed by the level of consideration he was shown when he first stepped out of the airport, speaking no Mandarin and clutching his university admission letter. A taxi driver, taking pity on this lost foreigner, drove him right to the door of the university registration office, and helped with his bags.
When he took the Wuhan metro for the first time Emmanuel imagined how he would explain it to his parents. "It's not easy for them to understand that we have speed trains which can just pass underground," he recalled. "They just think I'm joking because they never saw that thing before." He looked around in wonder during his first days at the university: it seemed like there were more professors here than in all of Tanzania. He stayed in a university dorm which he shared with one other foreign student. Chinese students, meanwhile, are six to a dorm.
As the organizer of the Africa Cup of Nations football tournament in Wuhan, Emmanuel became a familiar face to the large community of African students in the city. Friendships with Chinese students were cordial but distant. "I speak bad English, but they speak worse," he joked.
When covid hit, however, the mood changed. Emmanuel quickly discovered that most Chinese people were no longer as excited to meet him as he was to be there. African students began to face discrimination and micro-aggressions. "When you're walking outside," explained Emmanuel, "and a Chinese person is walking towards you, they will put on their mask, but they won't do that if it is a Chinese person."
It became almost impossible to live outside university facilities. When a South African student invited three friends to her apartment for a birthday celebration, the residents' committee asked her to leave, even though the gathering was legally permitted. "If they find it is a black person, they will just say no, no, no, no," said Emmanuel. "People don't talk about it. But it's real."
During the pandemic, Emmanuel has become the de facto leader of the small Tanzanian community in Wuhan. At the start of the pandemic the Tanzanian ambassador asked for his help with a dispute involving a Tanzanian student that threatened to become dangerous. The student had just started renting an apartment in a gated complex when members of the residents' association gathered to block his access. The landlord kicked him out and refused to give him his advance payment of rent back. An argument ensued, and tensions began to escalate before the police were called.
When Emmanuel arrived at the scene the authorities were keen to defuse the situation. A Chinese Communist Party representative and the local policeman both apologized for the racism, and made the landlord pay back the rent. The Tanzanian student however, was still required to vacate.
Officials in Wuhan, for all their good intentions, seem to have tacitly accepted that it won't be safe for African students outside the campus. Emmanuel doesn't believe he would be attacked, but thinks that local Chinese might provoke Africans to fight so they would be deported. As a result, Emmanuel's university has unofficially banned foreign students from leaving the university for their own protection. "We can't go anywhere without permission," explained Emmanuel, who compared the campus to a military base. "We say to our teachers, 'why are you treating us like we are refugees? You should treat us like this is our home!'"
In 2020 China's government offered more scholarships to African nationals than the leading Western governments combined. Between 2016 and 2018 alone, the number of African students in China shot up from nearly 40,000 to around 60,000.
Xi Jinping expressed his hope that students like Emmanuel — having spent years living and studying in China — would "tell China's story well and spread China's voice." When students arrive, they are required to take courses on Chinese culture and language in their first year. When Emmanuel arrived in 2014 for example, he took lessons on Xi Jinping thought and on "the Chinese Dream." The narrative that is presented is one of progress and development under the leadership of the Chinese Communist Party.
I started doing research into the lived experiences of these scholarship students in 2021 to better understand how it might affect their research practices. I never intended to ask about their experiences of racism, but almost every conversation turned to it. The "story" of China they were learning to tell was not necessarily the one Xi had in mind.
China has a complicated relationship towards Black Africans. Unlike Great Britain, the colonial power from which Tanzania gained independence in 1961, the Chinese government actively supported African decolonization movements in the 1960s and began offering scholarships to African students in the 1970s. But Chinese people have historically been less welcoming. For example, the 1988 Nanjing protests — an infamous chapter in African-Sino relations — resulted in hundreds of African students fleeing to their embassies in Beijing after Chinese students tried to lock them in their dormitories and set fire to the building. Earlier this year, a video resurfaced online showing a Chinese man teaching African children to say in Mandarin "I am a black monster with a low IQ."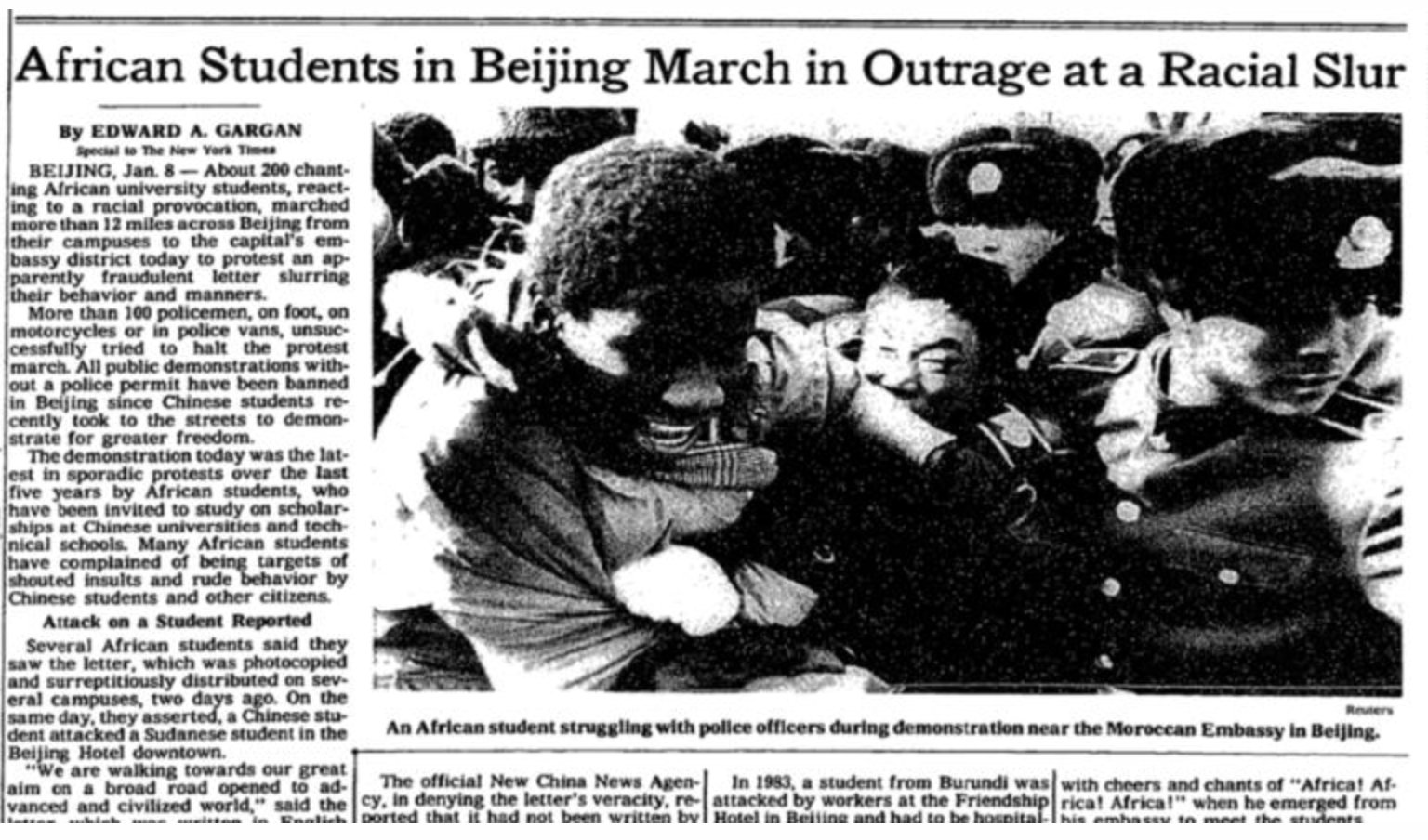 China has made extensive investments in Africa under its Belt and Road infrastructure initiative, transforming the continent with massive development works. A 2020 survey conducted by Afrobarometer of 34 African countries found that 63% of Africans believe China is a positive influence on the continent, a better percentage than the positive ratings Africans confer on the United States and the United Nations.
But the survey also registered growing unease among Africans regarding Chinese economic influence on the continent. Returning students from China are poised to advance more critical views.
Many of the African students I interviewed didn't want to say negative things about China for fear it could jeopardize their visas. Even the ebullient Emmanuel said he feared that the security services would knock on his door and question why he had spoken to a team of British researchers. Emmanuel won't go on record as criticizing China until his PhD has been issued.
But a picture emerged of discrimination, interpersonal hostility, and widespread racism. One African student in Nanjing said that people would move away from him if they found themselves next to him on the bus. A classmate called the police to demand compensation from an African student who accidentally knocked over a Chinese classmate during a soccer match. Yet another African student noted that the police would not help her when CCTV footage showed a Chinese man stealing her phone. "Most of the students here are just saying, 'I have to graduate and go back home, I can't ever come back to China,'" said Emmanuel. "China is for the Chinese."
Racism is not the only surprise waiting for African students. They are told that they will be able to study in English, but many get to university and find that no-one speaks it. "It's just a ploy to get more foreigners here," says one student in Xiamen, a port city on China's southeast coast, who is teaching himself Mandarin with an app.
Not all the experiences are negative. For many, winning a Chinese scholarship represented their only chance at further education. While the most stellar candidates can probably find opportunities in Europe and America, there is a much larger group of averagely-good students who still want to pursue an academic career, but can't afford the fees. Chinese qualifications may not be the most highly prized, but the shortage of PhD graduates in many African countries all but guarantees these graduates an academic job when they return.
Many appreciate the Chinese style of teaching, which is more demanding, and places more of an emphasis on publication output than the academic culture in Africa. Students also often express appreciation for the lifestyle in China, which involves a healthier diet and more exercise than they're used to. One Ghanian was grateful to get a diagnosis for diabetes in China. While he was living there, he got the condition under control with exercise and careful eating. "But getting back to Ghana, it's just carbohydrates everywhere."
China's attitude to Africa is part of President Xi's assertive foreign policy. In the 1990s this relationship was defined by economics. Oil and metals imported from the continent were important for China's growth. Today however, politics is a driving force. China has made it a tradition that its foreign minister visits Africa first every new year, while African countries tend to vote with China at the UN and lend their support on areas concerning human rights abuses.
Tanzania was one of the first places President Xi visited after becoming president in 2013. Emmanuel, then in his early 20s, had a junior clerical job in the office of Tanzania's president's wife. "I was very young," Emmanuel recalled. After one particularly high-stakes meeting during which Emmanuel said he was "struggling to make everything look okay," the Chinese ambassador made a gracious offer to his hosts: "He said to the president and then the first lady, 'okay, I think this guy needs to go for further study in China.'"
The program has been good for Emmanuel, who hopes to go back and take up a job in Tanzania when he's finished his PhD. One of the things he likes best is his doctorate supervisor. "She's a very complicated woman," he said, his eyes lighting up. "She was actually very strict like, you know, she never allowed a student to come late, if you're late you can't enter the class, if she gives an assignment you have to do it the right way." He was impressed to find comments from her half way through an essay, showing that she'd actually read it. According to Emmanuel, African teachers tended to just comment at the beginning and end. Other students grumbled about her but he requested her specifically because he wanted someone to put him under pressure. "Wow," he said. "She's always here. On my neck."
Emmanuel is phlegmatic about the downsides of studying in China. It has saved him thousands of dollars in tuition fees and set him on a track to professorship in Tanzania. "It is what it is so we have to accept it."
Nonetheless, he is going to be telling a very different story about China to the one Xi had in mind. "I have observed so much," he says. "I didn't close my eyes and just learn about the good side."