Meet the Kremlin's keyboard warrior in Crimea
Is Konstantin Knyrik the new star of Russia's information war?
It looked like a scene from an action movie. A phalanx of masked men in military fatigues march up to the offices of a media outlet in Simferopol, the capital of Crimea. They are led by a young man wearing a long, black coat, his face uncovered. When the journalists inside refuse to open the door, the men in balaclavas smash a window and force their way in.
But this was no movie.
It was March 2014 and Russia had annexed the entire peninsula. Now a pro-Russian militia was taking over the region's leading independent news source, the Crimean Center For Investigative Reporting.
The man in the black coat announced that from now on this would be the headquarters of the "Crimean Front" militia, because, he said, from "this building does not come true information." But, he added, staff could return to work if they agreed to report on events in the "correct, truthful" way.
The journalists got the message, and fled to the Ukrainian capital, Kiev. And the new de facto pro-Moscow authorities in Crimea have barred any independent reporting by the Center's journalists ever since.
But for Konstantin Knyrik, the man in the black coat — then 25 years old — the raid was another stage in a burgeoning career as a Russian nationalist politician and information warrior.
Today, he has traded the militia look for smarter clothes, more in keeping with his role as the editor-in-chief of a small but growing news agency called News Front.
Set up just after Russia took control of Crimea, the agency has since carved out a reputation for its staunchly pro-Kremlin line and a steady output of stories which media monitors such as "Stop Fake" say are false or deliberately inflammatory. I traveled to Crimea to meet him.
Knyrik says his site provides "an alternative source of information for people in Europe and the U.S.," adding that he feels "sorry for the people who believe in this bullshit published by the mainstream media in the West."
But in an interview, he made clear that he sees himself as fighting in a conflict started by the West. "Information war was declared against Russia. It was not Russia who initiated the war."
A former News Front insider told the German newspaper Die Zeit that the agency is directly funded by the FSB, Russia's main domestic intelligence service.
Knyrik denies that, but there is no doubt that it is among the better-resourced players in the Russian media ecosystem, with a global reach. With 10 staff and at least 100 contributors around the world, it produces content in a growing range of languages, including Russian, English, German, French, Italian, Bulgarian and Spanish.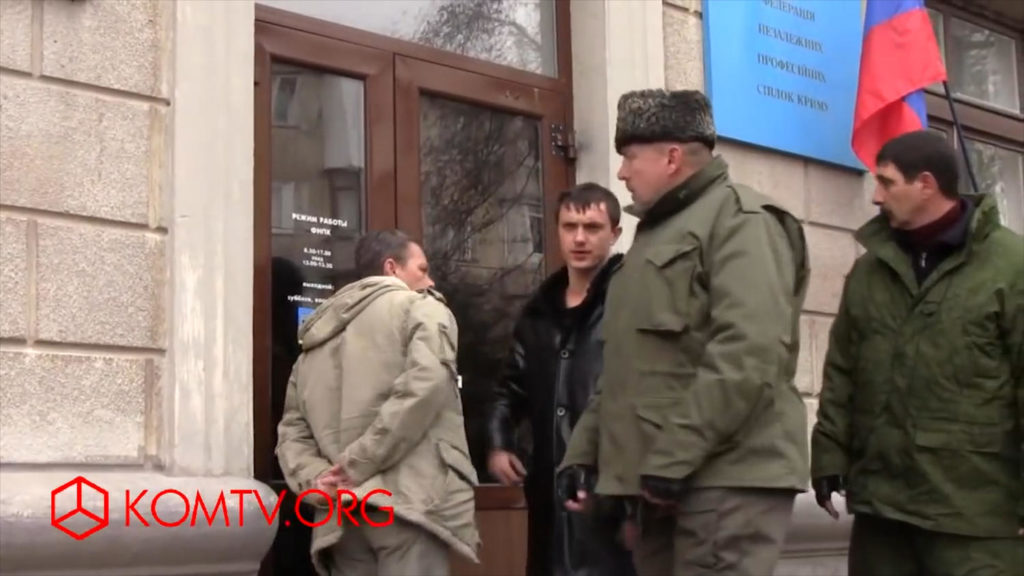 Germany, Europe's largest and most powerful state, has been a favorite subject for News Front's stories — usually imbued with divisive spin. A report that ran last year, headlined "Refugee Crisis: Riots in Schorndorf" was a typical example. It claimed that thousands of teenagers, most of them "refugees and migrants," had started a violent rampage through the city.
But the story was false, according to Correctiv, a Berlin-based media-monitoring outfit which has been following News Front's output.
There had been an incident in the city, said Jacques Pezet, one of the Correctiv fact-checkers, but at most just a few dozen people had been involved and it was a mixed group, not only migrants.
And when Correctiv looked into the dramatic photo used on the story — doing an image search on Google — he established that it hadn't even been taken in Schorndorf. Instead, it had been lifted from a report on a totally unrelated protest in another German city at another time.
It was a textbook case of "how a handful of actors can reach a significant amount of people with their false information," said Pezet, adding that this was "part of a well-established pattern of anti-German and anti-Western disinformation in News Front's stories."
As ever with fake news stories, the instigators have first-mover advantage and the Schorndorf "riot" story quickly spread, boosted and recycled by German far right politicians and conservative media outlets. At least 500,000 liked, shared or commented on the story according to one recent German study of fake news.
And even if they cared, few people would ever have learned that the story had been invented.
Asked for more details on how News Front reports on Germany, Knyrik refused, and declined to identify his main journalist there, citing security concerns. "I worry about his safety and the safety of all our volunteers," he said.
Another common theme in News Front's output is its pro-Moscow stance. It all but matches the line taken by Kremlin-controlled outlets like Russia Today (RT) or Sputnik. The former insider who spoke to Die Zeit said some of the topics News Front covers are "assigned directly by the presidential administration in Moscow."
In his interview, Knyrik dismissed this allegation and insisted that his agency is only financed by donations from his family, friends and income from other business activities.
Though he is Ukrainian, he grew up in a pro-Russian environment. His father Sergei Knyrik, a deputy on the local council in the Crimean city of Bakhchysarai, was head of several pro-Russian organizations in the peninsula.
"Information war was declared against Russia. It was not Russia who initiated the war."

Konstantin Knyrik
He was also a committed Eurasianist — backing the idea of creating a new Eurasian region or empire with Russia at its center. But even before he left school, Knyrik the son was showing signs of having grander ambitions.
When he was just 17-years-old, he became head of the Crimean branch of the Eurasian Youth Union (EYU), set up the right-wing Russian ideologue Aleksandr Dugin. In 2006, he attended a summer camp Dugin organized for nationalist activists, according to political scientist Anton Shekhovtsov, who has followed these groups.
Among the attendees, according to Shekhovtsov, were several people who would later play a key role in the Russian-backed "Donetsk People's Republic," one of the separatist territories in Eastern Ukraine.
Dugin's vision of Eurasia meant Russia regaining full control of the Crimean peninsula, with its access to the Black Sea. And in an interview, Knyrik made clear this was his strategy too. "Our first priority is to focus on creating an empire," he said. "The first thing to do, is to tear Crimea away from Ukraine in order to save it. To attach it to the empire."
Even before Moscow annexed the peninsula in 2014, Knyrik was active on Vkontakte, Russia's equivalent of Facebook, mobilizing support for Russian intervention.
Today Knyrik wears several hats, in addition to his News Front job. He has followed his father in becoming a deputy on the same city council, and he is also chairman of the Crimean branch of Russia's far-right Rodina party.
It is one of the smaller parties in the Russian Duma or parliament, and espouses an ideology of patriotism and greater state involvement in the economy. And through the Rodina party and his news agency, Knyrik has indirect links to President Vladimir Putin himself. One of the party's founders, Sergei Glazyev, is an advisor to the Russian leader, as well as a long-time friend of Knyrik's News Front co-founder, Mikhail Sinelin.
For a relatively small operation, News Front appears to be having significant impact. According to the Atlantic Council, a Washington-based think tank that tracks disinformation and propaganda campaigns, News Front is one of the most active amplifiers of disinformation in Germany, along with RT and Sputnik.
But rather than focusing so much on Russia, Knyrik says the West should be looking at its own record on freedom of expression. In his view, all the criticism it used to direct at the Soviet Union now applies to the U.S. and Europe. "There is total censorship and total absence of freedom of speech," he said.
The West's real goal, said Knyrik, is "to start a real war after the information war."