Dubious Honors
For years, authoritarian leaders have been garlanded with prestigious international awards by foreign governments and institutions. Why does this happen and what good does it do anyone?
For decades, prestigious awards and honorary degrees have been given to world leaders with, at best, questionable reputations. For the awarding nations and organizations, such honors perform valuable diplomatic functions, cementing strategic alliances and trade deals and massaging authoritarian egos. For the recipients, the cachet they confer can help to paper over everything from human rights abuses to state corruption.
Whether such decorations capture the attention of the international community or domestic audiences, they provide a powerful reputational boost, especially for figures who care about their public image. After all, not everyone can have the bluff assurance of Libya's Colonel Muammar Gaddafi, who once said, "Those who do not love me do not deserve to live."
Still, they are not bulletproof. For instance in 2018, France made moves to strip the Legion of Honor, the country's highest order of merit, from President Bashar al-Assad of Syria. Assad preemptively returned the award, saying that he would not wear a medal from a country that was "a slave to America."
Despite its many pitfalls, the practice is still alive and well today. Here, we take you through six examples, past and present.
Manuel Noriega
By Erica Hellerstein
In 1987, Manuel Noriega was awarded the Legion of Honor by President François Mitterrand. It was a curious decision. The previous year, the New York Times published an expose linking the Panamanian military dictator to drug trafficking, money laundering, and the torture and beheading of a political opponent.
Reports suggest that Mitterrand honored Noriega as a matter of diplomacy. After all, Panama provided a route for France to fly nuclear materials to its South Pacific testing site after Washington blocked them from passing through U.S. territory.
Two years later, Noriega found himself in a less enviable position. Although he had collaborated with the CIA for years in its fight against communism in Latin America, he was also working with Pablo Escobar's Medellin cocaine cartel in Colombia. Noriega's relationship with America eventually soured and U.S. troops invaded Panama in 1989, bringing him to Florida, where he was convicted of drug trafficking and money laundering. Before his death in 2017, Noriega spent his remaining days in prison in the U.S., France and Panama.
Noriega retained his Legion of Honor until 2010, when he was extradited to France on money laundering charges. Even as he sat on trial, the Legion of Honor made an appearance. In court, Noriega affixed a ribbon from the medal to his jacket, and his lawyers repeatedly referred to his receipt of the award, perhaps, in the hope that it would soften his image. He was found guilty and sentenced to seven years in prison.
The verdict caused Noriega to lose the honor and provided a foundation for the French government to withdraw the distinction from recipients who are found to have committed crimes or other offenses. Since then, Harvey Weinstein, Lance Armstrong and the fashion designer John Galliano, who was caught on camera using antisemitic slurs in 2011, have all lost their medals.
Why did it take so long for Noriega's award to be rescinded? Perhaps for the same reason the U.S. forged its alliance with him: a marriage of convenience. As the New York Times explained, the Legion of Honor "is usually given for 'outstanding merit' in some field, but France has been known to honor foreign leaders simply because it suits the government's purposes at the time."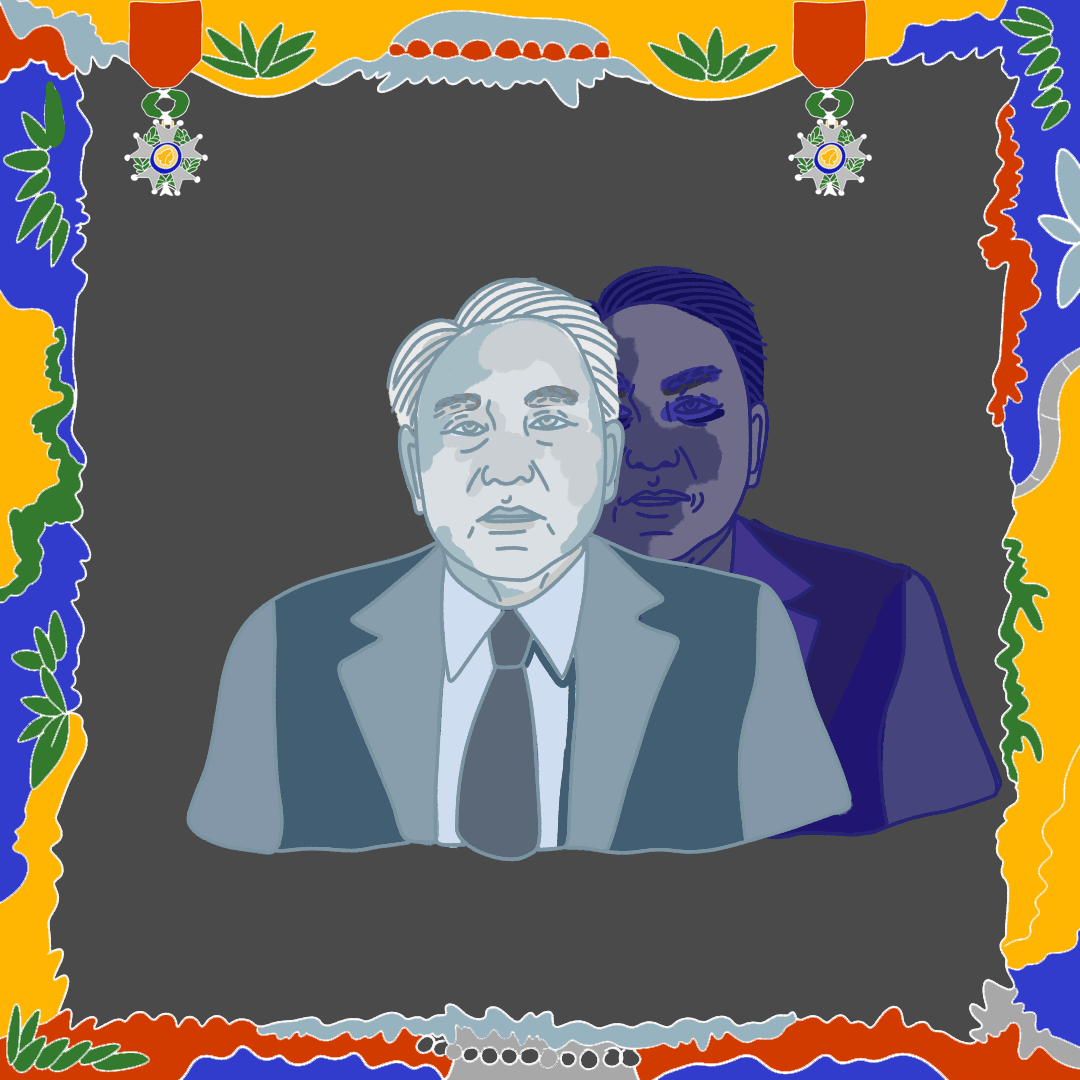 Nursultan Nazarbayev
By Alexandra Tyan
Nursultan Nazarbayev, the former president of Kazakhstan, who ruled the country for almost 30 years until 2019, has an enviable list of honors to his name. On his personal website, a whole page is dedicated to 65 awards and titles earned by "natural curiosity, constant striving for new knowledge and self-improvement."
Nazarbayev has been granted academic titles from universities and academies of sciences, medals and national awards from governments across the world. Among those listed is an honorary professorship from Cambridge University, apparently awarded to Nazarbayev in 2004. However, there is no mention of him receiving the award in available university records. Coda contacted the university several times but received no answer.
In 2000, Queen Elizabeth II gave Nazarbayev the Grand Cross of Saint Michael and Saint George, which is awarded to "men and women of high office, or who render extraordinary or important non-military service in a foreign country." Other recipients include former U.S. Secretary of State Henry Kissinger, former French Prime Minister Manuel Valls, and the actor Angelina Jolie.
Former French president Nicolas Sarkozy awarded Nazarbayev the Legion of Honor in 2008. Since the honor's establishment in 1802, the French government has used it to commend the outstanding work of military and civil figures — and to support French foreign policy through "diplomatic reciprocity". Nazarbayev seems to be an example of the latter. He received his award on the same day as Kazakhstan and France signed a strategic partnership to cooperate in areas including security and law.
While Nazarbayev has been accused of ruling over a kleptocracy and has been linked to several corruption scandals, his name also appears on multiple institutions in Kazakhstan, including The Museum of the First President of the Republic of Kazakhstan and the Nazarbayev Center. In 2019, the country's capital changed its name from Astana to Nur-Sultan.
In 2014, Nazarbayev was the first recipient of the newly established Silk Road Peace Prize, presented to him by Li Zhaoxing, president of the Chinese Public Diplomacy Association in Shanghai. The two countries also signed several energy and investment agreements on the same diplomatic visit.
Nicolae Ceausescu
By Oleksandr Ignatenko
When Nicolae Ceausescu became General Secretary of the Romanian Communist Party in 1965, he was viewed as a reformer. He purged the country's infamously repressive secret service and made it more accountable. As Soviet tanks rolled through Prague in 1968, he publicly denounced the invasion, describing it as "a big mistake."
To many Western and non-communist governments, his actions appeared brave and gave hope that the Iron Curtain could one day be opened. Accordingly, medals and decorations flooded in from nations including Austria, Denmark, Italy, Sweden and the U.K. Among them was the French Legion of Honor, which he was awarded in 1968 by President Charles de Gaulle.
Ceausescu was never well liked in the Kremlin. One Soviet diplomat noted in a 1968 diary entry that he was "a rare piece of shit with a thespian bearing." However, it was in his best interests that relations remained cordial with both Moscow and the West. Accordingly, he was awarded the Order of Lenin in 1979 by Soviet leader Leonid Brezhnev, who said it marked "a sign of brotherly sympathy from Soviet communists to Romanian communists."
Yet behind all the decorations and titles lay an autocratic leader who ran a brutal regime that used hunger as an instrument of control. Ceausescu's attempts to swiftly industrialize Romania led to gross mismanagement of the national economy and widespread austerity. The Romanian writer Dorin Iancu described strict rationing throughout the 1980s as an attempt to "transform people into frightened animals whose only thought would be how to get food."
During his 35 years in power, Ceausescu turned Romania into his own personal fiefdom. He destroyed the historical center of Bucharest and rebuilt it in a more "socialist" way. Villages deemed to be economically underperforming were razed. A Romanian parliamentary report published in 2006 stated that up to two million people were detained, deported or displaced between 1945 and 1989.
Throughout the 1980s, thousands of people defected from Romania. Still, in 1988 Ceausescu was awarded the Olympic Order, following his decision to ignore a boycott of the Los Angeles games by the Soviet Union and a number of other Eastern bloc nations four years earlier. That honor did little to burnish his reputation at home. A year later, revolution had gripped Romania and overthrown Ceausescu's government. In December 1989, he was tried on charges of genocide and executed by firing squad on Christmas Day, along with his wife Elena.
Abiy Ahmed
By Mariam Kiparoidze
On December 9, 2019, Abiy Ahmed, Ethiopia's prime minister walked onto a stage in Oslo, Norway and, as a winner of the Nobel peace prize, gave a speech. "War is the epitome of hell for all involved," he said, referring to the decades-long conflict between Ethiopia and neighboring Eritrea that he helped put an end to one year earlier.
He concluded with the words, "I have miles to go on the road of peace." Few at the time would have anticipated that about a year later, Ahmed would send the Ethiopian military to launch an armed attack in Tigray, Ethiopia's northernmost region, in a conflict that would kill and displace thousands.
Ahmed, a 44-year-old former intelligence officer, was elected prime minister of Africa's second most populous country in 2018. He rose to power after years criticizing a previous authoritarian government dominated by the Tigray People's Liberation Front (TPLF) and other ethnic and regionally focused parties. Early in his term, Ahmed introduced reforms, freed political prisoners, loosened state control of the media and helped broker peaceful ends to conflicts across Africa.
In an effort to decrease longstanding regional and ethnic tensions in Ethiopia, Ahmed increased the federal government's power. He founded the ethnically inclusive Prosperity Party and removed TPLF officials from power. But the tense relationship with Tigrayan leaders reached a breaking point last fall, when Ahmed postponed parliamentary elections because of Covid-19. In defiance, officials in Tigray held an illegal election and declared victory. Ahmed cut federal funding to the region and, in November, launched an armed offensive against the well-armed Tigray regional government, accusing it of a deadly attack on a military base.
Ahmed's record had prompted mixed reactions even before the crisis in Tigray. Rights organizations and activists have said that ethnic tensions had worsened during his first year in power and that journalists were still arbitrarily censored and harassed.
Back in 2019, during the awards ceremony, chair of the Norwegian Nobel Committee Berit Reiss-Andersen said the committee believed a number of Ahmed's efforts, including creating peace between Eritrea and Ethiopia, deserved recognition. "Our award is based on the will of Alfred Nobel, and we recognize your endeavors as being in the true spirit of that will," he said.
Ahmed's reputation has been profoundly affected by the conflict in Tigray: last November, the committee, which rarely comments on the actions of Nobel laureates, said that it was "deeply concerned" by developments in Ethiopia.
Bidzina Ivanishvili
By Masho Lomashvili
On January 1, President Emmanuel Macron awarded Bidzina Ivanishvili the Legion of Honor. Officially, Ivanishvili is the former Prime Minister of Georgia, but ask any Georgian and they will tell you that he is still the most powerful man in the country. He is a founder of the ruling Georgian Dream party and the richest person in the tiny Caucasian nation, with an estimated $5 billion fortune made from banking and the metal industry in Russia during the 1990s.
Although Ivanishvili left office in 2013, he maintains a powerful presence in Georgian politics. While Georgian Dream won parliamentary elections in October 2020, media outlets sympathetic to the party have consistently ignored allegations of widespread fraud, vote-buying and intimidation of opposition supporters. Last November, thousands of anti-government demonstrators rallied in Tbilisi to demand fresh elections in response to disputed results.
However, media channels in Georgia have been more than happy to compare Ivanishvili to Charles De Gaulle, Kemal Ataturk and Honoré de Balzac — all fellow recipients of the Legion of Honor. None made any mention of the more controversial winners, such as Bashar al-Assad or Vladimir Putin. A number of publications have also falsely stated that Ivanishvili was one of only a few dozen people to be given the award this year. The truth is that 1,229 were handed out.
One of the reasons cited by the French government for honoring Ivanishvili was his philanthropy, including his founding of an organization called the International Charitable Foundation, initiatives such as offering monthly stipends for struggling actors and funding the reconstruction of old churches. However, speaking on national TV, Georgia's former minister of justice and Georgia Dream member Tea Tsulukiani stated that it was also in recognition of his contribution to the nation's fight against the coronavirus.
While Ivanishvili did donate $100 million to Georgia's StopCov fund, the official response to the pandemic has proven inadequate. Around 10% of the country's population has been infected and the national economy has shrunk by more than 6% in 2020.
Despite Ivanishvili's many missteps, Georgia's Minister of Foreign Affairs David Zalkaliani confidently stated on national TV that the honor acknowledged his commitment to democracy in the country. "After entering politics, Ivanishvili has made notable contributions to democratic reforms and strengthening institutions," he said.
Hun Sen
By Katia Patin
One of the world's longest-serving leaders, Prime Minister Hun Sen of Cambodia has earned international notoriety by using violence and accumulating personal wealth estimated at $1 billion during his time in office. At age 18, Sen joined Pol Pot's Khmer Rouge, the brutal Communist regime that caused the death of at least 1.7 million people. By 1979, at 26, he was serving as the world's youngest foreign minister. In 2018, over 30 years into his reign as prime minister, the former five-star general vowed to rule for 10 more years.
Shunned in the West for his human rights record and criticism of the United Nations, Sen has focused on the East. Building close ties with China, strengthening his relationship with India's Prime Minister Narendra Modi, Sen has maintained a high level of visibility in the region. He has also amassed over a dozen honorary university degrees. Including Thailand's Krirk University in 2019 and China's Guangxi University in 2015, Sen has racked up doctorates in literature, philosophy and political communications.
In 2015, Limkokwning University in Malaysia awarded Sen an honorary doctorate for his role in advancing education in Cambodia. At the time, the country was ranked 116th out of 148 nations by the World Economic Forum on education. But, as the university's president explained, "You have to start somewhere." According to his website, Sen also received an honorary doctorate in politics from Southern California University in 1995 and in law from Iowa Wesleyan University in 1996 (not to be confused with University of Southern California or Wesleyan University in Connecticut).
Sen's wife Bun Rany, president of the Cambodian Red Cross, has also been awarded honorary doctorate degrees by six universities across the region, including from Seoul Women's University.
In 2019, Sen was given the Leadership and Good Governance award from the Universal Peace Federation, in honor of his role in growing Cambodia's economy. The foundation was set up by Sun Myung Moon, the founder of Korea's controversial Unification Church, and has previously awarded leaders including former president of Ukraine Leonid Kravchuk in 2005 and former U.K. prime minister Margaret Thatcher in 2008.
Sen has also shown a liking for titles at home. For over two decades, all national media outlets have been required to use his honorary title of "Lord Prime Minister and Supreme Military Commander" in their reporting. In 2016, in a Facebook post, he lifted the rule without explanation.
Supported by Russian Language News Exchange