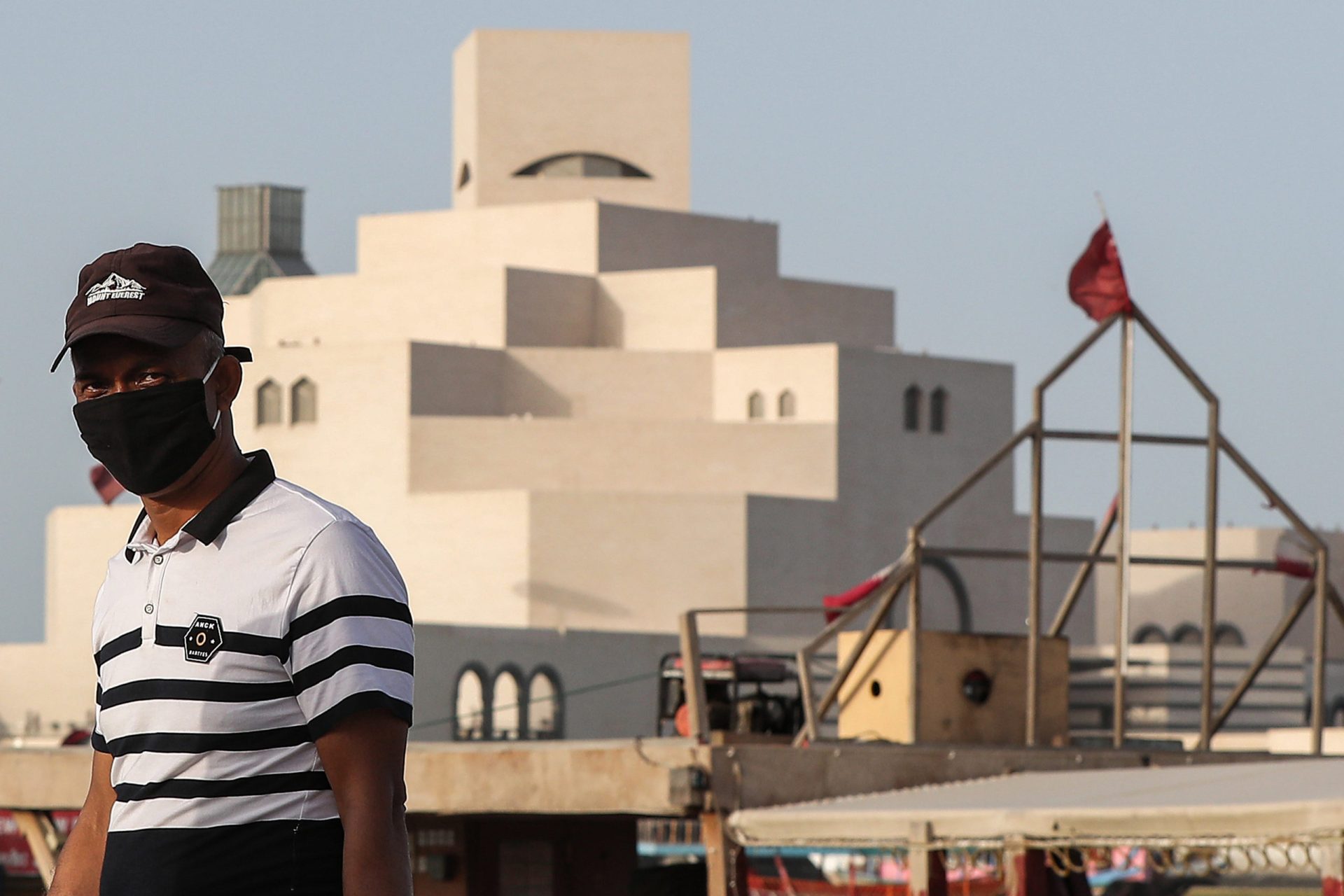 Disinformation about Qatar surges in wake of COVID-19
A weaponized hashtag and fake Twitter accounts seek to blame the small Gulf nation for the spread of COVID-19
The ongoing blockade of Qatar by its neighbors is being further intensified by a new round of disinformation blaming the Gulf country for the spread of COVID-19.
Last week, Noura Almoteari — a Saudi Arabia-based journalist — posted on Twitter, saying that Qatar has known about the existence of COVID-19 since 2015. Earlier this month, she accused Doha of paying billions to China "to grow the virus." She also coined the Twitter hashtag "Qatar is corona," which has now been used hundreds of times on the platform. Almoteari stated that the country was spreading the virus in order to damage both the UAE's upcoming Expo 2020 and Saudi Arabia's future plans to diversify into a post-oil economy.
In addition to this, Qatar has come under attack from Twitter bot accounts that blame the country for the coronavirus outbreak. In January and February, numerous fake Twitter profiles advanced the theory that Qatar was responsible for spreading the virus to Argentina. The accounts have since been suspended.
The land, sea and air blockade of Qatar began in June 2017, when Saudi Arabia, the United Arab Emirates, Egypt and Bahrain severed diplomatic links with the gas-rich country, after years of rancor over Doha's foreign policy.
The blockading quartet issued a list of demands, which seemed designed to turn Qatar into a client state. The orders included that Doha cut all ties with the Muslim Brotherhood and other Islamist movements, and that it shutter its media operations, including the broadcaster Al Jazeera.
In the years since the blockade was launched, Qatar has faced repeated accusations from Saudi Arabia and the UAE of supporting terrorism. Armies of Twitter accounts and carefully orchestrated disinformation campaigns have become a prominent and ongoing feature of this diplomatic quarrel.
"The coronavirus campaign against Qatar began online as early as January, long before the current corona outbreak," said Marc Owen Jones, assistant professor of Middle East Studies and Digital Humanities at Hamad bin Khalifa University in Doha, in a phone interview with Coda Story.
"There were definitely some early disinformation campaigns on Twitter, which were basically saying that Qatar was responsible for the coronavirus, and that it had played a role in spreading it. People are trying to preempt the crisis and exploit it politically."
The disinformation campaign has also targeted Qatar's labor camps — institutions common in Gulf nations, which house thousands of low-paid migrant workers. One Saudi newspaper has published a number of stories about the outbreak of COVID-19 affecting "hundreds" of people in the industrial areas outside Doha, where many of Qatar's 1.9 million migrant workers live.
Qatar's Ministry of Public Health says the total number of reported coronavirus cases in the country currently stands at 481.
"I would say this is a continuation of the verbal barrage of misinformation and disinformation that is part of the Qatar blockade," said Dr Sanam Vakil, a senior research fellow with the Middle East & North Africa Programme at Chatham House in London. "In this current iteration, it accuses the Qataris of spreading the virus. This will continue for quite a degree of time, and these sorts of campaigns are a reflection of how deep seated the tensions are."
Vakil said the disinformation about Qatar echoed how other countries are trying to internationalize the cause of COVID-19. In recent days, China has sought to blame the U.S.; earlier this month, Bahrain accused Iran of "biological aggression" by covering up the spread of the coronavirus.
"While it is interesting these bots are blaming Qataris, I think it is part of a nationalist impulse that is not just unique to the Gulf in using an external crisis to whip up support," Vakil added.
Kristian Coates Ulrichsen, author of "Qatar and the Gulf Crisis," believes that the outpouring of digital disinformation about Qatar on Twitter must at least have the tacit approval of authorities in countries like the UAE and Saudi Arabia, where social media is closely monitored.
"The fact that such comments have been made by high-profile individuals in Saudi Arabia and the UAE without facing any official censure suggests that their messaging carries the implicit approval of authorities, who are in other circumstances extremely quick to police and respond harshly to commentaries that they do not agree with," he said.