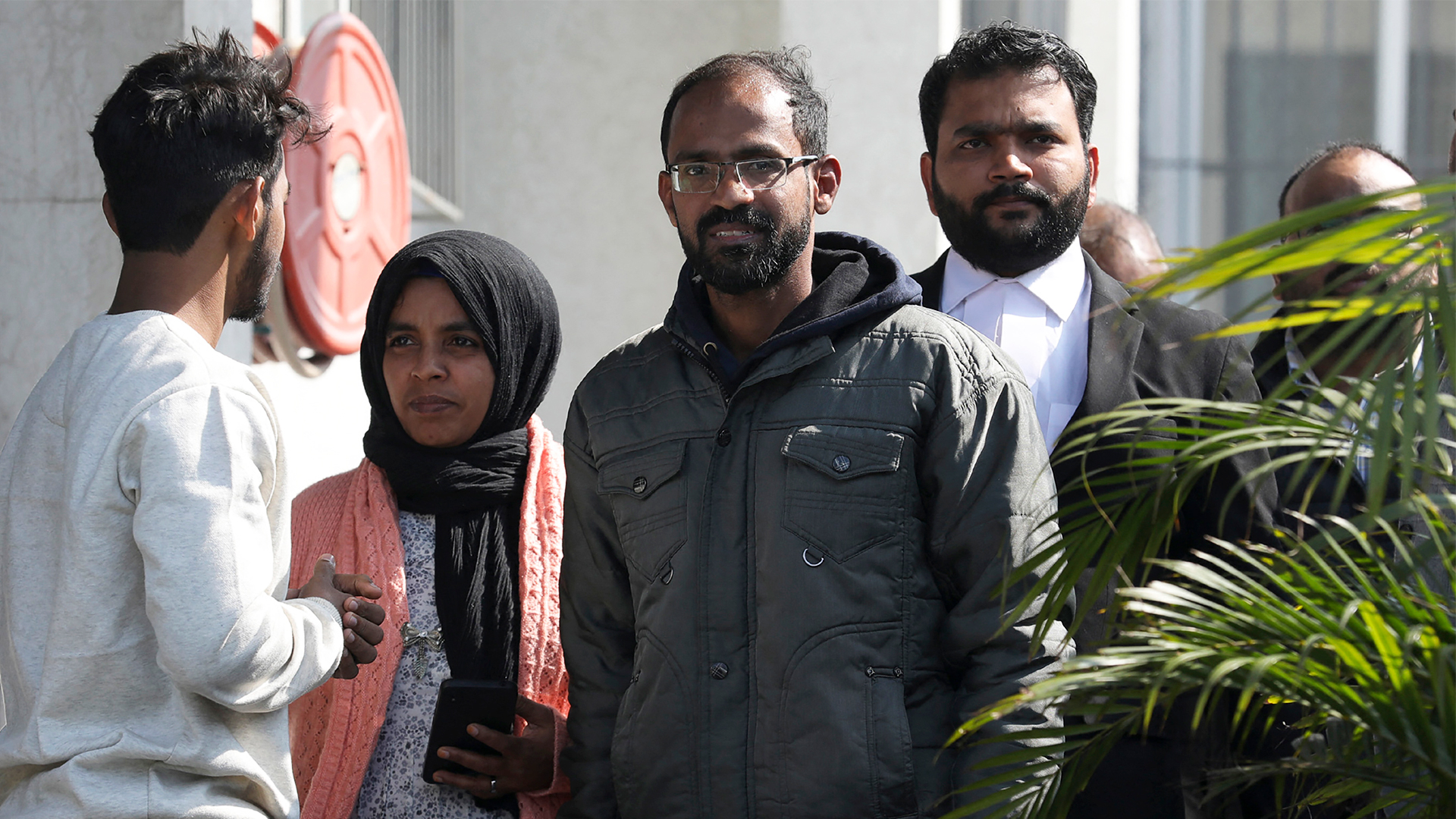 Amid eroding press freedoms, Indian journalist released from prison
India's Supreme Court grants bail to a journalist held for two years on terrorism charges with little evidence
Siddique Kappan, slight and frail, dressed in a jacket, a hoodie and jeans, walked out of jail in Lucknow on February 2 and raised a weak smile for the cameras. A journalist from the southern Indian state of Kerala, Kappan had been held in Uttar Pradesh, in the Hindi-speaking north, for 28 months before being granted bail.
His crime? To have been one among dozens of journalists from around the country to have made a beeline for Uttar Pradesh in 2020, to the district of Hathras where a 19-year-old Dalit woman had been gang raped. Dalits are on the lowest rung of the Indian caste ladder and were once referred to as "untouchables." The young woman died two weeks after the rape in a hospital in Delhi. As protests gathered steam, police compounded the outrage felt around the country by attempting to hastily cremate the woman's body in the middle of the night — forcibly, according to the family; "as per the family's wishes," according to the police.
The rape and murder and the perceived police indifference led to expressions of anger, horror and disgust across India. While many compared the case to a gang rape and murder in Delhi in 2012 that led to several legislative reforms, others pointed out that there is a long and gruesome history in India of upper caste violence against lower castes, much of which has gone unpunished.
An established journalist of several years' experience, Kappan told me, just days after his release, that "like any Delhi-based journalist," he too wanted to travel to Hathras to report on a story of national interest, a story that threatened to spill over into caste unrest. But the Uttar Pradesh government, led by a hardline Hindu monk Yogi Adityanath — a star within the Bharatiya Janata Party firmament, outshone say some observers only by Prime Minister Narendra Modi — was wary of the political fallout after some right wing groups, including a former BJP legislator, expressed support for the alleged rapists.  
Kappan had traveled to Hathras with activists linked to the Popular Front of India (PFI), a politically radical Muslim group. He had written for the PFI's Malayalam-language publication Thejas in the past. The PFI, which was banned in India last year, was accused by mainstream Indian media of pumping over $12 million into trying to foment riots in Hathras, claims that were later denied by authorities. At the time though, Kappan's supposed PFI connections led him to being dubbed a "journarrist" on social media (a terrorist masked as a journalist).
Mohamed K.S. Danish, a Supreme Court lawyer and part of Kappan's legal team, told me that he believes Kappan was "made a scapegoat" by the Uttar Pradesh government to tamp down growing dissent. The police charged Kappan with crimes under the most stringent sections of Indian law, including a draconian anti-terror law which enabled them to hold him for months before they even had to bring him before a judge. Kappan had become, his lawyer said, an easy target for state authorities that were sensitive to criticism and eager to assign blame.
Even before Kappan was arrested, the Uttar Pradesh authorities had taken an adversarial position against the media, barring the girl's family from speaking to reporters and trying to prevent reporters from traveling to Hathras. It was part of a growing animus between Indian authorities, particularly in states governed by the BJP, and critical journalists. In 2021, just months after the Hathras rape, the website Article 14, which investigates and deeply reports failures of Indian justice, revealed evidence that the use of sedition charges to silence critics had markedly increased since Modi became prime minister in 2014.
Article 14 reported that 96% of sedition charges against 405 Indians in the decade leading up to 2021 had been filed after Modi became prime minister; 149 of those charged were accused of "making 'critical' and/or 'derogatory' remarks against Modi," noted the website, while 144 people had been charged for remarks against Yogi Adityanath. Twenty-two cases of sedition were filed after the Hathras rape and murder was covered by the Indian media.
When I spoke to Kappan after his release from prison, he told me he had been beaten by the Uttar Pradesh police, that they had slapped him repeatedly and made absurd, irrelevant accusations. "They tried to force me to admit having links with Maoists and terrorists," Kappan said. "They asked if I had ever visited Pakistan or if I used to eat beef." (Indian Muslims are often accused of being "less" Indian than the majority Hindu population because they have no dietary taboo about beef, cows being sacred to some Hindus, and because they supposedly support Pakistan at cricket.)
He also said the police had denied him medication for his illnesses, including diabetes. Kappan caught covid twice while he was in prison and his wife told the Indian press that he was chained to his hospital bed and was not allowed to use the bathroom. Kappan told me he had to urinate into a plastic bottle for a week.
According to his lawyer, the police even tried to produce material Kappan had read about the Black Lives Matter movement as evidence of his intent to create communal unrest in Hathras. "When the prosecution read out this charge of inciting locals in Hathras through English pamphlets about a foreign protest in the Supreme Court, the whole court was laughing," Kappan's lawyer said. Blaming social unrest on foreign interference is a familiar trope in India, frequently extended to ridiculous lengths.
In February, 2021, a young climate activist was arrested and accused of sedition because she had circulated a "toolkit" tweeted by Greta Thunberg in support of ongoing farmers' protests in India. The toolkit, the Delhi police said, as they arrested the activist from her home in Bangalore, was evidence of a conspiracy to "wage economic, social, cultural and regional war against India." Apart from Thunberg, conspirators also included the pop star Rihanna.
Eventually, in September, last year, after Kappan had already been imprisoned for nearly two years, the Supreme Court gave him bail. In its order, the bench noted that "every person has the right to free expression." Referring to Kappan, the bench said he was trying through his reporting to "show that the victim needs justice," that ordinary people can ask questions of those in power — "Is that a crime in the eyes of the law?"
Despite the court's order and its apparent bemusement at Kappan's incarceration, the authorities took months to release him from prison. He had to secure bail on what his lawyers described as frivolous charges of money-laundering and routine procedures were delayed as if only to prolong Kappan's time in prison.
Rituparna Chatterjee, the India representative of Reporters Without Borders (RSF) told me that Kappan's case "is an example of government overreach and the violation of rights. He should never have been arrested in the first place." She spoke too of the authorities' "weaponizing of outdated colonial laws such as sedition to harass journalists." 
In the most recent RSF World Press Freedom Index, India has slipped eight places to rank 150 out of the 180 countries on the list. Kappan's arrest is an example of why India, despite Modi describing it as the "mother of democracy," is developing an international reputation for its shrinking freedoms.
"Kappan's arrest," says Chatterjee, "was a chilling message from the Uttar Pradesh police to all reporters that there are matters they should not investigate and that it will cost them dear if they do." RSF has said that the "violence against journalists, the politically partisan media and the concentration of media ownership all demonstrate that press freedom is in crisis in 'the world's largest democracy.'"
It's a position that is echoed by Kunal Majumder, the India representative of the Committee to Protect Journalists (CPJ). "We have been observing," he told me, "a sharp increase in the number of journalists who have been detained and arrested."
According to CPJ data, he said, "six out of seven journalists imprisoned in India as of December 1, 2022, are being charged with or being investigated for offenses under the UAPA." Majumdar is referring to India's notorious anti-terror law, most recently amended in 2019 to allow the government to designate even individuals as terrorists before proven guilty in a court of law. In 2020, special rapporteurs of the United Nations noted that the amendments were "raising concerns in relation to their compatibility with India's obligations under international human rights." They were particularly troubled, they wrote, by "the designation of individuals as 'terrorists' in the context of ongoing discrimination directed at religious and other minorities, human rights defenders and political dissidents, against whom the law has been used."
The prominent Indian politician Shashi Tharoor described the amendment, in a tweet lauding the release of Kappan, as a "menace to democracy."
Kappan, and the men arrested alongside him, including the driver of their taxi to Hathras, may be out on bail now but their case remains pending. "It is a moment of happiness for us," said Kappan's lawyers, "but we have to fight the case for acquittal." Kappan is just glad to be out. "I now realize the true meaning of freedom," he told me, even though the court's bail order confines him to Delhi for six weeks before he can return to Kerala. "I am happy to be back with family and to be able to meet with friends."
As Kappan left jail, he told reporters that the justice he'd received was "half-baked," that he had been framed, that nothing was found on him except his laptop and mobile phone. "I had two pens and a notebook too," Kappan added. He was a working journalist on an assignment, he told me, and he had to spend two years in jail for just doing his job.
The Big Idea
Shifting Borders
Borders are liminal, notional spaces made more unstable by unparalleled migration, geopolitical ambition and the use of technology to transcend and, conversely, reinforce borders. Perhaps the most urgent contemporary question is how we now imagine and conceptualize boundaries. And, as a result, how we think about community. In this special issue are stories of postcolonial maps, of dissidents tracked in places of refuge, of migrants whose bodies become the borderline, and of frontier management outsourced by rich countries to much poorer ones.
Read more