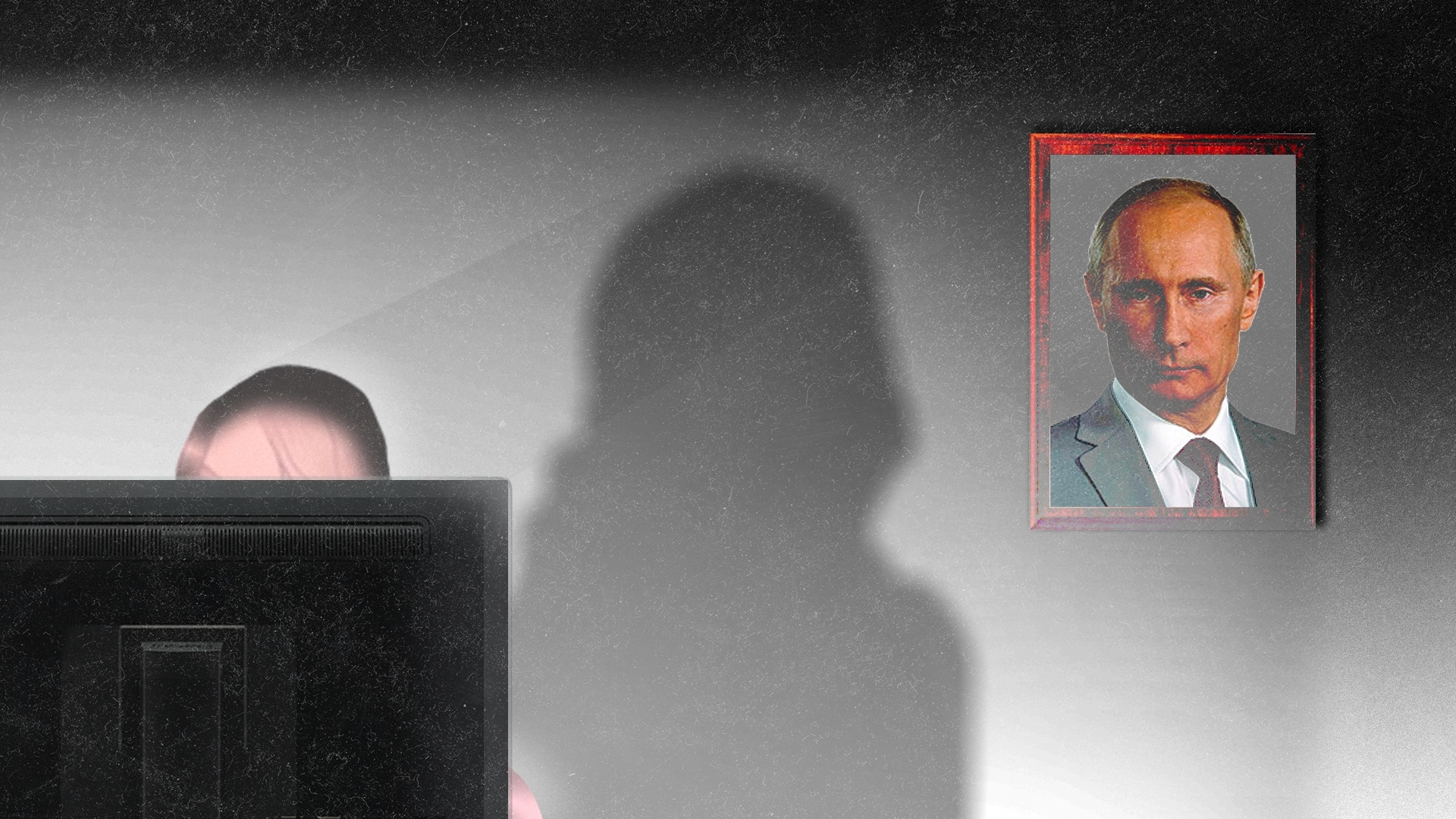 Meet the pro-Putin YouTube diva 'bigger' than Rihanna
A Russian-born New Zealander has become one of the Kremlin's most prolific keyboard warriors
"Putin! Are you here? Are you here?"
It is actually her followers that YouTube star Inessa Sinchougova is addressing, in an on-camera video embedded on her page. She is pushing back at claims that she is on the Kremlin payroll and, to make her point, she turns the camera round to show her apartment.
"My dishes aren't done," she notes as the kitchen comes into view, and then apologizes in case viewers missed the sight. "Anyway, I haven't done my dishes," she adds. "But Putin is definitely not here."
Born in Russia, raised in New Zealand, only the internet could have given birth to the phenomenon that is Inessa S., as she calls herself online.
Today, less than three years since she started posting pro-Putin video clips, she's notched up more views on her YouTube page than her favorite singer, global superstar Rihanna.
Inessa's story begins in Akademgorodok, a Soviet scientific hub near Novosibirsk, Siberia, where she was born in the dying years of the U.S.S.R. As its name suggests, home to thousands of top scientists working in everything from high-energy physics to agricultural science.
But with the Soviet collapse in 1991, all that came to an end. Research centers and hospitals closed. The value of the ruble plummeted. Hundreds of thousands of people left, and among them were Inessa's parents, an agronomist and a teacher.
They decided on New Zealand, a country that nine-year-old Inessa had never heard of. It was 1996.
On the first day at her new school, she cried and wanted to go home. She couldn't talk to her classmates. Russian was the only language she knew.
She learned English, and she began to blend in, soaking up the Western outlook, styles and habits of her fellow New Zealand teenagers as she grew up. That's where she first became a Rihanna fan too.
At the same time, her parents made sure she did not forget her Russian heritage. They spoke Russian at home and they brought her up as Russian. And her closest friends had Russian roots. Inessa found herself, in effect, between two worlds.
"I definitely feel that I'm Russian," she told me, before adding. "Russian with a little bit of Kiwi."
Yet at that point, she was agnostic about Russia itself. Even though both her parents supported the Russian president, Vladimir Putin, Inessa regarded him with suspicion.
All that changed in 2008. By then she was studying for a political science degree at the University of Wellington. That August, war broke out between Russia and its tiny neighbor Georgia over the breakaway territory of South Ossetia, provoking an international crisis.
Moscow had long backed separatists in the territory, and Georgia's president, Mikheil Saakashvili, made a reckless bid to bring it back under Tbilisi's control.
Still fuming that Georgia had been promised NATO membership a few months earlier, Russia seized the chance to give its tiny neighbor a brutal lesson, decimating the Georgian army and sending its tanks to the outskirts of Tbilisi.
It was an epochal moment in relations between Russia and the West, the prologue for the bitter divisions of today.
With her fluency in Russian and English, Inessa had a window into the very different ways in which the conflict was being covered by each side. And as she tuned into this divide, it set her on the path to becoming an internet warrior for Putin — or, in the words of one Western media monitoring agency, putting a "human face to Kremlin disinformation."
When Inessa watched news broadcasts on New Zealand and U.S. channels, she felt Russia was unfairly portrayed as the aggressor and as an imperialist bully, executing a plan that had been in the works for months.
But on Russian-language news sources, she found a completely different take. It was Georgia's American trained army who had opened fire first, she heard, in a naked act of aggression against South Ossetia and Russian "peacekeeping" forces based there. With the prospect that Georgia could become a member of the U.S.-led NATO alliance, Russia had to defend itself.
Inessa found the Russian media's version of events more convincing — and she cheered Moscow's success in repelling the Georgian army and hanging on to South Ossetia. Though Dmitry Medvedev was officially Russia's president at the time, no one doubted that Vladimir Putin — then serving as prime minister — was still calling the shots.
Inessa liked how Putin "put people in their place," she told me during our interview over Skype. She felt that, unlike previous Russian leaders, this man had a "long-term plan" for the country.
Yet even then, she could have settled down to a conventional life in her adopted country. She interned at the New Zealand parliament and then moved to a marketing job, promoting water recycling systems for an environmental management company.
Transformation
But in 2012, Inessa returned to Russia for the first time since she had left, and her hometown of Akademgorodok.
It seemed to her a miracle. The place was full of scientists once again, and now entrepreneurs too. In 2004, Putin had visited India's tech hub, Bangalore, and decided he wanted to create a Russian version in Akademgorodok. It was hailed as Russia's answer to Silicon Valley. With the dense woodlands covering the area, some dubbed it "Silicon Forest."
Inessa was moved by the changes she saw. The impoverished Russia she had left behind seemed to have been transformed 15 years later. Her admiration for Putin deepened.
"I'm not saying it's all due to one person," she said. "But I left a country that was a shithole. And the differences I found, when I got back, were extraordinary."
Inessa returned to New Zealand, to her dog, to partying with friends, and listening to Rihanna. But she soon got bored with her routine. And whenever she heard the evening news talking about Russia, Inessa was irritated by what they said. Born in Russia, raised in New Zealand, only the internet could have given birth to the phenomenon that is Inessa S
One night in the fall of 2015, she got so annoyed by "some absolute rubbish" she heard on the broadcast about "something that Russia was doing, or not doing," that she opened her computer and made a video.
She picked a section from Putin's annual live news conference in 2014, in which he was asked a question by a BBC journalist about tensions with the West.
He responds by pointing out that the U.S. spends 10 times more on its military than Russia, asking: "Who is the real aggressor here?" Inessa added English subtitles to the clip, titled it "Putin: the US started the Nuclear race," and posted it on YouTube.
To her surprise, people watched it.
Two days later, she made another video, looking at America's role in the conflict in Syria and Iraq. She found a clip of Putin addressing the annual meeting of the Valdai Club think tank, in which he argues that the U.S. is benefiting from the presence of the Islamic State group, or ISIS. This one she called "Putin: Who created ISIS?"
A few days later, a Facebook friend told her that the video was going viral. Within a month her ISIS video had had one million views.
The page was full of hundreds of approving comments too. "I love you Putin! I'm American and my entire life I always thought I was being fed propaganda about Russia," said a post typical of many, from an account labelled "eblasphamy1."
Like some other posts, this one bore signs of coming from a fake account. But it was the headline figures that stood out. And, as Inessa showed me, her video was also shared by the high-profile American activist Naomi Wolf, who called it a "jawdropper."
So she produced a third video, digging out a clip of Putin blasting U.S. foreign policy in front of a studio audience in 2011. America, he said, only wanted "vassals" not allies.
But she called this one "Putin on how McCain lost his mind," because near the end of her chosen clip, the Russian leader belittles Republican Senator John McCain — an old bugbear for Putin because of the latter's hawkish attitudes towards Moscow.
Sitting back in his chair, looking in total command, Putin points out that the veteran U.S. politician had been kept in a hole in the ground for many years while he was a prisoner of war in Vietnam. That is where McCain had "left his mind," he says adding, "there's nothing really to discuss."
Inessa kept going, with a regular flow of pro-Russian and anti-Western videos, the vast majority focusing on Putin himself.
She takes clips from a mixture of Russian and international sources — footage that has often been widely aired, despite her claims to be providing information that has never been in the Western media — and edits them together, adding her own subtitles and a "watermark" logo based on her face. She claims these additions make her videos legal "derivative" works.
Judging from her video choices, Inessa admires Putin's trademark macho style. Her most successful post so far — with eight million views according to YouTube's count — is a kind of "best of" compilation of the Russian leader berating terrified officials, with their mental state a common reference point.
"Have you lost your mind or what?" Putin rages at unseen transport ministry bureaucrats in one clip.
Less than three years since she started posting, Inessa has become a YouTube star — at least going by the video-sharing site's own figures. At the time of writing, she had more than 93,000 subscribers, as well as nearly 55 million views recorded on her "About" page. That is in addition to the millions of views for her individual video posts.
For comparison, her favorite singer Rihanna has had many times more views on her individual music videos, as you would expect for a global superstar who has sold hundreds of millions of records. But when it comes to views on her YouTube page, Rihanna actually lags behind Inessa — a striking result.
One analyst who has tracked the activities of pro-Russian activists online said this discrepancy may mean "Inessa could have gotten some fake views," using bots and other methods of boosting YouTube traffic. The analyst asked not to be named because of the sensitivity of the issue. The Google-owned video sharing site did not respond to a request for comment on how it verifies views on individual accounts. And neither did Inessa reply to my follow-up questions on her statistics.
In the past, she has said her rise to online stardom came as a big surprise. "I never really intended for any of it," she says in her apartment monologue, which sits atop her YouTube page.
Ironically titled "Girls don't care about politics," she calls the 12-minute video a "shout-out" to her fans. But it also serves as a mission statement, the only place where she appears on screen. And with her bright pink lipstick and stream of consciousness delivery, sometimes flirting, sometimes angry, sometimes weary, it's YouTube gold.
Inessa describes herself as a "translator," helping to correct what she sees as the falsehoods being spread about Russia in the West. "I know two languages," she says, "and I can see what's being told in the media in Western countries is not true."
But she has little time for anyone posting critical comments on her posts. She lashes out at one point, threatening to block them. "What, are you fucking retarded?"
Underdog Narrative
Her appeal is understandable, according to media monitors who watch Russian and other information campaigns. "YouTube activists like Inessa S. add a human face to the Kremlin's disinformation efforts and help shape the 'Russia is the underdog' narrative," says Donara Bajoran, assistant director of the Atlantic Council's Digital Forensic Research Laboratory.
Inessa is also doing well compared to Kremlin-funded sites aimed at younger English-speaking audiences, such as "In the Now." Created by the Russian government's RT network a couple of years ago, it promises "News served hot with a side of smile."
Despite its bigger resources, In the Now's mix of tabloid-style video reports have attracted less than three million views — not even close to Inessa's reach. "It appears that independent pro-Kremlin activists are more effective at spreading the Kremlin's talking points and disinformation than state-funded news outlets," says Bajoran.
And Inessa's millions of views have been lucrative. After six months of posting videos, she discovered her YouTube AdSense account, which accrues payments from advertisers. When she finally logged in, she was surprised and delighted to find that she had made a substantial amount of money.
Why Russia Sold Alaska
When we spoke via Skype, I wanted to find out more about how she sees Putin and Western criticism of his actions, in Ukraine, the Middle East and elsewhere.
Despite Russia's annexation of Crimea in 2014, one thing Inessa is sure of is that Putin is not interested in territorial expansion. Paraphrasing what she said were his own words, she said. "Russians have too much land to fully explore it. That's why Russia sold Alaska. And if it wanted land, it would have taken the eastern Ukraine already."
She also had no time for accusations that Russia hacked the 2016 American elections. President Trump would be comforted by her explanation as to why the allegation persists.
"Russia had nothing to gain by hacking the U.S. presidential election," she said. "It's just Democrats who can't admit their loss and need a scapegoat." "I know two languages, [Russian and English] and I can see what's being told in the media in Western countries is not true." – Inessa Sinchougova
But if she can't trust Western narratives, I asked her in a follow-up email, why are Kremlin narratives any more reliable? This was her answer:
"Kremlin narratives is a contrived term if we count the amount of media outlets in Russia, the figure has very little to do with the Kremlin. The Moscow Times for example are NGO funded, as are many others. Also, I never implied Western journalism is always wrong."
"Look at award winning investigative journalist Seymour Hersh," she continued. "Look at John Pilger, or Ben Swann. These people are balanced in my perception, and more often than not, their work coincides with what the Russian side is trying to get across."
For those who don't know their work, all three individuals attract support and scepticism in equal measure in the West — especially Australian journalist Pilger and U.S. television anchor Swann.
Pilger has been an outspoken critic of U.S. and Western foreign policy for decades, but is accused of double standards when it comes to holding Russia and other non-Western states to account. Swann is known, among other things, for spreading conspiracy theories about the Sandy Hook school shootings and the dangers of vaccines.
New Networks
Inessa's story is also a window into the informal networks of pro-Russian activists that have been emerging, both online and in real life. Last year, she moved to the Serbian capital, Belgrade, where she has linked up with an international crowd of like-minded people.
Among her new contacts is the British reporter and pro-Russian activist Graham Phillips, who rose to fame backing Putin's covert invasion of Ukraine in 2014. Inessa has posted one of his videos on her own YouTube page, and according to one of her Twitter posts (since removed), the two met in Belgrade last year.
It was a Mexican-American journalist and activist based in Belgrade who started this new chapter in Inessa's life. Joaquin Flores runs a pro-Russian website and think tank, and made contact online after she posted her first video. He has been linking to her posts ever since, and Inessa is now listed as an editor on his site Fort Russ.
Flores wears many hats, and has ties to various far-right figures, including an American activist called James Porrazzo who is regarded as a Neo-Nazi. Porrazzo talked of Flores as one of his inspirations in an interview this year. Many in this crowd are also aficionados of Aleksandr Dugin, the Russian far-right political theorist and proponent of Eurasianism.
Since moving to Belgrade, Inessa has also popped up in an online conversation with two U.S. Army veterans, Russell Bentley and David Stickney, who have been fighting with Ukraine's pro-Russian separatists. "Have you lost your mind or what?" Vladimir Putin raged at unseen transport ministry bureaucrats
When we spoke earlier this year, Inessa described how she "hangs out" with this new circle of friends in Belgrade. And in their Facebook posts they talked about caring for each other's pets.
She also told me it was harder to make money now. After pressure from big advertisers, YouTube has changed its rules and suspended ads on videos that are labelled as containing extremist content or hate speech. Inessa's posts have fallen into that net, putting a dent in her income. She was trying to fill the gap, she said, by using the Patreon crowdfunding site. At the time, she sounded unsure about her future.
But after I asked more follow-up questions, including clarification on her YouTube numbers, Inessa stopped talking to me, and de-friended me on Facebook.
Inessa is keeping busy though — posting another video focusing on Putin just this weekend. It highlighted his offer of Russian passports to all Ukrainians who want one.
Encouraging people to affiliate with "the Russian world," as she puts it in the accompanying text, will help tackle Russia's population shortfall. But in a dig at the Ukrainian government, she argues that the passport offer will also help Ukraine, because it is losing so many people to migration and has "one of the lowest birth rates in Europe."
In her apartment mission statement, Inessa scoffs at claims the Russians are paying her.
But then she pauses for a moment, raising an eyebrow. "Maybe they should. Maybe I should ask them," she laughs. "I'm doing a good job."
The Big Idea
Shifting Borders
Borders are liminal, notional spaces made more unstable by unparalleled migration, geopolitical ambition and the use of technology to transcend and, conversely, reinforce borders. Perhaps the most urgent contemporary question is how we now imagine and conceptualize boundaries. And, as a result, how we think about community. In this special issue are stories of postcolonial maps, of dissidents tracked in places of refuge, of migrants whose bodies become the borderline, and of frontier management outsourced by rich countries to much poorer ones.
Read more