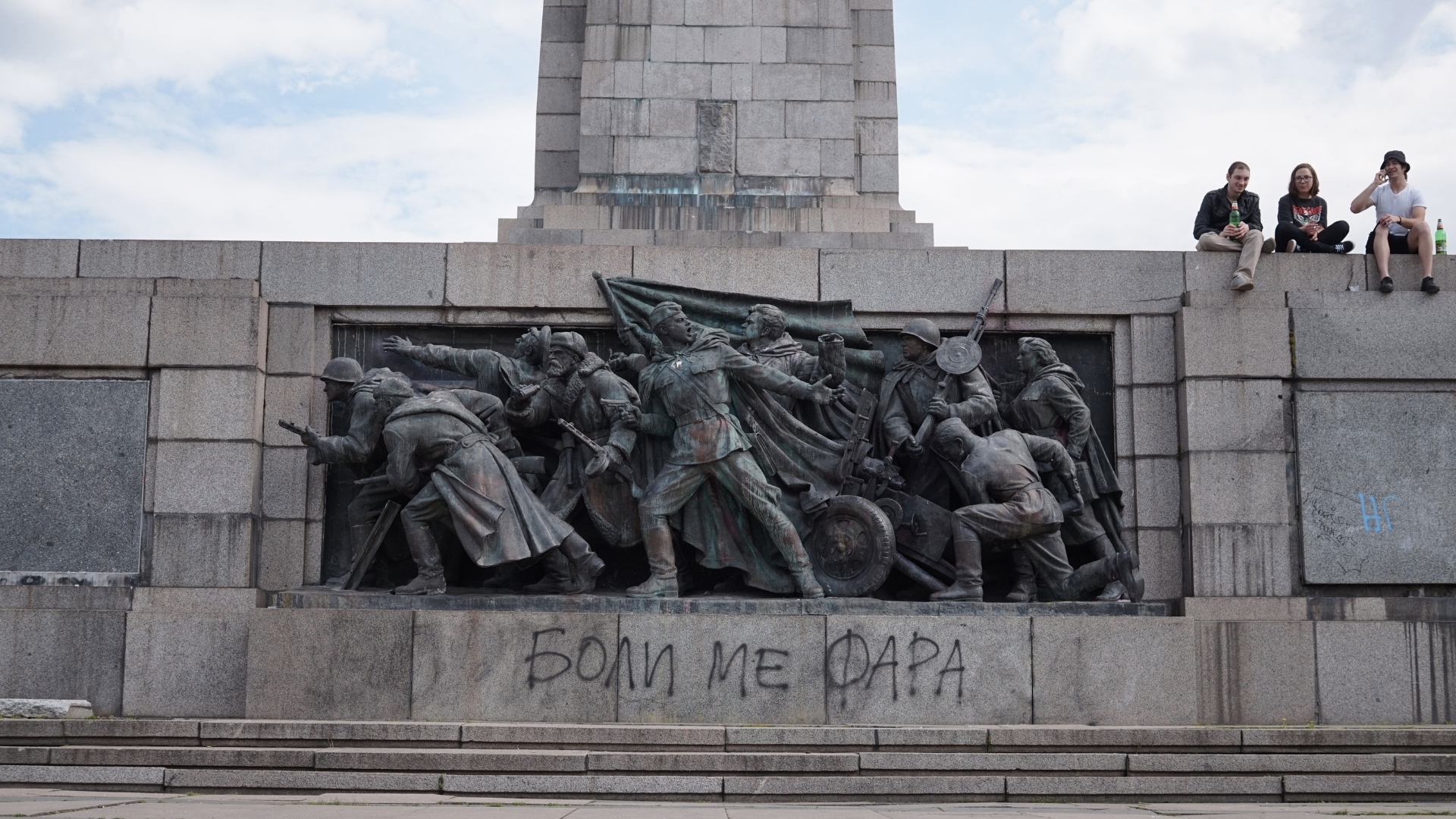 The monumental obsession of Bulgaria's Russophiles
Could a campaign to protect Soviet-era statues become a future Kremlin Trojan horse in Bulgaria?
To hear Nikolai Malinov tell it, his 35,000-strong National Movement of Russophiles is just a cultural movement, a big club that puts up statues and organizes festivals to remind Bulgarians of their country's longstanding historical, cultural and linguistic ties with Russia.
But he is also clear about his views. "Russia today has a spiritual plan to rescue Europe, with traditional values, a strong state and a multipolar world." Given Russia's power plays across Europe, some here in Bulgaria think Malinov and his movement have a bigger political goal — to move the country further into the Kremlin's orbit.
Since Malinov took over as leader eight years ago, his "Russophiles" have been busily erecting plaques and statues to people they regard as heroes of past conflicts involving the Russians. That includes the 1877-1878 Russo-Turkish war which liberated Bulgaria from Ottoman control, and even the 1944 Soviet invasion that put the country behind the Iron Curtain.
Monument Battle
It is also why, Malinov says, they protect old monuments, among them a giant display in central Sofia of Soviet soldiers fighting in World War II. It has often been defaced — prompting protests from Moscow — including one time when it was repainted in the colors of the Ukrainian flag in response to Russia's annexation of Crimea.
"Memory is very important to us," says Malinov.
The Russian language is also important; the Russophiles have organized nationwide festivals of Russian poetry and dance for children (called "Let There Always Be Sunshine"), and helped fund Russian-language courses in more than 300 kindergartens across Bulgaria.
It's all part of Malinov's mission to encourage Bulgarians to embrace Russia "on the basis of historical traditions, Orthodox Christianity and Slavic ideas and values."
This year, the Russophiles sponsored trips to Bulgaria for Russian military cadets who had won a history-essay contest overseen by Russia's Heritage Foundation, which is dedicated to promoting the country's history. Writers of the top three essays about the Russo-Turkish War traveled to Bulgaria to visit "sites of Russian glory."
The Heritage Foundation is headed by a familiar name to Russia-watchers in the Balkans (of which Bulgaria is considered part). Leonid Reshetnikov, someone Malinov calls his friend, was known for his "extremely hawkish" views in his previous job at the SVR, Russia's foreign intelligence service. He also compiles an annual ranking of "Russophobic foreign journalists, and last year Reshnetnikov said it was "time [for Russia] to return to the Balkans." "Russia today has a spiritual plan to rescue Europe, with traditional values, a strong state and a multipolar world."
Reshetnikov and Malinov also have a friend in common — Russian investment banker Konstantin Malofeev, who has been sanctioned by the U.S. and the European Union for alleged financial support to pro-Russian forces in Ukraine.
In 2015, Malinov and Malofeev joined forces to attempt a takeover of Bulgaria's TV7, a privately owned entertainment station. In an interview at the time, Malofeev described his relationship with Malinov as "very close" and predicted a "brilliant future" for the Russophiles.
But that "brilliant future" has still to materialize. The TV7 takeover ultimately failed and the station has since closed. Malinov failed to win a seat in this year's parliamentary elections, running on the far-right United Patriots list, after pulling out of the Bulgarian Socialist Party on the grounds that it was behaving like an "enemy of Russia."
They have one guaranteed source of support — the older generation who still remember the Soviet Union. According to one recent survey by Alpha Research, a market-research agency, 95 percent of Bulgarians over 60 view Russia positively. "They are the keepers of this trend to move closer to Russia," says Alpha's Boryana Dimitrova. But the Russophiles have struggled to win wider support, especially among the young.
Malinov and the Russophiles can't be counted out though. They claim 10,000 people came to their annual festival-style meeting, where they were selling T-shirts with images of Vladimir Putin, Josef Stalin and Bulgaria's Communist-era leader, Todor Zhivkov.
The movement matters "as a legal vehicle" to spread a Kremlin-friendly point of view, argues Martin Vladimirov, an analyst at Sofia's Center for the Study of Democracy. In that way, he says, "Malinov does have an impact." Dimitrova echoes this, saying Moscow is more than happy to have homegrown groups like the Russophiles acting as its advocate.
And though they have admit to "financial difficulties" in their most recent annual report, the Russophiles say they've seen an increase in donations and sponsors over the last year, though they won't say who from publicly.
But at the Monument to the Soviet Army, there is little sign of Malinov's steadfast pro-Russian message connecting.
Three teenagers are perched above, drinking bottles of beer with their feet dangling down over the heroic-looking statues. For the moment, the monument is back to its usual dark, greenish-grey, but spray-painted below are three words in Bulgarian:
"Boli me fara" — "I don't care."
The Big Idea
Shifting Borders
Borders are liminal, notional spaces made more unstable by unparalleled migration, geopolitical ambition and the use of technology to transcend and, conversely, reinforce borders. Perhaps the most urgent contemporary question is how we now imagine and conceptualize boundaries. And, as a result, how we think about community. In this special issue are stories of postcolonial maps, of dissidents tracked in places of refuge, of migrants whose bodies become the borderline, and of frontier management outsourced by rich countries to much poorer ones.
Read more