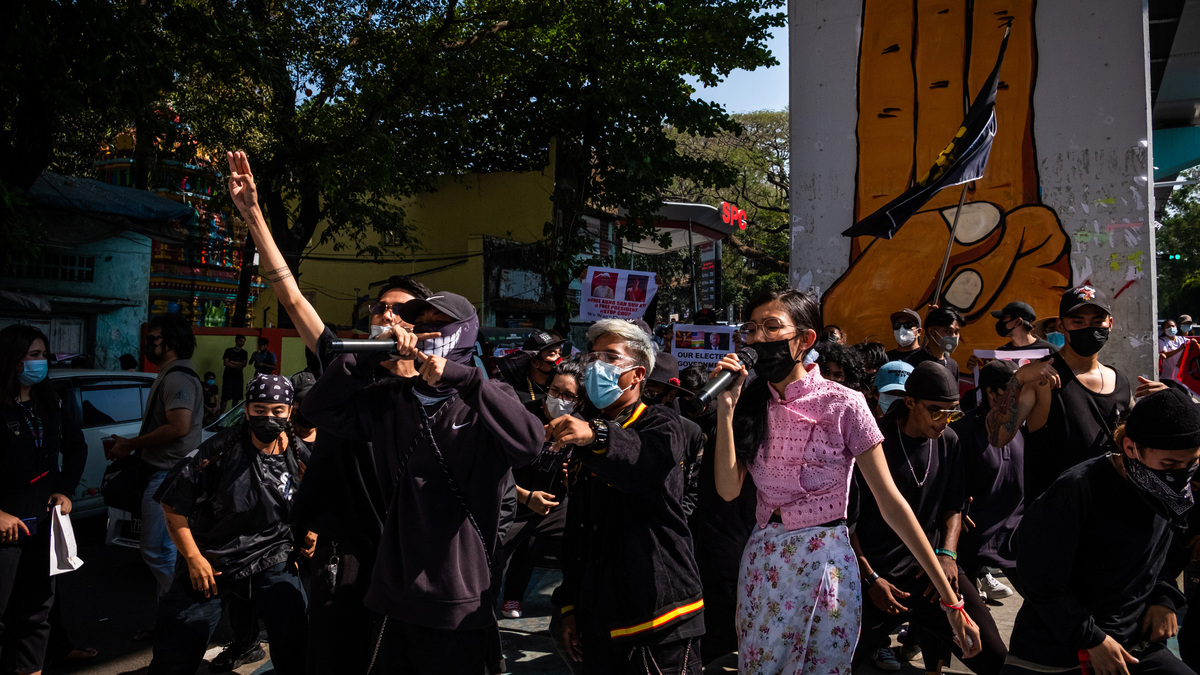 Myanmar rappers battle against the coup
Anti-military hip-hop tracks have become a new front in the country's information war
While mass strikes and demonstrations against the February 1 military coup continue to paralyze cities across Myanmar, rappers are releasing music pushing for the swift return of democracy.
Dozens of tracks by hip-hop artists living inside Myanmar and abroad have been uploaded to social media platforms and streaming sites, including Facebook, YouTube and Soundcloud. The music marks a new front in an ongoing information war against the military junta.
In the six weeks since the overthrow of the elected government, led by Aung San Suu Kyi of the National League for Democracy party, martial law has been imposed in districts across the country. At least 149 people have been killed by police and security forces, and another 1,800 have been detained. Last Sunday, in the deadliest day of protests so far, 74 people lost their lives in Yangon and Mandalay, the nation's two largest cities.
Hip-hop tracks criticizing the military began to appear online within days of the coup. One of the most popular — "End Game" by Nay Ye Khant, Adjustor, Yung Hugo, GRACEe, D-Vision, Young Yair and EilliE — has been viewed over 200,000 times on YouTube.
It describes Myanmar's current authoritarian crackdown — the country's third period of military rule since gaining independence from Great Britain in 1948 — as a fight for freedom and democracy.
Over a chanted chorus, rapper Nay Ye Khant solemnly outlines stakes in the weeks and months ahead: "The last battle, the last battle, the final ending/ The people must win, the truth must prevail/ The last battle, the last battle, the final ending/ We shall revolt and end the dictatorship and its roots."
Speaking by telephone, Khant explained how violence by the police and armed forces, as well as a number of new restrictions on everyday liberties, compelled him and his friends to write "End Game."
"The military started making laws, like we can't go out between 8pm and 4am, and we started losing our rights, like they cut the internet between one and nine in the morning," he said. "They have raided neighborhoods and homes at night for no reason, shot at houses and arrested people involved in the movements against them."
Khant, who has over 34,000 followers on Facebook, added, "It is getting worse day by day, so we have to end this as soon as possible."
From the U.S. civil rights movement to apartheid-era South Africa, music has long played an important role in political struggles. Born of the New York party scene in the late 1970s, hip-hop rapidly became a powerful medium for messages of empowerment and social justice. But, when Public Enemy's Chuck D commented back in 1989 that the genre was "the Black CNN," he may not have fully imagined how far it would spread or the number of causes it would give voice to worldwide.
The past two years have seen hip-hop on the front lines at global protests. In the U.S., Black Lives Matter has motivated dozens of MCs — including Run The Jewels, Meek Mill and Ty Dolla $ign — to release songs highlighting police brutality, racism and inequality. Elsewhere, British rappers have responded to the country's knife crime crisis and artists in Hong Kong have expressed their support for the pro-democracy movement.
"Hip-hop is about rising up against oppression," said Khant. "That's how hip-hop walks in the world."
The quick release of dozens of anti-coup hip-hop songs also speaks to the freedoms only recently enjoyed by local musicians. Myanmar has a long history of censoring music. When the military first seized power in 1962, the authorities regularly banned songs they deemed subversive. This led to the creation of a style of music known as "copy thachin" or "copy song," in which local artists rewrote and toned down hits by songwriters like Bob Dylan and John Lennon to fit prevailing national sensibilities.
As the process of democratization began in the mid-2000s, restrictions began to loosen, and Myanmar developed thriving hard rock and heavy metal scenes. Now, hip-hop is the dominant youth genre. In 2015, Zayar Thaw, whose group Generation Wave helped pioneer rap music within the country, was elected to parliament as a member of the National League for Democracy.
Dr Jane M. Ferguson, a lecturer in Southeast Asian history and anthropology at Australian National University in Canberra, believes that the outpouring of anti-coup rap performs an important function in Myanmar's protest movement. "It's giving it a creative and interesting package that attracts the attention of outsiders, but also it can galvanize support across generations," she explained.
Ferguson also cited the traditional poetry style of thanjat, which has historically been used to mock and satirize the powerful, as an antecedent to today's anti-junta hip-hop tunes. "You already have this cultural affinity or propensity or skill to be able to come up with this form of rhythmic, rhyming poetry, which has always been political as well," she said.
On February 3, two days after the military takeover, the Yangon-based rapper Louz Xa Lone, 24, released a track titled "The Voices." Over a keyboard melody and a speeded up hook sampled from Laura Lee's 1971 ballad "Two Lovely Pillows," he considers a bleak future for Myanmar. "What is life like for all of us?/ Can't even think about it in this country's situation/ Wrong sayings are still maintained until the next generation."
The tune has picked up 7,000 likes and 2,000 shares on Facebook. "After the military coup, almost everyone, including me, lost their future," Lone said, via email. "It is depressing to live in this darkening life right now."
The rapper, who has over 84,000 followers on Facebook and has been making music for six years, said he wrote the lyrics to "The Voices" in one evening, ahead of a recording session in a Yangon studio.
"The one thing I know is that the military is the main obstacle to the development of our country — we don't want them anymore," he said.
Hip hop artists based in Myanmar have also been joined by others living outside of the country. Rapper Vanzzzo, 22, a Myanmar national who claimed asylum in the U.S. in 2009, released "Rebel (Save Myanmar)" earlier this month.
Like a number of songs about the coup, it takes an uncompromising view of life under military rule: "Me and my people, yeah, we're the rebels/ We ain't gonna live like cattle/ Mark my words, we ain't never gonna settle/ Till we get our freedom/ We just want peace, not pistols."
"The first couple of days, I couldn't do anything because it was just overwhelming," Vanzzzo, who lives in Indianapolis, Indiana, said of his reaction to the military takeover. "I couldn't write. I couldn't do anything, no inspiration, nothing."
In addition to music, hip-hop culture has always provided other avenues of expression. One in particular has been highly visible throughout the protests, with graffiti writers drawing anti-coup murals and slogans on buildings and roads around the country.
Si Thu Aung, from Mandalay, has painted wall pieces in a number of towns and cities over the past six weeks. "I'm a graffiti artist," he told me, via Facebook messenger. "We don't have weapons, we have only art, so we will revolt with our art until everyone knows our voice all over the world."
The Big Idea
Shifting Borders
Borders are liminal, notional spaces made more unstable by unparalleled migration, geopolitical ambition and the use of technology to transcend and, conversely, reinforce borders. Perhaps the most urgent contemporary question is how we now imagine and conceptualize boundaries. And, as a result, how we think about community. In this special issue are stories of postcolonial maps, of dissidents tracked in places of refuge, of migrants whose bodies become the borderline, and of frontier management outsourced by rich countries to much poorer ones.
Read more