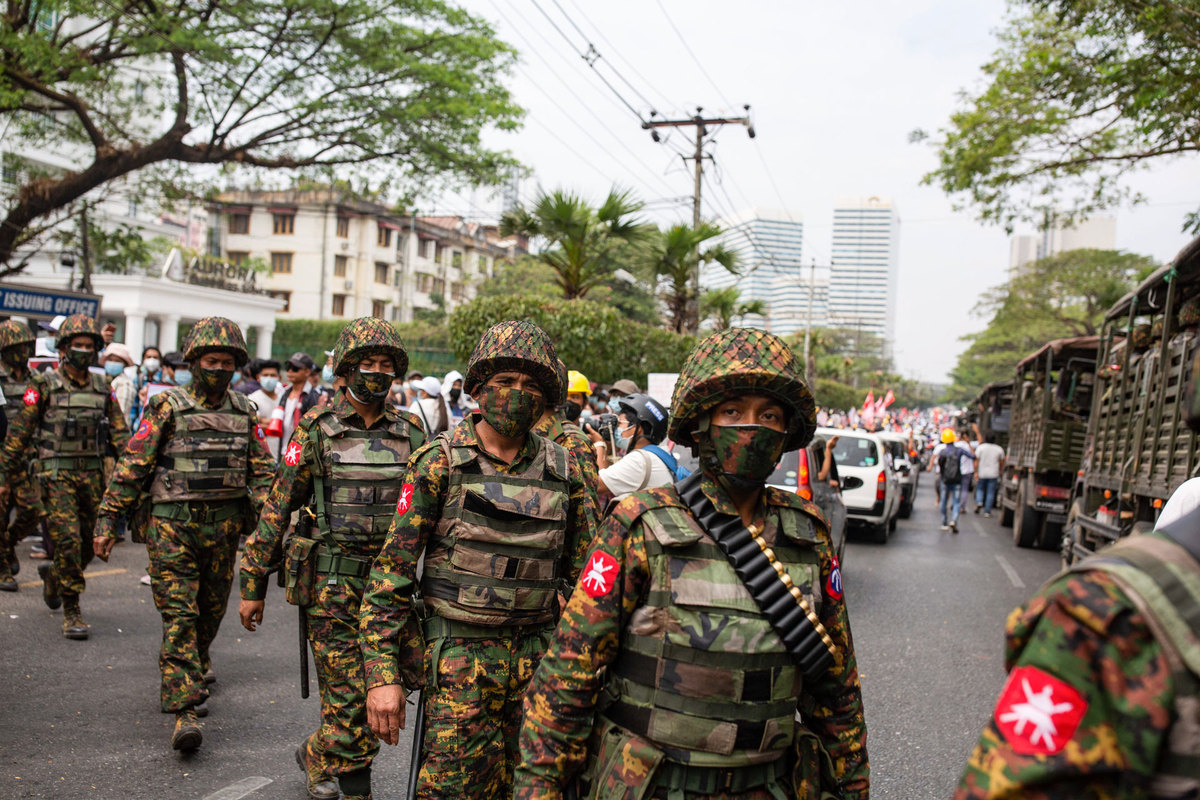 Myanmar's protest movement riven by suspicions and accusations of betrayal
Online attacks target pro-democracy activists who have family ties to the military
Four weeks after Myanmar's armed forces overthrew the country's civilian government, Zeyar Myo Tin, a doctor and social media influencer living in the Lake District in northwest England, uploaded a video to Facebook declaring his opposition to the February 1 military coup.
Tin had steered clear of Facebook since the armed forces deposed the democratically elected government of Aung San Suu Kyi's National League for Democracy. He was concerned that he would be attacked on social media: his family in Myanmar has longstanding connections to the country's powerful military. Tin's father and grandfather — both retired — were once officers in the air force, a captain and brigadier general, respectively.
In the two-and-a-half months since the coup, over 730 civilians have been killed by security forces and thousands more arrested. Nationwide protests have also paralyzed large sections of the country. While anti-military protesters continue to voice their objections to the takeover online and off, anger and suspicion has driven some of them to target individuals who have entrenched family links to Myanmar's armed forces.
In the March 4 post, Tin explained to the 650,000 followers of his page, Zeyar Vlogs, that he had been absent from social media because his personal Facebook account had been attacked. He added that his family's security in Myanmar had been compromised. "Therefore, in order to be able to fight for the cause without affecting anyone's safety, I decided to stay off social media," he said.
Tin's 10-minute clip, narrated in Burmese, received nearly 9,000 comments, many of them confrontational or abusive. "Can anyone believe the words of an ignorant man?" asked one user. "Shut your mouth, you sucker. Never come back," read another post.
"People are very angry and frustrated at anybody who has ties to the military, because we can all see what the military has been doing," said Tin, during a recent telephone conversation.
Tin launched the Zeyar Vlogs account in 2018. Until the coup, he usually posted videos about his life in the U.K., including the five years he studied for a medical degree at Glasgow University, advice on nutrition and trips to towns and cities such as the northern English seaside resort of Blackpool. The March 4 video was the first time he had publicly criticized the coup and the military to his followers. It racked up nearly 6,000 shares.
With over 400,000 soldiers, according to the U.K.-based International Institute for Strategic Studies, Myanmar's military — also known as the Tatmadaw — is the nation's largest employer. It ruled the country from 1962 until 2011, when the slow process of democratic reform first began. It has also maintained a tight grip on the nation's finances through investments in a number of industries, including tobacco, mining, real estate and banking.
Experts say the attacks on pro-democracy activists who have links to the military indicate rising levels of suspicion within the protest movement.
"It started off with identifying the sons and daughters of the absolute top leaders, many of whom were studying or living overseas in the United States or Australia," said Professor Ian Holliday, vice-president and pro-vice-chancellor of the University of Hong Kong and the author of "Burma Redux: Global Justice and the Quest for Political Reform in Myanmar."
"As the stresses and the strains of the movement have increased, we have seen that there has been a lot more ad-hoc finger pointing at people. Some of it is probably identifying the next tier down in the military hierarchy."
In many cases, the children and relatives of the Tatmadaw's top brass have made no public statements about the events of February 1. Disagreements about the role of the military in Myanmar certainly cut both ways. Thinzar Shunlei Yi, a pro-democracy activist based in Yangon, Myanmar's largest city, has family ties to the Tatmadaw. Her grandfather, father and uncles were all in the army. She explained that people with similar connections who disagree with the coup may find it difficult to express their opinions.
"I think, if their family members are in the military, it is quite challenging for them to come out," she said. "They worry about their family or that their parents might threaten them."
"I face a lot of criticism about my opinion of the military or their ideology, from my own friends, from my own family members," she added. "I have been named as disloyal to the institution. That's how I have been framed by the military people."
Yi said that while she tries to avoid confrontation with family members who support the military, the coup and the escalating violence in Myanmar can dominate conversations.
"They know my positions and I know their positions, so when we have to talk about something, we end up arguing," she said. "I know their limits and they know my limits, so we don't cross the line most of the time," she added.
Social media and shaming
For the past two months, protestors have used Facebook, Twitter and Instagram to target junta members and their relatives living in several countries — including Myanmar, Australia and the United Kingdom — using the hashtag #socialpunishment. Those accused of benefiting from the Tatmadaw have often been referred to as "maggots."
In March, activists launched the website, Socialpunishment.com, which features details of 120 individuals with military links who have been accused of failing to speak out against the coup. The profiles, which have been widely shared on social media, contain photographs of the individuals in question and rank them on a "traitor" scale from low to elite.
The aggressive nature of the #socialpunishment campaign has obvious shortcomings. Bryan Tun, a doctor at Redland Hospital in Queensland, Australia, told me that he has been abused on social media, even though he is not listed on the site. Tun has no links to the military, regularly posts Facebook messages in support of the protest movement and is a longtime supporter of Aung San Suu Kyi. He has also attended pro-democracy protests in Australia and donated funds to Myanmar's civil disobedience movement.
Tun said he was attacked on Facebook feed because he is the son of Myanmar's commerce minister, Pwint San, who was appointed after the coup. While he disagrees with his father's decision to accept the role, he says that it took time to convince detractors of his loyalty to the pro-democracy movement.
"They would post my personal photos — not only me, but also of other children whose parents took up positions given by the military," he said.
In the eight weeks since posting his first anti-coup video, Tin, the doctor based in the U.K., has intensified his political activism. Earlier this month, he took part in a pro-democracy protest outside the Myanmar embassy in London. Last Saturday, on a clear and sunny morning, he travelled to the capital again to take part in a three-day hunger strike being held by the Myanmar Students' Union, an organization that represents Myanmar nationals studying in the United Kingdom and the Republic of Ireland.
Like many opponents of the coup living outside Myanmar, Tin worries that his criticism of the military will result in the punishment of his family members back home. Earlier this month, he learned that his friend, the popular actor May Toe Khine had been arrested for supporting the anti-coup protests.
"In the UK, I always have to consider, no matter what I speak, 'Is this going to get my grandparents in trouble, my parents in trouble?'" he said. "Because I am away, I feel like I am really exposing my parents. Instead of them worrying about me, most times I am worried about them."
The Big Idea
Age of Nostalgia
Infatuation with a mythologized history has overtaken communities, cultures, entire regions, sending society and identity into a fun-house mirror of nostalgic reflections. This special issue brings you stories of people finding solace in pasts imagined and grieving for futures foreclosed in a time of existential threats.
Read more