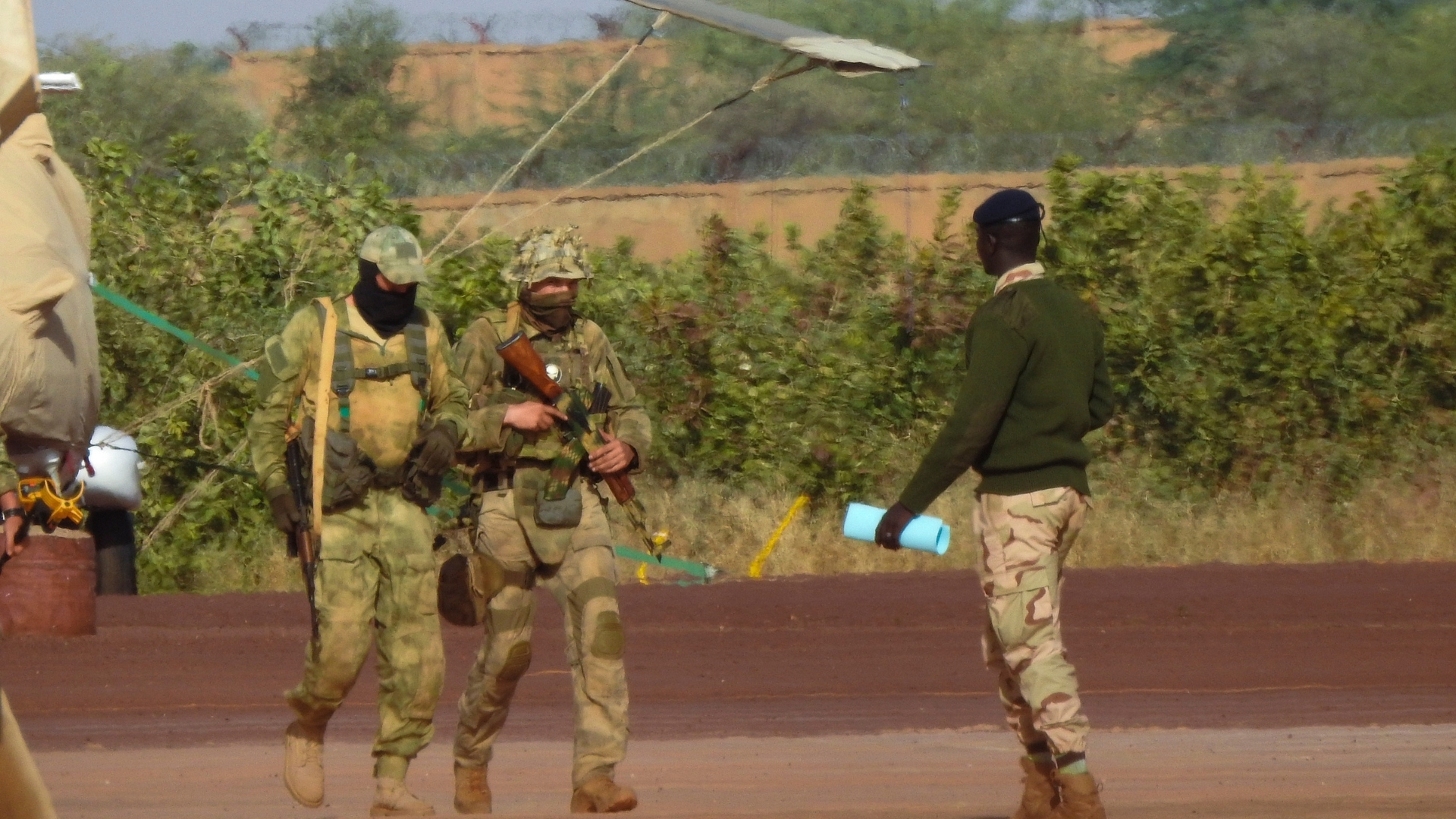 Russian trolls and mercenaries win allies and good will in Africa
As French troops leave Mali to jeers, the West fears that it is leaving a vacuum that the Kremlin is eager and ready to fill
French troops left Mali, after close to a decade, on August 15 to taunts, insults and nationwide celebrations.
When France sent its soldiers to the Malian capital Bamako in 2013 — as part of the much-feted Operation Barkhane intended to put an end to terror attacks by Islamist groups waging IS and Al Qaeda-backed jihad — they were greeted as heroes by ordinary Malians singing paeans of gratitude.
After early successes, though, the French soldiers struggled and the relationship with Malians deteriorated to such an extent that the French were suspected of supporting the very terrorists they were meant to be fighting.
On Facebook, a Malian activist group, "Yerewolo Debout sur les Remparts," responded to the departure of French troops with glee, describing it as a historic triumph. The group posted a cartoon which summed up the feelings of many Malians – a French soldier on the receiving end of a giant Malian boot.
But now it's not only Malians who are celebrating the unceremonious exit of the French. The Kremlin too is delighted, happy to declare Operation Barkhane a debacle, with billions of dollars spent and the loss of thousands of lives, including dozens of French soldiers, to little effect.
If the West was hoping to isolate Russia after the invasion of Ukraine, Russia sees an opportunity in the "global South" to gain more diplomatic influence and secure lucrative economic deals. "Russia is using Africa as a pawn to out-muscle the west," Jean le Roux, Africa expert at the Atlantic Council's Digital Forensic Research Lab (DFRLab), told me.
Russia, for years now, has been adept at playing on and inflaming anti-France sentiment in former French colonies, from Mali to the Central African Republic. The Kremlin has largely succeeded in charming African leaders into tighter alliances and upsetting both the United States and particularly Europe, whose once unshakeable hold on the continent, in terms of trade, has considerably weakened.
Even now Russian trade with Africa ($14.5 billion in 2020) is but a fraction of the value of the continent's trade with the EU (over $280 billion), China (around $255 billion) and the U.S. (over $65 billion). But Russia supplies a significant portion of Africa's weapons, its wheat and grains, and its fertilizer.
And, as some have argued, Africa's trading relationships with the EU are starting to chafe. In February, for instance, Odrek Rwabwogo, an adviser to the president of Uganda, wrote that "restrictive trade policies from wealthy western countries and blocs keep African countries chained to raw materials exports…while making the countries and blocs that implement them wealthier still."
RUSSIA'S AFRICA STRATEGY
Last month, the Russian foreign minister Sergey Lavrov undertook a five-day whistle-stop tour of Africa to talk up the growing collaboration between countries on the continent and Russia as a respite from colonial arrangements and colonial condescension from the European Union. Russia also blamed U.S. sanctions for the rising price of grains and fertilizer that had led to food insecurity and acute hunger in several African nations.
In a column, published in prominent newspapers in Egypt, the Democratic Republic of the Congo, Uganda and Ethiopia, Lavrov wrote on July 22 that, "Our country who has not stained itself with the bloody crimes of colonialism, has always sincerely supported Africans in their struggle for liberation from colonial oppression." Lavrov also evoked the "master-slave" dynamic that he wrote continued to characterize relationships between European powers and their former colonial possessions.
It is an argument that has been amplified on social media in recent years, particularly since Russia's invasion of Ukraine, to a receptive audience. Big Tech platforms, including the likes of Facebook, Twitter, and YouTube, are notoriously lax in their moderation policies in much of the world, enabling social media in Arab countries, Latin America and Africa to be a practically unfettered space for Russian propaganda.
And Russia's narratives are finding their mark.
In 2019, the Stanford Internet Observatory published a whitepaper describing Russia's experiments with disinformation in Libya, Mozambique, Sudan, Madagascar, the Central African Republic, and the Democratic Republic of the Congo. In these six countries, the researchers concluded, Russia was "engaged in a broad, long-term influence operation." Their tactics included posting "almost universally positive coverage of Russia's activities in these countries," while the posts also "disparaged the U.N., France, Turkey Qatar… most often while purporting to be local news sources."
The researchers noted 73 Facebook pages set up by Russian agencies on Facebook alone targeting audiences in the six African countries, with as many as 8,900 posts being made across the pages in a single month. The disinformation came directly from companies linked to Yevgeny Prigozhin, the researchers said, whose Internet Research Agency had played havoc with the 2016 U.S. elections.
Backing up its cyberspace guerilla tactics, Prigozhin's shadowy companies, chiefly the notorious Wagner Group, also had boots on the ground, providing paramilitary fighters and services across Africa.
THE ROLE OF THE WAGNER GROUP
In Sudan, for instance, protests have been ongoing for over a year to remove the military junta that deposed the longtime dictator Omar al-Bashir in 2019, only to hold on to power rather than create the conditions for democratic elections and a civilian government.
In Khartoum, more than a hundred protestors have been killed since October. Many more have been wounded. Democracy activist Nasr Eldin Safiyah was injured in a rally in June, the side of his head split open by a teargas canister hurled into the crowd. "I have not been well," he told me. "But we are determined to take down this corrupt military junta."
Standing in his way are Wagner Group mercenaries. "It's a known fact here in Sudan that Russia supports the military junta," Safiyah says. "Wagner is operating and training militias and they are helping them to loot our gold." An investigation last month in the New York Times revealed that Russian firms are active in Sudanese gold country, mining tons of the precious metal and described the Wagner Group as providing "interlinked war-fighting, moneymaking and influence-peddling operations."
As with the six African countries, including Sudan, studied in the Stanford Internet Observatory paper, Mali too has been the target of a sophisticated Russian campaign. Le Roux, the Africa expert at DFRLab, wrote back in February that a "network of Facebook pages promoting pro-Russian and anti-French narratives drummed up support for Wagner Group mercenaries prior to the official arrival of the private military group in Mali." He added that these carefully constructed fake pages "also mobilized support for the postponement of democratic elections following a successful coup in May 2021, Mali's second in less than a year."
Russian president Vladimir Putin called Mali's military leader Asimi Goita, as the last French soldiers prepared to leave, and reportedly reassured him that food, fuel and fertilizers would be made available. Goita tweeted to pointedly praise Putin's respect for "the sovereignty of Mali and the aspirations of its population."
Earlier this month, Russia also delivered several warplanes and a helicopter to Mali to bolster its defenses in its ongoing fight against Tuareg rebels and Islamist terrorists. And last year the Malian foreign minister visited Lavrov in Moscow in part to discuss the deployment of Wagner Group paramilitary troops in Mali. Both countries deny the official presence of Wagner Group mercenaries in Mali, describing the militants as instructors to Malian soldiers.
But a U.N. report unearthed this month by the Associated Press claimed "white soldiers" had been seen with Malian troops committing likely war crimes in the massacre of at least 33 civilians. Both U.S. and U.N. officials have confirmed the presence of Wagner soldiers in Mali.
The Wagner Group, albeit supposedly unconnected to the Kremlin, is also playing a growing role in the fighting with Ukraine. State-sanctioned Russian media have lavished praise on the exploits of Wagner Group fighters in the Donbas region. And the presence of Wagner Group soldiers in Mali, even if it's not clear how many, is in keeping with Russia's intervention in the affairs of several African countries.
Prigozhin, the oligarch who controls the Wagner Group, is known as "Putin's chef" because he apparently owes his great wealth to catering contracts signed with the Kremlin. He is also linked to Russian companies that have filed into countries like Sudan to illegally mine tons of gold which they carry away from military airports. Miners along the lawless Sudanese border with the Central African Republic accuse Russian mercenaries of massacring their colleagues and stealing their gold. Sudanese officials admit that about four-fifths of the country's 100 million tons of annual gold exports are smuggled out of the country.
Mali, incidentally, is Africa's third largest gold exporter.
WHAT'S NEXT?
On the day the military took power in Mali in May, last year, Malians took to the streets to cheer. Some shouted slogans in support of Russia, some raised the Russian flag and chanted "France degage!" Clear out, France. The support for Russia is real, despite groups like Human Rights Watch pointing to arbitrary detentions and torture and the connection of Wagner Group fighters to massacres of civilians.
DFRLab's experts say Malian social media is where there is most praise for Russia and mentions of the Wagner Group. But neighboring Burkina Faso is catching up. In January, there was a military coup in the country and since then complimentary social media chatter about Russia and its influence in Africa has dramatically increased.
Burkinabe protestors have been rallying against the French presence in their country too, as French troops relocate Operation Barkhane to Burkina Faso, Niger and Chad.
In the last month, demonstrators in Ougadougou, Burkina Faso's capital, have burned the French flag and chanted, "France, the godmother of terrorism, get out," and, "We are all for the liberation of Burkina Faso!"
Are Wagner Group mercenaries already packing for the 500-mile journey from Bamako to Ouagadougou?