'Servant of the People' leads Ukraine's presidential race
Once upon a time, a video showing a school teacher's rant against government corruption went viral. Soon, that teacher became president and cleaned up the system.

Truth, it is often said, is stranger than fiction. In Ukraine, where a presidential election campaign is in full swing, this fairy tale scenario based on one of the country's most popular television programs could become reality in next month's election.

Volodymyr Zelenskiy, a Ukrainian comedian who stars in the series called Servant of the People, is now the real-life front-runner in the election. The 41-year-old actor and political novice has adopted his fictional character's values and platform, resulting in one of the most unusual twists on politics in the post-truth age.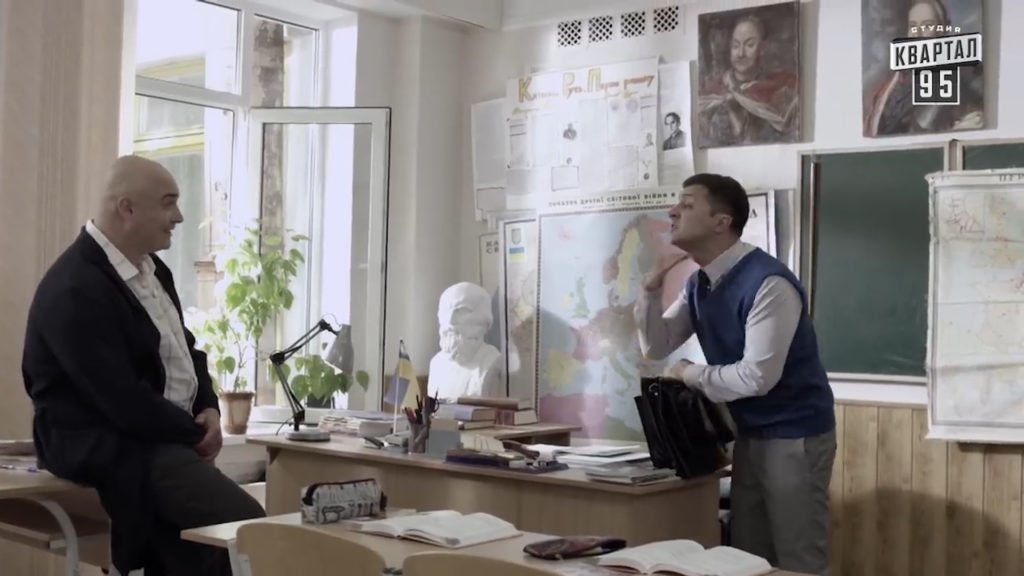 A new season of Servant of the People is set to run in March, ahead of the election. Even before the new broadcast, Zelenskiy's blend of fact and fiction was already deeply embedded in the campaign. YouTube results for Zelenskiy shows clips of the TV show side by side with campaign rallies.

Disgusted and disillusioned with the country's political classes, many Ukrainian voters don't seem to be interested in Zelenskiy the man. They are content to ascribe the same values to him as the character he plays on TV. And besides, he can tell a good joke.

"He is that new blood in politics we all need," said Anastasia Shevchenko, who came to watch Zelenskiy's comedy group perform in Bila Tserkva, outside Kiev earlier in February. "I love him."

Some political analysts don't buy Zelenskiy's branding as an outsider who wants to clean up the system. Rather, they see him as a savvy political operator with deep ties to the country's oligarchy who is ready to bend reality in pursuit of power.

Zelenskiy's popularity and his slick campaign are being hyped by Ukraine's most popular television channel, 1+1, whose owner, Ihor Kolomoisky, has a bitter feud with Ukraine's current president, Petro Poroshenko, the man who is trailing Zelenskiy in the polls.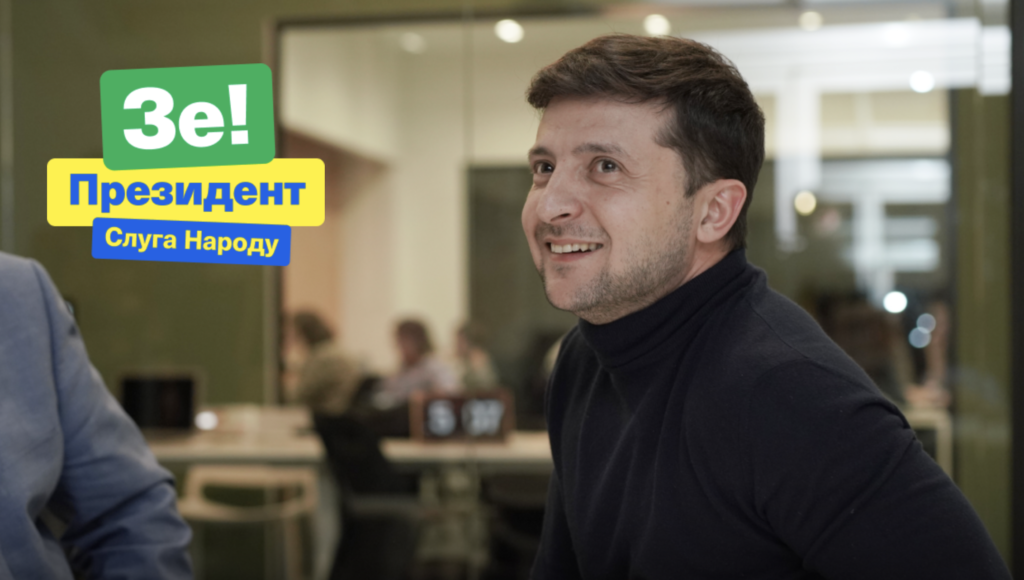 Zelenskiy claims that this real-life drama is not a stunt. He's sincere about trying to improve the lives of his fellow citizens who for decades have suffered war, economic depression and corruption. "People are tired of the so-called political elites, who keep feeding us with promises of a better life, they never fulfill after the election," Zelenskiy said in an interview.

Zelenskiy's rising political star comes at a time of deep economic despair and distrust among Ukrainians in their political leaders. The nation is facing the fifth year of occupation by pro-Russian forces in its eastern territory of Donbas, a conflict during which more than 10,000 have been killed and more than 2 million displaced. Transparency International ranks Ukraine among the most corrupt nations in the world. Despite Poroshenko's avowed battle against corruption, Ukraine has not launched a successful prosecution of senior official or businessman during his tenure.

It's little wonder, then, that a man who has built an image of virtue and idealism has captured the hearts and minds of the nation, says Volodymyr Fesenko, a leading Kiev-based political analyst. "An inexperienced politician, a person outside the political system who will act against the political rules, is what Ukrainians want in the time of crisis," Fesenko said.

A poll released March 4 by Rating Group Ukraine shows the comedian with 25.1% of the vote, compared with 16.6% for President Poroshenko and 16.2 percent for former Prime Minister Yulia Tymoshenko. The margin of error is 2%. These results compare with a Feb. 12 poll by American firm Greenberg Quinlan Rosner showing Zelenskiy with 28% of support by likely voters, while his rivals were 10 percentage points behind. The poll had a margin of error of 1.7%.
Zelenskiy's appeal skyrocketed four years ago when 1+1 first aired Servant of the People. Written by Zelenskiy and his production company Kvartal 95, the program shows how an everyman, history teacher Vasyl Goloborodko, transforms his country when he accidentally becomes a leader. His success was simple: he replaced corrupt politicians with a handful of friends who, like himself were honorable and idealistic.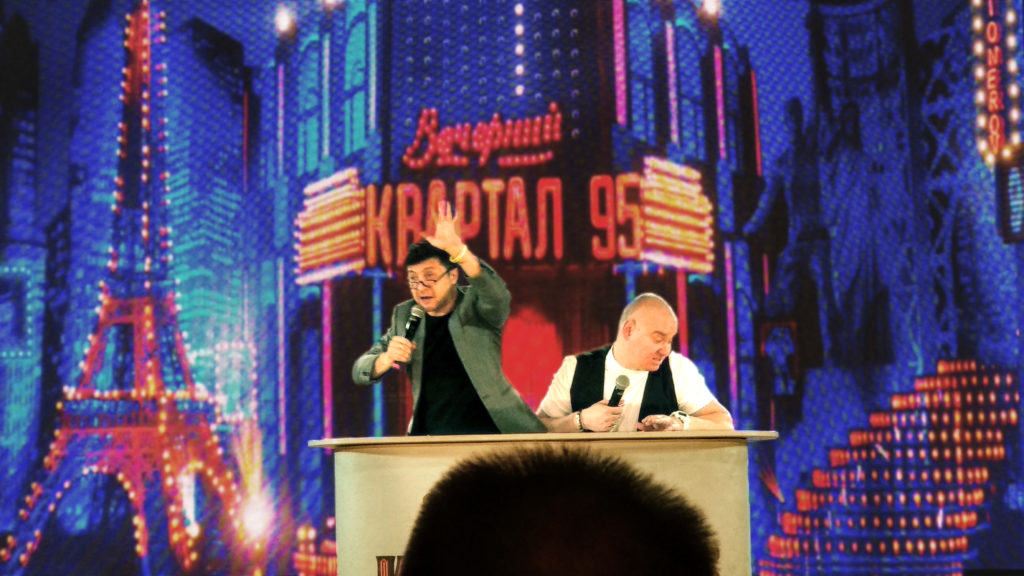 In 2017, top managers of Kvartal 95 registered a political party named after the show. From that point, rumors swirled about Zelenskiy's political ambitions. In an inspired piece of political drama, the actor declared his candidacy on 1+1 on New Year's Eve, when most of the nation was watching his holiday show.

His announcement coincided with the time slot for the annual speech given by Poroshenko, something analysts saw as a political master stroke by the station's owner, Kolomoisky. Zelenskiy described it as a mere technical error.

As his campaign has built up steam, Zelenskiy has tried to burnish his image as a man of the people. In reality, he is a wealthy businessman thanks the success of Kvartal and his ties to another production company in Russia.

He sprinkles his public appearances with populist touches. He has asked supporters to crowdsource his political platform. At the top of his agenda: parliamentary immunity, something he says has kept Ukrainian anti-corruption police from holding politicians responsible for alleged crimes. He also proposes free-market reforms to spur investment.

His campaign tactics are non-traditional. Instead of rallies, he performs as part of Kvartal's winter tour, doing stand-up comedy with the acting troupe.

Hundreds of people lined up outside the Rosava Concert Hall in Bila Tserkva, a city in Kiev Oblast on the evening of Feb. 15. When Zelenskiy walked on stage, a man in the audience shouted. "Zelenskiy for president!"

"Thank you all," Zelenskiy replied to the roar of the crowd. "But this is not an agitation rally. We just want you all to have fun. You definitely know best who to vote for."

For people who can't see the concerts in person, 1+1 has extensive coverage of the Kvartal 95 tour. The amount of coverage the TV station gives Zelenskiy has fueled rumors that Kolomoisky is using him to settle the political feud the oligarch has had with Poroshenko since the government nationalized his bank in 2016.

Zelenskiy denies that he is anyone's puppet, including Kolomoisky, despite the close business ties his production company has with the TV station and rumors that people close to the oligarch are involved in his electoral campaign.

"Kolomoisky never had any influence on me in any of my roles – an actor, producer, author or politician," Zelenskiy said.

The Big Idea
Shifting Borders
Borders are liminal, notional spaces made more unstable by unparalleled migration, geopolitical ambition and the use of technology to transcend and, conversely, reinforce borders. Perhaps the most urgent contemporary question is how we now imagine and conceptualize boundaries. And, as a result, how we think about community. In this special issue are stories of postcolonial maps, of dissidents tracked in places of refuge, of migrants whose bodies become the borderline, and of frontier management outsourced by rich countries to much poorer ones.
Read more