News Brief
Disinformation
Hour by hour: How disinformation swept the UK internet in the election's final days
In the febrile final 72 hours of Britain's snap Christmas election, a tide of disinformation began sweeping across the UK internet, with Conservative-leaning trolls and bots coming out in force.
Here's a timeline of what happened.
Sunday December 8, 11am
It started with a photograph. A mother's picture of her sick son sleeping on the floor of a hospital in Leeds. It was published by a local paper, the Yorkshire Evening Post. The boy, Jack Williment-Barr, 4, was hooked up to an oxygen supply. His doctors thought he might have pneumonia, but an overstretched emergency room meant Jack was forced to sleep on a pile of coats while he waited for a bed.
The hospital's chief medical officer, Dr Yvette Oade, issued a statement confirming the incident and apologizing to Jack's family. "Unfortunately, the unit was also experiencing exceptionally high levels of demand which meant that Jack was required to wait in the clinical treatment room in the pediatric emergency department until a bed became available," she said.
Sunday December 8, 8pm
Jack's story was swiftly picked up by national newspaper the Daily Mirror. It wasn't long before fake news surrounding the incident began to circulate.
"The Punch That Never Was"
Monday December 9, 10am
As the public reacted to the photo, criticism of the UK government's cuts on the National Health Service began to mount. The Health Secretary, Matt Hancock, was dispatched to Leeds to visit the hospital. A small gaggle of Labour supporters gathered outside.
Monday December 9, 4pm
As Hancock left, one Conservative aide accidentally brushed past a protester's gesturing hands. Hancock's representatives told prominent journalists that the adviser had been punched by a Labour protest outside the hospital. The journalists immediately tweeted out the story.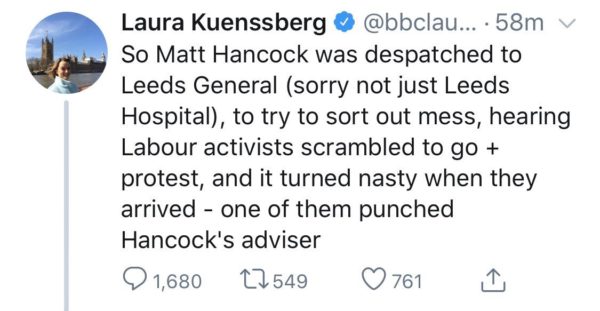 Shortly after, a video of the incident emerged, clearly showing the encounter as accidental.
A UK independent fact-checking service called the incident "the punch that never was."
It was the first fake narrative in what was to become a tidal wave of troll and bot-led disinformation surrounding the sick boy.
Fake news about the boy's photo being staged
Monday December 9, 4:40pm
Later that afternoon, a young ITV reporter, Joe Pike, questioned the UK Prime Minister Boris Johnson about the picture of the boy. "Have you seen the photo, Prime Minister?" Pike asked, gesturing at it on his phone. Without glancing at it, Johnson replied: "I haven't had a chance to look at it. I'll look at it later." When Pike persisted, the prime minister took the journalist's phone and pocketed it. The video of the encounter has now been viewed 11.4 million times.
Tried to show @BorisJohnson the picture of Jack Williment-Barr. The 4-year-old with suspected pneumonia forced to lie on a pile of coats on the floor of a Leeds hospital.

The PM grabbed my phone and put it in his pocket: @itvcalendar | #GE19 pic.twitter.com/hv9mk4xrNJ

— Joe Pike (@joepike) December 9, 2019
Monday December 9, 8pm
As the evening of December 9 wore on, criticism of Johnson's response mounted, and news outlets around the world began picking up the story. "A journalist tried to show Boris Johnson a photo of a sick child on the floor of a British hospital. The prime minister took his phone," a Washington Post headline ran.
Monday December 9, 10pm
In apparent response to the bad press surrounding the boy's picture, Conservative bots and trolls began to mobilize. One woman's Facebook account in West Sussex, hundreds of miles away from Leeds, claimed that the boy's mother had faked the photo.
"Very interesting," the woman's post began. "A good friend of mine is a senior nursing sister at Leeds Hospital – the boy shown on the floor by the media was in fact put there by his mother who then took photos in her mobile phone and uploaded it to media outlets before he climbed back on to his trolley."
On Twitter, prominent right-wing journalist Allison Pearson tweeted: "So I have detailed explanation from paediatric nurses explaining why photo of child on the floor is "100% faked. I will put in @Telegraph on Weds," Pearson's promised article hasn't yet materialized, and she later deleted the tweet.
Tuesday December 10, 12am
A Twitter account with the handle @medwar93 then claimed to be "a former paediatric A&E and PICU nurse" and tried to debunk the image by suggesting the boy's oxygen mask looked staged. Another Twitter user noticed that @medwar93 had also claimed to work "in supply chain" for Jaguar Land Rover for 35 years.
Meet @medwar93. He worked for Jaguar Land Rover for 30 years so is an expert why Brexit won't harm the car industry.

He's *also* an A&E nurse so is an expert on why Brexit won't harm the NHS & how that pic was fake.

Amazing guy. pic.twitter.com/tziZT31l7p

— Darth Putin (@DarthPutinKGB) December 11, 2019

Another popular post called the boy's situation "a fake story" and claimed the boy's mother was a Labour activist who "used her childs [sic] poor health to score a political point by placing him on the floor."
Tuesday December 10, 3am
Marc Owen Jones, an Assistant Professor in Digital Humanities at Hamad bin Khalifa University, Doha, was among the first to notice how the posts were being picked up.
Tweeting in the middle of the night, Jones said: "The exact same tweet is mentioned on dozens of fairly dodgy looking Facebook accounts," he said. "Hello multi-use bots." Jones also commented on Pearson's involvement: I'll wager @allisonpearson is perhaps the most influential proponent of the faked floor theory," he tweeted.
2/ Firstly, the bots and sock puppet accounts are on the case on Twitter. As you can see, an identical tweet claiming the mother staged the photo was circulated on Twitter. It's literally copied and pasted, and the accounts are targeting it at various influencers pic.twitter.com/OtdfBnRKnw

— Marc Owen Jones (@marcowenjones) December 9, 2019
Tuesday December 10, 7pm
It emerged that five Conservative candidates joined in the fray, using social media to spread claims the boy's story had been faked or staged. The Guardian spoke to a woman who wrote a post claiming to be a nurse, who said her account had been hacked. "I was hacked. I am not a nurse and I certainly don't know anyone in Leeds," she said. "I've had to delete everything as I have had death threats to myself and my children."
Tuesday December 10, 11pm
The BBC's Newsnight program tracked down the woman who posted the first fake story to her Facebook account. She told the BBC her account had been hacked. Digging deeper, newsnight found that the woman's son, Oliver Hepburn, was also Facebook friends with the Conservative health secretary, Matt Hancock.
A woman who had sparked claims that the viral photo of Jack sleeping on a hospital floor was staged has spoken to #Newsnight.

She insists she was an innocent party and her son says it had nothing to do with him. pic.twitter.com/0TStJQz7KM

— BBC Newsnight (@BBCNewsnight) December 10, 2019
As tensions ran high, the false narratives claiming that a boy's suffering in an overstretched hospital was staged, created a trick-mirror atmosphere where nothing seemed true.
The UK's independent fact-checker confirmed there was no evidence Jack's photo was staged.
On 10 December, the Editor of Yorkshire Evening Post, James Mitchinson, wrote an open letter to his readers in response to accusations Jack's story was faked.
"Because it is irresponsible – and reckless – to take one person's word and take it as fact, we immediately checked the veracity of the assertion with the hospital. That's not a boast, by the way, just bog-standard journalism," Mitchinson wrote.
"What we are dealing with is quite simply: a very poorly little boy in a place that cannot give him the care he needs."
"Whatever you do, do not believe a stranger on social media who disappears into the night."