The Year in Conspiracy Theories, a 2021 Round-Up
We've spent the year tracking conspiracist movements, and in this festive round-up, we pick out the worst of a bad bunch.
It's been another bumper year for conspiracy theories. As the global vaccination rollout got underway, Covid mutated its way through the Greek alphabet, and President Trump exited the White House, conspiracy theorists had plenty of content to warp out of all recognition. We've spent the year tracking conspiracist movements, and in this festive round-up, we pick out the worst of a bad bunch.
1. The QAnon "Storm" that was threatened – but never came
The year kicked off (was it really only 11 and a half months ago?) with the January 6 attack on the Capitol, spurred on by Qanon adherents who believed they were rallying against a deep state takeover.
The QAnon mindset dominated conspiracy groups in the dying days of Donald Trump's presidency. And it infected people's ideologies in the most unlikely corners of the world. In England's land of myths, legends and ancient folklore, new conspiracy theories began to fuse with the place's pagan traditions. QAnon became a favorite topic of conversation in the pastoral countryside's pubs, tea-shops and castles.
Read: Castles, crystals and conspiracies: enter the spiritual home of British QAnon
QAnon, as conspiracy theories go, is a particularly damaging force to introduce into the home. People around the world lost their spouses, children, parents and siblings to Q, and the cult destroyed many people's lives in 2021.
Watch: QAnon destroyed my marriage
2. The North American blizzard that sent social media alight
In February, when a super snowstorm hit North America, conspiracist thinking affected how some people responded to it. On TikTok, a wave of videos swept the app claiming the blizzard was "government-created snow that was made by Joe Biden and the Democrats." The basis for their claim was that when you held a lighter to a snowball, it turned black. Turns out this is actually a normal thing for snow to do – it's a scientific process called sublimation, where rather than melting, snow immediately evaporates when a lighter is held to it. But it's no use explaining that to a conspiracy theorist.
Read: Texans post conspiracy TikTok videos claiming the snow is "government created"
3. The antivaxxers that discovered antisemitism – and vice versa
Anti-vaxxers were working overtime to theorize about the Coronavirus during 2020, but 2021 is when they really began to rally. Anti-vaccine rhetoric fused with toxic antisemitism in the aftermath of the insurrection claimed that the virus was a Zionist bioweapon masterminded by the figures like the Rothschild or George Soros, or Bill Gates – who they claimed was a secret "Jewish Aristocrat". It showed how warped science was fusing with old school racism – and wouldn't be the last time we saw that happen.
Read: The fevered world of antisemitic vaccine conspiracies
4. The conspiracists who went suddenly analog
As the U.K.'s spring Covid restrictions limped on, anti-lockdown movements began resorting to old-fashioned propaganda methods to spread their message. Londoners found conspiracy leaflets being pushed through their doors, advocating against the vaccine and in favor of the government dropping Covid rules altogether. In Telegram groups, anti-vaxxers posted PDF designs for their followers to print out and distribute. The idea was they were avoiding social media controls by simply printing their disinformation.
Read: London is littered with conspiracy leaflets as Covid deniers dodge Facebook moderators
5. The Far-right anti-lockdown fanatics who tried to influence the German election campaigns
In the run up to the German elections, which would usher in an end to Angela Merkel's 16-year tenure as chancellor, a fringe, far-right anti-lockdown group called the Querdenken movement began rallying against the state's Covid policies. Querdenken draws on broader global conspiracies like QAnon and welcomes fringe far rightists and neo Nazis, proliferated on social media apps like Telegram in 2021, and was the driving force behind many of the country's anti-lockdown demonstrations. As the Omicron variant rages through Europe, the movement is still very much alive: last week, police in eastern Germany raided six houses after a Querdenken-linked Telegram group hosted discussions of plans to assassinate a Saxony state government as part of a broader revolt against Covid policies.
Read: Anti-lockdown group Querdenken pulls Germans to the far right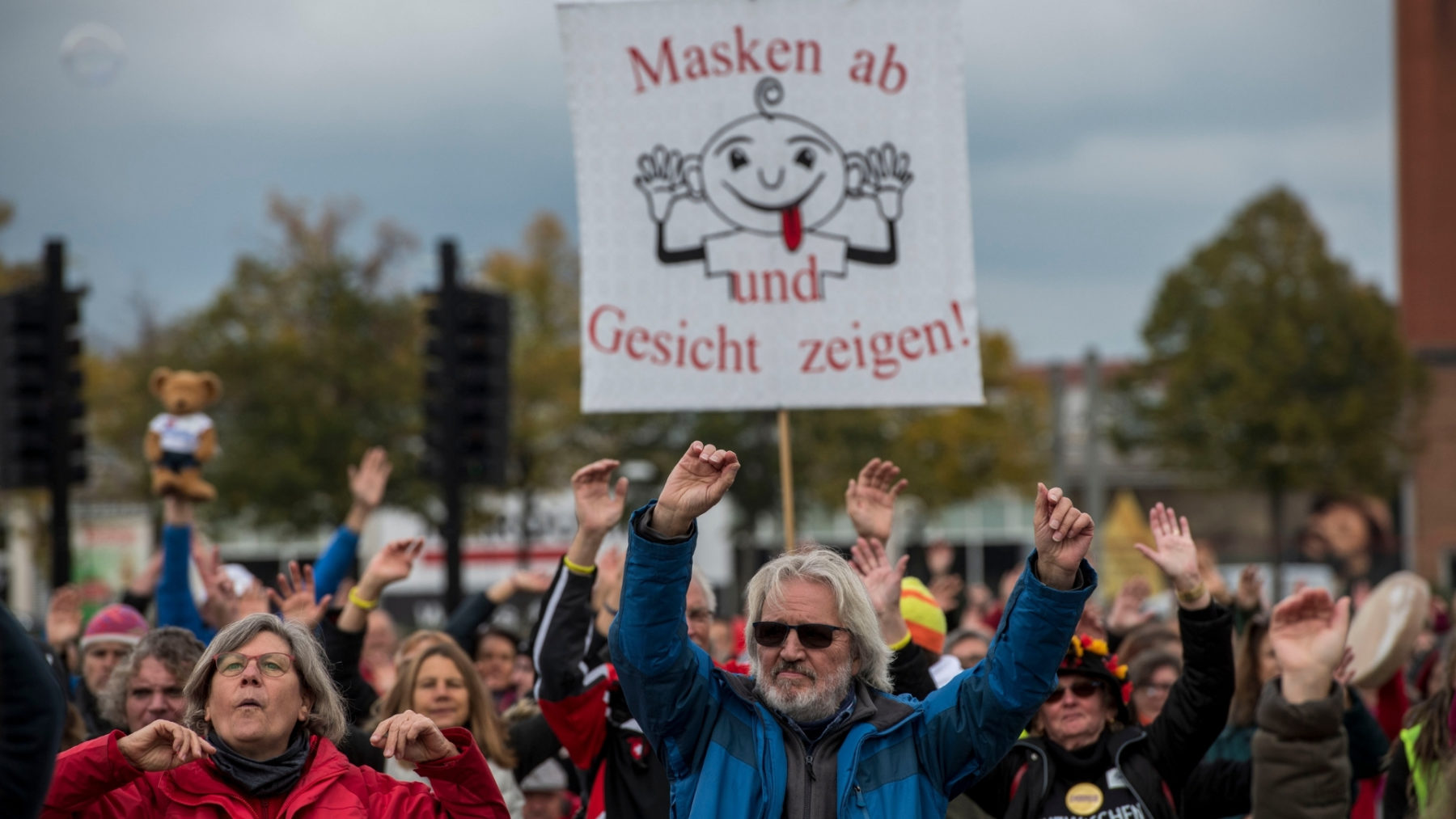 6. And finally, the anti-vaxxers who said "enough's enough."
It takes a lot for someone who believes conspiracy theories to change their mind. But as the pandemic and its deadly effects raged on, a very small, very brave minority of people decided enough was enough. They cast aside their long-held beliefs that vaccines were harmful. The pandemic was a huge wakeup call: they saw their relatives get sick, or die from the virus. They saw hospitals cave under pressure from Covid patients. They realized they had been deceived by millionaire anti-vaccine influencers. And they admitted something courageous: They had made a mistake.
Read: The anti-vaxxers who came in from the cold