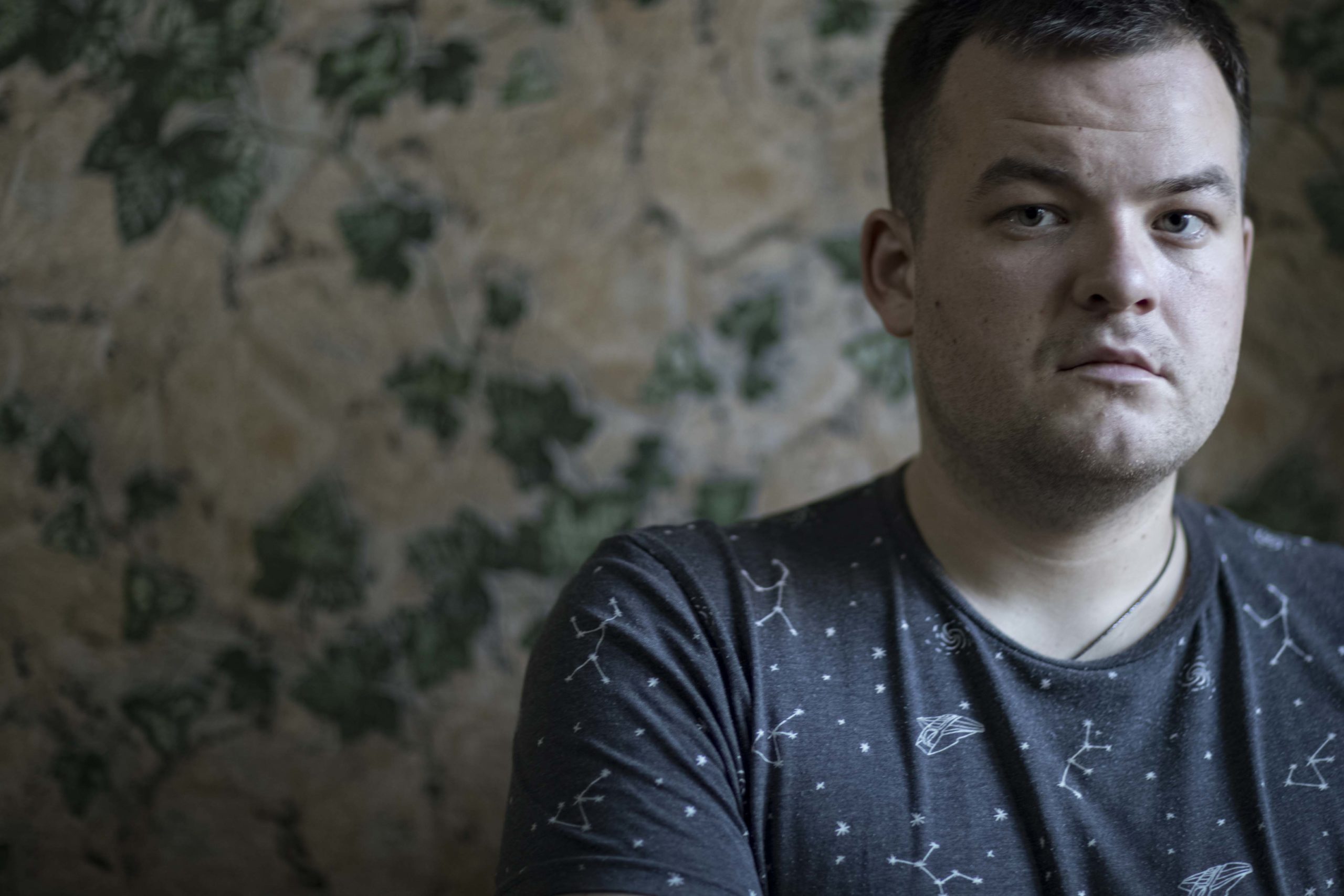 I disguised myself as a Covid ICU doctor to care for my grandmother. Now, the Russian government is after me
A welder filmed undercover videos in a Siberian coronavirus hospital. After his story went viral, he became a target and fled to avoid arrest. This is his story.
Sergey Samborsky, a welder by profession, went undercover as a doctor in a Siberian hospital for three days in late October. He did what the medical staff at the hospital would not do: care for his 84-year-old grandmother and other mistreated patients in an overcrowded coronavirus ward. He documented his hospital visits with his phone and when he made the shocking footage public, he felt the Russian state media machine turn on him.
Now known across Russia as the "Grandson from Tomsk," Samborsky, 27, had gone to Moscow to knock on the doors of federal authorities to file complaints of gross medical negligence. When it became clear that instead of considering his complaints, authorities intended to arrest him, Samborsky fled to neighboring Georgia.
Sambosky told me his story when we met in Tbilisi, where he says Russian-speaking men have approached him, telling him it's time to return to Russia. For that reason, he doesn't share his future plans.
This text is derived from an interview with Sergey Samborsky conducted by Katia Patin. It has been edited and condensed for clarity.
Читайте эту статью на русском.
---
My grandmother's name was Yulia Fedorovna. She taught Russian language, literature and history and inspired a lot of bright minds. Many of them are now scientists in our city, have masters degrees, doctorates in language. She is the brightest, most decent person I've ever known.
She taught me how to play the piano. She raised me from childhood and was really strict, so that I would become a good person. And here I am, not completely normal, but good enough. My wife, my other relatives, I have never loved them the way I loved my grandmother. I would go through hell and highwater for her. And I have.
In Tomsk I worked as a welder. I had a quiet, normal, calm life and didn't have any problems. I can't say I have a lot of friends, but the ones I have are true friends. I lived with my wife, my brother and my grandmother.
Tomsk is a really beautiful city. It's a university town. They call it the Athens of Siberia because we're the smartest city in Russia with the largest number of students. I am a patriot of my city and the region where I was born. I know every stream, every part of the forest in a 100 kilometer radius of my village in the Tomsk region. The people there are kind, but the problems begin with the authorities.
People are dying in our hospitals. They are being treated with medications that the WHO does not recommend for treating coronavirus, for example arbidol, gripferon. If you break your leg, or have some other injury, and your temperature is higher than 37 [98.6 F], you are automatically admitted to the Covid ward, even if you're completely healthy otherwise, and left there. When you call an ambulance and tell them you have Covid symptoms, they will show up at your house in six days. My friend had Covid and called an ambulance. They showed up a month later.
My grandmother was 84 years old and had Alzheimer's. I took care of her at home. She was partially paralyzed, she had nearly full muscle atrophy. I would change her diapers, feed her, wash her. On October 21, around 5 p.m. in the evening, I was preparing food for her when she started gurgling. I turned around and she had foam coming from her mouth, her eyes had rolled back and her lips were blue. I called the ambulance.
When I got to the hospital, my grandmother had already been taken away for a CT scan. I walked up to registration, asked where she was and they directed me down the corridor where about 50 people were sitting and coughing. All with Covid. I walked by an elderly woman sitting on a stretcher practically naked with a mask underneath her chin. She was shaking from the cold. I asked a doctor for help and it took 15 minutes for him to find a nurse to get a blanket.
Then I went to find my grandmother. She was in a room with five beds, all Covid patients. The doctor said that she needed oxygen. I took down the phone number of the woman in the bed next to her and left after about an hour. The next day, I called the woman. She said no one had been in to see my grandmother. No one had fed her, washed her or changed her diapers. They had tied her to the bed.
This was really a shock to me. I'm an impulsive person. I got up and went straight away to the hospital. I watched nurses coming in and out of the hospital without even taking off their protective clothing. They would go for a smoke and then walk back in with their dirty shoe covers.
So I walked up to a parked ambulance and bought some protective gear off of the drivers. They aren't allowed to do that but they sold it to me for double the cost. This is Russia. I walked to the back of the building where there is a small forest and changed. I had a protective suit, a mask and goggles. There was no security, the door was wide open. I started filming, walked in and no one looked at me twice.
When I got to my grandmother, I was horrified. I don't know why they had tied her to the bed, her entire arm was covered in bruises from the restraints. I checked my grandmother's diaper, it was filthy. She had her oxygen mask up on her forehead. She has three bed sores, one on her knee, two on her hips. They had changed the bandage on the right side, but on the left hadn't even touched it.
How to explain this? It's apathy and laziness. This is not some exceptional case. This is happening across Russia's hospitals. I've had hundreds of people write to me with their own stories since I published my videos.
I spent eight or nine hours a day in the ICU. I would come in and out but for the most part was hiding, not to draw more attention to myself. Some of the other patients would ask me for water or to help with their bedding. I took out the trash.
Sunday, October 25 was the last day I was in the hospital before they discovered what I was doing. I sat down next to my grandmother on the bed and she looked up at me. She said, "Seryozha I love you." She recognized me for a few seconds. She hadn't recognized me in over three years. For that, it was all worth it.
I gave my footage to the local channel TV2. TV2 is an exception in Russia. It's the best regional channel in the country, they are always covering people's real problems and telling the truth no matter how many times they've been threatened. Within two or three days, my story was all across Russia. At first, I stayed anonymous and was called the "grandson from Tomsk." After TV2 published my story, the police confiscated their footage and called in their editor Aleksandr Sakalov for questioning.
Next, I thought that Moscow could help me. Moscow doesn't know what is happening in the regions. Or maybe they know but just don't acknowledge it publicly. There is this rap group called 25/17 from the city Omsk and they have this lyric: "My Moscow is the capital of your country." Moscow really is a separate country. There are different people there, different laws. I thought Moscow was my last hope.
So I left Tomsk for Moscow for the first time. I went to the main office of the investigative committee. I offered to show my videos to the person I was directed to. "What's the point in that?" He was completely unmoved. He said, "You're welcome to file a complaint but if you get a response, it will take at least a month."
I went to the federal prosecutor's office and the office of the presidential administration. From all these places I got the runaround. The investigative committee told me to write to the regional office. The prosecutor's office recommended that I also go to the regional office. I got the same from the office of the president.
When I was in Moscow, the story became national news. A media campaign started against me across the pro-government channels. REN-TV was the worst. It's a disgusting channel. We had agreed that they won't publish my full name and will blur out my face, my grandmother's face and the sensitive footage of her. But they showed everything. I told the truth about medical care in Tomsk and in Russia, the truth about our government. And now all the state channels were trying to drown me.
I've been accused of doing all of this for my grandmother's retirement payments. That I beat her, had her chained to a radiator, starved her, kept her as a prisoner.
In Russia you hardly need to give people a reason to devour you. My story was forcing people to wonder whether their loved one had died from a disease or because of indifference from the system.
When I flew back to Tomsk, I was called in that evening to the local investigative office for questioning. They told me to hand over my phone and said they suspected that the video was fake, that I had edited the footage and made up the whole thing. They threatened to arrest me on the spot and search my home. I refused to hand over my phone.
On October 30, my grandmother died. The official cause of death was pneumonia. Not a single word about coronavirus. I always imagined my grandmother would die peacefully at home, the way we all should. It was her dream to pass in her sleep. But in the end, she died in despicable conditions.
I have a relationship with someone working in the police. He told me, "They are discussing opening a criminal case against you and you have to leave."
I buried my grandmother, left Tomsk and Russia.
Now I'm in Georgia but I don't feel safe here. I'm Russian. I still can't get used to the fact that the police are okay here. I'll be walking and hear a police siren and get all tense. The aftershocks of living in Russia.
Today is my birthday. We were celebrating last night. At midnight we opened a bottle of wine, had some food, and three people came up to me. They said, "Sergey Samborsky, it's time to go back to the homeland." These people aren't my friends, they aren't my relatives. My real friends wouldn't tell me to come back home now. These were people somehow connected to the government.
It's my 27th birthday today, I hope it's not my last.
The Big Idea
Shifting Borders
Borders are liminal, notional spaces made more unstable by unparalleled migration, geopolitical ambition and the use of technology to transcend and, conversely, reinforce borders. Perhaps the most urgent contemporary question is how we now imagine and conceptualize boundaries. And, as a result, how we think about community. In this special issue are stories of postcolonial maps, of dissidents tracked in places of refuge, of migrants whose bodies become the borderline, and of frontier management outsourced by rich countries to much poorer ones.
Read more