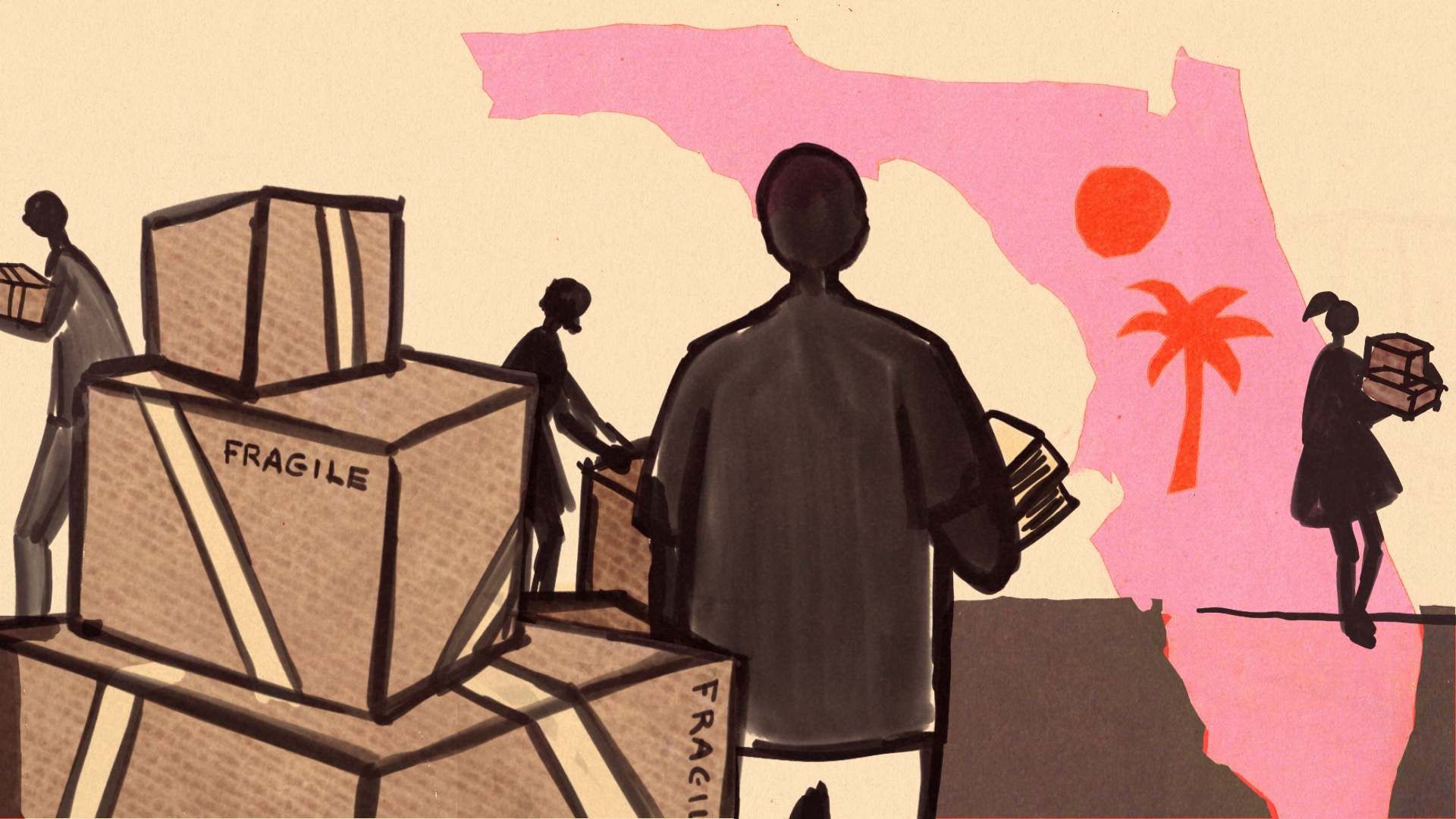 Fleeing Florida
Ron DeSantis' 'anti-woke' agenda is driving the families of transgender teens out of the Sunshine state
Illustrations by Mariam Gogiashvili
Milo settles into the driver's seat of a blue Chevy Volt. His dad Phil sits beside him. I am in the back with his mom, and we make chit-chat as we buckle our seatbelts.
At barely 16, Milo is the proud holder of a Florida learner's permit, a state-issued driving permit. He has just finished 10th grade. His favorite class is journalism. He enjoys roller skating with friends. Milo is also transgender.
He glances in the rearview mirror as we drive away from Common Ground Books, Tallahassee's only LGBTQ and feminist bookstore. The family, whose names we've changed to protect their privacy, bought half a dozen books to help pass the time on an upcoming road trip, most of them science and historical fiction.
The city is small. In less than 10 minutes, we pull into an empty parking lot next to a complex of sports fields and tennis courts that belong to Milo's high school. The grounds are quiet — summer break has just begun. He points to an empty red running track on the perimeter of a football field, down the hill from the main school building.
"That one dude, who's doing everything wrong, is like right there." He's talking about Florida Governor Ron DeSantis, who lives just five minutes away. DeSantis often runs the track early in the morning while his security detail waits nearby.
In a few days' time, Milo and his family will load up their car and say goodbye to Tallahassee, Florida, the only place their family has ever called home. They will begin the aforementioned road trip: a 1,200-mile journey to Connecticut, where they are hoping to build a new life, far away from the scorched-earth anti-trans laws that have become a hallmark of the DeSantis administration.
Milo is one of an estimated 16,000 transgender teenagers in the state who have become prime targets of DeSantis' campaign to ensure, in his words, that Florida becomes a place "where woke goes to die." Along with restricting access to gender-affirming healthcare for transgender people, his administration has placed legal limits on what can be taught in schools, which books can stay on the shelves of public libraries and which bathrooms people can use.
The American Academy of Pediatrics has urged legislators to protect young transgender people's ability to receive "comprehensive, gender-affirming, and developmentally appropriate health care that is provided in a safe and inclusive clinical space." The American Medical Association has written that gender-affirming care is medically necessary and that it can "improve the physical and mental health of transgender and gender-diverse people." But Florida's legislature still approved Senate Bill 254, a law that prohibits healthcare providers from administering gender-affirming care to anyone who receives health insurance through Medicaid, and for all people under 18, except for those who had already started treatment before the law was enacted. The policy went into effect in May 2023.
After the families of three transgender teens took the state to court, a federal judge issued an injunction that blocked the law from affecting the plaintiffs in the case beginning on June 6, 2023. While the case has yet to be decided, the judge wrote that Florida's law likely runs afoul of constitutional protections against identity-based discrimination.
But for now, state officials say the law remains in effect for everyone but the plaintiffs, and uncertainty prevails. Healthcare providers are unsure of what treatments they can offer. The fear of losing medical licenses or even facing felony charges has led clinics to turn transgender patients away. Some have shut down altogether, leaving young transgender Floridians with nowhere to turn. For many, the costs of seeking care out-of-state are simply too prohibitive. Milo is one of the lucky ones.
"I am just flying under the radar. I know other trans people at school who didn't transition as early as I did," Milo told me when we met last month in Tallahassee. "I consider myself incredibly lucky to have the parents and the health care that I do."
Milo came out as transgender when he was still in elementary school. Having supportive parents who were able to work together with his doctors made a huge difference, he told me.
Milo's doctor became a critical figure in their lives. "He really helped us a lot," his mother Beverly said. "He was one of the only people I found here in town that would adhere to the time frame that we wanted in terms of medical intervention."
With careful guidance from his doctor, Milo began taking testosterone when he was 13. Since Florida's law has an exception for those already receiving gender-affirming care, it doesn't affect Milo directly, at least for now. But with some providers declining to serve transgender patients and others discontinuing their practices altogether, his parents worried that Milo's ability to get adequate healthcare could still be in jeopardy.
For Milo's family, an early sign of trouble came in June 2022, when Florida Surgeon General Joseph Ladapo wrote a letter to the state medical board arguing that there was a lack of medical evidence showing that gender-affirming treatments could be beneficial for young people grappling with gender dysphoria. Ladapo insisted that the leading medical guidance from organizations including the American Academy of Pediatrics followed a "preferred political ideology instead of the highest level of generally accepted medical science."
"We didn't see a course forward that would allow us to keep our promise," said Beverly, Milo's mom. "When we started this whole journey, we said, 'We will do whatever it takes for you.' We didn't feel that was any longer going to be possible in Florida."
Legal actions targeting education also put the family on notice. Milo recalled a moment when his younger sister came home in the middle of the semester with a note from her biology teacher, explaining that students would no longer be required to read "The Immortal Life of Henrietta Lacks." This award-winning study on racist policies and practices in medical research in the U.S. became optional after Florida began vetting all school curricula and library books to ensure they're free of pornography and "race-based teachings."
Soon after, DeSantis signed an expansion of the Parental Rights in Education Bill, the so-called 'Don't Say Gay' law, which prevents teachers from discussing ideas related to gender and sexual identity at any grade level. The law is set to go into effect this summer. Another law, also passed before the close of this year's legislative session, will prohibit trans people from using public bathrooms consistent with their gender identity.
Senate Bill 254 was born out of a recommendation issued by the state's medical board that had similar parameters — it advised doctors to deny minors access to puberty-blocking medications or hormones. The recommendation was an unusual move for the medical board, a group of state-appointed experts that has traditionally overseen the administration of licensing for physicians in the state and periodically issued recommendations to healthcare providers on public health-related issues, like the Covid-19 pandemic. The board has gone so far as to call itself "vociferously apolitical." But an investigation by the Tampa Bay Times revealed that Governor DeSantis handpicked eight of the 14 board members, all of whom donated money to his gubernatorial campaign.
WUSF Public Media's Health News Florida revealed that members of the American College of Pediatricians — an innocuous-sounding organization that the Southern Poverty Law Center has designated as a hate group — were paid tens of thousands of dollars by the DeSantis administration to provide "expert" reports, witness testimony and talking points discrediting the science behind gender-affirming care.
The medical board recommendation process constituted a unique route to banning gender-affirming care. Instead of starting out at the legislative level, DeSantis took advantage of the supermajority within his state to push his agenda through the executive branch. He then went on to codify the medical board recommendations with Senate Bill 254, officially banning gender-affirming care for minors and for anyone receiving health insurance through Medicaid.
The Republican supermajority in the Florida legislature, and at various levels of state and local government, has been in place for decades. Milo's dad said it is wearing down people who are advocating for the rights of trans people.
"It looks like an intentional undoing of democracy when they're not listening to their constituents," he told me. He wonders if the next election will bring more people out to vote and elect people willing to engage with public testimony rather than toeing the party line.
"DeSantis, more than anything, has really taken advantage of gubernatorial power that no one has in the past," said Charles Barrilleaux, a political science professor at Florida State University. For him, the governor's power shifted in the 1990s under Jeb Bush's administration. And with the help of redistricting, Republicans gained more substantial control in local government.
When you combine a supermajority with a politically ambitious governor, the voices of those who don't agree with the government get drowned out. "Political competition matters, and when you don't have competition because of districting, you don't have representation of your own ideas," said Barrilleaux.
State Senator Shevrin Jones has spoken out against the abundance of anti-LGBTQ legislation pushed through in Florida this year. As a Democrat, Jones is a minority in Florida's Senate and has voted against adopting the gender-affirming care ban. In a January 2023 NPR interview, he said, "Florida is just the testing ground, but people across the country should be concerned that legislatures and governors across the country are going to do exactly what Florida is doing."
For Milo's mom, the onslaught of legislation further solidified the family's decision to leave the state.
"You think to yourself, 'Do I really need to uproot my whole family? Did I need to put my kids through all of this? Do we really need to change jobs to get new insurance? Did we really need to sell our house? Do we really need to spend all our savings on a new house? Is it really necessary?'" she said. "And then, something new happens every day, so I'm so glad we're moving."
The possibility of these kinds of laws spreading across the country was not lost on Milo's family. When it came time to decide where to move, they struggled. Hostile legislation was constantly popping up around the country, especially in states with predominantly Republican legislatures. They started looking north. Maryland was safe but surrounded by less-certain places. California felt too far away. Other states looked like they were hanging in the balance, one election away from tipping toward transphobic policies. Eventually, they decided on Connecticut, where they also had some family. They chose a house in a quiet suburb, near the home of Milo's cousins.
Milo and his parents talked to me about the immense privilege they had in being able to move their family. The move depended on job flexibility and on the sheer financial capital required to uproot and resettle in a more expensive state.
While I was in Tallahassee, I met others whose lives and families were directly affected by the law but who were not in a position to leave. Fenix Moon, a trans man and a visual artist, originally from Orlando, was one of them.
"I do want to go, but I can't right now," he told me. "Right now I'm on a one-year lease. I'm just getting stable from the pandemic exactly three years ago," he said, alluding to financial burdens.
He told me his brother had begged him to leave Florida, fearful of what the legislation would mean for Moon's health. What would make it possible for him to go?
"If I could wave a magic wand, if I had all the money, I'd probably go to New York," he said. "I feel like that community would protect me," he said.
Moon sees leaving Florida as a powerful political choice too. "We shouldn't sacrifice our health and our bodies, when in reality, the greatest pushback would be to relocate, if that is the case, and be stronger, and fight from wherever we are, right where we have the most strength," Moon said.
When people decide to leave a city, they take social and economic capital with them. "We're losing a lot of talent, we're losing a lot of people who contributed a lot to their local communities. We're losing people in all kinds of fields," said Melinda Stanwood, who teaches government classes at the Tallahassee Community College.
Stanwood has two trans children. Her son, who is in his twenties, had to scramble to find a new doctor after his long-time provider at a Tallahassee Planned Parenthood clinic stopped serving transgender patients earlier this year. For now, both children plan to stay in Florida. But Stanwood is worried for them and has been vocal on the issue. "That strength that you have in the community, the diversity of support is being eroded gradually," she said.
It's hard to know exactly how many families are leaving, but Rick Minor, a Leon County commissioner, suspects that the numbers are rising.
"I do think it's gonna have an impact in terms of bringing new businesses into the state that are looking for markets that are diverse and thriving," Minor said.
He believes that Tallahassee can be an attractive place for businesses because it is home to several universities with diverse populations and lots of young people. But he says that's not enough to convince businesses to come: "The types of communities like the one we have here in Tallahassee also exist in other states that don't have these policies being passed."
When I asked Milo what he'll miss most when he leaves, he talked about his friends.
"I have a whole group of friends that I didn't have last year. Last year, I was a freshman, so I was still building everything," said Milo. "Now, I'm a sophomore, so I have stuff already put in place, and I don't want to leave that."
"It's hard to see that as a parent and to know that you're changing those friendships that could have been richer if you had stayed. But we can't continue here," Beverly told me. "Friendships won't be enough for what he needs."
Milo's school itself holds a lot of traditions for the family. His mother and grandmother are alumni. From where he sits in his math class, if he looks out the window, he can even see the building where his parents got married.
But the school also sits just a 15-minute walk from the state capitol and the governor's mansion. DeSantis' physical proximity to their community is "kind of crazy," Milo told me.
"If Florida wasn't being Florida, then I would stay here for sure," Milo said. "But Connecticut is going to be safer ultimately."
At school, Milo has never told his classmates or teachers that he is transgender. But during the past semester, Milo slowly started coming out to more friends. "I want to be honest with them because I've known them for a while, and I don't want to have to lie to them about why I'm moving because I care about them," he said.
His parents tread even more carefully. "In some cases, I said, we have to leave Florida. It's a family issue. And I left it at that," Phil told me. But, when it comes to their family and others familiar with Milo and his trans identity, Phil found that he didn't have to explain much.
"I just said, I'm leaving Florida, and universally the response from everyone was, 'I don't blame you.' Every single person said the exact same thing," Phil said.
Toward the end of the school year, with moving day looming, Milo wanted to enjoy his last days doing what he loves best. Going skating, hanging out in parks and walking around Railroad Square, the city's small, mural-covered arts district. When I asked what he was looking forward to about the move, he talked about his hope for getting more involved in the school community at his new school.
"My focus is just like finding a social group," Milo said. "As far as school, I have always had pretty good grades. But I just want to find a good friend group and join the newspaper at my new school."
In spite of all that the past year has brought, Milo is optimistic about what the future holds for him.
"There will be new places, new people, and a new culture. I'm curious about up north, apprehensive and excited," he told me. "I'm not going to stop being me if I move, right?"
The Big Idea
Shifting Borders
Borders are liminal, notional spaces made more unstable by unparalleled migration, geopolitical ambition and the use of technology to transcend and, conversely, reinforce borders. Perhaps the most urgent contemporary question is how we now imagine and conceptualize boundaries. And, as a result, how we think about community. In this special issue are stories of postcolonial maps, of dissidents tracked in places of refuge, of migrants whose bodies become the borderline, and of frontier management outsourced by rich countries to much poorer ones.
Read more