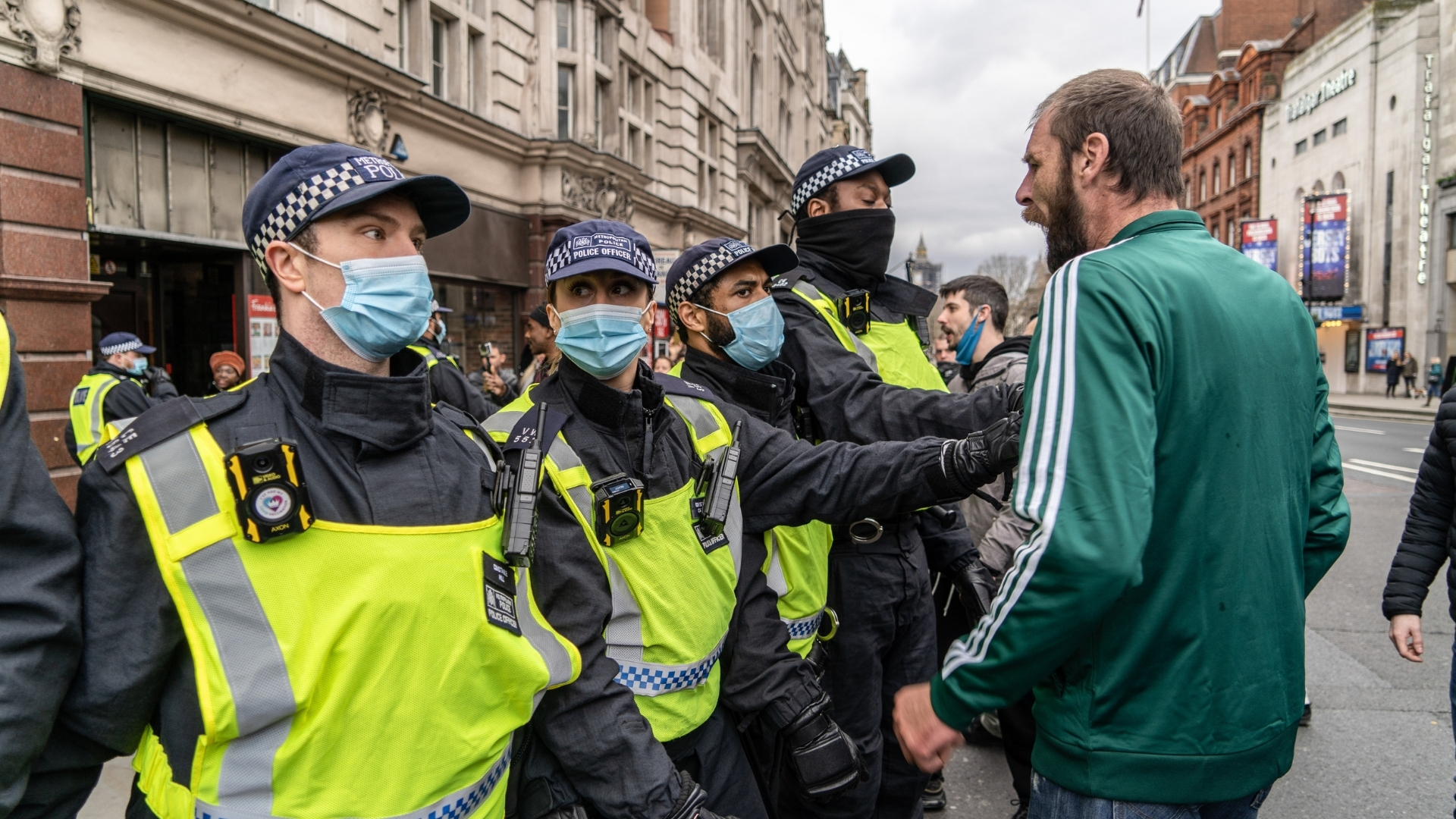 The toxic masculinity at the heart of the anti-lockdown movement
Global restrictions have seen men join resistance campaigns in countries across the world, including the UK and Australia.
Before the Covid-19 pandemic, Chambers Whittle was a manager at Dreamboys, a male strip club in England's second city of Birmingham. Every Friday and Saturday night, he would dance for crowds of women with his Herculean abs out. "What more could you want than a few hundred girls screaming at you?" the 27-year-old joked over the telephone.
But with the introduction of the U.K.'s first lockdown one year ago, Dreamboys — classed as a "non-essential" business — was forced to close, along with clubs, pubs and other social venues. Due to the restrictions, it's remained closed for most of the year.
Friendly and warm-natured, Whittle, who goes by the nickname "Champ," is grateful to have kept his regular day job at a motorbike shop, but as a born entertainer and fitness fanatic, he has struggled with the limits placed on his daily life.
"There's times when I've felt very emotional. The pandemic has hit me hard," he told me.
Whittle has coped by working out in a DIY gym that he erected in his garden, known as "The Lab" among his friends. He has also become deeply involved in anti-lockdown activism. After the U.K. government announced the country's first stay-at-home regulations in March 2020, Whittle began to watch online videos late into the night, discovering a variety of groups dedicated to resisting coronavirus restrictions.
"I started following people who were standing up against the pandemic, who had similar interests in standing on their own two feet and not being ruled by the government," he said.
Whittle's gateway to that world was provided by Aron Walton, a Bristol-based tattoo artist who had more than 80,000 Instagram followers before the platform removed his account. Whittle found him "inspirational" — even visiting his tattoo parlor, which began unlawfully trading on January 30 as part of a "Great Reopening," in which businesses were urged to defy coronavirus restrictions by anti-lockdown activists. Through Walton, he was invited to join a number of online groups specifically targeted at men and street protests hosted by the prominent anti-lockdown group Stand Up X.
One of the most insidious effects of the pandemic and the reaction against it has been a growth in the expression of extreme forms of masculinity online. Anti-lockdown groups also draw female fans but many have seized upon traditionally male themes, such as personal sovereignty and individualism, to attract a growing number of men who are struggling to adjust to life in an increasingly unstable world.
Global lockdowns have created the ideal conditions for these harmful masculinity trends to reemerge in response to diminished freedoms, emboldening men to join resistance campaigns across the U.S., Europe and Australia. Martin Daubney, a recent UK Brexit Party Member of the European Parliament and former editor of men's lifestyle magazine Loaded, is now a prominent anti-lockdown campaigner. Actor Laurence Fox, known for his controversial views around diversity, is running for London Mayor on an anti-lockdown ticket against "political correctness."
Many campaign groups opposing lockdowns sell branded merchandise to promote their cause, from hoodies and T-shirts to mugs, umbrellas and knick-knacks emblazoned with logos and slogans demanding an end to pandemic restrictions. While one site sells hats and posters featuring the message "Don't let them muzzle you," another group hawks £10 shirts featuring cartoon sheep wearing face coverings.
Dr Stephen Burrell of Durham University has been researching male behavior during the pandemic. He believes that anti-lockdown activism and coronavirus denial have a special appeal to stereotypical masculine ideals of power and control that have been eroded by the personal and economic challenges the coronavirus crisis has created.
"We've got these expectations about being a man and, in lots of ways, men might feel they can't live up to them. One way to deal with that is just to pretend it's not happening," he said.
Mark Jorgensen, 31, is a self-employed photographer and part-time army reservist from Queensland, Australia. Like Whittle, he started paying attention to anti-lockdown groups in March 2020, when his country introduced restrictions and his work began to dry up.
"I had a bit more time to research and think and chat to other people about their experiences," he told me, via Skype.
Jorgensen grew up raising cattle and riding motorbikes around a farm in a remote part of Queensland. During our interview, he hinted at anti-immigration views, suggesting that the state of Victoria, currently governed by a center-left party, was "too 'buddy buddy'" with foreign countries. He also described mainstream media as "dangerous and manipulative."
"When I started to see people's voices shut out and censored, and a lot of the media trying to get the population to silence them by calling them 'conspiracy theorists' or 'misinformation,' that's when I started to go, 'I need to find other voices that have opinions similar to mine.'"
One day, London Real — an online media outfit that recently interviewed the British conspiracy theorist David Icke in a now banned YouTube video — popped up on Jorgensen's Instagram feed. That marked his introduction to the channel's American founder, the lockdown-bashing London mayoral candidate Brian Rose.
A charismatic figure, Rose wears three-piece suits with pocket squares and has been the subject of a feature-length YouTube documentary about competing in an Ironman triathlon. His frequent use of language related to freedom and warfare, especially when referring to his followers, also appealed to Jorgensen.
"I found his 'London Real Army' intriguing. A lot of what he was doing I found quite rallying, like a general would do to their troops on a battlefield," Jorgensen explained.
Jorgensen donated around $80 to Rose's crowdfunding campaign for a "digital freedom platform," which launched in May 2020 and has hosted guests like Alex Jones and the British actor John Cleese, and "uncensored" videos featuring libertarian ideas and conspiracy theories. That contribution entitles him to "sergeant" tier membership — other ranks include captain and colonel — and a T-shirt splashed with "LONDON REAL ARMY" in bold red and white letters.
Metaphors involving combat and violence have been a mainstay throughout the pandemic, even among people who believe the coronavirus to be a legitimate threat. In April 2020, UK Prime Minister Boris Johnson branded the coronavirus an "invisible mugger" to "wrestle to the floor." However, they have been equally prevalent in denialist circles, likening individuals who reject the dangers posed by the disease to brave warriors.
Such language clearly speaks to a desire for the strength and self-sufficiency that many people feel has been taken from them by the crisis. As Burrell told me, "Things like being tough, violent, going to war with someone, you can't really do those things in a pandemic."
The idea that people who resist lockdown measures are fearless, independent thinkers while those who abide by them have simply been "conditioned" to believe official narratives is central to the way both Whittle and Jorgensen engage with the cause.
"I grab bits of information I come across and piece it together like a puzzle," Jorgensen said.
"Quite a few of these men seem to talk about things like 'rationality' and 'evidence,' which we traditionally associate with masculinity," said Burrell. "But it's just that they're saying, 'We reject the scientific consensus because that doesn't suit our worldview — it doesn't suit our position in society."